Sri Lanka Muslim Family Genealogy
Al Qutb Al-Sheikh Ismail Al-Yamani Al-Sailani - Family #108
Amongst the early migrants from the Arabian Peninsular to Sri Lanka (then Ceylon), during the rule of the Sinhala Monarchs – that is, long before the South Indian Tamil kings and the Roman Catholic Portuguese colonists invaded Ceylon – was Al Qutb Al-Sheikh Ismail Al-Yamani Al-Sailani, also known affectionately as "Arabi Appa", a tamil phrase, meaning Arab GrandFather.
Arabi Appa was a great Islamic and Arabic scholar and also a widely respected theologian. His immediate ancestors were Al-Seyed Sheikh Shaoosi Al-Rabahiyyi Zabeediyil Abbasi wa Siddiqui, Al-Seyed Salih Abdullah, Al-Sheikh Salih, and Al-Sheikh Izzadeen. He married three times, first in Kerala, South India, then in Ceylon and was blessed with ten children.
Arabi Appa was interred at the Mohideen Jummah Mosque grounds at New Street, Weligama.
Of his sons, Al-Sheikh Yahya bin Al-Sheikh Ismail al-Yamani was, popularly and respectfully, also known as Hajiar Appa of Matara who died on June 7, 1884 and was buried at Matara. Another, Al-Sheikh Abdullah was interred at Maligawatte in Colombo.
Honourable Muhammad Cassim Abdul Rahman, Merchant, Reformer, Legislator, Leader
<![if !vml]>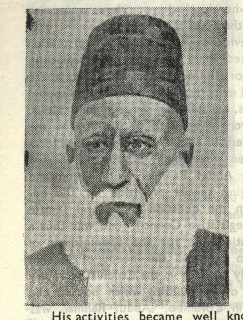 <![endif]>

Hon MC Abdul Rahman

Muhammad Cassim Abdul Rahman, son of Fathima (& Cassim Bhoy), the daughter of the renowned Qutb Sheikh Ismail Yamani who is interrred by the side of the Weligama mosque, married Khadija, daughter of his maternal uncle Qutb Sheikh Yehya Al-Yamani, also known as Hajiar Appa of Matara. Qutb Sheikh Ismail and Qutb Sheikh Yehya are reverred by many Muslims in the southern province as saints even until today.

Abdul Rahman began life as a businessman, both in the Colombo Fort as a mercer of silk and soft goods in Pettah, and as a purveyor of groceries for homes. He had a large clientele, mainly, because of his fair dealing in business. His head was erect because his honour was perfectly above board at all times. He owned shipping vessels for the transportation of the goods that he imported. SS "Rahmaniya" was a vessel named after him. The more he earned the more he distributed to deserving cases and laudable causes. That was Abdul Rahman, the Merchant.

The "White Horse" building at Chatham Street, Fort, in Colombo was the head office of his business empire. He had a distribution center at Pettah, in Colombo, and a warehouse complex at Slave island, also in Colombo. The British firm of darley Butler & Company acted as one of his agents in those times.

His activities became well known and recognized by all. He was nominated to a seat in the Colombo Municipal Council in 1876 to look after and promote the interest of the local Ceylon Moors (Muslims). He made such an impressive mark, that, while a Counsellor he was also appointed as an unofficial Municipal Magistrate. The Moors of Ceylon of the time, incoherent though, yet made calls for representation in the Legislative Council to which Abdul Rahman was appointed on October 29, 1889, as the first Mohammedan member, by Governor Gordon. His indispensability received such recognition, that, at the end of his five year term, he was re-appointed for a further five years by Governor Havelock. However, he did not live long enough to fulfil that extended term.

During that period appointed members were generally more or less stooges of the British Colonial rulers and were silent warmers of their seats. Abdul Rahman was different. In proposals or debates that concerned the nation or his own community, he spoke out his heart with an earnestness that evoked sympathy and understanding. The Hansard of December 1894 is replete of references of the concern Abdul Rahman, the Reformer, showed towards the community.

The Moors of the time were lagging behind even in matters of their social and educational life. These were spheres where Abdul Rahman felt that urgent action was necessary. He had much to speak but little to add to what he strongly urged for necessary inclusion of amendments to the Marriage Registration Ordinances No. 8 of 1886 and No. 2 of 1888, whereby Muslim marriages would also be registered. Until then "Kadutham" of the Katheebs was the only feeble form of documentary evidence, available, of Muslim marriages. Compulsory registration of Muslim marriages in a legalized form was the brainchild of Abdul Rahman. Even more, he urged that in cases where specified fees could not be levied or collected, the imposition of such fees be waived. His thinking was so meticulous even to such detail.

Female Muslim education was, wrongly, held to be foreign within the fold of Islam, by the Muslims of Ceylon. A very few female adults received some form of education in what was called "secluded" schools. But that was far below the standard. Abdul Rahman, with vision and foresight, spoke out his mind, urging special provision for the education of female Muslims, when the question of female education was discussed at the Legislative Council. Thus, he was the pioneer of Muslim female education in Ceylon. He was also responsible for the appointment of female doctors and vaccinators to cater to the needs of Muslim women. His insistence ultimately resulted in the Colonial Secretary authorizing half the cost of the building for the first Mohammedan Girls School in Colombo, in 1898.

Abdul Rahman married Khadija, the second daughter of his maternal uncle, Hajiar Appa. He was also a multi-linguist proficient in Tamil, Sinhala, English, Arabic, Urdu and Pharisee. He underwent a strenous education in Islam, Islamic Law and culture. He lived at "Icicle Hall", at 532, Galle Road, Kollupitiya, Colombo 3, a symbol of social stature and prestige. "Icicle Hall' was later renamed to "Sri Kotha" where the United National Party purchased it from its new owners to whom M.C. Abdul Rahman had sold it to, in order to set up their new headquarters. The "Mumtaz Mahal" at Kollupitiya, now the official residence of the Speaker of Parliament, was also owned by M.C. Abdul Rahman, and years later, his great grandson, Muhammad Haniffa Muhammad, was destined to occupy the sprawling mansion as the Speaker of the House of Representatives, during the period 1989 to 1994. The "Rhineland" at Colpetty, a mansion at the site of the present Central Theatre at Maradana, and three houses at Grandpass were some of his other bungalows. He also owned the stretch of land from Kanatte to Borella, including the present Kanatte burial grounds, up to Rajagiriya, which served as his grass fields.

Abdul Rahman was always nattily dressed in Shalwar and Khameez over which he wore a long coat, Jutha on his feet and a richly embroidered Surat Cap. He used to ride in a twin-horse carriage. He owned a fleet of horse carriages of different structures. On ceremonial ocassions he rode a special carriage drawn by apair of his choicest horses with two footmen colorfully dressed in attendance. The Kahatahena Estate at Galagedara in Padukka, where the Ceylon Refractories is presently located, was specially used by him for rearing his horses.

Abundant affluence did, however, not bar him from serving the economically-weaker sections of the society, and, especially among those belonging to the Muslim community. A highly religious personality he was a great philanthropist who generously helped a large number of Mosques, Schools and other Muslim institutions as well as needy individuals. Al Mahadul Bukhariyul Khadiriyah Jumma Mosque at Layards Broadway in Colombo was built by him and managed under his personal supervision and control.

MC Abdul Rahman possessed one of the finest collection of books on Unani Medicine and specialized in spiritual healing. He also went on to play a major role in the Muslim Society in Ceylon at a time when the community was a badly neglected and hopelessly backward one.

Abdul Rahman was so engrossed in his service to the people that he found very little time to devote to himself. Frail in frame, yet, strong in spirit, he carried on the difficult task with many sacrifices, the hallmark of true leadership. Strangely, he had at heart a penchant for the welfare of the female more than the male. Yert it was quite natural. As a devout Muslim he had been taught that "Paradise lies at the feet of the Mother". That had been his inspiration.

The strain and stress of his crowded program of daily services told on his health and he passed away, during the middle of his second five year term in the Legislative Council. That was Abdul Rahman, the Leader, an example for all times. He passed away peacefully on June 12 1899 and his remains were interred at the Maligawatte Muslim burial grounds.

Abdul Rahman was blessed with four sons and three daughters, viz;

Abdul Majeed, Safia Umma, Ummu Habeeba, Ne'math Umma, Abdul Azeez, Muhammad Ismail and Izzadeen.

Abdul Majeed, who married Safia Umma, had two daughters and two sons. One son passed away at an early age. His eldest daughter, Jariath Umma, married OLM Levana Marikar, a leading light in Colombo's world of commerce. Jariath Umma's second daughter, Ummu Hafeera (second bed), married NHM Abdul Cader, Colombo Municipal Councillor and later member of the Legislative Council (father of Jabir A Cader).

Abdul Majeed's second daughter, Muhusina, married YM Naina Marikar JP, also a prominent figure amongst the Muslim Community and the business world of that era. Amongst Muhusina's nine children are NMM Bishrul Hafi JP, a well known Muslim social activist, and NMM Izzeth Hussain. Izzeth Hussain was the first ever Muslim to join the Ceylon Overseas Service and the first ever Muslim career diplomat to rise to the highest position in the Foreign Service by holding the position of Director General of Foreign Relations in the Ministry of Foreign Affairs in the 1980's. He was also the Ambassador to the Russian Federation and the Commonwealth of Independent States, based in Moscow.

MC Abdul Rahman's third son, Muhammad Ismail, was an active social worker who took a keen interest in religious and educational activities of the Muslim Community. The British Governor bestowed on him the titular honor of Mudaliyar for his exemplary social service. He was also the Managing Trustee of the Maradana Mosque and Honorary Secretary of the Colombo Muslim Educational Society. Mudaliyar Ismail married twice, Hajara Umma – a first cousin of Sir Razik Fareed – and Ummu Ayesha. His son MACA Abdul Rahman functioned as the Principal of Hameed Al Hussaini Maha Vidyalaya, one of the prominent government Muslim Schools in Colombo, for many years.

MC Abdul Rahman's fifth child, Abdul Azeez, maternal grandfather of MH Muhammad, was a successful businessman and was affectionately known as "Prince Charming". He did not seek public office. Yet, the British Government bestowed on him a titular honor. Azeez played a quiet role in the Muslim community, helping religious and educational institutions in an effectively constructive way. He was generous in his charity and helped the needy, regardless of their race, religion or ethnicity. He preferred silent service and avoided publicity.

Abdul Rahman's youngest son, Muhammad Izzadeen married Muthu Natchiyar but had no issue.

The Sri Lankan Muslim Community gratefully remembered MC Abdul Rahman when his portrait was unveiled by J R Jayawardene, the then leader of the opposition, at the Moors' Islamic Cultural Home Auditorium at Colombo Fort on June 13, 1975, on the occasion of his 76th death anniversary.

On January 21, 1987, the then Prime Minister, Ranasinghe Premadasa, unveiled a portrait of MC Abdul Rahman at the Colombo Town Hall under the patronage of B Sirisena Cooray, the Mayor of Colombo.

In December 1989, MC Abdul Rahman's portrait was unveiled at the gallery of the Parliament of Sri lanka at Kotte-Sri Jayawardenepura, by President Premadasa, on the occasion of the cventenary of Abdul Rahman's entry into the Legislative Council as the first ever Muslim Member. MH Muhammad, his great grandson, was the Speaker of the House at this time.

Abdul Rahman's eldest brother, Muhammad Cassim Muhammad Ismail, had four children. Of them, Muhammad Ali had the distinction of becoming the first ever Muslim Justice of the Peace in Ceylon in the 1890's, while holding the prestigious office of Consul for Persia in Ceylon. Perhaps, he was the first Muslim to function as a Consul for a foreign state in Ceylon. Another son, Muhammad Haniffa, was a member of the Colombo Municipal Councul during the period 1884-1900, the second member in the family to become an MMC following in the footsteps of Abdul Rahman.

Both Muhammad Ali and Muhammad Haniffa married two daughters of Hajiar Appa. Ismail's eldest daughter, Yehiya Umma, married MLM Zainudeen Hajiar, who was also a member of the Colombo Municipal Council from 1900 to 1907. Ismail's grandson, Muhammad Hussain, son of Muhammad Ali, married Ayesha Umma, daughter of NDH Abdul Ghaffoor, the top flight landed proprietor who played a dominant figure in the country's business circles. Hussains oldest son, Mehdi Hussain, is a graduate from the Oxford University and a Barrister-at-Law and his youngest son, Ali Feizal, is an MBBCh from Oxford. Hafsa, a daughter of Hussain is married to Dr Hamza Sulaiman of Sulaimans Provate Nursing Home at Grandpass.

Two of Ismails great granddaughters married Zubair A Caffoor, son of Falil A Caffoor, and Majeed Abdul Cader, while another great granddaughter, Ummu Kulzum, married the distinguished educationaist and scholar, AMA Azeez, the first ever Muslim Member of the now extinct Ceylon Civil Service and later on the incomparably brilliant Principal of Zahira College, Colombo, in the 1950's. Azeez was also a member of the now abolished Senate, the Upper Chamber of the Parliament, for many years from 1953 and was also a member of the Public Services Commission. Another great granddaughter of Ismail, Sithy Fathima, married Jabir A Cader, a member of the Colombo Municipal Council from 1954, Mayor of Colombo in 1966-1969, and a United National Party Member of Parliament representing the Colombo Central Seat from 1977 to 1994.

Although educated in English in the Colonial system of education, Muhammad ismail was a deeply religious man. He, together with his younger brother, Muhammad Cassim Abdul Rahman, were the live wires behind the moves to expand the premises of the Colombo Grand Mosque at New Moor Street and also to provide a Muslim burial ground therein.

Muhammad Cassim Abdul Rahman - 76th Death Anniversary Jun 13 1975 (Jamad Al Thani 2, 1395 H)

published in the MICH Souvenir III of 1970-76

Venue: Moors' Islamic Cultural Home, Bristol Street, Fort, Colombo 1

Presided by : Sir Razik Fareed, OBE, JP UM

Sir Razik Fareed, in his opening address, said:

I am very happy, indeed, to preside at this function today on behalf of the MICH and I extend a most cordial welcome to all of you. I was planning to travel to Pakistan by the 2 O Clock flight, but evidently Allah Willed that I should preside at this grand meeting. Alhamdulillah!

It has taken us 76 years after the demise of this grand old man to pay our respects to a Ceylon Moor pioneer. He, as you know, was the first Ceylon Moor Member of the Legislative Council and the Colombo Municipal Council. He was also the first Moor unofficial Magistrate in 1876.

We had a void in the portrait gallery of Ceylon Moor patriots. Today, Alhamdulillah! we have been able to fill that gap. We are thankful to Marhoom Anis bin Haji ismail Effendi, whose heir had handed over the photograph of the late Abdul Rahman, which his late father had carefully preserved.

We must also remember, with gratitude, Marhoom Sameer bin Haji Ismail Effendi, who has kept a careful record of the Moors of the past and also evidence of the history of the Moors. I understand that the organizers of this function have obtained very valuable information from the files of Marhoom Sameer bin Haji Ismail Effendi and that information is in your hands in the form of a booklet.

To a certain extent Marhoom MC Abdul Rahman was a man of outspoken ability. His speeches indicate that he was no "Yes" man. If the Government of the day introduced legislation that was beneficial to the country he supported such legislation and if it was not in the best interest of the country he opposed it. Specially at a time like that he had the guts to oppose.

As a Municipal Councillor, Hon MC Abdul Rahman, has been responsible in getting the streets of Colombo lit by gas. But in later years, when I entered Municipal politics, as a City father, I had the privilege of changing them to incandescent bulbs and that in spite of vehement protests by interested parties who tried to tempt me with various rewards if I withdrew the motion.

His other notable work in the Colombo Municipal Council was the appointment of female vaccinators who were very useful to our community, specially to the Moor women.

I understand that the teenagers have brought out a very comprehensive biographical sketch of this law-giver, educationist, merchant prince and social worker.

I believe - I can say this without any fear of contradiction - that I am the only man alive today who had seen the happy couple. They always sat together, she dressed in a white saree and he in Shalwar & Kameez complete with a Surat cap. A beautiful beard adorned his manly face. Undoubtedly, he looked a born leader. May their souls rest in peace!

Citation by MH Mohamed, World Muslim Congress (Sri Lanka Council) and representative Rabitat-Al Alam Al Islami, Makkah Al Mukarramah:

Mr Presisent, Mr JR Jayawardene, Your Excellencies, Mr Premadasa, member for Colombo Central, Ladies & Gentlemen:

It is my privilege to speak a few words on Hon MC Abdul Rahman, who was no ordinary mortal, but a merchant, reformer, legislator and leader. He had in his veins the same saintly blood from his mother, Fathima, a daughter of the renowned saint, Al Khutub Al Sheikh Ismail Yemeni.

Khadija, his wife, was also of saintly blood, being the daughter of his paternal uncle, Al Qutub Sheikh Yahya al Yamani, commonly known as Hadjiar Appa, whose remains lie interred at the Main Street Jummah Mosque, Matara.

Abdul Rahman became a businessman of repute by the establishment, in Colombo Fort and in Pettah and Slave Island, of an extensive import and export business. he owned shipping vessels for the transport of goods, the SS "Rahmaniya" was the first vessel named after him. He was helpful to everyone. That was Abdul Rahman the merchant. His activities and his conspicuous ability became well known and recognized.

He was nominated to a seat in the Colombo Municipal Council in 1876 to look after the and promote the interests of the local Muslims. he made such an impressive effort that while being a Councillor he was made an Unofficial Magistrate, being the first Ceylon Moor to hold these two posts.

As a result of the enlargement of the Ordinance and a Moor being allowed to be appointed to the Legislative Council, Abdul Rahman was appointed as the first Muslim Member of the Legislative Council on 29 October 1889. This appointment was made by Sir Arthur Gordon. His work received universal recognition. At the end of his five year term he was appointed to a further period of five years by Governor Elibank Havelock. In those days appointed Members generally sat and warmed their seats but not so Abdul Rahman. In any proposal or debate he was concerned with the rights of the nation. He spoke out his heart in earnestness and evoked the sympathy and understanding of the Ruling British. The HANSARD of December 1894 is replete with reference to his concern towards the community. That was Abdul Rahman the Reformer.

The Moors of the time were lagging behind in matters concerning their social and educational life. This was a sphere where, if at all, Abdul Rahman felt action was necessary. He had much to speak of on the inclusion of amendments to the Marriage Registration Ordinance No 2 of 1886 and Marriage Registration Ordinance No 2 of 1888 whereby Muslim marriages also came to be registered. Until then, the "Kadutham" filled by Khateebs were the only unstable form of registration. Compulsory registration of Muslim marriages was a brain-child of Abdul Rahman.

Another field of his activities was the championing of the cause of Muslim female education. The Moors of Ceylon then held that female education would jeopardize the practice of Islam. A few female adults had some form of education in what was called "secluded schools". Abdul Rahman's vision and foresight spoke out his mind urging special provision for the education of Muslim females and the question of general female education was discussed in the Legislative Council. He was thus a pioneer for the promotion of Muslim female education and for the appointment of doctors and vaccinators who catered to the needs of the Muslim women. His insistence ultimately resulted in the Colonial Secretary, in the year 1898, authorizing the cost of the building which housed the first Muslim Girl's School in Colombo.

Abdul Rahman became so engrossed in his political work that he found little time to look after himself. Frail in body and weak in health he carried out his tasks at tremendous sacrifice. A devout Muslim, he had learnt the Hadeeth "paradise lies at the feet of the Mother". She had been his inspiration. Amidst his crowded program, on account of failing health, he passed away on 19 June 1899, while serving only the second five year term of the Council. That was Abdul Rahman the Leader.

[Major portions of this family tree have been submitted by the kind courtesy of NMM Bishrul Hafi in Sri Lanka]

Al-Seyed Sheikh Shaoosi Al-Rabahiyyi Zabeediyi Yamanyil Abbasi wa Siddiqui (Yemen)

Al-Seyed Salih Abdullah (Yemen)

Al-Sheikh Salih (Yemen)

Al-Sheikh Izzadeen Al Quadiri (Yemen)

1 Al Qutb Al-Sheikh Ismail Al-Yamani Al-Sailani alias Arabi Appa (Weligama) + d/o Muhammad Abubakr Marikar (Kudi Odayar) of Matara (34,35)

2 Al-Sheikh Yahya bin Al-Sheikh Ismail al-Yamani alias Hajiar Appa (Matara), d:7-Jun-1884 (H 1325)

3 Ameena Umma + M C Sheikh Abdul Cader Issadeen of Matara (Sheikh Issadeen also married ULM Fathima) (260)

4 Muhammad Cassim Issadeen + Sailath Umma

5 Rahmath Umma Issadeen + Sheikh Abdul Cader Issadeen (s/o Sheikh Abdul Cader Issadeen & ULM Fathima) (260)

6 Fathima Jiffriya Issadeen + MBM Anver

7 Ruwina Anver

7 Liaqat Anver

7 Rifaath Anver

7 Marina Anver

7 Midaath Anver

7 Athumath Anver

6 Mumtaz Issadeen + ARI Marikar

6 Raziya Issadeen

5 Sithy Naima Issadeen + Abul Cassim Muhammad Hassan

6 Badriya Hassan

6 Akhtab Hassan

6 Nishtar Hassan

6 Hilmi Hassan

6 Dhahlan Hassan

5 Sithy Rifaya + Abul Cassim Muhammad Salihu

6 Muhammad Azam Salihu

6 Fahmi Salihu

6 Muhammad Rafee Salihu

6 Muhammad Tariq Salihu

3 [30] Khadija Al Qutb bint Al-Sheikh Yehiya + [31] Abdul Rahman Muhammad Cassim (aka MC Abdul Rahman), b:1829, d:12-Jun-1899, First Muslim Member of the Legislative Council, MMC (1876-1877), Hon MLC (!889-1899)

4 [32] Abdul Majeed Abdul Rahman + [33] Safia Umma

5 [34] Jariyath Umma Abdul Majeed + [35] Levanna Marikar O.L.M.

6 [36] Khadija Levanna Marikar + CMM Sheriff

7 Mohamed Azhar Sheriff

7 Hasanul Museena Sheriff + Firdouse Noor Zulaiha

                                        8  Hisham + Sithy Fathimathul Azra

                                            9  Suraya

                                            9  Abdul Azam

                                        8  Zulal + Shyama

                                            9  Fathima

                                        8  Rumi

                                        8  Rima Lulu

7 Fouzul Refa Sheriff

6 [37] Ummu Hafeera Levanna Marikar + [38] Abdul Cader N.H.M. (80)

7 [39] Cader Ansar A.

7 [40] Cader Shoaib A. + [41] Kareemathul Fowzia

8 [42] Fathima Nuzrat Zaman

8 [43] Muhammad Shamil Mashood

7 [44] Thufathul Mahkama Abdul Cader + [45] Aamir A Sheriff (96)

8 [46] Munira Sheriff + [47] Zareem Lameer, Dr. (225)

9 [48] Tahia Lameer

8 [9] Nazrul Sheriff + [8] Minna Yousoof

8 [49] Arooz Sheriff 1948+[50] Zahariya Macan-Markar 1947(97)

9 [51] Naja Sheriff 1972

9 [52] Salma Sheriff

9 [53] Baasil Sheriff

8 [54] Fathima Imthizam Sheriff + [55] Muhammad Reza Ashroff (113,221)

9 [56] Muhammad Rehan Ashroff + Zulaika Majeed (d/o Farookie Majeed & g/d of Abdul Majeed, ex MP Sammanthurai and ex Junior Minister), m:Aug 2003 in Colombo

9 [57] Ahmed Navid Ashroff + Nushrah Shahira Razeed (d/o MIM Razeed, grand daughter of Izadeen Mohamed), m:Jan 2007

10 Amelia Ashroff, b:17 Nov 2010, LA, USA

9 [57a] Mohamed Shazan Ashroff + Adriana Felix, LA, Usa, m:May 15 2012

10  Layla Ashroff, b:8/8/2016

8 [58] Yasmin Sheriff + [59] Farouk Cader

9 [60] Tahira Cader + Mike Chavez

                   10  Amir Chavez

                   10  Aara Chavez

                   10  Atiyaa Cader

7 [61] Cader Shafeek A. + [62] Bisreeyathul Kareema Salih (10)

8 [63] Nabil Cader

8 [64] Afzal Cader

8 [65] Lamya Cader

8 [66] Ghazzali Cader

7 [67] Cader Ashroff A. + [68] Esthelle Thiedeman

8 [69] Fazal Cader

8 [70] Rukshana Cader

7 Aynul Rifa Abdul Cader + Muhammad Ashroff Mansoor, Barrister-at-Law, d:Jan-8-1998 (s/o Muhammad Hadjiar Ahmed Mansoor & Nafeesa, Caffoor Hajiar's niece, of Veyangalle

8 Muhammad Feizal Ahmed Mansoor

8 Ummu Nafeesa Ilma Mansoor, d:Oct-8-1995 + Muhammad Yasmi Abdul Bari (s/o Ebrahim Lebbe Abdul Bari of Veyangalle & Fareeda Magdom of Alutgama)

9 Ilma Shule Bari

9 Muhammad Ashik Bari

7 *2nd spouse of Aynul Rifa Abdul Cader: + Saleem Arab

8 Sheru Saleem

7 [77] Cader Zachraff A. + [78] Selma

7 [79] Cader Huzair A. + [80] Shanaz

7 [81] Cader Huzam A. + [82] Fazel

8 [83] Nadira Cader

8 [84] Azra Cader

7 [85] Cader Ifthikar A. + [86] Dr. Shamim

8 [87] Shanaz Cader

8 [88] Hassan Cader

8 [89] Anjam Cader

6 [90] Noorul Huzaima Levanna Marikar + SLM Fuard

7 Izzathul Marliya Fuard + I L M Hussain

                            8  Mohamed Ifham + Sithy Zareena

                                9  Fathima Sara

                                9  Aisha

                            8  Ahmed Farzan + Widard Husni

                            8  Ummu Afira + Muzammil

                                9 Fathima Hafsa

                                9  Aynul Kamila   

                            8  Fathima Feroza + S Salahudeen

                                9  Hajara 

                            8  Syed Rumi

                            8  Mohamed Lariff   

7 Fathima Zuhri Fuard + Abdul Cader Mohamed Anver (10)

                            8  Fathima Misriya Anver

                            8  Fathima Yasmin Anver

                            8  Fathima Marina Anver

                            8  Mohamed Mohideen Anver

                7 Rahmathul Nuzha Fuard + Yaseen A Ghafoor

                            8  Mohamed A Ghafoor

7 Mohamed Musanif Fuard + Noorul Aroosiya

                            8  Fathima Shameera Fuard

                            8  Noorul Shahama Fuard

7 Mohamed Fairoz Fuard, Chartered Secretary + Fouzul Fareeda

                            8  Fathima Fahama Fuard

                            8  Mohamed Rifaath Fuard

6 [91] Mohamed Shamsudeen Levana Marikar + Rahila Umma

7 Zehrun Nissa Shamsudeen + Bastaamiar Mohamed Siddiq Jamaldeen (30,90)

                            8  Mohamed Zuhdi + Khadeeja

                                9  Fathima Nuzrath

                            8  Mohamed Rizni

                            8  Mohamed Shihan 

7 Sithy Harisa Faiza Shamsudeen

7 Suadul Khairiya Shamsudeen

6 [92] Abdul Rahman Levanna Marikar + Ummul Rukiya

7 Shamsul Shafinaz Abdul Rahman

7 Mohamed Ifthikhar Abdul Rahman + Kamarun Nissa

                            8  Dina Ifthikhar

7 Imthiaz Abdul Rahman + Mohamed Ruzhan Hathy

                            8  Mohamed Fazeem

6 [93] Rafeenathul Mazahim Levanna Marikar + ACM Thawfeek

7 Noorliya Thawfeek + Dr Yahya

                            8  Risham Yahya

                            8  Roshme Yahya + A Azeez

                                9  Lina Azeez

                            8  Reza Yahya

                            8  Zufni Yahya 

6 [94] Ummu Jameema Levanna Marikar + MJM Farook

7 Muhusina Mumtaz Farook + Muhammad Nawaz Razeen (340)

               8  Fathima Mariam Razeen + Muhammad Ameer Azeez

9  Muhammad Nabeel Azeez

               9  Abdullah Hashmat Azeez

               9  Ahmed Omar Azeez

               9  Fathima Aasiyah Mariam Azeez

             8 Muhammad Imran Razeen + Fathima Shafna Hameed

9 Jumana Imran Razeen

7 Shiraz Farook

7 Khatoon Farook

7 Shaham Farook

7 Ifham Farook

6 [95] Noor Naeema Levanna Marikar + Abul Mawahib Hilaldeen (128)

7 [402] Shahnaz Mawahib + [403] Ahmed Althaf Ameer (Son of Dr Gousul Ameer)

8 [404] Shibly Ameer

                             8 [405] Safra Ameer + [406] Shahryaz Bari (Toronto, Canada)

                                  9 Sulaiman Althaf Abdul Bari (b:2004)

8 [407] Asif Ameer

8 [408] Adil Ameer

7 [409] Muhammad M. Fahmi

7 [410] Muhammad M. Reza + Zehra Yusuf

8 [411] Rizwan Reza

8 [412] Farzan Reza

8 [413] Adnan Reza

8 [414] Marwan Reza

7 [415] M.I. Imtiaz Ahmed + [416] Mahima Wahab (Negumbo)

8 [417] Abdul Hakeem Imtiaz

7 [418] Safiya Yasmin Mawahib + Fuard Cader

8 [419 Mohomed Fahim Fuard

                             8 [420] Mohomed Ibraheem Fuard

5 [96] Muhsina Abdul Majeed + [97] Naina-Marikar Y.M., JP(WP) only Muslim appointed JP under the rule of King George (16)

6 [98] Bishrul Hafi Naina-Marikar, JP 1961, all Island 1991 + [100] Ummu Zowher

7 [101] Jamaludin Rizvi Bishrul Hafi + [102] Rozia Jehan

8 [103] Ifthar Rizvi

8 [104] Fathima Ayesha Rizvi

8 [105] Saeed Rizvi (deceased 1.5 years)

6 *2nd Spouse of Bishrul Hafi Naina-Marikar: + [106] Noor Masooda

7 [107] Akhtar Bishrul Hafi + Shuaiba

8 Shalimar Akhtar

8 Fathimah Akhtar

7 [108] Muhsina Bishrul Hafi + [109] Nazeer A.M.M.

8 Sumaiyya Nazeer + Sameel

7 [110] Ummu Zowher Bishrul Hafi + [111] Sirajudeen Ghouse

8 [112] Imran Ghouse

8 [113] Inshira Ghouse

7 [114] Nazri + [115] Ghani A.M.M.

6 *3rd Spouse of Bishrul Hafi Naina-Marikar: + [116] Vaseela Salih

7 [117] Tarzi Bushrul Hafi + [118] Hameem Muhammad

8 Rifqi Miras Bishrul Hafi

7 [119] Bishrul Kafi

7 [120] Athira Bishrul Hafi + Zulfa

7 [121] Ahmed Nashath Bishrul Hafi + Shakila Mahesha

7 [122] Hajara Bishrul Hafi + MTM Fahim

8 Asif Fahim

7 [123] Narjis Bishrul Hafi + TMZ Zuffer

8 Zaneen Zuffer

8 Shazreen Zuffer

6 [124] Yehiya Naina-Marikar + [125] Mafrooha

7 [126] Misriya Naina-Marikar

6 [127] Sadiq Naina-Marikar + [128] Zohera

7 [129] Fathima Maziya Naina-Marikar

7 [130] Fathima Rehana Naina-Marikar

7 [131] Imthiaz Hussain Naina-Marikar

7 [132] Reza Naina-Marikar

6 [133] Zuhairul Amir Naina-Marikar + [134] Sadathul Ashira

7 [135] Fouze Miliza Amir + [136] Nawaz Marzook (13)

8 [137] Aflathun Nawaz Marzook

8 [138] Rubia Sadoona Marzook

7 [139] Hazli Feron Amir

7 [140] Fazeeya Yasmin Amir

7 [141] Zareena Firza Amir

7 [142] Fairoz Riza Amir

6 [143] Shihabu Zuhri Naina-Marikar + [144] Violet Loos

7 [145] Shireen Ali Zuhri

7 [146] Ifthikar Zuhri

7 [147] Kareema Nissa Zuhri

6 2nd spouse of [143] Shihabu Zuhri Naina-Marikar + Name Not Known

6 [148] Izzethul Hussain Naina-Marikar, CCS (passed out first in the examination, first Muslim for overseas appointment, Sri Lanka Ambassador in the Philippines, 1982) + [149] Angela

7 [150] Shiraz Hussain

7 [151] Nehla Hussain (France)

6 [152] Sithy Abbasiya Naina-Marikar + [153] Samsudeen Hathy (13)

7 [154] Faizal Hathy + [155] Fazilet Nazim (1st Marriage)

8 Shihara Hathy

7 Faizal Hathy + Ayesha Cader (d/o I.A .Cader, M.P, Beruwala)

7 [156] Afzal Hathy + Mariam Cader

8 Nazreen Hathy

8 Arshard Hathy

7 [157] Imroze Hathy

7 [158] Ruzhan Hathy + Imtiaz Abdul Rahman

8 Fazeen Hathy

7 [159] Mehroon Hathy + Fazli Shafeek Wahab (s/o Muhammed Shafeek Wahab)

8 Ashraaq Wahab

7 [160] Sheroon Hathy + Deepa Ratnayake

8 Framgee Hathy

6 [161] Fouzul Hanoon Naina-Marikar, JP 1979 + [162] Nazick A.M.M., Major (CLI)

7 [163] Abdul Rahman Fahmi Nazick + Farahana Jadeed (Galle)

7 [164] Fahima Nazick + Feizal (div)
7 [164] 2nd spouse of Fahima Nazick + MJM Inam

7 [165] Sima Nazick + Nicholas (converted to Islam)

6 [166] Mathar Sadi Naina-Marikar, d;21 July 2009 + [167] Fathima Zulfiqar Mihilar (div)

7 [168] Fathima Muhusina Mathar

7 [169] Fathima Marina Mathar

7 [170] Sithy Rizna Mathar

7 [171] Muhammad Kamil Asif Mathar

5 [172] Mahmood Abdul Majeed (bachelor)

5 [173] Khalid Abdul Majeed + [174] Zehri Hashim

6 [175] Fazlun Majeed Khalid (UK)

6 [176] Tawhid Khalid

6 [177] Mulaffer Khalid, Sq Leader + [178] Noor Zeena Marikar-Bawa (62)

6 [179] Fouz Naima Khalid + MKMA Careem

6 [180] Zaffar Khalid

6 [181] Thufa Khalid

4 [243] Saffa Umma Abdul Rahman + I. L. Marikar Baas**

     5 Cassim ILM
     5 Hussain ILM

     5 Shawhanath ILM + Shamsudin

     5 Pathuma Beebee ILM + M. L. M. Zainudeen
      6 Mohideen Zainudeen + Sithy Huzaima

      7 Aynul Fareeda Zainudeen

      7 Zainul Fahmi Zainudeen

4 2nd spouse of [243] Saffa Umma Abdul Rahman + Name Not Known

4 [244] Ummu Habeeba Abdul Rahman + Ahmed Lebbe Marikar

4 [245] Ne'math Umma Abdul Rahman + Name Not Known

4 2nd spouse of [245] Ne'math Umma Abdul Rahman + I. L. Marikar Baas**

5 Safiya Umma ILM

5 Sithy Rahila ILM

5 Sithy Haleema ILM + Abdul Samad Mowlana

6 Seyed Mohamed Faleel
5 Abdul Rahman Marikar

5 Haffiel ILM + Fusseiya Abdul Azeez

6 Sithy Hadijathul Badriya Marikar + Noordeen Mohamed Hussein (210, 218, 217)

7 Ameena Luthfe Hussein + Ismath Ur Rahman

8 Sameeha Thur Rahman

8 Safiyyah Thur Rahman

4 [182] Abdul Azeez Abdul Rahman + [183]  Yehiya Umma bint Abdul Hameed

5 [184] Ummu Hafeera Abdul Azeez + [185] Nagoor Meera Muhammad Haniffa (173)

6 [186] Muhammad Haniffa Muhammad Munas + [187] Sithy Fathima Sheriff

7 [188] Nazli Munas + [189] Zubair Farooque H.M.

7 Fazli Munas

7 [59] Faseel Munas + [60] Shifa Ja'afer Sadiq

8 [61] Azhar Faseel, Dr MBBS, Sydney Australia + Nabila Sameer (10,20,43,60,70,90a,93)

                                 9  Liyana Khadija, b: Dec 2017, Australia

8 [62] Zahara Faseel

6 [422] Marhooma Haniffa + [191] Muhammad Zainudeen Muhammad Niyaz (38)

7 [423] Fahmy Niyaz, d:Apr-1967 + Rushdi Ovais (2nd Spouse of Rushdhi Ovais + Hilmy Bhari, children, Thurab Hilmy + Fazleena Thurab (Yahya), grandchildren, Ahmed Aadam Thurab, Ahmed Yusuf Thurab, Azrah Maryam Thurab)

8 [424] Omar Fahmy MMgt, New Zealand + Niyaza Fahmy (nee Mukthar)

9 [425a] Noor Safra Catherine Fahmy

9 [425b] Noor Sara Fahmy

           8  [427] Athif Murad Fahmy AICM, MABE (UK), EDBA (University of Colombo) + Shaharan Amra Fahmy (nee Yakeem)

                 9  [428] Amira Talia Fahmy AMABE (UK)

                 9  [429] Tara Nadia Fahmy CIM (UK)

7 [426] Iqbal Niyaz + Jean

8 [426a] Zanhuba Iqbal

8 [426b] Razak Iqbal

7 [429] Thulba Niyaz + Ferayal Uvais

8 [430] Azra Niyaz + Hisham Sheriff

9 [431] Suraiya Sheriff

9 [432] Azam Sheriff

8 [433] Tharik Niyaz

8 [434] Zahara Niyaz

6 *2nd Spouse of [22] Marhooma Haniffa + [192] Muhammad Abdul Razak (s/o Meera Lebbe)

7 [435] Ahmed Hasan Ali Razak + Raziya

8 [436] Ehab Razak

8 [437] Shafi Razak

8 [438] Haseena Razak

7 [439] Sithie Fathima Razak + Zahir Nawaz BSc, C.Eng.

8 [440] Nadiya Nawaz MSc

8 [441] Azad Nawaz, Automobile Engineer

8 [442] Shanaz Nawaz

7 [443] Muhammad Abdul Azeez Razak Dr. [MBBS] + Hamziya Muhammad Nalim (d/o MLM Nalim & Mrs U R Nalim, see obit below)

NALIM - M.L.M. (Retired Electrical Engineer - C.E.B.), loving husband of Mrs U.R. Nalim, father of Kareema (U.S.A.), Prof. Razi (U.S.A.), the late Zeena, Hamzia, Ameena (Sharjah), Azmiya (Canada) & Azad (Amana), brother of late Sithy Zahira, late Amir, late Dr M.L.M. Anver, father-in-law of Prof. Jawahir (U.S.A.), Rafeela (U.S.A.), Reffai, Dr Razak (M.R.I.), Dr Anil (Sharjah), Faizal (Canada) & Silmia, brother-in-law of late Ibrahim, Justice Jameel, Ismail (Tudawe Brothers). Janaza took place on 7th July 2006 at 5.30 p.m. 175, Quarry Road, Dehiwela. DN Sat Jul 8 2006

7 [444] Ahmed Mohiyudeen Yahya Razak + Nazreen Zaheer

6 [246] Muhammad Haniffa Muhammad Muwafique

6 [247] Muhammad Haniffa Muhammad Zakariyya

6 [193] Muhammad Haniffa Muhammad b:15.06.1921 m:Apr-1944 MMC (1947-1967), Mayor (1960-1963) + [194] Noor Hassina Abdul Hameed (80)

7 [195] Muhammad Hussain Muhammad + [196] Ayesha Hadi

8 [276] Jisthy Hussain + Sherine Mahboob (Weligama)

9 Atheeq Mohammed

9 Aneeq Mohammed

9 Jameema Mohammed

8 [277] Jihara Hussain

7 [205] Ummu Muhammad + [206] Muhammad Naas Haniffa, Dr. (13)

8 [207] Ruyez Haniffa

8 [278] Ruwain Haniffa

8 [279] Sumaiha Haniffa

7 [208] Thufa Muhammad + [209] Fairoze Shahul Hameed

8 [280] Firaz Shahul Hameed + Name Not Known
9 Saaraa Hameed + Fouz, s/o Liyaul Fouz & Firdousiya, formally from Dickwella now residing in Melbourne, Australia

8 [281] Fazal Shahul Hameed

8 [282] Fawaz Shahul Hameed

8 [283] Farah Shahul Hameed

7 [197] Hassan Muhammad + [198] Jezmin Jabir (50)

8 [284] Shazmin Hassan

8 [285] Hifaz Hassan

7 [199] Azahim Muhammad + [200] Minna Ibrahim

8 [286] Usma Azahim + Afzal Usman

9 Fathima Sabeena Usman

9 Fathima Yasmin Usman

8 [287] Shazida Azahim + Ahmed Aslam

9 Fathima Mariam Aslam

9 Omar Aslam

8 [287a]Fahimah Azahim

7 [201] Haniffa Muhammad + [202] Mahfoosa Jaleel

8 [288] Shazma Haniffa

8 [289] Shaza Haniffa

8 [290] Shadiya Haniffa
7 2nd spouse of [201] Haniffa Muhammad + Aiynul Mazeeya Razik, d/o Abdual Azeez Muhamed Razik (Naqusha Bandiya) of Mavilmada Kanday
(No issue)
7 [203] Shahul Hameed Muhammad + [204] Fathima Farahath Fouz (13)

        8 Shaaz Muhammad + Ruzaina Hadgie

      9 Hamza Muhammad
        8 Amra Muhammad + Name Not Known

     9 Suhail
       8 Aaliya Muhammad + Imadh Marikkar, m:Aug 2015 in Colombo
       8 Naseema Muhammad

7 [210] Shaha Muhammad, d:28-Sep-2001 + [211] Rasheed Jamshed Ariff (77)

8 [293] Rehab Ariff + Minza

9 Shahima Rehab Ariff

8 [294] Shehab Ariff

8 [295] Rifad Ariff

8 [296] Ifham Ariff

6 [248] Bathool Haniffa + [249] Abdul Rahim Abdul Rahman

7 [297] Imtiaza Rahman + [298] Muhammad Sheriff Muhammad Jabir (112)

8 [299] Fiaz Jabir

8 [300] Inaz Jabir + [301] Sabry Hafeel

7 [302] Thufa Rahman + [303] Faleel Razzak

8 [304] Ruzaika Faleel

8 [305] Rekaz Faleel

7 [306] Ghazzali Rahman + [307] Lamya Shafeek Cader (80)

8 [308] Faziul Ghazzali

8 [309] Fadil Ghazzali

6 [258] Zohara Haniffa + [259] Dr. M.H.M. Iliyas

7 [316] Ifthikhar Iliyas + [317] Jameena Packeer Saibo

8 [318] Asif Iliyas

8 [319] Shehab Iliyas

8 [320] Jehan Iliyas

7 [321] Azad Iliyas + [322] Ayesha Affan

8 [323] Aftab Iliyas

8 [324] Athif Iliyas

8 [325] Zickra Iliyas

7 [326] Fazna Iliyas + [327] M.I.M. Fouz

8 [328] Hazmar Fouz

8 [329] Shezad Fouz

8 [330] Shadia Fouz

6 [250] Thufa Haniffa + [251] Buhary M.Y.S.M.

7 [310] Minna Buhary + MYM Rauf

8 [311] Imara Rauf + Ismeth Majeed

9 [312] Waseem Ismeth

7 [313] Ummu Buhary + [314] MBM Ziard

8 [315] Usman Ziard

6 *2nd Spouse of [250] Thufa Haniffa + [256] Abdul Hameed Muhammad (Zarook)

7 [270] Rumy Muhammad + [269] Ummu Kulzoom Ishak

8 [271] Asaf Muhammad

8 [272] Amjad Muhammad

6 [260] Khadija Haniffa + [261] Dr. M.S.M. Ramzeen

7 [331] Zulfikhar Ramzeen + [332] Muhammad Azad Muhammad Niyas, Dr.

8 [333] Fazli Azad

8 [334] Aslam Azad

8 [335] Omar Azad

7 [336] Hafeera Ramzeen + [337] Faiz R. Mohideen

8 [338] Firaz Mohideen

6 [262] Ja'afer Sadiq Haniffa + [263] Fathima Hanoon Kaleel

7 [339] Shifa Ja'afer Sadiq + Faseel Munas

8 [340] Azhar Faseel

8 [341] Zahara Faseel

7 [342] Hafsa Ja'afer Sadiq + A.B.M. Nishtar

8 [342] Shaharwan Nisthar

8 [343] Sulaiman Nisthar

8 [344] Sakeena Nisthar

8 [345] Dawood Nisthar

8 [346] Salman Nisthar

8 [347] Haleema Nisthar

7 [348] Omar Ja'afer Sadiq

7 [349] Sarah Ja'afer Sadiq + Rizvi Salih, Dr.

7 [350] Ali Ja'afer Sadiq

6 [264] Munsir Meeran Haniffa, Dr. + [265] Ummu Zulaikha Kaleel

7 [351] Kareen Munsif, Dr.

7 [352] Aida Munsif

6 [266] Sithy Ummu Hafeera Haniffa + [267] Haleem Ishak

7 [268] Haniffa Ishak

7 [269] Ummu Kulzoom Ishak + [270] Rumy Muhammad

8 [271] Asaf Muhammad

8 [272] Amjad Muhammad

7 [273] Mahakoom Ishak

7 [274] Qadir Ishak

7 [275] Zulaikha Ishak

4 Muhammad Ismail Abdul Rahman (First Muslim Mudaliyar & Qazi) + [217] Hajara Umma Marikar (50)

5 [218] Azhara Azeema Ismail + [219] Muhammad Ali Mohideen Bawa

6 [220] Hamzathul Hajara Muhammad Ali + [221] Issadeen Sheikh Shahabdeen (260)

7 [222] Ahamed Ismet Issadeen + Aneesa Hashim (d/o ALM Hashim Barrister at Law, ex Ambassador to Saudi Arabia)

8 [367] Nadia Issadeen

7 [226] Ahamed Kabeer Issadeen + [368] Inthu Nadarasa (Botswana, London)

8 [369] Ishan Issadeen

8 [370] Sheik Siraj Issadeen

8 [371] Ayesha Issadeen

7 [223] Yasmin Issadeen + [224] Uoosoof Mohideen

8 [225] Renoza Mohideen + [372] Zavahir Jainulabdeen

9 [373] Zahara Zavahir

9 [374] Hana Zavahir

9 [375] Zayd Zavahir

  8 [376] Rehana Mohideen

7 [377] Imtiaz Issadeen + [378] Kimie Yoshida (Australia)

  8 [379] Sheik Illiyas Issadeen, b: Tokyo, Japan

  8 [380] Izumi Issadeen, b: Tokyo, Japan

7 [381] Abdul Malik Issadeen + [382] Zainia Ahmed (Botswana)

  8 [383] Hafiz Luqman Issadeen (Hafiz-dar ul Uloom Zakariya 19-Nov-1999)

  8 [384] Hafiz Omar Issadeen (Hafiz-dar ul Uloom Zakariya 12-Nov-2000)

  8 [385] Mariam Issadeen

7 *[227] Ahmed Fazal Issadeen: + [229] Zavini Junaideen (Ratnapura)

8  Zafer Issadeen + Shazra Abdeen

8  Azma Issadeen + Arshad Junaid

9 Iyaad Junaid, b:2010
9 Liyana Junaid, b:2012
8  Adnan Issadeen

7 [389] Naushard Ali Issadeen + [390] Fathima Farhana Mowjood

  8 [391] AbdulRahman Mohamed Yasir Naushard Issadeen

  8 [392] Mohamed Yaqoub Naushard Issadeen

  8 [393] Mohamed Yaseen Naushard Issadeen

  8 [394] Mohamed Yusuf Naushard Issadeen

 8 [395] Mohamed Imran Naushard Issadeen

  8 [396] Fathima Fathoum Zeleeha Issadeen

5 [230] Ahamed Shahabdeen Muhammad Ali + [397] Noorul Hidaya

6 [398] Muhammad Aslam Shahabdeen + [399] Rizmi Bin Hassan (111)

7 [399] Zayan Bin Hassan

7 [400] Ahamed Bin Hassan

7 [401] Zafar Bin Hassan

7 [402] Zamani Bin Hassan

5 [231] Athariya Ismail + [232] M.C.A. Kudthoos/Muhammad Ghouse

6 Nilamdeen Ghouse

5 [233] Abdul Rahman M.A.C.A. (Retd Principal, Zahira College, Slave Island & Hussain Al Hameedi MV, Col 10) + [234] Asma Hanim Hashim (30)

6 [235] Muhammad Mohideen Rahman, Dr. + Faloona Mooseen (div)

6 [235] 2nd Spouse of Mohideen Rahman, Dr: + Fathima Cowla Fatheena Khalid

7 Muhammad Shabeen Rahman

7 Fathima Shimla Rahman

6 [236] Vazeerathul Khairiya Rahman + Muhammad Moosin Muhammad Rila

7 Ahmed Rizan Rila + Fathima Shihara

7 Asma Rizan Rila

7 Ahmed Rizni Rila

7 Muhanmmad Rifdi Rila + Farsha Nizar

7 Rifath Rila

6 [237] Vafirathul Zariya Rahman + Muhammad Khaiyoom Sheriff (div)

7 Fathima Hafsa Irfan + Azhan Abu Saheed

8 Malik Abu Saheed

8 Murad Abu Saheed

6 [237] 2nd Spouse of Vafirathul Zariya Rahman: + S. Fazli

7 Ahmed Riham Fazli

7 Ahmed Fawaz Fazli

4 *2nd Spouse of Muhammad Ismail Abdul Rahman:+ [238] Ummu Ayesha

5 [239] Mohideen Ismail Abdul Rahman, JP + Sithy Fathima Muhammad Ibrahim Kumusthar (25)

6 [360] Fathima Rezniya Mohideen + Muhammad Abdullah Muhammad Naleer (Kapuwatte)

6 [361] Akmal Refai Mohideen + Fathima Ramziya Nalir (daughter of M.I.M. Nalir, JP, ex-Waqf Board Commissioner, Weligama)

7 [362] Shahul Hameed Akmal

7 [363] Muhammad Shabeeb Akmal

5 [240] Sithy Khatheja Ismail Abdul Rahman

5 [241] Fathima Riyaya Ismail Abdul Rahman

4 [242] Muhammad Izzadeen Abdul Rahman + Muthu Natchiya

3 Abdul Latif Al Qutb bin Al-Sheikh Yehiya + Rahila Umma d/o Muhammad Haniffa Hajiar of Matara

4 Muhammad Ghouse Abdul Latif

4 Ummu Shaheeda Abdul Latif

5 Beebee Hafeela

6 Zeenathun Nasooh

6 Muhammad Ovais

6 Sithy Ramziya

6 Sithy Safeena

6 Sithy Rameeza

5 Beebee Naeema

6 Muhammad Rahmi

6 Saleem

6 Adham

6 Arham

6 Sithy Azeema

6 Ahmed Cassim

5 Beebee Faleeha

5 Ishak

5 Ilyas

4 Rahmath Umma Abdul Latif + AMM Hashim

5 Sithy Jowhara Hasjim

6 Abdul Rahman Jiffry

5 Sithy Nazeema Hashim

6 Reyaz

6 Ayn Reaya

5 Sithy Zackiya Hashim

5 Sithy Zawkiya Hashim + MMHM Thahir

5 Sabri Hashim

5 Hishamdeen Hashim (decd)

4 Muhammad Umar Abdul Latif

4 Sithy Fathima Abdul Latif + AMM Saheed

5 Muhammad Mueen Saheed

5 Sithy Anisa Saheed

5 Razeen Saheed

5 Ameen Saheed (decd)

5 Sithy Safiya Saheed

5 MM Mustafa Saheed

5 Badurdeen Sahed

5 Affeffdeen Saheed

4 Muhammad Ali Alim Abdul Latif

4 Abdul Cader Alim Abdul Latif

4 Sithy Khadija Abdul Latif

5 Muhammad Ameen

5 Maaria

5 Amira

4 Sithy Ayesha Abdul Latif

5 Sithy Umaira

5 Ansariya

5 Mazahim

5 Sithy Uwaisa

5 Sithy Wajeeha

5 Amir

3 Abdul Cader alias Alim Sahib Al Qutb bin Al-Sheikh Yehiya

3 Mahmood Al Qutb bin Al-Sheikh Yehiya

3 Abdul Raheem Al Qutb bin Al-Sheikh Yehiya

3 Fathima Al Qutb bint Al-Sheikh Yehiya + Ossen Sahib of Matara

4 Muhammad Ismail Mathicham Ossen Sahib

5 Zainambu +Mahmood

6 Abu Haniffa Mahmood

6 Muhammad Haniffa Mahmood + Sithy Ayesha

6 Abdul Ghani Mahmood

7 Nizam Nona

7 Hilru Nona

7 Muhammad Razmi

7 Fathli

6 Abdus Samad Mahmood

6 Muhammad Rabi Mahmood

6 Siddiq Mahmood

5 Abdul Azeez + Vaseela Umma

5 Khadija + Abdul Rahman

6 Muhammad Yahya Abdul Rahman

7 Alaudeen Yahya

6 Fathima Abdul Rahman

6 Mashoor Abdul Rahman

6 Jiffry Abdul Rahman

6 Zulfa Sima Abdul Rahman

6 Najumudeen Abdul Rahman

5 Jariyath Umma + Muhammad Ismail Alim

6 Zahim Ismail

6 Hilr Ismail

6 Abdul Cader Ismail

6 Ummu Razeena Ismail

7 Mansoor

5 Maimoonah Umma

5 Muhammad Salahudeen

6 Sadiq Salahudeen

6 Ibrahim Salahudeen

6 Badiudin Salahudeen

6 Mujeedeen Salahudeen

5 Nafeesath Umma + Jezail

5 Muhusinath

5 Safiya + Omerdeen Hajiar

5 Noor Muhammad

6 Sithy Nissa

6 Nizam

6 Nea'mathul Lafira

4 Zalaqiya Umma + Ahmed Matchicham Ossen Sahib

4 Moomina Umma + Abdul Rahman Ossen Sahib

5 Abbas (decd)

4 Abdul Majid + Fathima Ossen Sahib

5 Safiya Umma + Seeni Muhammad

6 Abdullah Jiffry Muhammad (Proctor)

6 Muhular Muhammad + Ghaneemathus Saadiya Shariff (112)

                            7 Nasooh Muhular + Nasooha

                            7 Hilmy Muhular + Zaharana Hathy

         8 Zuhrina Hilmy + Zakir Nuhman
                                    9  Muhammad Rasheed

                                    9  Fathima Aaminah

                                    9  Muhammad Ibraheem

                                8  Zahdiya Hilmy + Name Not Known (s/o Rizwi Shafi & Dr. Noor Jehan, of McLeod Road, Colombo 4) (358)

                                    9  Name Not Known

                                    9  Name Not Known

                                    9  Name Not Known

                           7 Rizvi Muhular + Fouzul Hana

                           7 Safhani Muhular

                           7 Zareena Muhular + Jazeem

                               8 Zaharifa Jazeem + Milhan Haniffa

                                  9 Asma Milhan

                                  9 Abdullah Milhan

                              8 (Name Not Known) Jazeem

                         7 Najeema Muhular + Farook

6 Sithy Naeema Muhammad + Moulavi Faleel Alim

7 Sithy Maria + Meera Mohideen

7 Muhammad

7 Sanaya

7 Nilufer

7 Mahaarad

7 Muhaira

5 AMM Hashim + Rahmath Umma

5 Moomina + Zain Ali

5 Khalwath Umma

5 Sheikh Ismail

5 Muhammad Saheel + Sithy Fathima

3 Ne'amath Umma Al Qutb bint Al-Sheikh Yehiya + Omar Sahib

4 Ummu Habeeba + Abou Bakr

5 Thoofa Umma

6 Abdul Rahman

6 Mir Ghani

6 AA Jiffry BA

5 Muhammad Shuaib

5 Zackariya Alim

5 Khadeejath Raliya

6 Muhammad Marikar

6 Sithy Ayesha

6 Najumudeen

5 Hakeemath Umma

6 Hasseena

6 Sithy Fathimah

6 Khadijah

6 Haleema

4 Muhammad Haniffa Hajiar + Rahila Umma

4 Ma'ath Umma + Abou Bakr

5 Ummu Afira Abou Bakr + Shroff Mudaliyar ILMM Ibrahim (76)

6 Muhammad Ibrahim Ahamed Caffoor (ex Central Bank Dep. Cashier) d:Feb-24-2001 + Sithy Naima

7 Faariha Kaffoor

7 Aadilah Kaffoor + Mohommed Sufiyan Mohommed Muzammil

8 Mohommed Hisni Muzammil

8 Fathima Firza Muzammil

7 Siyanah Kaffoor +Dafter

8 Fathima Kaniza

8 Fathima Fazla

8 Muhammed Ajmel

6 Muhammad Ibrahim Muhammad Sahill, 1913-1996 + Ummu Naseeha Rasheed b:1923, d:24 Mar 2016  (10)

7 Rhusdia Sahill + Suhail A.M.M. (13,23)

8 Muhammad Nazmil Suhail + Fathima Shamima Saqqaf m:Aug-4-2006 (20)

9 Maleeha Ameerah Suhail UK

8 Muhammad Imran Suhail

8 Fathima Rizana Suhail

8 Ayesha Suhail

7 Yasmin Sahill 1954 + Faizal Lafir 1943 (92)

8 Yumna Faizal 1983 + Muhammad Zabruth Fouz, m:2003 (10,13,17,41,80,90,93,106)

9 Zainab Fouz, b:2005

9 Fathima Ali Fouz, b:Jun 5 2009

8 Hafsa Faizal 1986

7 Ahmed Azlaff Sahill 1958 + name Not Known (LA, USA)

8 Leah Sahill 1999

7 Zinoon Sahill 1960 + Ajmel Muhammad (LA,USA) (231)

8 Yoosuf Muhammad b:2001

6 Sithy Jawahira Ibrahim + ILM Sufiyan, d:1957

7 M S M Muzammil + Aadilah Kafoor

8 Mohommed Hisni Muzammil

8 Fathima Firza Muzammil

7 Sithy Suhaila + Dr. M S M Mohomed

8 Fathima Roushan + Azim Thowfeek

9 Mohommed Inam Azim

9 Fathima Sarah Azim

9 Fathima Salma Azim

8 Fathima Niroza + ( name unknown)

8 Fathima Fazna Mohommed

7 Sithy Munawwara + Dr. A C A Shuaib

8 Fikreth Shuaib + Neumathul Fazliya

9 Uzair Fikreth Shuaib, b:2001

8 Ishki Shuaib

7 M S M Azmi + Kathuna Sultan Bawa

8 Mohommed Iklas Azmi

8 Fathima Nashra Azmi

8 Fathima Yusra Azmi

7 Zahina + Dr Mazahim Haniffa

8 Fathima Ithfa Haniffa

8 Fathima Inshira Haniffa

6 Muhammad Ibrahim Muhammad Farook + Niloufer Razeen (10,22,80)

7 Fahima Farook + Nazvi Hassan

8 Afraz Hassan

8 Fawaz Hassan

8 Bilal Hassan

7 Sahila Farook + Rizvi Abdullah d:1997

8 Rifaz Abdullah

8 Suhaim Abdullah

8 Imara Abdullah

7 Muhammad Najil Farook + Azmina Hussain (40)

8 Tharick Ibrahim Farook

7 Nihza Farook + Rifki Khir

7 Shamila Farook + Imran Fekhrishta Saleem (div) (40,128,129)

8 Noor Naleefa Mariam Saleem

7 2nd spouse of Shamila Farook: + Ansar m:2000

7 Shyam Farook + Azwer

8 Afraah Azwer

6 Zaria Ibrahim

6 Badia Ibrahim + Muhammad Lebbe Marikar

7 Nadiya + Zaim Saheed

8 Infal Saheed

7 Rickza (Decesed) + Mohommed Uvaim Mohommed Uvais

8 Mohommed Ishfaq Uvais

8 Mohommed Askif Uvais

8 Ahamed Athif Uvais

8 FathimaRashada Uvais

6 Ruvaiza Ibrahim + MSM Thowfeek

7 Rifka + Dr. Macky

8 Ahamed Awad Macky

8 Fathima Rahma Macky

7 Azim Thowfeek + Roushan Mohommed

8 Mohommed Inam

8 Fathima Sarah Azim

8 Fathima Salma Azim

6 MIM Azhar (decd)

6 Muhammad Ibrahim Abdul Rafi Marikar (Proctor) + Mumtaz

7 Feroza Marikar + Fouz

8 Mohommed Thashrik Fouz

8 Noushin Fouz

8 Talal Fouz

7 Nusra + Rifdhi

8 Son

8 Daughter

8 Son

7 Rukni + Lukman

8 Mushtaq Lukman

8 Son

7 (daughter) + Reza Mustapha

8 Rukaiyyah Mustapha

8 <daughter>

5 Ariath Umma Abou Bakr + ILM Cassim

6 Zahida Cassim + AMA Cader

6 Muhanna Cassim

6 Noorul Huda Cassim + AM Abu Bakr

6 Yuhanida Cassim+ MIM Zahir

6 Muhammad Fatha Cassim

6 Rabia Cassim

6 Muhammad Lafir Cassim

6 Abdul Malik Cassim

5 Muhammad Sufiyan Abou Bakr (d)

5 Sherriffdeen Abou Bakr

5 Vakila Umma Abou Bakr + MLM Shihabdeen

5 Raliya Abou Bakr + HLMS Deen

6 Nuzha Deen

7 Muhammad Haseeb

7 Sithy Marhama + AM Hameed

7 Sithy Safwa + CSM Salih

7 Muhammad Fatihu + Kamarun Nissa

7 Sithy Hanida + ILM Ibrahim

7 Sabith Marikar

7 Bishrudeen

7 Luthufdeen

6 Muhammad Hafeel Deen

6 Muhammad Sideek Deen

5 Marliya Abou Bakr + MA Jamaldeen

5 Yahya Abou Bakr (d)

5 Thowfeeka Abou Bakr + ILM Ibrahim

6 Aslam Ibrahim

6 Sithy Zanafia Ibrahim

6 Muhammad Muthassim Ibrahim

5 Muhammad Luqman Abou Bakr + Nuzha

6 Mifthiya Abou Bakr

6 Minthaliya Abou Bakr

6 Daftar Abou Bakr

6 Muhammad Aftab Abou Bakr

4 Muhammad Cassim Hajiar + Afeerath Umma Mahmud Naina-Marikar (34,35)

5 Raqeeba Umma

5 Sufiya Umma Cassim + Shahbdeen Hajiar
6 Mansoor Shahbdeen

6 Marzook Shahbdeen

6 Maftoon Shahbdeen

6 Mathloob Shahbdeen

6 Mahmood Marikar Shahbdeen

5 Jistiya Cassim + Shahabdeen Hajiar

6 Irfan Shahabdeen

6 Marjan Shahbdeen
6 Imran Shahbdeen
6 Arham Shahbdeen

5 Vaseela Umma Cassim + Zackariya Alim (Matara)

6 Muhammad Yehiya Zackariya
7 Sithy Razeena

5 Zubaida Cassim + Nazim Hajiar

6 Jabir
<![if !supportLineBreakNewLine]>
<![endif]>

5 Mueenudeen Cassim

1 *2nd Spouse of Al Qutb AlSheikh Ismail AlYamani AlSailani alias Arabi Appa (Weligama)

2 AlSheikh Abdullah bin AlSheikh Ismail AlYamani (buried at Maligawatte, Colombo)

2 Fathima bint AlQutb Sheikh Ismail AlYamani + Muhammad Cassim Bhoy (of Surat)

3 Muhammad Ismail Muhammad Cassim + Fathumuthu

3 2nd spouse of Muhammad Ismail Muhammad Cassim + Moomin

4 Yehiya Umma Muhammad Ismail + Idroos Lebbe Muhammad Lebbe Marikar Haji (13)

5 Muhammad Lebbe Marikar Ismail

                  6 Muhammad Ismail Ramiz d:1942 (Jemmi)

+ Ummu Zofi SLM d:1974 (10)

                   7 Muhammad Ismail Ramiz

                   7 Muhammad Zuhair Ramiz

                   7 Muhammad Shuhaib Ramiz + Fathima Deen
                   8 Sherine Ramiz + Padmasiri Thrimanne (div)
                 9 Ishan Thirimanne + Sheika
                 9 Shannon Thirimanne
                 9 Name Not Known
                  8 Sharmila Ramiz + Shehan Edirisinghe (div)
                 9 Rehan Edirisinghe
                  9 Sheran Edirisinghe
                  7  Azhara Ramiz + Muhammad Noor Mohideen

                 8 Noor Hameem Mohideen + Ramani

                 8 Ramiz Mohideen + Zeenathul Munawwara

                 8 Kurath Nissa Mohideen + Azeez

                 8 Aynul Rifaya Mohideen + hmed

                 8 Muhammad Rizwee Mohideen + Yasmeen

                 8 Reza Mohideen

                 7 Muhammad Hussain Ramiz d:1997 + Ummul Hafeela

                 8 Muhammad Ikram Hussain

                 8 Muhammad Aslam Hussain

                 8 Shahul Hameed Althaf Hussain

                 8 Fathima Rehana Hussain

                 8 Fathima Zohara Hussain

                 7 Rafeekathul Sireeha Ramiz, d:Oct 7 2014 + Mahmoud Muhammad Farouk, d:30-Mar-2003

(

son of late Avoo Lebbe Marikkar Mahmoud and late Zumrath Umma)

obituary: FAROUK ­ AL­HADJ MAHMOUD MOHAMED FAROUK   (ex EB Creasy & Co) Beloved husband of Rafeekathul Sirreeha, son of late Avoo Lebbe Marikkar Mahmoud and late Zumrath Umma, son­in­law of late Mohammed Ramiz and late Ummu Zophy, brother of late Sithy Cadeeja Zacky, loving father of Fazal, Shiraz, Feiroze, Rumi, Ifthikqar, Fazneena & Thabreez, father­in­law of Farhana, Sarah, Jazeela, Ifaza, Sabeera & Shahana, grandfather of Mehnaz, late Mazri, Imaad, Abdullah, Amal, Aneesa, Khadeeja, Shakoora, Israa & Aabid, uncle of Ahmed & Imtiaz Zacky, brother­in­law of Sulaiman and all of late Fathima Zohra, Ismail, Zabideen, Zuhair, Azhara Mohideen, Shuhaib, Hussain, Dahman & Iynul Sharthiya Zohar The death occurred on 30th March, 2003 and Janaza took place on the same day at Dehiwela Muslim Burial Grounds Family members thank all those who attended and assisted in numerous ways, and regret their inability to thank them individually   31, Sagara Road, Bambalapitiya, Colombo 4

[Apr 2003]

                8 Mahmood Fazal Farouk + Farahana Muhammad (123)

                9 Mehnaaz Farouk + Rifshan Thaha
                10 Abdul Malik Rifshan Thaha, born May 2013

                9 Mazri Farouk d:1996

               8 Shiraz Ahmed Farouk + Sarah

                9 Imaad Farouk

               8 Feiroze Zulfiqar Farouk + Jazeela Samsudeen (38)

               9 Abdullah Farouk *1995 (triplets)

               9 Amal Farouk * 1995 (triplets)

               9 Aneesa Farouk * 1995 (triplets)

+ Name Not Known m:
2018

              8 Shumsur Rumi Farouk + Fathima Ifaza Mansoor

               9  Khadija Hajar Rumi Farouk, b:Jun 10 2002 (29 Rabi II 1423), Riyadh, Saudi Arabia

                              9  Muhammad Farouk

              8 Ifthiqar Muhammad Farouk + Fathima Sabeera Jiffry (81)

               9 Shakoora Farouk 1996

               9 Israa Farouk

              8 Zumrath Fazneena Farook + Muhammad Badurdeen (div) (91)

              8 Thabreez Mahmood Farook

+ Shahana Shuaib


               9 Aabid Thabreez Farouk
               9 Maryam Thabreez Farouk

                              9  Asmaa Thabreez Farouk, b:2016

              7 Muhammad Sulaiman Ramiz + Honeya Ismail (95)

              8 Muhammad Kyseen Sulaiman

              8 Iflal Sulaiman

              8 Hilal Sulaiman

              7 Muhammad Dhahman Ramiz

              8 Sunil Dhahman

              8 Lal Dhahman

              8 Cheryl Dhahman

              8 Sonna Dhahman

                    7  Aynul Sharthiya Muhammad Ramiz (Jemmi)

+ Muhammad Hibshi Zohar

              8 Muhammad Humdhi Zohar + Sharifa Shakir

6 Noor Nasiha Ismail + Shahul Hamid

7 Sithy Zanooba Shahul Hameed + Sharker Mohideen (50)

8 Yousoof Mohideen + Yasmin Issadeen (50,108, 260)

9 Rinoza Mohideen

8 Ayesha Mohideen + Rashid Abdul Rahman

8 Ismail Jiffrey Mohideen + Khartoon Marzook (div) (11)

7 Zuhur Shahul Hameed + Rahim

8 Faizal Rahim

7 Hussain Shahul Hameed

7 Sanoona Shahul Hameed + Mubarak Thaha (40)

8 Shiraz Thaha + Sellamuttu

8 Roshan Thaha

8 Ifthikar Thaha

7 Suhail Shahul Hameed + Aynul Riayah Ameen (41)

8 Muhammad Sabry Suhail + Fathima Sherooza Jiffry

8 Muhammad Rifdi Suhail

6 Ummu Razeena Ismail 1893-1957 + Zohar S.L.M.1893-1966 (10)

7 Muhammad Hibshi Zohar + Aynul Sharthiya Muhammad Ramiz (Jemmi)

8 Muhammad Humdhi Zohar + Sharifa Shakir

7 *2nd spouse of Muhammad Hibshi Zohar:+ Binthi Mazahima O.L.M.S. (Salonica)

7 Muhammad Hilmi Zohar 19151977 + Aynun Nawaziya Muhammad Thahir (Shothi)

8 Muhammad Miftah Zohar

8 Muhammad Nizam Zohar

8 Fathima Fahima Zohar

7 Muhammad Refai Zohar + Khyrun Nissa Mohideen (Pilakotta)

8 Muhammad Ikram Zohar

8 Firaza Zohar

8 Fazneeya Zohar

8 Muhammad Imthiyaz Zohar

7 Sithy Nuzha Zohar + Muhammad Zacky Sheriff (Thoplan) (112)

7 Noorul Zahriya Zohar + Hashim Mohideen M. (Mackinnon Mackenzie)

8 Sithy Mufeedha Mohideen + Razvi Mohideen M.B.H.

8 Hussain Muarris Mohideen

8 Muhammad Munawir Mohideen

8 Fathima Muzeena Mohideen

8 Fathima Mufeeya Mohideen

8 Muhammad Mutharif Mohideen

8 Muhammad Mulaffer Mohideen

7 Muhammad Nafi Zohar + Noor Rahima M.Y.M.M. (High Street, Col 6)

8 Fathima Ruzna Zohar

8 Ummu Fariza Zohar

8 Noor Miraza Zohar

8 Muhammad Fahim Zohar

8 Fathima Shamila Zohar

8 Muhammad Rushdi Hussain Zohar

7 Zumrathul Faiza Zohar + Samsudeen Kamil M. (VelliBaba) (38)

8 Samsu Suhail Kamil + Fathima Muzeena Mohideen

9 Fathima Sifara Suhail

9 Sithy Fathima Shazma Suhail

7 Noorul Waleeda Zohar + Muhammad Hameed Muhtassim

8 Muhammad Uzaifath Muhtassim

8 Fathima Firza Muhtassim + Ali Kamil (19)

                       9  Fathima Ayesha Kamil + Shamail Saheedullah, b:1988 (20)

                     10  Name Not Known, b:Aug 2016

7 Ahmed Zuhair Zohar + Sithy Zumra Haniffa (Lakhs)

8 Muhammad Inham Zohar

8 Fathima Niroza Zohar

8 Muhammad Imfiaz Zohar

7 Ahmed Razick Zohar

6 Noor Zahira Ismail + Muhammad Rizan Zainudeen

7 Zainudeen

7 ShakirZainudeen + Ruina

7 [100] Ummu Zowher Zainudeen +[98] Bishrul Hafi NainaMarikar, JP 1961

8 [101] Jamaludin Rizvi Bishrul Hafi +[102] Rozia Jehan

9 [103] Ifthar Rizvi

9 [104] Fathima Ayesha Rizvi

9 [105] Saeed Rizvi (deceased 15 years)

7 [106] Noor Masooda Zainudeen +[98] Bishrul Hafi Naina Marikar, JP 1961

8 [107] Akhtar Bishrul Hafi + Shuaiba

9 Shalimar Akhtar

9 Fathimah Akhtar

8 [108] Muhsina Bishrul Hafi +[109] Nazeer A.M.M.

9 Sumaiyya Nazeer + Sameel

8 [110] Ummu Zowher Bishrul Hafi +[111] Sirajudeen Ghouse

9 [112] Imran Ghouse

9 [113] Inshira Ghouse

8 [114] Nazri +[115] Ghani A.M.M.

5 Muhammad Lebbe Marikar Zainudeen Hajiar, MMC (1900-1907) + Amza Umma

6 Muhammad Razeen Zainudeen + Puthri Zohara Yoosoof

7 Noor Lahira Razeen + Mohideen A.T.M.

6 Muhammad Nizam Zainudeen + Sithy Ayn (married MMI Kariapper and had a son Nizam Kariapper)

6 Muhammad Rizan Zainudeen + Noor Zahira Zainudeen

7 Zainudeen

7 ShakirZainudeen + Ruina

7 [100] Ummu Zowher Zainudeen +[98] Bishrul Hafi Naina Marikar, JP 1961

8 [101] Jamaludin Rizvi Bishrul Hafi +[102] Rozia Jehan

9 [103] Ifthar Rizvi

9 [104] Fathima Ayesha Rizvi

9 [105] Saeed Rizvi (deceased 15 years)

7 [106] Noor Masooda Zainudeen +[98] Bishrul Hafi Naina Marikar, JP 1961

8 [107] Akhtar Bishrul Hafi + Shuaiba

9 Shalimar Akhtar

9 Fathimah Akhtar

8 [108] Muhsina Bishrul Hafi +[109] Nazeer A.M.M.

9 Sumaiyya Nazeer + Sameel

8 [110] Ummu Zowher Bishrul Hafi +[111] Sirajudeen Ghouse

9 [112] Imran Ghouse

9 [113] Inshira Ghouse

8 [114] Nazri +[115] Ghani A.M.M.

5 2nd. Spouse Muhammad Lebbe Marikar Zainudeen Hajiar, MMC: + Zohara Umma Marikar

6 Mufliha Zainudeen + Jamaldeen Hajiar Yoosoof

7 Zarina Jamaldeen +[1] Izzet Abdul Cader

7 *2nd Husband of Zarina Jamaldeen: + Zain Deen Muhammad Ghouse

7 Zufer Jamaldeen + Sithy Jameela Sathuk

7 Mazina Jamaldeen + Saly Bin Ahamed, Captain (111)

7 *2nd Husband of Mazina Jamaldeen: +[1] Izzet Abdul Cader

7 Fazina Jamaldeen + Saleem Abdul Cader

7 Zafeena Jamaldeen + Sufian Abdul Cader

8 Osman Sufiyan + Azmi Hassan

9 Roshan Osman

9 Afzie Osman

6 Ayesha Zainudeen

6 Shaheela Zainudeen + ULM Mohideen

                        7  daughter + Nuwaiz Sheriffdeen

6 Shakira Zainudeen + Saheed A Marikar

                        7  Hareeza Zahara Marikar + Alavi Mohamed (123)

                            8  Faraz Muhammad + Shareefa Lantra

                                9  Mubeena Muhammad

                            8  Farahana Muhammad + Mahmood Fazal Farook (10)

                                9  Mehnaaz Farook + Rifshan Thaha
                                    10  Abdul Malik Rifshan Thaha, born May 2013

                                    10  Ahmed Fadhil Rifshan Thaha

                                9  Mazri Farook d:1998

                           8  Shakira Fazmina Alavi Muhammad, d:18-Apr-2004 + Shahul Hameed Salih (58,40)

                              9  Muhammad Sajid Shahul Hameed, b:Dec 1991

                              9  Muhammad Nazim Sabith Shahul Hameed, b:Apr 5 1993

SHAHUL HAMEED - HAJIYANI SHAKIRA FAZMEENA dearly loved wife of Al Haj Shahul Hameed Salih (Shell Lubricants - Jeddah), loving mother of Sajid and Sabith (Amal International), daughter of late Al Haj Alavi Mohamed and of Hajiyani Zahara Mohamed, daughter-in-law of Zackie Salih and late Hajiyani Hana Salih, sister of Faraz Mohamed and Farhana Farouk, sister-in-law of late Fidha Salih, Shiraza and Faizeen Haniffa, Moreena and Faizeen Hassim, Faariez and Fazna Salih, Fahmie Salih, Shareefa Mohamed and Fazal Farouk, much loved aunty of Mehnaz, late Mazri, Mubeena, Tabriz, Tarish, Nabeel, Aqueelah and Abdullah. Janaza took place yesterday (18.04.04) 5.00 p.m. at Kupiyawatta Burial Ground. No. 74, Lauries Road, Bambalapitiya. DN Mon Apr 19 2004

5 Muhammad Lebbe Marikar Asseena + Yusuf C.L.M.

6 Hidaya Yusuf

5 Muhammad Lebbe Marikar (name not known) + Abdul Rahman Pasha

5 Muhammad Lebbe Marikar Muhammad Sheriff + Zulaiha Umma A.L.M. (10)

6 Ummu Thahira Shariff + Muhammad Rasheed Muhammad Cassim Hajiar (10)

7 Sithy Ryhanathul Marliya Rasheed 1919 + Muhammad Thahir Sameer 1914-1989 (20,30,46,60,90,93)

8 Mariya Mumtaz Sameer 1945 + Zuhair Muhammad (div)

9 Nisthar Ali Muhammad 1974

8 Muhammad Fazli Hussain Sameer 1948 + Fathima Shirani Naleefa Ibrahim 1949 (11,12,40)

9 Fathima Melina Sameer 1975 + Ahmed Yousry Sheriff 1962 (35,51,84,143)

10 Maria Admira Sheriff 1994

10 Abdullah Yousry Sheriff 1997

9 [366] Fathima Nadia Sameer 1981 +[365] Abdul Qadir Hussain m:1999 (173)

8 Ahmed Firoze Sameer 1950 + Quraisha Nizar 1962 (d/o MYM Nizar, Attorney)

9 Nabila Safra Sameer + Dr. Azhar Faseel, MBBS, Sydney, Australia (173)

9 Fathima Nafeesa Sameer (d)

9 Ahmed Yazdhan Sameer

7 Muhammad Zubair Rasheed d:2012+ Pathumuthu Zuhry Razeen d:2012 (10,80)

8 Fathima Roazna Rasheed + Naleer

9 Rinza Naleer

9 Hamza Naleer

8 Fathima Zulaiha Rasheed + Munzeer

9 Fazmina Munzeer

9 Zulkifli Munzeer

8 Muhammad Ejaz Rasheed + Hamziyathul Himaya

9 Zainab Rasheed

9 Omar Rasheed

7 Ummu Naseeha Rasheed b:1923, d:24 Mar 2016 + Sahill M.I.M. 1913 (76) of Kotuwegoda, Matara

8 Rhusdia Sahill 1952+ Suhail A.M.M. (23)

9 Muhammad Nazmil Suhail 1974

9 Muhammad Imran Suhail 1979

9 Fathima Rizana Suhail 1981

9 8a] Ayesha Suhail 1994

8 Yasmin Sahill 1954 + Faizal Lafir 1943 (92)

9 Yumna Faizal + Muhammad Zabrouth Fouz

10 Zainab Fouz, b:2005

10 Fathima Ali Fouz, b:Jun 5 2009

9 Hafsa Faizal

8 Ahmed Azlaff Sahill 1958

8 Zinoon Sahill 1960 + Ajmel Muhammad

7 Muhammad Faiz Rasheed + Noorul Huzaima Hathy (41)

8 Fathima Mirzeth Rasheed + Muhammad Mohideen Rizmi Saleem

9 Fazil Saleem

9 Fahim Saleem

8 Madeeha Rasheed + Reza Idroos

9 Dr. Aneesa Idroos + Dr. Bilal (Australia)

9 Abdul Adeem Idroos

8 Hathy Shukry Rasheed + Firaza Sheriff (USA)

6 Noor Nazeela Shariff 1903-1994 + Junaid A.H.M. (10)

7 AynurRiyaya + Salih M.I.M.

8 Fathima Muzni Salih

8 Fathima Farooza Salih

7 Mohideen Junaid + Hareesa Uvais

7 BadryNissa Junaid + Abdul Hameed Mohideen (16,82)

8 Hisham Mohideen + Miss Haleem

8 Zulaiha Mohideen

8 Nihad Mohideen

7 MumtazJamal Junaid + Jiffry M.M. ( 81)

8 Fathima Shyama Jiffry + Husnul Hana

8 Fathima Sherooza Jiffry + Muhammad Sabry Suhail (41)

8 Fathima Sharmila Jiffry + Muhammad Reza Sameen (116)

8 Fathima Shehara Jiffry + Muinudeen binMuhammad (111)

9 Siddeeka binth Muinudeen

9 binth Muinudeen

8 Fathima Sabeera Jiffry + Ifthiqar Muhammad Farook (10)

9 Shakoora Farook 1996

8 Muhammad Sabry Jiffry

8 Muhammad Hussain Jiffry

7 Nazneen Junaid, d:May 30 2015 + Waffa I.L.M.

8 Muhammad Rizwan Waffa

8 Fathima Rizwiya Waffa

8 Muhammad Rushdi Waffa

8 Muhammad Ruzaik Waffa

7 Niloufer Junaid + Idroos Anis (20)

8 Muhammad Faizal Idroos

6 Sithy Rafeeka Shariff + Amir A.R.M.H. (10)

7 Muhammad Alavi Amir + Zumrathul Zohra Majeed (80)

8 Fathima Zaina Alavi

8 Muhammad Nawaz Alavi

8 Fathima Hasina Alavi

8 Muhammad Abdul Cader Alavi

8 Fathima Zahara Alavi

8 Muhammad Abdul Majeed Alavi

8 Fathima Khadija Alavi

8 Ahmed Khaja Alavi

7 Muhammad Nawaz Amir

7 Ummu Razeena + Sham Mustapha

8 Muhammad Shamaz Mustapha

8 Omar Ali Mustapha

8 Muhammad Kamal Mustapha

8 Muhammad Zafrallah Mustapha

6 Ummu Zaneera Shariff + Marzook M.F.A. (23)

7 Suhail A.M.M.+ Rhusdia Sahill 1952 (76,10)

8 Muhammad Nazmil Suhail 1974

8 Muhammad Imran Suhail 1979

8 Fathima Rizana Suhail 1981

8 Ayesha Suhail 1994

6 Noor Marzooka Shariff + Ashroff A.H.M. (10)

7 Farahana+Mansoor Y.L.M.

8 Muhammad Rumzi Mansoor

8 Muhammad Rumi Mansoor

7 Sheriff Fahmy Ashroff

5 Muhammad Lebbe Marikar Sakeena + Hamid A.M.

6 Shahul Hamid + Noor Nasiyah Ismail

7 Sithy Zanooba Shahul Hamid + Sharker Mohideen (50)

8 Yousoof Mohideen + Yasmin Issadeen (50, 108, 260)

9 Rinoza Mohideen

8 Ayesha Mohideen + Rashid Abdul Rahman

8 Ismail Jiffrey Mohideen + Khartoon Marzook (div) (11)

7 Zuhur Shahul Hamid + Rahim

7 Faizal Rahim

7 Hussain Shahul Hamid

7 Sanoona Shahul Hamid + Mubarak Thaha (40)

8 Shiraz Thaha + Sellamuttu

8 Roshan Thaha

8 Ifthikar Thaha

7 Suhail Shahul Hameed + Aynul Riayah Ameen (13)

8 Muhammad Sabry Suhail + Fathima Sherooza Jiffry (10)

6 Erifa Hameed + Muhammad Yousoof Caffoor (80)

7 Badri Caffoor + Shoaib Ghouse, Dr.

8 Erifa Ghouse + Zubair Sulaiman, Dr.

8 Nafeesa Ghouse

7 [446] Marina Caffoor +[445] Mahdi Hussein (10,80,108)

8 [447] Sehaam Hussein +[453] Ali Moheed (128)

9 [448] Aneeka Moheed

8 [449] Ameena Hussein +[450] Fahim Uvais (s/o Rushdi Uvais & NurJehan)

8 2nd spouse of[12] Ameena Hussein +[451] Sam Perera

5 Name not known + Muhammad

4 Muhammad Ali Muhammad Ismail, first Muslim JP, Consul for Persia + Amsa Umma A.L.M. (10)

5 Muhammad Ismail Muhammad Ali + Ummul Ayesha A.L.M.

6 Muhammad Abdullah Ismail + Sithy Alawiya A.M.H.M.H.

7 Haniffa Abdullah + Feroz Abdeen

7 [17] Mirza Abdullah +[16] Muhammad Shafeek Ameen (13)

6 *2nd Spouse of Muhammad Abdullah Ismail:+ Sithy Saleema Mahamood, d:Apr12200 2 (128)

ISMAIL HAJIANI SITHY FATHIMA (SALEEMA) Inna Lillahi Wa Inna Ilaihi Rajioon. Wife of Marhoom AlHaj Mohamed Abdulla, Mohamed Ismail (Dulla) J.P.U.M. mother of Zainab, Salma and Maimoon, grandmother of Yakoob, Zaithoon, Zeenath, Althaaf and Thabith, stepmother of Mirza and Haniffa, daughter of A.L.M. Mahmood and Zulaiha, eldest granddaughter of Mr & Mrs A.B. Casie Lebbe of Kandy, sister of Shafeek, Zareena, Zavahir and Zahar, motherinlaw of Zainudeen, Favaz and Anil, sisterinlaw of Ummu Azeez, Sithy Jabir Cader, Cassim Ismail, Munthaha, Cader and Ayesha. Died on Friday 12th April, 2002. Janaza took place on the same day at Jawatte Muslim Burial Ground. "Windermere", Dampe, Madapatha, Piliyandala and 11, Gregory Place, Dehiwela.

7 Zeinub Abdullah + Haroon Luthfi BinAhmed (div) (111)

8 Yaqoob bin Haroon

8 Zaitoon bin Haroon

8 Zeenath bin Haroon

7 *2nd Spouse of Zeinub Abdullah: + Muhammad Razeen Muhammad Zainudeen (80,10)

7 Salma Abdullah + Ifthikar Fakir (div)

7 *2nd Spouse of Salma Abdullah: + Fawaz Abdeen

8 Muhammad Thabit Azath Abdeen

7 Mymoon Abdullah + Imthiaz Fakir (div)

7 *2nd Spouse of Mymoon Abdullah: + Naushad Ismail

8 Ahmed Afthab Naushad

7 *3rd Spouse of Mymoon Abdullah: + Surath Fonseka

6 Ummu Kulzum Ismail + Azeez A.M.A.

7 Marina Zulfikar Azeez + Ifthikar Ismail (173)

8 Muhammad Murad Ismail

8 Muhammad Riyadh Ismail

7 Muhammad Ali Azeez

7 Iqbal Azeez

6 Sithy Fathima Ismail + Jabir Abdul Cader (80)

7 Ayesha Cader + Faiz Hasheem (10,80,59)

8 Fathima Rushana Hasheem + Naufel Cassim

9 Nadira Naufel Cassim

9 Omar Naufel Cassim

8 Sithy Rinoza Hasheem + Barry Jaleel

9 Idris Barry Jaleel

8 Mohamed Riyaz Jamaldeen Hasheem

7 Fahmy Cader + Raina Jaleel#sisters

8 Shihara Cader

7 Aida Cader (d) + Feizal Waffarn, Dr. (div)

7 Imthiaz Cader + Raisa Jaleel #sisters

6 [14] Muhammad Cassim Ismail +[13] Alaviya Hussain

7 [15] Muhammad Ali Hyder Cassim

5 [19] Moomin Umma Muhammad Ali +[18] Mohideen M.H.M.

6 [20] Muhammad Mohideen +[21] Ayn Cassim

7 [22] Inneth Muhammad +[23] Muhammad Zubair Caffoor (80)

8 [24] Muhammad Azmath Caffoor

8 [25] Thalib Caffoor

7 [26] Ilham Muhammad +[27] Majeed Abdul Cader (21,106)

8 [28] Fathima Hasna Cader + Rumaiz Mohideen

(40)

8 Hasmin Cader + Asif Sheriff m:21-Jul-2006 (20,30,60,70,90)
9 Nuha Mariam Sheriff, b:2010
9 Name Not Known
9 Manal Noor Sheriff, b:Oct 5 2014

8 Hanim Cader + Yusri Omer s/o Architect Ansari Omer & Nazeera, Kandy

6 [3] Yousoof Mohideen +[2] Badry Hussain

7 [4] Llaman Yousoof +[5] Shahjahan Ismail Azeez

7 [8] Minna Yousoof +[9] Nazrul Sheriff

7 [10] Hafsa Yousoof +[11] Hamza Sulaiman, Dr.

8 [12] Muhammad Hussain Sulaiman

5 Muhammad Hussein Muhammad Ali + Ayesha Umma Caffoor (80)

6 [2] Badry Hussein +[3] Yousoof Mohideen(10)

7 [4] Llaman Yousoof +[5] Shahjahan Ismail Azeez (10)

7 [8] Minna Yousoof +[9] Nazrul Sheriff

7 [10] Hafsa Yousoof +[11] Hamza Sulaiman, Dr.

8 [12] Muhammad Hussain Sulaiman

6 [13] Alaviya Hussein +[14] Muhammad Cassim Ismail

7 [15] Muhammad Ali Hyder Cassim

6 [445] Mahdi Hussein +[446] Marina Caffoor

7 [447] Sehaam Hussein +[453]Ali Moheed (128)

7 [449] Ameena Hussein +[450] Fahim Uvais (s/o Rushdi Uvais & NurJehan)

7 2nd spouse of[449] Ameena Hussein +[452] Sam Perera

6 Mumtaz Rhusdia Hussein + Muhammad Nawaz Caffoor (80)

6 Ali Faizal Hussain, Dr. + Zuhara Majeed Suby

4 Muhammad Haniffa Muhammad Ismail, MMC: + Name not known

5 [18] Mohideen M.H.M. +[19] Moomin Umma Muhammad Ali

6 [20] Muhammad Mohideen +[21] Ayn Cassim

7 [22] Inneth Muhammad +[23] Muhammad Zubair Caffoor (80)

8 [24] Muhammad Azmath Caffoor

7 [26] Ilham Muhammad +[27] Majeed Abdul Cader (21,106)

8 [28] Fathima Hasna Cader + Rumaiz Mohideen (40)

8 Hasmin Cader + Asif Sheriff m:21-Jul-2006 (20,30,60,70,90)
9 Nuha Mariam Sheriff, b:2010
9 Name Not Known
9 Manal Noor Sheriff, b:Oct 5 2014

8 Hanim Cader + Yusri Omer s/o Architect Ansari Omer & Nazeera, Kandy

6 [3] Yousoof Mohideen +[2] Badry Hussain

7 [4] Llaman Yousoof +[5] Shahjahan Ismail Azeez

7 [8] Minna Yousoof+[9] Nazrul Sheriff

7 [10] Hafsa Yousoof +[11] Hamza Sulaiman, Dr.

8 [12] Muhammad Hussain Sulaiman

4 2nd spouse of Muhammad Haniffa Muhammad Ismail, MMC (18841900) + Haniffa Umma Muhiyadeen Lebbe (182)

5 Samsudeen M.H.M., Al Alim + Ummu Raleena (sister of ARM Hathy, ARM Ameen, Faleela Abdul Rahman, Habeeba Abdul Rahman – see family #13)

6 Muhammad Haniffa Samsudeen + Miss Mohideen (daughter of ULM)

6 Ismail Samsudeen + Sithy Mariam BinIsmail

6 Cassim Samsudeen + Ummu Rafeeka

6 Muhammad Samsudeen + Ummu Shafeeka Uvais

6 Yusuf Samsudeen + Miss Vethecan

6 Noorul Lamia Samsudeen + Muhammad Salahudeen MarikarBawa (62)

7 Muhammad Zunoon MarikarBawa + Shihama Ghouse (38,39)

8 Shadia MarikarBawa + Fiaz Sulaiman (40)

8 Lamiya (Sarah) Marikar Bawa + Farhard Hussain, m:July 31, 2009

6 Aynul Sharikiya Samsudeen + Muhammad Zubair NainaMarikar (93)

6 Ummu Nazeeha Samsudeen + Anver A.H.M.

6 Ummul Faiza Samsudeen + Saideen Muhammad

5 Pathumuthu Muhammad Haniffa + Muhammad Ameen Abdul Rahman (13)

6 Noor Vikaya Ameen + Hussain M.H.M.

                        7  Nazmi Hussain + Bayazid Aziez (10)

6 [16] Muhammad Shafeek Ameen +[17] Mirza Abdullah (128,10)

6 Aynul Riayah Ameen + Suhail Shahul Hameed

7 Muhammad Sabry Suhail + Fathima Sherooza

6 Sithy Hafeera Ameen + Azhar Ghouse

6 Halimath Sahadiya Ameen + Muhammad Cassim MarikarBawa(62)

4 Muhammad Hussain Muhammad Ismail

3 Khadija Muhammad Cassim + P. T. Uduma Lebbe Marikar

4 Muhammad Haniffa MMC + Zohara Umma

4 2nd spouse of Muhammad Haniffa, MMC + Haniffa Umma

5 Khadijah Abdul Hamid + Muhammad Haniffa

4 Haniffa Umma ULM + Ibrahim Lebbe

5 Yousoof Lebbe IL + Safia Umma

5 Mamma Nana Muhammad Abu Bakr IL + Fathima Umma

                6  Ummu Rasheeda Muhammad Abu Bakr + Muhammad Abdul Cader Noordeen (b:10-Feb-1879, d:29-Aug-1938) (80)

             7  Noorul Hidayah Cader + Mohamed Ismail Hajiar Abdul Latiff (341)

            8  Noorul Henayah Latiff + Ismail A. Ghaffoor
             9  Feroze Ghaffoor + Hedaya
             10  Shakirah Ghaffoor
             10  Zohora Ghaffoor
             10  Amira Ghaffoor
             9  Fazal Ghaffoor + Zeena
             10  Aqeelah Ghafoor
             10  Azrah Ghaffoor
             10  Aamir Ghaffoor
             9  Farina Ghaffoor + Rizwan Hasheem
             10  Omar Hasheem
             9  Fazlin Ghaffoor+ Zackiya
             10  Sajad Ghaffoor
             8  Sithy Jezima Latiff + Rauf
              9  Zeena Rauf
              9  Iqbal Rauf + Fahima
              10  Izad Rauf
              10  Inam Rauf
              10  Nashrah Rauf
              9  Yasmin Rauf
              9  Feroshia Rauf
              9  Izmi Rauf
            8  Ismail Latiff + Fathima Marikar
             9  Ifthi Latiff
           8  Lyne Latiff + Ashroff Ali
            9  Malik Ashroff Ali + Dina Noordeen (24,40)
           10  Nuhman Numito Ashroff Ali
           10  Azra Ashroff Ali
           10  Hilal-deen Ashroff Ali
          9  Shamil Ashroff Ali + Susana
           10  Izzad Shamil
           10  Shazna Shamil
           10  Ishan Shamil
         9  Dinara Ashroff Ali + Name Not Known
         8  Mohamed Farouk Latiff + Fareena Ahmed (Farouk showrooms), (EU)
         9  Fathima Shyama Farouk
         9  Mohamed Ismeth Nabeel Farouk + Nizaya
         10  Abdul Kabir Farouk
         10  Ismeth Nabeel Waziem Farouk
         10  M. Moertaza Farouk
         10  Fathima Amina Farouk
        9  Fathima Sameera Farouk, (UK/ IE)
        9  Mohamed Ishan Farouk
       8  Badriya Latiff + Ismail Marikar
        9  Susana Marikar + Zahidi Alif
        10  Jameela Alif
         10  Nafeesa Alif
         10  Hisham Alif
         10  Rukkaiya Alif
       9  Sabry Marikar + Fazeena
       9  Imthisham Marikar
       9  Shehana Marikar
      8  Hilmy Latiff + Aysha (Aus)
      9  Shenaz Latiff
      9  Irhsad Latiff
      9  Rehana Latiff
    8  Faiza Latiff + Haniffa
    9  Farazana Haniffa
    9  Reshana Haniffa
    8  Zakaff Latiff + Nuwaiza
    9  Fazna Latiff
    9  Faika Latiff
    9  Farshad Latiff

            7  Cader, Marzook Abdul, Dr. + Joan

            7  *2nd spouse of Cader Marzook A. Dr.: + Fahima

            8  Farouk A Cader + [66] Yasmin Sheriff

           7  Cader, Mohideen Abdul + Iyna Pallie

           8  Mohideen Cader + Jeniffer Jones

          7  Cader, Muhammad Jabir Abdul [Mayor of Colombo (1966-1969)]+ Sithy Fathima Ismail (10)

          8  Ayesha Cader + Faiz Hasheem (59)

          9  Fathima Rushana Hasheem + Naufel Cassim

          9  Sithy Rinoza Hasheem + Barry Jaleel

          9  Mohamed Riyaz Jamaldeen Hasheem

         8  Muhammad Fahmy Cader + Raina Jaleel

         9  Son + Farah Zarook m:Oct 24 2009

         8  [186] Aida Cader + [185] Feizal Waffarn, Dr. (div)

         8  2nd Spouse of [186] Aida Cader + George Maaloof (Lebanon)

         8  Imthiaz Cader + Raisa Jaleel

         8  Shanaz Cader + Zachraff Dastakeer (143) (div)

6 Ummu Zabila Abu Bakr + Muhammad Shariff Hajiar (PullaKutty) (112)

7 Muhammad Fawzy Shariff + Ummu Faleela Abdul Majeed

8 Noor Nada Fawzy Shariff + Muhammad Aboo Haniffa Misbah 1926 (70,93)

9 Fathima Shahnaz Aboo Haniffa 1956 + Fazlul Jiffry

9 Namoos Aboo Haniffa, Dr. 1960 + Salma Sattar

9 Ijaz Aboo Haniffa 1962 + Jumana Junaid

9 Shihaz Aboo Haniffa 1964 + Azmi Mohideen

8 Basheer Ahmed Shariff + Luthfia Saleem (13)

8 Muhammad Yehiya Shariff + Fathima Fareeka

8 Muhammad Khalid Shariff + Zeenathul Nifaya Thavoos (30)

7 Noor Suada Shariff + Farook Saleem

                            8  Nadeer Saleem + Sithy Abbasiya Mowjood, d/o late I.L.M. Mowjood & Jaleela Umma (37)

                           8  Ayn Faiza Saleem  + Abdul Majeed Segu Abdul Cader

                                9  Mohamed Flyle Cader   + Ayeshathul Marliya Ghouse (30)

                                9  Fathima Fareena Cader  + Ahmed Rifkee Aththas

                                    10  Fathima Nuzha Aththas + Mohamed Musthary Mohamed Shamroz

                                         11  Mohamed Shamroz Muhammed Naqeeb

                                         11  Mohamed Shamroz Muhammed Umar

                               9  Fathima Fazna Cader  + Mohamed Hazick Ajward

7 Muhammad Zacky Shariff + Sithy Nuzha Zohar (10)

7 Ayn Nafiya Shariff + Zubair M.I.H.

7 Sithy Hamza Shariff + Lafir A.J.M., JP

7 Muhammad Nazim Shariff + Sithy Khadija

8 Hadi Shariff + Noorul Kareema
9 Ifam Sharief
9 Sifani Sharief

7 *2nd Spouse of Muhammad Nazim Shariff: + Sithy Zubeida

7 Sithy Maleeha Shariff + Sheikh Yehiya Issadeen (260)

7 Fathima Hani Shariff, d:Oct 8 2006 + Jabir S.M., JP (s/o C.M.H.M. Saly Hadjiar)

HAJIANI FATHIMA JABIR Beloved wife of the late Alhaj S.M. Jabir (Ex Chairman U.C.) Beruwela, daughter of the late Mr & Mrs S.L.M. Sheriff Hadjiar (Topplan), daughterinlaw of the late Mr & Mrs C.M.H.M. Saly Hadjiar, precious mother of the late Nizam Jabir, Ansar Jabir, late Ismath Jabir, Fahmy Jabir, Jasmin, Siyana, Fareeha and Farhana, stepmother of Nowfel Jabir, Laila and Halidha, motherinlaw of the late M.M. Hussain, Dr A.M.M. Shahabdeen, Hassen, Mohamed, Zavahir Mohamed, the late Kizar Mohamed, Azmi Samsudeen, Fouzia, Zahira, Fathima, Fairoozia and Nawaza, sister of the late Fouzie Sheriff and brothers. Janaza leaves residence "Salaamath", Chinafort, Beruwela at 1100 a.m. Monday 9th October.DN Mon Oct 9 2006

8 Ansar Jabir + Fathima Thahira binthiGhouse

8 Jasmin Jabir + Hassen Muhammad (80,173,174,175)

8 Siyana Jabir + Zavahir (Jewel Arts Group)

9 Afaz Zavahir + Fashana Rali
                                 9  Shaz Zavahir + Yaseera Liyaudeen

9 Azra Zavahir + Farzan Najmudeen

7 Naleefathu Thahira Shariff + Reyal M.L.M.

7 Ghanimathus Saadiya Shariff + Muhular

8 Hilmy Muhular + Zaharama Hathy

9 Zaharifa Jazeem + Milhan Haniffa

7 Athiathul Marzooka Shariff + Ajward

7 Abdul Rasheed Shariff 1930 + Sithy Zareena Lameer

8 Muhammad Sanak Ferhat Shariff 1961

7 Abdul Rauf Shariff + Khadija Cassim

7 Zuhairul Ameen Shariff + Zohara

7 Ayn Naleefa Shariff + Mahroof Junaid

7 Zubair Shariff + Fathima Rahma

8 Zabeela Zubair + Miftah Rahman

8 Rizna Zubair + Abdul Ghaffar Aslam (Gampola)

8 Zulfaa Zubair + Bishrul Akram Farook

7 Ummu Safiya Shariff + Idroos

8 Fazaana Idroos Afzal Lafir Wahab

6 Sithy Laila Muhammad Abu Bakr + Sulaiman Lebbe Marikar Sheriffdeen (74, 75)

7 Sithy Fathima Sheriffdeen + Ajward

8 Adham Ajward + Ayshathul Azma Ziard (30)

7 Muhammad Sulaiman Sheriffdeen

7 Muhammad Faleel Sheriffdeen + Sithy Khalisa Sameer (13,20,30,46,60,70,90,93)

8 Azra Faleel + Rizwan, m:1998

7 Muhammad Mackeen Sheriffdeen + Fauzul Haneeya Shaideen (244)

8 Fazal Sheriffdeen + Shama Ismail (99,100)

9 Taahera Sheriffdeen
8 Faraaz Sheriffdeen + Shahina
9 Thahani
8 Faiq Sheriffdeen + Soraya
7 Muhammad Nuwaim Sheriffdeen

7 Badriya Sheriffdeen d:1997 at Madinah after performing Hajj + Zachraff Azeez (18,22,106)

8 Zahana Zachraff Azeez + Ifthikar Wahid

8 Nihara Zachraff Azeez + Muhammad Kamal Sameer (13,20,30,60,73,90,93)

8 Mustarie Zachraff Azeez + (Miss Muzammil) (10,80)

6 Noor Hamza Abu Bakr + Name Not Known

6 Imfathul Haniffa Umma Abu Bakr +Hassan Salih

5 Fathima Umma IL + MM Abdul Rahman

5 2nd spouse of Fathima Umma IL + MM Abdulla Hajiar

4 Shareefa Umma ULM + Ahmed Lebbe Marikar

4 Sulaima Lebbe ULM + Sithi Umma

4 Haleema Umma MC + Muhammad Ali

5 Muhammad Ismail Muhammad Ali + Ne'amath Umma

4 Ayesha Umma MC + RM Uduma Lebbe Marikar

5 Maimoona ULM + Muhammad Shamsudeen

6 Huzaima Shamsudeen + S Ismail

6 Thowfeeka Shamsudeen + ALM Muhammad Ali

5 Amsa Umma ULM + CMA Abdul Ali

5 Muhammad Cassim Marikar ULM + Fathumuthu

6 Sithy Shareefa Marikar + CLM Muhammad Awn

6 2nd spouse of Sithy Shareefa Marikar + Wapu Marikar Saleem (40)

7 Saleh Waefathul Hamza Saleem + Ummu Saliha Ansari (10)

8 Fathima Minna Saleem + Shanooz Ozeer

7 Khanimathul Rahmaniya Saleem + Ozeer M.S.M., d:1991

8 Mafooza Ozeer + Feroze Samsudeen

8 Shanaaz Ozeer, Dr. + Nazli Zainab, Dr.

8 Shanooz Ozeer + Fathima Minna Saleem

7 Khamsathul Zackiya Saleem + Muhammad Mansoor Hassan

8 Rizvi Mansoor + Aynfa Haleem (Nawalapitiya)

7 Khairul Fareeda Saleem + Muhammad Nuhman Noordeen (24)

8 Yousoof Noordeen + Farah Salih

8 Dinazad Noordeen + Malik Ashraff Ali

8 Asger Ali Noordeen + Fathima Amana SufiIsmail m:1997 (13,41)

8 Muhammad Ali Noordeen + Fathima Farwin Muhammad m:1997 (10,46,82,83)

6 Ayeshathul Zuhurifa Marikar + Muhammad Sulaiman MarikarBawa (62)

7 Sithy Zulaiha MarikarBawa + I.L.M.Mahmood Shafi

8 Muhammad Faiz Shafi + Fathima Fahima Fauz (d/o MLM Fauz)

8 Shafi Muhammad Alavi + Fathima Yasmin Lafir 1955 (d/o AWM Lafir, granddaughter of NDH Abdul Wahab) (80)

8 Muhammad Rizwi Shafi +Dr. Noor Jehan

7 Muhammad Rafiudeen MarikarBawa + Ummu Suada Jawad

8 Scheharazade MarikarBawa + Alavi Muhammad (s/o DLM Muhammed)

8 *2nd spouse of Scheharazade MarikarBawa + MLM Yusuf (s/o MTM Lahir) (112)

8 Noor Jahan MarikarBawa + Rushdi Uvais (s/o LMM Uvais)

8 Shah Jahan MarikarBawa + Nasreen Kaleel

7 Muhammad Salahudeen MarikarBawa + Noorul Lamia Samsudeen

8 Muhammad Zunoon MarikarBawa + Shihama Ghouse (38,39)

9 Shadia MarikarBawa + Fiaz Sulaiman (40)