Sri Lanka Moor Family Genealogy
Mohideen Bawa - Family # 142
1 Mohideen Bawa
2 Khatheja Mohideen + Name Not Known
3 Segu Mohideen + Name Not Known (aka Shinnakaaka Mama) No Issue
3 Muhammad Haniffa + Name Not Known (aka Periya Maama)
4 Athas Haniffa + Sithy
5 Rezvy Hanifa + Mary Rezvy
6 Shayama Aaqila (USA) + Mafaz Zafar (USA)
6 Nabil Rezvy (Qatar)
6 Nishad
3 Ayesha + M A C Ismail (99, 384) (Ayesha aka Aashaththa)
4 Safriya Ismail (99, 384) + Hussain (Beck) Ismail (099, 384)
5 Shereen Hussain(099) + Noorul Mumtaz Mazahir
4 Khadeeja Ismail(99, 384) + Thalib Vilcassim (384)
5 Fathima Hanim Vilcassim(099) + A J Rumy Omar No Issues


2 Poochachchi (Given Name Not Known) + AM Vilcassim (384)
2 Mariam Umma Mohideen(aka Dhaththumma) + Ahamed Cassim
3 Fathima Zohora Cassim + Mohamed Abdul Cader Vilcassim (99,384)
3 Mohamed Zubair Cassim + Asma Abdul Cader Fondly known as Poomama & Poomami to close family.
4 Hussain Zubair Cassim + Haleema Khuhafa 1st BED. d/o Idroos Abi Khuhafa & Sheik Fareed Hadjiar Zainamby Nachia of Fort, Galle
5 Iqbal Cassim + Shahla Saleem d/o Mohamed Abdul Qadir Saleem of Jaffna & Gulna Raheem of Colombo
6 Imaad Iqbal Cassim
6 Iyaad Iqbal Cassim
6 Sarah Iman Haleema Cassim
6 Saad Iqbal Cassim
5 Florine Cassim + Rumi Marzook S/o Mohamed Mohideen Marzook of Kandy & Ayesha Haniffa of Colombo
6 Thareef Marzook
6 Amaara Marzook
5 Thuhufa Cassim (Geneva)+ Idroos Markar (Geneva) S/o Samsudeen & Faizeena Markar both of Fort, Galle. 6 Jameela Markar
4 Hussain Zubair Cassim + Sithy Kadija 2nd BED. Sithy Kadija of Fort, Galle [No Issue]
4 Nabasiya Cassim + Hussain Khuhafa Div.
5 Fawziya + Silmi Fawziya was lovingly fostered after Nabasiya's divorce
6 Daughter
6 Daughter
4 Samsudeen Zubair Cassim + Nabawiya MohamedD/o Maama Mohamed & Nafeesa Umma (nee Macan Markar) of Galle, Fort.
5 Fathahiya Cassim + Deen Mohamed
6 Adil Mohamed + Sadiya Amanullah G/dtr of Capt SIS & Mrs Hameed of Pannala/Kurunegala
7 Ibraheem Mohamed7 Bilal Mohamed6 Haneef Mohamed + Mariam Jafar
5 Feriyal Cassim + Mohamed Ismail Zubair
6 Hassena Zubair + Muhammed Uzbi Mohamed Uzbi is from Colombo
7 Talha Uzbi 6 Asmath Zubair + Mirshad Mowjood Mirshad Mowjood is from Gampola
7 Aahil Zubair5 Soosan Cassim + Ashrof Shakoor Ashrof is from Gampola
6 Hala Shakoor + AaqibAaqib hails from Gampola
6 Karam
4 NoorulAyne Cassim + Jiffry Sultan Bawa (SLM) Fondly known as 'Lighthouse Jiffry' in the Community.
5 Rehana Jiffry SultanBawa +Dr Rizvi Mowjood(137) S/o Dr & Mrs Abbas Lebbe Mowjood. Dr.Abbas graduated from Med school in Austria after learning the German language in which classes were conducted. He was the 1st Muslim Doctor from Kal-Eliya and had a leading practice in Kurunegala.
6 Dr Rahmi Mowjood + Hafsa Nowfel Maharoof
7 Imaan Zahra Mowjood
7 Hakeem Rizvi Mowjood
6 Dr Siraj Mowjood + Dr Jessica Jocson
7 Yasin Rizvi Mowjood
7 Ruqayyah NoorulAyne Mowjood
7 Isa Muhammad Ali Mowjood
6 Sharaf Mowjood + Naima Khandaker
5 Faiza (Gigi) Jiffry Sultan Bawa + Ralie Fatha S/o of Mr & Mrs Fatha Hajiar of Alutgama.
6 Fashana Fatha + Afaz
7 Raid
7 Aleena
6 Shazaan Fatha Shazaan died in an auto accident.
6 Azim Fatha + Jameela
7 Ayaan Fatha
7 Ameera Fatha
6 Azaam Kelabdeen
4 Nilam Zubair Cassim + Zuleikha Musafer D/o Zainudeen Musafer & Gnei Kitchil (nee Dole)
5 Mohamed Simark Nilam Cassim + ShamilaDiv. D/o Shahul Hamid Thassim & Nafeesa nee Ismail
6 Talya Qamaara Cassim
5 Mohamed Inam Cassim + Melanie White D/o Graham Thornton White & Philomena Rachel (nee Tavarayen)
6 Shenelle Cassim
6 Shian Cassim
5 Fareeha Cassim + Ramzi Ramzjan S/o Mohamed Thalib & Noorjehan Ramzjan
6 Mohamed Raaiq Ramzjan
6 Mohamed Aeeq Ramzjan
5 Fathima Shahmiya Cassim + Rheza Rahim S/o Noor Jaleel Rahim & Zarina nee (Cambaal)
6 Aalam Darwish Rahim
6 Tia Kalisa Rahim
4 Shiraz Zubair Cassim + Mumtaz Fahir
5 Shazreen Cassim + Ghazali Hammard
6 Yaara Hammard
6 Sama Hammard
6 Nuha Hammard
5 Zubair Cassim + Shafrina Wadood
6 Ayman Cassim
6 Aqeel Cassim
6 Liana Cassim
4 Huraiziya Cassim + M.I.H.M. Cassim
5 Suha Cassim + Daniel Audren
5 Rafiya Cassim + Izmi Illiyas
6 Salaam Illiyas


Shiraz, Nilam, Zubair Cassim, Hussain, Unknown, MIHM Cassim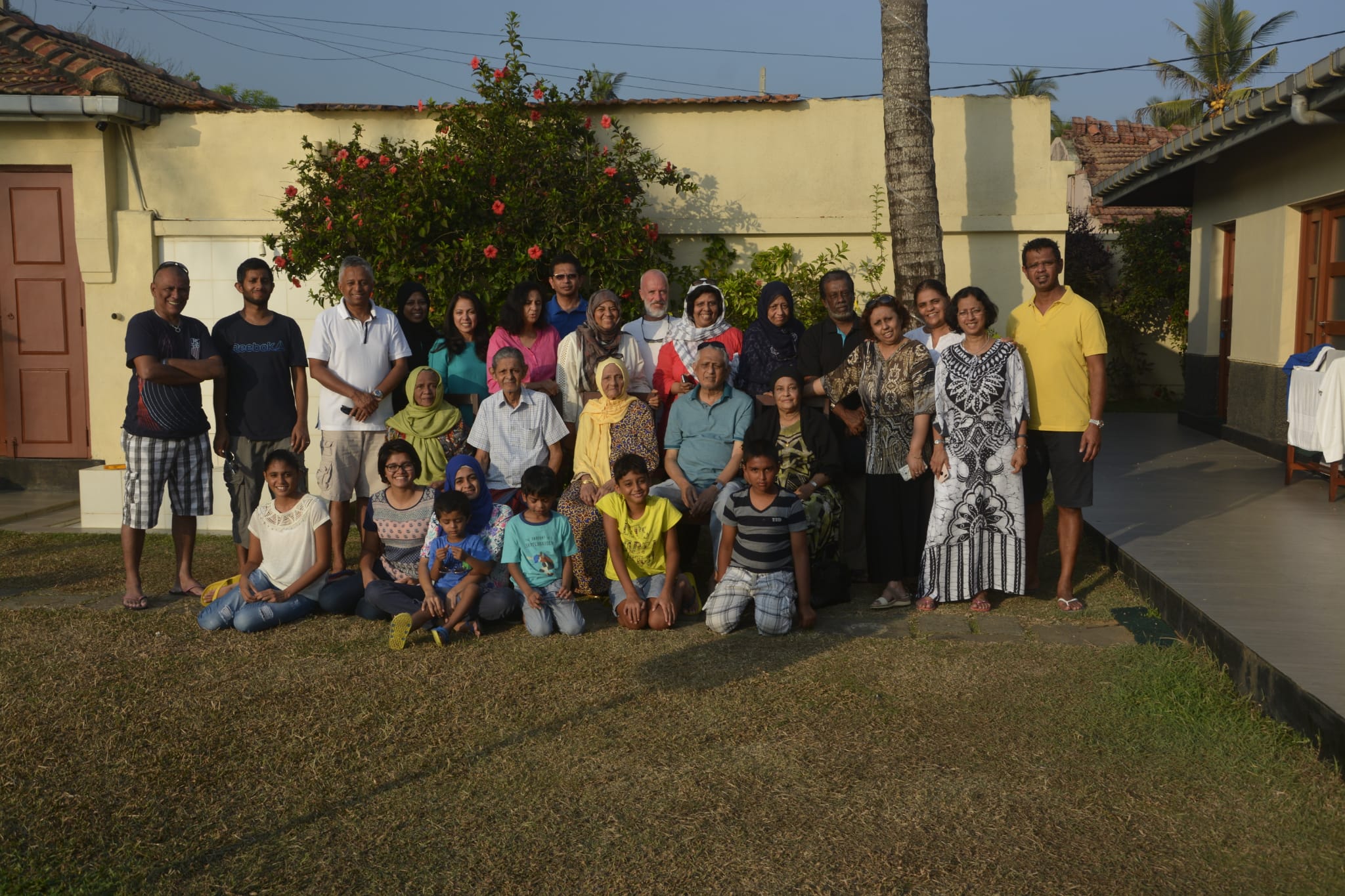 CASSIM FAMILY GROUP ON THE OCCASION OF NILAM CASSIM's 90th BIRTHDAY - 2017

Standing(L-R)
: Izmi, Azim, Iqbal, Fareeha,
Shahmiya, Fahumiya, Inam, Rehana, Daniel, Suha, Faiza, Rali,Rafiya,Shahla,Florine,Simark
Seated (L-R): Zuleikha, Nilam, Hussain, SithyKadija
Ground (L-R): Sara, Talya, Jameela, Ayan, Aneeq, Iyaad, Salaam