Sri Lanka Malay Family Genealogy
LYE - Family #227
Quote:
LYE FAMILY HISTORY
Captain Baba Aboo Sallay Lye the founder of our Lye Family in Sri Lanka, accompanied Dutch Governor William Falk to Ceylon (as the island was then called) in the year 1765. Captain Baba Lye came as second in command for the whole regiment and the chief in command was Colonel William Falk who was also the Governor (1765 – 1785AD).
Captain Baba Aboo Sallay Lye died in 1805 at Kalpentyn (presently called Kalpitiya, a peninsula north west of Sri Lanka).
The following piece of information is an extract taken from one of the "Kithabs" that was in the possession of Baba Muhajireen Lye belonging to his father Baba Juhar Lye, son of Captain Baba Aboo Sallay Lye.
Quote:
" Our original ancestor Capatain Baba Lye whose native place is Samarang in Street Kampong Patnakan on de Jambathan Leema de Peethak Simbilan – Captain Lye's relatives all reside in that place above-named. Nationality - "Perkan Cheena".
Unquote:
The Baba Name roots is also interesting. The most important thing was the extract in the Kitab which helped to identify the Baba Lye's as "Pernakan Cheena" and its meaning by B.D.K Saldin (from the Wilkepedia) who is married to my first Cousin. The fantastic thing is it traces back to the 5th garden after the 9th Bridge in that locality in Java, in Samarang. It would be a great thing if you could include this very important information in the SL gen webside
Wikipedia:
Peranakan, Baba-Nyonya and Straits Chinese (named after the Straits Settlements) are terms used for the descendants of the very early Chinese immigrants to the Nusantara region, including both the British Straits Settlements of Malaya and the Dutch-controlled island of Java among other places, who have partially adopted Malay customs in an effort (chronological adaptation) to be assimilated into the local communities.
The word Peranakan is also used to describe Chinese Indonesians. In both Malay and Indonesian, 'Peranakan' means 'descendants'. Babas refer to the male descendants and the Nyonyas the female. The word nyonya (also commonly spelled nonya) may originate from the Portuguese word dona, which means 'lady'.
Most Peranakan are of Hoklo (Hokkien) ancestry, although a fair denomination of them are of the Teochew or Cantonese descent. Written records from the 19th and early 20th centuries show that Peranakan men usually took brides from within the local Peranakan community. Peranakan families also commonly imported brides from China and sent their daughters to China to find husbands. A small group of Indian Peranakans, known as the Chitty, does exist as well. Another similar group of Eurasian Peranakans also exist as Kristang people.
The following piece of information is an extract taken from one of the "Kithabs" (books) that is in possession of Baba Muhajireen Lye which belonged to his father Captain Baba Juhar Lye, son of Captain Baba Aboo Sallay Lye:
"Our original ancestor Captain Baba Lye whose native place is Samarang in Street Kampong, PATNAKAN, on de Jambathan Leema de Peethak, Simbilam. Captain Lye's relatives all reside in that place above-named. Nationality :PERNAKAN CHEENA".
Regards,
Shiraz Lye, Colombo, Sri Lanka shirazlye@gmail.com
N.B. All these years we just knew the verbose information that our first ancestor in Sri Lanka was one Captain Baba Lye. Also we had learned that the first name "Baba" (Which all the Lye men-folk carry to-date) signified Chinese Ancestry. This is indeed a valuable piece of information and and I hope someone can trace the ancestors on the other side of the water attempt must be make to follow up.
"Baba", on the other hand is also an Arabic word which means "Father". The "Lye" family name could have easily originated as a Chinese name "Lee" which may have transformed into Lye through time. The prefix "Baba" could have easily been attached to the Lye family, as a form of respectful address for the males, on account of their conversion to Islam, through the Arab travelers who set foot in the far east for trade in the early 20th Century. This is only a possible conjecture which needs to be researched and confirmed.
More info received from Shiraz Lye in Colombo on Aug 1 2007:-
Hi
The Baba Name roots is also interesting. The most important thing was the extract in the Kitab which helped to identify "Pernakan Cheena" and its meaning by B.D.K Saldin (from the Wilkepedia) who is married to my first Cousin. The fantastic thing is it traces back to the 5th garden after the 9th Bridge in that locality in Java. It would be a great thing if you could include this very important information in the SL GenWebsite
Regards,
Shiraz Lye - shirazlye@gmail.com
<![if !vml]>
<![endif]>
G T Lye and the Peranakan Museum in Singapore
The Chinese Peranakan Heritage in Singapore
00  Capt Baba Aboo Sallay Lye d:1805 at Kalpentyn (Kalpitiya), accompanied Dutch Governor Colonel Wilhelm Falk to Ceylon in1765. He was the second in command for the whole regiment. Originally from Samarang on Street Kampang Patnakan on de Jambathan Luma de Peethak Simbilan of "Pernakan Cheena" nationality
<![if !supportLists]>0 <![endif]>Baba Johar Lye
1  Baba Muhajireen Lye 
0  Sgt Baba Tayib Lye, d:11 Mar 1866 + Gnona Kunchong Lye, b: 1937, d: 4 Mar 1922 at Forbes Lane, Maradana at the residence of Cassim Jayah
1  Baba Aboo Nayim Lye, d:23 July 1920 at Negombo
1  Baba Abdul Hamid Lye b:1833 in Kandy
    2  Gnei Balkis Lye, d:1898 at a Tea Estate close to Ambalangoda
    2  Baba Thajudeen Lye d:7 Mar 1898 at Slave Island
    2  Baba Asikeen Lye d: in Colombo 1898 + Gnai b: 1868, d:12 May 1928
    2  Baba Mohamed Jamaldeen Lye, b: 1860, d:Sat 29 Jan 1927 at 115 Old Kolonnawa Road, Dematagoda
        3  Gnona Rukiya Lye, d:14 Oct 1920 @1pm at 2nd Lane Maligakande, Maradana
1  Baba Abdul Aniff Lye b:1836 in Trincomalee
2  Baba M.S. Lye + Mrs. Firouza
3  Baba M. Ruswan Lye (ex Habib Bank), d:Jun 2020 + Daneen Jumat (228) - Sydney Australia
4  Jacqueline Fathima Lye (Died 1996) + Tony Preena Miskin (Uni Lecturer/Company Director Australia) (229)
                5 Imran Miskin I.T.  Service Manager. Toll Group,  Australia, Bachelor of Information Technology (Griffith Uni. Brisbane), Post Graduate Diploma (Commerce / Accountancy University of Qld..Australia) + Shabeena  Hassan, Senior Speech Pathologist. B.Sp.Path. Bachelor of  Speech Pathology. (University of Qld. Australia)
4  Diana Maimoon Lye (Air Lanka) + Terry Moozan Miskin (Asst Bank Manager) (229)
5  Tazneen Miskin(Company Executive)+ Riad Jaffer
5  Heshan Miskin
4  Sylvana Hafeera Lye (IT Director) + Frederick Wick (Wickremesekera) IBM - America
4  Baba M. Rizwan Lye (deceased)
4  Sonia Marzeena Lye + Hashim Sally (Sydney Australia)
3  Zircon Lye + Rosita
4  Merrick Lye
4  Brian Lye
4  Terrence Lye
4  Dexter Lye
4  Gringo Lye
3  Fismar Lye + Ayesha
4  Hansen Lye
4  Freddie Lye
4  Cynthia Lye + Tony Samsoodeen
4  son
4  daughter
3  Zelia Lye + T. Laksana Jumat, Parliament Stenographer (228)
4  Clarice Jumat + Tony Firdouse Wahid
5  Xenos Wahid
5  Salome Wahid
4  Perry Jumat + Nadeera
5  daughter
4  Rozana Jumat + Tony Kitchilan
5  son
4  Derek Jumat (Egypt) + ? (Egypt)
5  son
3  Shiraz Lye + Winnie
4 Dellah Lye + ?
4  Roshan Lye + ?
4  Fazlan Lye  
2  B K Lye + Ms Saldin sister of Mr MK Saldin and Mrs T A Akbar.
3 Baba Zahiere Lye 7/11/1900 - 1969 + Evelyn Mashmoon Saldin 14/6/1908-14/6/1992 (207)
4 Baba Roystan Xiwar Lye 12/2/1928, d:Mar 3 2008 + Mass Zeenathul Safeena (Marina) Ahlip, b:1940 - (120)
LYE - ROYSTON - Dearly beloved husband of Marina, loving father of Melati and Royanne, father-in-law of Hemantha and Shahnaz and brother of Chasnyn and Marville. Janaza leaves at 10 a.m. on Monday, March 3, 2008 for burial at Jawatte Muslim Burial Ground. 42/1, Green Path, Colombo 7. DN Mon Mar 3 2008
5 Seherazade Melati Lye, b:1959 + Hemantha Bandula Wijewardane
5 Baba Royanne Xiwar Lye, b:1960 - + Shahnaz
4 Baba Mohamed Marville Lye 21/1/1932 + Noelyn Samahin (207)
4 Dane Enci Chasnyn Lye 9/3/1938 + Sahardeen Musafer, b:1932 (152)
5 Haroun Musafer, b:1960 + Subashini Galage de Silva
6 Praveen Musafer
6 Jasmine Lilamani Musafer, b:2003
3 Baba Shahabdeen (Bob) Lye, d:Dec 1976 + Zareena, d:Dec 1994 (lived at Block p/2 Bambalapitiya Flats, Colombo 4)
4 Sherry Lye (Germany)
4 Kamy Lye (Austria)
4 Nazreen (Najo) Lye (Switzerland)
4 Sandy Lye (Australia)
4 Everilde Lye + Dr. Abdul Rashid Haniffa, d:Apr 5 2015, ex Dr. Sulaimans Nursing Home, Grandpass, Colombo, Sri Lanka (California, USA), son of the late Mr & Mrs P T Haniffa
5 Shano Lye + Cristilli
5 Anju Haniffa
5 Nina Lye + Schussman
3 Fareena Lye + B Suhood
4 Wita Suhood + Dick Rahim (159)
5 Sherwannie Rahim + Mani Seneviratne
6 Cianta Seneviratne + Suwasti Lye
6 Tiraan Seneviratne
5 Shihan Rahim + Taniya Hope (1st marriage) + Susan Koch (2nd marriage)
6 Tehan Rahim
4 Dinham Suhood + Rowena Dirckze
5 Renny Suhood + Evangeline Fernando
6 Johann Suhood
6 Sinclair Suhood
5 Marielle Suhood + Jeremy Collins
5 Brianna Suhood
4 Samil Suhood + Doreen Samahin
5 Feroni Suhood + Susan
6 Aryaana Suhood
5 Tirannia Suhood
4 Teruni Suhood + Jackie Gunatilleke
5 Suheranthi Gunatilleke + Angelo Wickremaratne
6 Sushenka Wickremaratne
6 Shenenka Wickremaratne
6 Ashenka Wickremaratne
5 Charith Gunatilleke + Aruni Samaraweera
6 Raya Gunatilleke
6 Rika Gunatilleke
5 Kardina Gunatilleke + Nishan Perera
6 Reshan Perera
6 Ciaan Perera
5 Chelan Gunatilleke + Sita De Fonseka
6 Kallon Gunatilleke
4 Dalreen Suhood + Haji Burah (deceased) (245)
5 Tarini Burah + Udaya Tennekoon
3 2nd spouse of Fareena Lye + Sukhla
4 Armand Sukhla + Carrol
5 Tehmi Sukhla
5 Jehan Sukhla
5 Roshan Sukhla
5 Romesh Sukhla
4 Roshan Sukhla + Ranjit Perera (div)
4 2nd spouse of Roshan Sukhla + Eraj Wijesinghe (Chairman Bartleet & Company)
3 Baba Aswan (Tom) Lye + Feroza Samahon (322)
4 Baba Xirak Lye, d:Dec 2009 + Muzeena (Colombo, Sri Lanka)
4 Virgin Lye DOB ? - 5/7/1960 + Haj Sarifodeen
5 Nirvan Sarifodeen + Mumtaz (Ontario, Canada)
6 Tiana Sarifodeen
6 Tiaz Sarifodeen
5 Hisham Sarifodeen
4 Puthrisia (Pat) Lye + Noor Rahim ex SLAF, (Ontario, Canada)
5 Ridwan Rahim + Ramona Ismail
6 Lianna Rahim
5 Romani Rahim + Ranshan Saldin, s/o H M Saldin
4 Baba Okley Lye b:25/04/1942 - d:7/12/2004 + Chutie Samahon (1st Marriage) d/o M N Samahon
5 Tarrineshia (Tarry) Lye (Alberta, Canada)
4 *2nd spouse of Okley Lye 25/04/1942 - 7/12/2004 + Joan Bolton (Montreal, Canada)
5 Tanya Lye
5 Amanda Lye
5 Belinda Lye
4 Varnishia Lye DOB ? - DOD ? @ 13 years old
4 Baba Sydney Lye (Malaysia) + Zahara Amman (Ontario, Canada) (1st Marriage)
5 Rishan Lye
5 Rheana Lye
5 Amarni Lye
4 2nd spouse of Baba Sydney Lye + Name Not Known (Malaysia)
5 daughter
4 Amy Terangsia Lye + Asad Amath (Montreal, Canada)
5 Anika Amath
5 Amara Amath
3  Baba Dhaglan Lye + Shirlene Saldin (207)
4   Baba Hallam Ezmal Lye 1945 + Gunasmin Amit (160) (Australia)
         5 Suhana Tishara Lye, Sydney, Australia + David Christopher Robert Spires, Farnham Common, UK
             6  Akila Alice Spires, Milan, Italy
4   Baba Shiraz Musthara Lye 1946 + Joyce Kulatunga (Sri Lanka)
4   Baba Rasmar Lye 1951 + Zavania Sokoor
5 Merissca Taslima Lye
4   Baba Dylan Lye 1953 + Cathy Wong (Hong Kong)
5 Sheraan Lye
3 Dane Enci Shahareena Lye 1918-2006 + Mohamed Adnan (Firdouse) Samahon 1912-1969 (322)
4 Parhoom Chandrono Samahon + Razeena Musafer, d/o Z Musafer
3 Dane Enci Engaline Lye + Samsudeen
4 Lahan Samsudeen + Shirani Musafer (ex Ceylon Tobacco Company Ltd) (152)
3 Dane Enci Alexeme Lye 1925-1945 + Baba Hashim (Basim) Samahon (322)
4 Swargaline Samahon + Ratnabalasurier Thirukumar
5 Seanti Ratnabalasurier
3 Baba Fred Lye + Dorothy Lye d:July 26, 2020  (India)
            4  Rodney Lye
            4  Sherry Lye + Dinal Jayamanne
            4  Patty Lye + Duleep Samaraweera
                5  Chaminda Samaraweera (Katcha) (Sydney, Australia)
                5  Sonali Samaraweera + Russel Arnold (Sydney, Australia)
    2  Gnona Ahadanee Lye b:13 Oct 1861, d:19 Sep 1897 at Colombo
    2  Baba Bahardeen Lye b:20 Aug 1863, d: 3 Jun 1928 @2:25am at 78, Silversmith Street, New Bazaar, buried at Jawatte
    2  Baba Fajurdin Lye b:Tue 28 Nov 1865 @4am, d:Sun 6 Feb 1921 @4:30pm
        3  Baba Ahsanudeen Lye, d:12 Nov 1920 @ 3am at 10 Garden, Wekande
    2  Baba Kamardeen Lye b:15 Jun 1868 + Nona Juhari Saldin (d/o Baba Ounoos Saldin) m:26 Aug 1899
    2  Baba Kabirdeen Lye b:5 May 1871, d:3 Sep 1871
    2 Baba Nasoordeen Lye b:Wed 10 Sep 1873 @3:30am in Colombo, d:20 Jun 1935 @9:30am at Police Quarters, Slave Island interred at Jawatte + Nona Rayhan died at 165/9 Small Maligawatte, Maradana  @9am
        3  Baba Kabiruddin Lye, b: circa 1907, d:Sep 25 1926 @8am at 27 Belmont Street, Hultsdorf buried at Jawatte
        3  Baba Kumala Lye, d: Sat Nov ? 1932 @7am at Police Quarters, Slave Island interred at Jawatte
        3  daughter + Sgt HR Mahil
   2  Baba Alahudin Lye b:Sat 29 July 1876 @4pm in Colombo, d:Fri Feb 28, 1945 @10:10pm N0 22, Wilson Street, Hultsdorf (residence of his daughter)
        3  daughter + MC Brantha
    2  Gnona Davy Lye b:Tue 11 Aug 1879 @2am in Galle
    2  Gnona Ahayanee Lye b:1 July 1883, d:Mon 25 Sep 1899 @11:30pm
    2 Baba Shahabdeen (Sheridan) Lye b:Thu 21 Apr 1887 @11:45 am in Panchikawatte + Name Not Known
2 Baba Shahabdeen (Sheridan) Lye b:Thu 21 Apr 1887 @11:45 am in Panchikawatte + (2nd spouse) Ummu Nafeesa Mohamed Ally (d/o Habib Marikar Mohamed Ally of Gampola) m:Thu Aug 14, 1930 at Blackpool, Nuwara Eliya
3 Baba Washington and Nona Rasheeda
4 Baba Mohomed Lahan Lye, d: 7 Mar 2007 + Farana
5 Irshad Lye
5 Kadeesha Lye
5 Zafar Lye
4 Baba Zahier Lye + Zubaida
4 Baba Permano (UK) Lye + Shifara
4 Fareeca Lye + Zarook
4 Shareeka Lye + Hussain
4 Fareena Lye + Hatheem
4 Razeena Lye + Bobby
4 Shereena Lye + Shereif
4 Parween Lye + Irfan
4 Rozana Lye
3 Baba Wellington Lye + Gnei Shaam
3 Dane Zarkoon Lye + Shaukat Kamarudeen Kamal Uduman (brother of Fuard and Jamshed Uduman) (346)
4 Delano Hilmi Uduman + Nona Jameela Samsoodeen
4 Rozanara (Roshi) Uduman, b:1954 + John Anthony Singarayar (USA)
5 Shanil Anthony Singarayar + Elizabeth Rice
4 Nishan Iqbal Uduman (USA) + Shamina Mustafar (div)
5 Talisha Uduman
5 Kiara Uduman
4 Shameena Uduman + Richard Warwick Jacotine (Australia)
5 Keshia Soraya Jacotine
5 Shivan Jacotine
4 Rizwan Karib Uduman (USA) + Shazna Fathima Zubair
5 Kaliq Rian Uduman
5 Kian Shakir Uduman
5 Jalisa Mira Uduman
4 Sabrina Uduman + Mohammed Zafir Mohammed (Captain Srilankan Airlines)
5 Iman Mohammed
5 Mikha'il Mohammed
3 Baba Neville Lye
        3  Baba Kamil Jeem Lye b:11 Nov 1938 @9:30am at Akbar Town, d:7 Aug 2003
3 Dane Zeeniya Lye b:26 Aug 1939, m:4 Jan 1964 + Tuan Anver Yakeem, b:24 Oct 1933
            4  Shaharan Amra Yakeem, b:25 Apr 1965, m:29 May 1988 + Athif Murad Fahmy, b:11 Feb 1965 AICM, MABE (UK), EDBA (University of Colombo) (173, 38)
    5  Amira Talia Fahmy AMABE (UK), b:2 Jun 1992, m:24 Mar 2018 + Sirraj Abdul Hameed, b:9 May 1977
  5  Tara Nadia Fahmy CIM (UK), b:3 Apr 1994, m:10 Aug 2019 + Rahil Joel Gomes, b:19 Apr 1993
            4  Turab Hisham Yakeem, b:19 Nov 1974, m:5 Jan 2002 + Vinoza Faizal, b:13 Feb 1977
                 5  Tamira Khalisha Yakeem, b:19 May 2005
                 5  Muhammad Kiyadh Daaniyal Yakeem, b: 19 Dec 2007
Baba Zahiere Lye
B.Zahiere Lye was an Appointed Member of Parliament who spent most of his time in maintaining the image and unity of the Malay Community in Sri Lanka. He was married to Mashmoon, daughter of M.K.Saldin the first Malay to be represented in the Legislature.
As President of the All Ceylon Malay Association (now known as Sri Lanka Malay Association) he established cultural and social contacts with Malay leaders of the world. The Sultan of Selangor, the Prime Minister of the Republic of Indonesia, the Governor of Singapore and the Deputy Prime Minister are only some of the Malay dignitaries who were entertained at the Association when he was President. The then Prime Minister of Malaysia, Tunku Abdul Rahaman was a special friend of Mr. & Mts. Lye whom he befriended when they were in London in 1947. A special invitation was sent to them to attend the independence celebrations in K.L as state guests from August 30th. to September 3rd. 1957.
Zahiere Lye has been the General Secretary of the Colombo Malay Cricket Club (which is the oldest Sri Lankan Cricket Club) from 1927 to 1934, the Club Captain for ten years and the President of the Cricket Club and Sri Lanka Malay Association from 
1951-1964. He has actively served the Club and Association for a continuous period of over 40 years. He took great pains to encourage and improve all activities in the club be it cricket, hockey or netball.
The Club grounds and pavilion at Rifle Green, which was the home of the Malays for a period of 85 years, were commandeered during the war in 1942 by the British Army. It was subsequently taken over by Government of Sri Lanka in 1957 for construction of the new Police station and officers' quarters. After prolonged negotiations with the Government Mr.Lye with his committee were able to obtain for the Malays an alternative site at Kew Road. The club was also offered a Police hut at the new premises to serve for sometime as a pavilion and office. It was Zahiere Lye along with a few dedicated members who kept alive the club by regular gatherings and meetings. Finally by dint of hard work and effort by the President and committee, a new Pavilion was constructed. On the occasion of opening the pavilion September 3rd. 1960 by the then Governor General, Sir Oliver Goonetilleke,  Mr.Lye declared that the new pavilion would be known as the 'Padang'- the new home of the Malays.
The Sri Lanka Malay Association Rupee Fund will stand as a lasting monument of the service to society by Zahiere Lye and his wife Mashmoon . The Fund which was inaugurated in May 1953 was the brainchild of Mashmon Lye. Annual distribution of rice and cash to thousands of poor families, annual treats to poor children, monthly assistance to pensioners, scholarship scheme for higher education and vocational training to the young on computing, English language and typewriting are some of the forms of assistance given to the needy and less privileged. Mr.Lye as the Founder President and Mrs. Lye as General Secretary guided the Fund with the able assistance of a band of dedicated Committee members.
In recognition of the Fund's services to the needy and les fortunate the Fund receives an Annual Grant from the Department of Social Services and is recognized as an Approved Charity. In 1978 it was Incorporated by an Act of Parliament.
Besides giving fresh life to sports activities Zahiere Lye made the Padang the focal point of all social, cultural and social service activities of the Malays. The Malay community owes a deep debt of gratitude to Zahiere Lye, the dynamic leader for the great leap forward made by the community as a result of his progressive ideas and actions.
Obit:
LYE  BABA KAMIL JEEM. Beloved brother of late Wellington and Washington, Zarkoon, Neville and Zeeniya, passed away on the 6th of August 2003. Janaza took place at the Mattegoda Muslim Burial Ground on the 7th of August 2003. [Sunday Observer Sep 14 2003]
BABA MOHOMED LAHAN LYE expired. Son of late Washington and Nona Rasheeda Washington, beloved husband of Farana, father of Irshad, Kadeesha and Zafer, brother of Zahier, Permano (London), Fareeca, Shareeka, Fareena, Razeena, Shereena, Parween and Rozana, brother-in-law of Zubaida, Shifara (London), Zarook, Hussain, Hatheem, Bobby, Sherief, Irfan (Dubai), loving uncle of Sherooza, Farookdeen, Shafraz, Shafeeka, Rashard, Hajara, Seyana, Sharfaraz, Mafaz, Imran Mursheed Mazeeya Inshira Mazna Reshaz Sabreena and Bushra. Janaza took place on the 08th of March 2007 at 3.00 p.m. at Jawatta Burial Ground.
LYE - BABA NAJEEM expired in London on 05/01/2008. Beloved husband of late Nona Marliya Lye, father of Nuzahama (UK), Shardeen, Nazly, Shiiyabdeen, Jenifar, Thasheemdeen (UK), father-in-law of Haniffa (UK), Jaufer, Aisha, Nona Fareena, grand father of Zahir, Naushard, Shiyana Shamsudeen (UK), Zaheeda Zoran, Shiyara, Shamila, Amjath, Musheen, Inzamam, Asif, late Rizna, Dean, Jade, Lewis, Jordan, Jerome, Lucas, Tia (UK). Funeral took place at Number 19 North Road, West Drayton, Middlesex, United Kingdom on 07/01/08.DN Tue Jan 8 2008
Sports
Daglan Lye: Sports administrator beyond compare
By Bruce Maurice - Daily Mirror 25 July 2007
A primary requirement for the success and development for any Sports Club or Association is that office bearers whether honorary or otherwise should be honest and have the love of that particular sport at heart and not assume office for the mere purpose of political or personal mileage. Both soccer and hockey were blessed to have such a personality in Daglan Lye who spent years to upgrade these two sports through his God given talent of being an extremely efficient and results oriented administrator.
Even from his school days at Lorensz College, Zahira and Pembroke Academy, Daglan Lye was in the thick of sports with his organisational skills. As far back as 1940, while at Pembroke he organised a football fixture between the Academy and the Police Training School.
He then formed a club and named it Young Hults SC comprising of the less affluent youngsters in Armour Street and in 1941 was the prime mover in this club visiting Kandy to play two games in aid of the Sportsmen's War Fund. The first match was against Kandy Amateur League and the second against a strong Kandy representative side. From then onwards, Lye's services were marshalled by the Malay Cricket Club with whom he formed a life long link. Lye was their representative of the Colombo Hockey Association since 1971 for a period of 30 long years. During this period, Lye was elevated as an executive member of the CHA and did yeoman service in four committees – tournament, selection, umpires and finance. The CHA had under its brolly, the following hockey playing clubs. Grasshoppers SC, CR and FC, CH and FC, Bloomfield, BRC, Colts, NCC, Army, Navy, Air Force and Government Services which participated in the Andriesz Shield, Pioneer and inter club tournaments. Lye was both a stalwart and workaholic whose devotion and keenness was a significant feature of the efficient running of the CHA.
In 1976, in recognition of his honest and dedicated services, Lye was made a Vice President of the CHA, a position he held for 10 years. In 1986, Lye was unanimously elected president of the CHA and during his stewardship of 10 years the CHA earned a reputation for being an Association that functioned like a vehicle on well oiled wheels.
At the end of his tenure as President, he was elevated as a Vice Patron of the CHA and later on as Patron. Finally the CHA bestowed on him its highest honour by inducting him as a Life Member in recognition of his unblemished service of 30 years to the Association.
The Malay CC too was appreciative of the tremendous expertise and administrative ability that Lye displayed in various capacities, always discharging his duties to their entire satisfaction and at its 135th Annual General Meeting elected him as patron of the club for 2007/2008.
At 85 years, Lye leads a sedate and peaceful life in retirement but still keeps abreast of the happenings of both the Malay CC and Colombo Hockey Association and the game of hockey which is the passion of his life.
Creative guitarist
by Mahes Perera - SO Apr 15 2007
A guitarist who knows how to make melodies come alive, is the Sri Lankan musician Dylan Lye in town on a brief holiday and has given audiences the opportunity to enjoy his music expertise.
He has long possessed one of the most expansive and resourceful fret board techniques that is awesome. Watching him play you are convinced that it is something in his touch, the way his fingers move with sensitivity on the fret, and his parallel scat singing - picking which has given joy and inspiration to listeners.
Dylan Lye needs no introduction to Sri Lankans. His name is synonymous with guitar artistry, and his unassuming ways has endeared many a fan to him. A vital member of the highly successful Jetliners led by the living legend Mignonne Fernando, who held sway at the Regent Hong Kong, for seventeen years, Dylan continues to play in Hong Kong, freelance, leading his own group.
"Four times a week I work with the band Dynamo Hum at the Jazz Bar and then on Fridays I lead my own outfit and play at the Cricket Club from 7.00 p.m to 9.00 p.m. From there we move over to the Bohemian Lounge from 10.30 p.m. to 1.00 a.m.
I'm enjoying it. Along with these weekly dates I handle Corporate functions which require different programmes according to various themes and so it means arranging of special music and that's inspiring. Also I make appearances at Macaw, Singapore and China - life's hectic what!" says Dylan flashing that characteristic smile of his.
What about capturing your music on an album? "As a matter of fact we've done a CD called 'Red Taurus,' the group too is of the same name led by guitarist Jason Ho and includes two other well known Sri Lankan musicians Hassen Musafer and Bubu Wijesinhge on drums and percussion.
Also the CD features two female vocalist Ginger Kwan and Brigitte Mitchell and further details could be obtained from jazzhothouse@yahoo.com. The compositions are a collaboration by all of us and leans on latin-tempo," reveals Dylan.
Soon Dylan Lye will fly back to Hong Kong and music lovers here will miss the familiar figure with the bald pate and singing guitar. Dylan has always given his own personality to music be it pop, rock, funk, soul, latin or Jazz - there are no barriers to his versatility - only happiness in expression.
GALLERY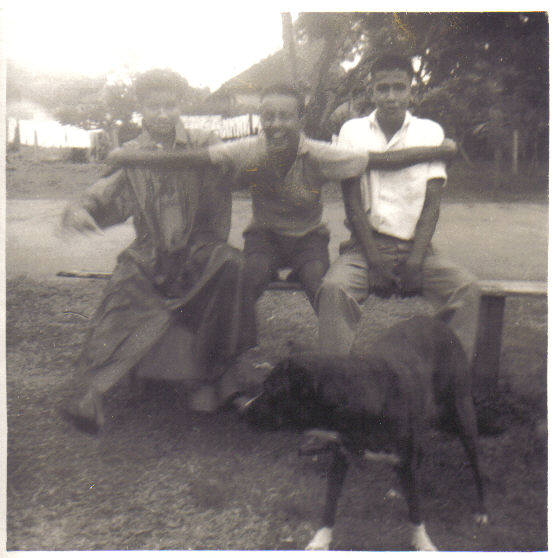 Azeez Sattar (Fricky Khan), Trelawney Gauder & Okley Lye, down Mary's Road in 1961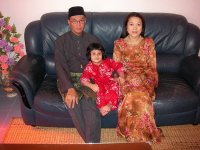 Sydney Lye