**********
Vishwa Vedage, Passed away in London, June 4, 2019 – RIP my friend
Mahadeva Balakumaran, Passed away in London June 2, 2019 - RIP my friend
***********
Mar 10, 2019
The AGM was held at the Capri Club at 730 pm with a large gathering present.
New Committee elected uncontested for 2019/20
Mazher FazleAli - President
Fazli Sameer - Secretary
AU Suraweera - Treasurer
General Committee:
MBM Naizer
Nihal Canagasabey
Upali de Livera
Library Committee:
Sunil Wimaladharma
Dr AN Guneratne
DER Hapuarachchi
Mar 7, 2019
ST Aziez suffered a massive heart attack and was warded in the ICU at Durdens Hospital, Colombo. We wish him a speedy recovery.
Dec 30, 2017
Ranjan Madanayake passes away. May his Soul Rest in Peace!
June 6, 2017
We have just received the sad news of the demise of L Lathpandura in USA in 2015. May he Rest in Peace!
May 21, 2017
Announcing the passing away of Asoka Waranasuriya in Colombo after a brief illness. May he Rest in Peace!
Jan 6 2017
We regret to announce the death of Suren Chitty today. Details of the funeral arrangements will be announced when received. May he Rest in Peace!
Mar 18 2016
Obituary:
Dear '59 Group
Sad News of the demise of our colleague H. P. Kariyawasam
I am sure you would have already read the mail from Manchanayaka informing the sad news of the passing away of one of our batch mate H.P.Kariyawasam. As Manche was telling he was a nice guy we associated very much at college and even later when he was at Galgamuwa.
However I lost touch with him during the later years possibly because he was working in Kandy.
Sarath has just found out the details of the funeral arrangements.
The Funeral would take place tomorrow (Saturday 19th) at 5 pm at Balagolla Cemetry, a place along kandy- mahiyangana road passing pallekelle stadium.
He leaves behind his wife and daughter Shanika.
Residence Telephone 0812421258
mobile 071 8011468
Pullaperuma
Dear '59 Group,
I got this email from a Colleague of mine Tilak Nikapitiya who was the Director of Irrigation, Kandy Range.
Our Batch Mate H.P. Kariyawasam has passed away on the 16th.
Kari was an extremely nice guy whom I got to know when we entered RC in 1959. He was a very quiet person. I could remember he had his own group of people like Pulleperuma, Andradi, LVK De Silva, GSC Perera, Ganepola etc.
I do remember Kari was a very decent guy. He was not a stir character. After finishing the TA Training School at Galgamuwa, Kari served the Irrigation Department as a Technical Assistant for many years. Then he got his promotion and served as Irrigation Engineer (Kandy) for a long time.
I am really saddened by his demise.
May he attain the Supreme Bliss of Nibbana!
Regards
Palitha Manchanayake
From: kat nik [mailto:nikapitiya42@yahoo.com]
Sent: Friday, 18 March 2016 12:01 PM
To: Palitha Manchanayake
Subject: Sad News
Dear Palitha
I have to announce about the sudden demise of Mr. H.P Kariyawasam IE our neighbour and for long time friend of mine even before we both got married. He served in ID, since his training from Galgamuwa and also worked with me at Makandura Scheme with 7 other TAA. We lived in the same private house as bachelors in a long dormitory there. Lastly he served at Kandy IE's office and involved in protecting the Kandy lake banks with Gabions. He was promoted as an IE and served many years in that capacity too.
After retirement he joined a private consultancy firm and working till his last date. He has gone to Badulla on inspection on previous day( 16th) and after return had his dinner and slept at his home here. At the dawn at about 3.30 am he was taken to Kandy Hospital by his co officer . He passed out on the way. He was having a Kidney problem for few years. One of his daughters (out of 2) has got married 1 ½ years back to a boy from Australia one Rambulwella and after marriage they both left SL. We were told a month back they got a baby.
I think he is your classmate at Royal with Lakshman Kiriella. He is a nice, honest and devoted officer. I am sending this because I think once you told me that he was your classmate at Royal.
May he attain Nibbana. If you need there Tel No is 94 81 2421258
Tilak Nikapitiya
***
Mar 17 2016
MINUTES OF THE 23RD ANNUAL GENERAL MEETING OF THE ROYAL COLLEGE '59 GROUP HELD ON 10TH MARCH 2016 QT THE CAPRI AT 8.00 P.M.
The meeting was called to order at 8.00 p.m. by the President, Mr. Charitha Ratwatte.
<![if !supportLists]>1. <![endif]>Two Minutes silence was observed in memory of the Late Sidney Gunaselara and Gamini de Silva.

<![if !supportLineBreakNewLine]>
<![endif]>
<![if !supportLists]>2. <![endif]>President's Address: The President outlined the progress made by the Library Committee and the other activities of the Committee. He thanked the Committee Members for their co-operation in
carrying out the activities of the Group. He made special mention of the support received by the '93 Group in completing the Library Project, with our Library Committee.

<![if !supportLineBreakNewLine]>
<![endif]>
<![if !supportLists]>3. <![endif]>The Minutes of the 22nd Annual General Meeting which were circulated in advance were taken as read, and proposed by Dr. P A Gunaratne and seconded by Mr. Preman Soysa. The Minutes were
approved unanimously.

<![if !supportLineBreakNewLine]>
<![endif]>
<![if !supportLists]>4. <![endif]>The Secretary's report too which was circulated in advance was proposed by Mr. Anil Kannangara and seconded by Mr. Sunil Wimaladharma and was approved unanimously.

<![if !supportLineBreakNewLine]>
<![endif]>
<![if !supportLists]>5. <![endif]>The Audited accounts for the year which were circulated by the Hony. Treasurer, was proposed by Mr. Padmaperuma, and seconded by Mr. Nihal Canagasabey. The Accounts were unanimously
approved by the membership.

<![if !supportLineBreakNewLine]>
<![endif]>
<![if !supportLists]>6. <![endif]>Election of Office Bearers for the year 2015/16 – The President remained in the Chair since he was not seeking office and conducted the election.
President: The Name of Mr, Sarath Perera was proposed by Mr. Nihal Canagasabey and seconded by Mr. M B M Naizer. The anme was unanimously accepted by the House.

Hony. Secretary: The name of Mr. B R Pulleperuma was proposed by Mr. Nihal Canagasabey and seconded by Mr. Daya Weerasekara.

<![if !supportLineBreakNewLine]>
<![endif]>
Hony. Treasurer: No Names were proposed and the Chair proposed that the new committee meet and decide on the Treasurer.

General Committee:  The following names were proposed from the Chair.
Mr. Sunil Wimaladharma
Mr. Suren Cook
Mr. D G Wickramasinghe.

Library Committee:
<![if !supportLineBreakNewLine]>
<![endif]>
Mr. L,V. Talagalle
Mr. D. E Happuarachchi
Mr. M Rajasooriar
Mr. Sarath Perera, addressed the members and said that he was taken by surprise and thanked the membership for the confidence reposed in him.
There being no other business was terminated at 8.45 p.m.
Charitha Ratwatte                                                                                         Mazher Fazleali
President                                                                                                        Secretary
Oct 12 2015
Obituary:
Gamini de Silva (Ketty), Colombo, Sri Lanka
Sep 27 2015
obituary:
Sydney K Goonesekere, Colombo, Sri Lanka
Mar 12 2015
obituary:

Bandula Kulatunga, Mar 12 2015 in Australia [reported by Jeremy Perera]. May he Rest in Peace!
<![if !supportLineBreakNewLine]>
<![endif]>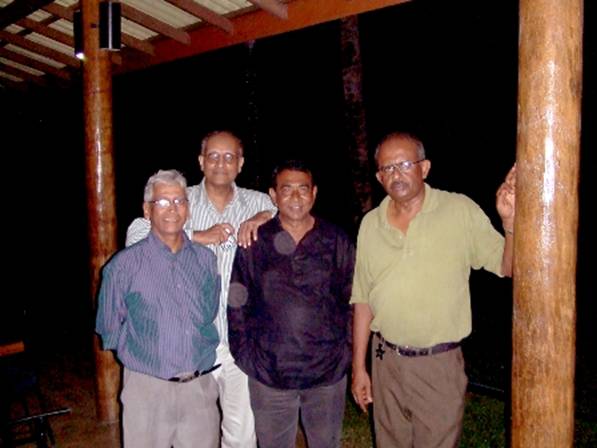 <![if !supportLineBreakNewLine]>
<![endif]>
Bandula Kulatunga on his last visit to Sri Lanka in 2010 with Prasanna Mendis, UC Jayasinghe & Livera
pic by Daya de Silva
<![if !supportLineBreakNewLine]>
<![endif]>

<![if !supportLineBreakNewLine]>
<![endif]>
Jan 6 2015
obituary:

ABEYWICKRAMA - MRS. SUJATHA (Founder/Director of Senorita Garments, Ratmalana). Beloved wife of Chandra Abeywickrama, mother of Namal and Dr. Dhaminda, sister of Consultant Psychiatrist
Dr. Vimal De Alwis, daughter of the late Mr. & Mrs. K.M.C. De Alwis of Weragoda, expired. Funeral will be held onWednesday 7th January at the General Cemetery, Kanatte, Borella at 3.00 p.m Cortege leaves
residence No. 8 B, Charles Drive, Colombo 03 at 2.00 p.m. 
<![if !supportLineBreakNewLine]>
<![endif]>
<hr size=2 width="100%" align=center>
Dec 9 2014
<![if !supportLineBreakNewLine]>
<![endif]>
obituary:
S W Athukorale has passed away. Our sincere condolences to his family and friends. A sad day for every '59er.
<![if !supportLineBreakNewLine]>
<![endif]>

comments/appreciations

Athu was a great boxer during school days and to his credit he was the first to get colours in any sport from our batch in getting college boxing colours in 1960. After couple of years he represented Ceylon Schools at the Indo-Ceylon Meet with Metha and late
SL Gunasekera. Coach Danton Obeyesekere considered him to be a very natural boxer and it is unfortunate that he did not pursue boxing at national level.

May he attain the supreme bliss of nibbana.

Jiggs

<![if !supportLineBreakNewLine]>
<![endif]>
July 25 2014
<![if !supportLineBreakNewLine]>
<![endif]>

It is with great sadness that we announce the passing away of K P G Fernando on July 23 2014. Funeral will be held on Saturday July 26, 2014 from his residence at Malabe.
May he Rest in Peace

<![if !supportLineBreakNewLine]>
<![endif]>

Tributes:
<![if !supportLineBreakNewLine]>
<![endif]>
A fine and fitting tribute to a man of great courage, determination, and compassion
may he Rest in Peace! - Fazli Sameer
***
KPG was a good friend ever since we started college together in 1F. So sorry to have been away from the country and not see him during his last stages.
Thanks Sunil, Nizar and Nihal for writing this fitting tribute. -Sube
***

<![if !supportLineBreakNewLine]>
<![endif]>
Apr 1 2014
Office Bearers of the Royal College '59 Group 2014/2015

President: J.C. Ratwatte
Hony. Secretary K.P.G. Fernando - position assigned to Mazher FazleAli as of July 2014 as KPG has been taken ill
Hony. Treasurer. Upali Suraweera
Committee Members.
M.B.M. Naizer.
M.Chandraprasad
Nihal Canagasabey
Library Committee
R. Rajasooriyar
Sunil Wimaladharma
D G Wickremasinghe

Video clip of AGM event: http://www.youtube.com/watch?v=pLipE3Xs6Ns&feature=em-upload_owner
July 13 2014
Fazli Sameer's Mum moves on
<![if !supportLineBreakNewLine]>
<![endif]>
Mrs Ryhan Sameer, 95+ passed away on Sunday July 14 and was buried the same evening at the Dehiwela Muslim burial grounds.
May she Rest in Peace!
<![if !supportLineBreakNewLine]>
<![endif]>

SEP 29 2013
Mr. Bogoda Premaratne Moves On

The body of former Royal College Principal and well-known educationist Bogoda Premaratne was brought to the school on Sep 28 for students and old boys to pay their last respects. His coffin was carried to the main hall of the school by the old boys. Mr. Premaratne was also a former Commissioner of Examinations and head of the US-SL Fulbright Commission.
<![if !supportLineBreakNewLine]>
<![endif]>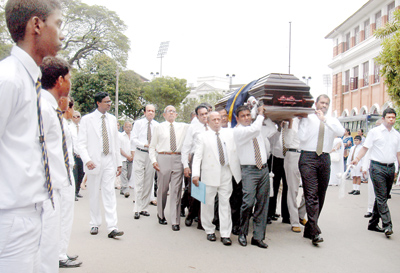 <![if !supportLineBreakNewLine]>
<![endif]>

<![if !supportLineBreakNewLine]>
<![endif]>
APR 29 2013
Upali's Brother moves on

DE LIVERA - NIHAL GLENVILLE. (Branch Manager - Lanka Electicity Co Kelaniya). Son of the late Terrance and the late Hazel De Livera, beloved husband of Sasalekha, loving father of Thulan and Dushan, father-in-law of Gayathri, grandfather of Nethul, brother of Upali, Indrani and the late Dr. Mangalika, brother-in-law of Ursula, Senarath, Dr. Nimal, Roshini, Lakshi and the late Chandrika. Cremation at the General Cemetery, Borella at 3.00 p.m. on Wednesday 30th April 2014. Cortege leaves residence No. 148E, National Housing Scheme, Kiribathgoda at 2.00 p.m. 076665

<![if !supportLineBreakNewLine]>
<![endif]>
Dec 12 2013
<![if !supportLineBreakNewLine]>
<![endif]>
Athula Senanayake Moves On
Passed away on Dec 11 2013 at his residence,
No. 170. "Nandana", High Level Road, Homagama
Funeral will take place on Saturday, Dec 14, 2013
May he Rest in Peace!
<![if !supportLineBreakNewLine]>
<![endif]>
***
<![if !supportLineBreakNewLine]>
<![endif]>

July 27 2012
<![if !supportLineBreakNewLine]>
<![endif]>
Ando's Father Passes Away
July 26, 2012, 10:37 pm

<![if !supportLineBreakNewLine]>
<![endif]>
DIAS – NANDA NISSANKA (N. N.). Son of the late Mr. and Mrs. Arthur V. Dias, beloved husband of late Dayadari, loving father of Ajith, Naomal and Neelakanthi,
father-in-law of Sunel, Devini and S. J. De Silva, expired. Cortege leaves residence No. 116, Lake Drive, Colombo 8 at 10.30 a.m. on Saturday 28th July, cremation at the General Cemetery,
Kanatte, Borella at 11.00 a.m. No flowers by request.

***

Jan 25, 2012
<![if !supportLineBreakNewLine]>
<![endif]>
Prasantha moves on


<![if !supportLineBreakNewLine]>
<![endif]>
DIAS ABEYGUNAWARDENE, PRASANTHA NIMAL (ex Deputy Director SACEP) - Loving son of late Norman & Daisee Dias Abeygunawardene, precious son-in-law of late Ernest & Ruby Muthuvaloe, beloved husband of Subashini, darling father of Sulakshana, brother of Dushyantha (Dinko), brother-in-law of Mano, Emmanuel & Jo, Kamalini & Freddie, grandfather of Aevahn, Ayrron & Syesha & father-in-law of Elmo Anthony. Cortege leaves residence No. 09, International Buddhist Centre (IBC) Road, Colombo 6 at 4.30 p.m. on Thursday 26th January for Burial at Kanatte Borella (Roman Catholic Section). 023680 DN Wed Jan 2005 2012
<![if !supportLineBreakNewLine]>
<![endif]>

Tributes from '59 Group members:
<![if !supportLineBreakNewLine]>
<![endif]>
I just got the news about Prasanna. Fortunately I was able to see him last week. I then called a couple of others eg Jiggs, Huna etc and asked them to go and see Prasanna as soon as possible.
Prasanna was a real gent and we will all miss him.
Upali, please give Subarshini my deepest sympathies if you happen to go to the funeral
Regards
Firoz Nilam
----------------

I am glad i visited Prasantha few weeks ago. Had a long chat and indeed he was very happy to reminisce the past and forget about his sickness. I never expected him to leave us so soon.
He is a thorough gent.
May the turf lie gently on him.

Jiggs
-------

Guys,
Now that we are all passing through 64 the rate of movement to the other side will certainly accelerate and I do hope and pray that we have all lived our lives well to be content and pleased with our contribution towards humanity, our families, and the world in general.
Its been a long 6+ decades on the planet and lets hope we can all meet on the other side, someday.
Regards
Fazli
--------
Some have been there early and some will be dead on time and a few will be, as usual late. What ever it is let us think of the good we did,do and will be doing in future (provided always, if time permits).
Summarizing the 6 decades we have not done bad. Only a few (Less than 5) have failed in their duties. Out of 36x6=216 only about 5 have failed. Work out your first form arithmetic and see the percentage.(2.3148%) right or wrong?
Among many achievements, the latest is Lukshman Samaranayaka.(King James IV Professor).
Have we failed? NO!
Let us do more to help the needy.
Love
Hapu
-------
Yes, Daya ndeed a very sad moment!! He was a decent bloke, and tried hard to taech me to play tennis!!!
Did call on him, about 2 months ago, but frankly in a way it was a merciful ending. May he rest in peace!!
Mazher
---------

Keep clicking Mate that's all that will be left of us once v are gone.As Skanda said,the 59 G is unique and v hv held together for so long,I still remember Ducky playing Tennis,like Muthu he too thought he was a Mcanroe
Suren Cooke
------------------

His most outstanding quality was his intense Loyalty.....to College, his Friends ,his Peers and of course his Family. Will Miss You Ducky ! Rest in Peace !.
Skanda
----------
<![if !supportLineBreakNewLine]>
<![endif]>
May he Rest in Peace!
<![if !supportLineBreakNewLine]>
<![endif]>
----------------------------
Jan 26 2012
<![if !supportLineBreakNewLine]>
<![endif]>
Tribute to Rama by Vela
<![if !supportLineBreakNewLine]>
<![endif]>
In a message dated 24/01/2012 18:11:08 GMT Standard Time, kvelupillai@gmail.com writes:
Dear Vipula,

Thank you for informing me, too, about the interesting event, with its noble concomitant - of remembering Rama with the generous gesture of dedicating a Rama Sellamuttu Memorial Trophy. I am sure Rama's spiritual blessings will be in abundance for the success of the event.

Rama was easily my oldest friend, although we drifted apart long before I left old Ceylon, as we had to, when we grew and matured and our interests changed and diverged.

But my earliest memories of friendship, going back in fact to my first year at RPS, in 1953 (our class teacher was a Mrs Rajakariayar), are vivid. We used to sit next to each other and one day, the Head Master, the very lovable A.F. de Saa Bandaranaike, came around to our class, bringing with him a tall, mightily-built, black man and asked us whether we knew who he was. I nudged Rama, because I thought we knew who he was, partly because we were already collecting cricket pictures from the Daily News and The Hindu and this mighty man was in our scrapbook. He was, of course (then) , Learie Constantine, later Lord Constantine.

Rama grew up, as you would know better than I, as the son of his 'real' Father's eldest brother. His natural Father was Balendra Sellamuttu, the youngest son of old Adikhar Sellamuttu. Balendra Sellamuttu's childless eldest brother, Somasundaram, decided to bring up Rama, partly because Balendra was a bit reckless and the home he was able to offer Rama was less than stable.

In a very distant sense we were also related: Nagendra and Sangarappillai Sellamuttu, two elder brothers of Balendra, married two sisters, Kamini and Gnaneswari Tambyah, my Maternal Grandmother's brother. One of Balendra's sisters married Alfred Tambiaiyah, then MP for Kayts, when my Father was the MP for Chavakachcheri and they were both together with GGP first in the TC and, then, for a short while, also in the UNP.

Rama was brought up in a very protected way, perhaps even overly-protected. He used to be sent to spend the day with me, during a weekend or two, every month, when we were living down Madangahawatte Lane. Old Mr Somasundaram always - in those days - had a large, shining black, American car, which, if I remember well was a Buick in the old-style of a curved/slanting rear. They also had a loyal driver, who we called, interchangeably, Kaka or Nana (he was a Muslim) and was also fiercely protective of Rama - and the car! When Rama was sent home to us to spend the day with me, the car would stay, with the driver. So, we had also to feed and look after the driver.

Our home was not as palatial as that of Somasundaram Sellamuttu's, at 22 Queen's Road, but we were too young and too absorbed in each others' pranks to think of such things.
Rama's home had a talking parrot; his adopted Father owned award winning horses - one of which was called Joshua!

One day, in the very early 1960s, I spent the day at Rama's home, invited by the family, to meet a distinguished American athlete. I was not told who this distinguished person was, in advance. While we were playing with various of the luxury items in Rama's room and home, this handsome man, a little like Lord Constantine in appearance, turned up. It was Rafer Johnson, who had won the gold medal for the Decathlon at the Rome Olympics! Many years later, in the early 1990s, when I was a Visiting Professor at UCLA, my host there, Professor Axel Leijonhufvud, told me that the preacher at their Church was Rafer Johnson! I told him and his wife, Earlene Craver, the above story and asked them to enquire from Rafer Johsson whether he remembered his visit to 22 Queen's Road. Axel asked, as I requested, the following Sunday and Rafer Johnson had told him not only that he remembered his visit very well, and with much pleasure, but that he maintained contact with the family for many years!

Rama was a very special (and generous) person, who almost always had the courage to choose his own path, even when it was not easy to do so, coming from such a wealthy family. One manifestation of this - in the context of the trophy in his memory - was the kind of cricketer he chose to be. He was thoroughly unconventional, a very special kind of leg break bowler, which was always a difficult art. I remember with absolute and crystal clarity his run up to the wicker and his idiosyncratic action.

In those young days, in the 1950s, I was always invited to his birthday parties at 22 Queen's Road - and his birthday, if my memory serves me well, was in October - where one always met and shook hands with the majestically clad old Mr Adikhar Sellamuttu, always in immaculate sherwani and a pocket watch running across the lapels of it.

At least in all the years I knew Rama well, I was never allowed to sit anywhere but the front seat of the family car, micromanaged by Kaka/Nana! No 'outsider' was allowed to 'contaminate' the backseats, where Mr and Mrs Somasundaram sat in splendour.

I always thought Rama very intelligent, bordering on extreme cleverness, but it was rampantly undisciplined. Had his undoubted natural talents been harnessed and channelled in effective ways I have no doubts whatsoever that he would have achieved academic greatness.

By the early 1960s we had drifted apart and I lost all contact with him for over forty five years - and, then, suddenly, I received a most wonderfully sculpted e-mail from him, just bef0ore his untimely death. He attached a photograph of himself with his current wife; the illness that had consumed him and that eventually brought him down was written all over the way he had grown thin and wane. But the happy and mischievous face and glint in the eye was evident even in a photograph, sent by these less than perfect means. I wrote back, reminiscing fondly, and hoping we would soon get together again - which was, alas, not to be.

Ironically, I had been invited to spend several months at the University of Technology Sydney, as one of its ten Distinguished Visiting Scholars for this academic year and was, actually, scheduled to spend January to March in Sydney. However, as the time for departure neared, I did not feel like making the long journey and spending so many months away from what has become my intellectual and cultural base, here in Italy. Had I mustered the courage to spend the time in Sydney it would have given me the chance, finally, to pay homage to an old and valued friend.
I know you were very close to him and I salute you for your selfless act of remembering a good, generous, friend. It was a blessing to have known him, and to remember the times I shared with his playful, joyous, generous ways.

I am copying this to some of my almost equally old friends of times gone by.

Warmest, even if melancholy, wishes,
Vela
--
Department of Economics
University of Trento
Via Inama 5
381 00 Trento
Italy
Tel: +39 0461 282379
http://www.assru.economia.unitn.it/

"You have not converted a man because you have silenced him."
Viscount Morley, 'On Compromise', 1874.
------------------------------------------------------------------------------------------------
May 25 2011
<![if !supportLineBreakNewLine]>
<![endif]>
Upali de Livera's Mum moves on

<![if !supportLineBreakNewLine]>
<![endif]>
May she rest in Peace!
Thursday, 26 May 2011 00:00
DE LIVERA, HAZEL MURIEL – Beloved wife of late Terrance Glenville de Livera, mother of Upali, Nihal, Indrani and late Dr. Mangalika, mother-in-law of Ursula, Sasaleka, Senerath Colombatantri and Dr. Nimal Warnakulasuriya, grandmother of Shiyara, Eranga, Thulan, Dushan, Dulip, Geshan, Yasura, Sameera and Chathura. Cremation at 3.00 pm General Cemetery Borella on 26th May 2011. Cortege leaves residence at 1.45 pm. 282/8, Sriyakantha Gardens, Waragoda Road, Kelaniya.
Feb 26 2011
Royal College '59 Group
Office Bearers elected for 2011/12
President: Mr. Charitha Ratwatte
Hony: Secretary: Mr. J.U. de Livera
Hony: Treasurer: Mr. Anil Kannangara
Minutes of the 17th Annual General Meeting of the Royal College '59 Group held on 12th June 2010, at the VIP ROOM
of the Colombo Oval
Meeting commenced around 8.35 p.m. on 12.6.2010, with Mr. C. Ratwatte, occupying the Chair (in the absence of Mr. S. Skandakumar - ).
Attendance: at the AGM and the Dinner 12th June 2010. AGM/Dinner
1 D.B.J Wickremaratne
2 3 Shiran Gunaratne & wife
4 D.E.R. Hapuarachchi
5 M. Ranjan Perera
6 Sisira Wickremaarachchi
8 M. Chandraprasad
9 10 M.B.M Naizer & wife
11 12 Nihal Canagasabey & Therese
13 Ranjith Pulleperuma
14 15 Akram Dawood & wife
16 J. Kudahetty
17 R.L. Perera
18 19 Charitha Ratwatta & wife
20 U. Suraweera
21 Anil Kannangara
22 KPG Fernando
23 24 J.U. de Livera & wife
25 DG Wickremasinghe
26 Tissa Jayaweera
27 U.Jayasinghe
28 L.C.C. de Silva
29 Preman Soysa
30 M FazleAli
31 S T Aziz
32 33 Panna & Saro
34 JLD de Silva
35 SN Jayasinghe
36 37 Nande Palihakkara & wife
38 P.V.Perera
39 P.G. Perera
40 41 Sarath Perera & wife
42 P. Dias Abeygunawardena
43 44 Sarath Prera & wife
45 46 Sunil Wimaladharma & Dulani
47 K.M. Totamune
48 M. Hassim
49 KAR Perera,
50 Ananda Mallikarachchi
51 S Athukorale
52 Y.M. Silva
53 54 S.K. Goonasekera & wife
55 S. Suriyasinghe
56 Prasanna Mendis from Australia
Notice convening the meeting was read by the Hony. Secretary.
Hony Secretary tabled the following

Regrets/Excuses
1 S. Skandakumar
2 MGH Salgado
3 Dr. Lal Karunaratne
4 Dr. MJM Peroos
5 Nicky Kumarage.
6 Ajith Dias
7 Lal Abeysekera
8 Gamini de Silva
9 Sanath P Mendis
10 Rajan Siva
11 Metha Abeygunawardena
12 Upul Kulasinghe
13 Ranjan Dandeniya..
14 S.R. Jayasinghe…
15. H.R. de Silva
16 N. R. Senanayake
17 Daya Weerasekera
18 Suren Cooke,
19 C. Abeywickrema
20. Edward de Silva,
21. R. Rajasooriyar
22 Nimal Gooneratne
23 Rohantha Samarajeewa.
24 Padmaperuma
25. CPBT Jayasundera
26 PH Wickremasinghe
Tribute to the deceased members .. two minutes silence was observed.
R.G.A. de Silva, W. Koch, S. Selliah, M.N. Jaimon, Rohan M. Perera, R.S.R. Gunawardena,
D. Mahinda Jayasinghe, Naveen D. Rajapakse, R. Rajaratnam, Hema Bamunawela, , Jeeva
Satchithanandan, P. Chandrakanthan, Sarath Ambepitiya, C.J.L. Wijeratne and Rama Sellamuttu. Priyanath Dias S.L. Gunasekera
Sunil Abeysundera
Mr. Anil Kannagara invited members to come foward to replace/relieve the members who have been serving as office bearers/Comittee members for a very long
period. [Unfortunately there was no response]
Confirmation of the minutes of the 16th AGM held on 13th June 2009 at the Board Room of the Colombo Oval had been circulated.
Mr. R.L. Perera proposed and Mr. S.K. Goonasekera seconded for adoption and was carried out unanimously.
Account/Treasurer's Report : Dr. Panna Gooneratne proposed and Mr. Sunil Wimaladharma seconded for adoption and was carried out unanimously.
Election of Office Bearers
Mr. K.P.G. Fernando proposed that Mr. S. Skandkumar continue as President for the ensuing year.
Mr.Sunil Wimaladharma proposed and Mr. Anil Kannangara seconded that the rest of the office bearer's too should continue for the ensuing year..
There being no other nominations this was duly adopted.
President: Mr. S. Skandakumar
Hony: Secretary: Mr. J.U. de Livera
Hony: Treasurer: Mr. Anil Kannangara
Committee Members:
Mr. M.B.M. Naizer
Mr. D.G. Wickremasinghe
Mr. Sisira Wickremaarachchi
Library Committee Mr. Charitha Ratwatte
Mr. K.P.G. Fernando
Mr. Sunil Wimaladharma
There being no other business meeting adjourned for Dinner
Feb 10, 2011
THAMBA's WIFE PASSES AWAY - May She Rest in Peace!

THAMBAPILLAI - LOLITTA JEYAPOOVATHY (nee EMERSON). Dearly beloved wife of the late M.T. Thambapillai (Bertie),
loving mother of Bertram, Deutram, Elmo and Nirmo, mother-in-law of Chithra, Arunthathy, Ratna and Savitri, loving and
devoted grandmother of Shanthi, Tishan and Ashani, Samantha, Sasha, Ravin and Stefan, great grandmother of Savanna,
was called to rest with the Lord on Tuesday 8th February 2011. Cortege leaves residence No.12, Elvin Place, Nugegoda
on Saturday 12th February at 3 p.m. to Holy Trinity Church, St. Lawrence Road, Wellawatte for service at 3.30 p.m., and
thereafter for burial at General Cemetery, Kanatte (Anglican Section).
<![if !supportLineBreakNewLine]>
<![endif]>

Jan 10, 2011
SENTHIL MOVES ON
Condolence Email Received from '59 Group Members on hearing of Alvapillai Senthilkumaran's passing away today, Jan 10, 2011
Dear '59 Group,

I just got the sad news of the demise of our class mate Alvapillai
Senthilkumaran. I spoke to his daughter a little while ago, and she said
that he has had a heart attack early this afternoon at home. The funeral
arrangements will be notified later.

Senthil was a very soft spoken person and truly a gentleman who never spoke ill of others. He was very keen to meet anyone from our '59 Group visiting Sydney,
and he never missed attending any of our get-togethers. I have attached a photo taken on the 15th December 2010.

My wife Sriyanie and I are much saddened with this sorrowful news, and we do really miss him.

Regards
Palitha Manchanayake, Australia
---
While I received Palitha's message I was busy looking at photos Palitha sent me a few weeks ago as Muthu had already passed the sad news to a few of us.
Attached here are two edited /enlarged (not very sharp because of under exposure) photos of Sentil. The best I could do to dark originals
Long live his cherished memory.
Daya de Silva, Colombo
---
Senthil lovingly called Appu by his mates was a very sober and decent guy. He was one of the pillars of the DP club in colpetty and he would tell us off if we
disturbed young girls passing by. That is why he was called Appu ( In Tamil, father).
When I saw him in London 2years ago I was not happy with his condition and I did tell him to take care and then when I saw the photo Mancha sent a few days
back I was really saddened to see that he had not changed.
S Muthulingaswamy
London, UK
---

I am very saddened to here that Senthil is no more. What you mentioned of him is very true. I remember with gratitude Senthil unhesitatingly lending me his notes
when ever I missed a class during college days. He is a fine human being. I happened to meet him few times in Sydney.

My sympathies goes to his family.

Thank you Manche for informing.

Regards
Edward (Jiggs) de Silva , Colombo
---

Guys,
The sadness is truly inexplainable. I just called his home in Sydney and spoke to his son in law, R Thiagalingam. They also wanted the link to the Group website
and I sent it to his email address. While we are all turning 63 this year we do surely know that every moment that passes only brings us closer to our next home
where Senthil and some of the others have already departed to. Remembering some of the little incidents and times we spent together at College is really moving.
I guess we will all have to succumb to these feelings as and when one of us moves on?
Will update the website on his passing, this evening. He will be the 26th out of the RPS Class of 53 (known) and RC '59 Group fellers who have departed.
May his soul rest in Peace!
Fazli Sameer, Riyadh, Saudi Arabia
---

Dear Palitha

Thank you, as always, for keeping us informed about our friends.
I too, like many of our other '59 Group friends, was looking at the photo you sent of Senthil with the Palihakkaras just recently, thinking how nice it would have
been if I could have been there too..

Since you are close to the family, could you kindly convey my deepest condolences to the surviving members of Senthil's family.

One feels so helpless and useless from afar...but the knowledge that Senthil lives on in our hearts may be some small consolation.

Regards...
Monte Cassim, Japan
---

How very sad indeed….yes he was very much a gentle giant . God rest his soul. Skanda, Haputale, Sri Lanka
The bulb of the group of 59 will stay lit at Royal College even after the players have all gone…..such has been the magnitude of our contribution. Skanda
---
Very sad indeed to hear Senthil's sudden demise.
I hadn't seen him since we left school, but few days ago i was
recollecting memories about Sentil while looking at photos Mancha
sent. Mancha, may I request you to please convey my deepest condolences to
his wife and daughter.
M H Subasinghe (Sube), Dubai, UAE
---
Dear Upali,
Thankyou for advising me of the sad passing of Sentil, although I have had no contact with him since leaving Sri Lanka in 1968, he will be fondly
remembered.
Please give my condolences to the family.
Suren Goonewardene
UK
---
Very sad indeed. I recall Senthil very well as we were together in the Tamil class at Royal. I have also worked with the elder brother Dr Vijayaragavan
who was a Surgeon in Ratnapura in the early seventies. True. We are here only for a very short time. Please convey our deepest condolences to Senthil's family.

Peroos and family / UK
---

This is the nature in the Universe. Nothing is permanent.
Vish Vedage
---

Shall tressure this machang Fazza. Sthuthi. Damn decent bloke no? Snr civil servant's sonnaboy, but no pakum nil. Often at that Deanstone Pl kadey
with the recently deceased Muslim boy - and punt in hand.
Sthuthi again_______________Prasanna Mendis, Australia
---

11/1/11
Well guys,what else can one say at this sad moment,but condone with his wife and daughter.
When i see the wickets gradually falling,it only reminds me that we are all in the departure lounge awaiting that final call.
Rgds'
Suren Cooke
---
Dear Palitha,
Thank you for taking the trouble to convey the sad news about Sentil. Yu-Hua and I were very sadened to hear of his sudden demise.
I had not seen Sentil since the time I left College until about 5 years ago when I started to turn up for the regular dinners with the 59'ers
who came to Sydney. Sentil never missed any opprtunity to catch up with anyone from our group. He was a soft spoken, quiet and a very
sincere mate who we will sadly miss and fondly remember.
Please covey our sincere condolences to Sentil's family.
Please let me know the date and time of his funeral.
Best Regards
Ranjan Chandrasena
---
Thank you for those photos Fazli,
I was hoping to catch up with the Sydney mates on my next trip possibly next year. Very sad I missed him.
Love
Sam.
Dr.Sidha Sambandan
---

We have 26 down now from a total batch of 225+ almost 45 years since leaving College
No doubt the frequency will probably increase as we move through time since life expectancy gets shorter with increase in time (no different to
Bella's Boyles Law of Pressure and Volume)
The beauty of it all is that we are still connected (thanks to technology), basically, due to our firm commitment of coming together with hearts and minds
based on the wonderful memories we have spent together at College.
There will probably come a time when only a few will be left behind to share and reminisce similar thoughts as and when our time comes up to move on.
I am sure the gallant voices are absolutely unanimous in the fact that they were the best years of all our lives?
Fazli
---
WITHOUT A DOUBT FAZLI ……WITHOUT A DOUBT…..that is why we stay so well connected as we await our own individual call.
God Bless in the interim. Warmly, Skanda
EULOGY DELIVERED BY PALITHA MANCHANAYAKE
I'm Palitha Manchanayake, a class mate of Senthil.
I got to know Senthil about 58 years ago when we entered Royal Primary School in 1953, as 5 year olds. I could still recollect, how we used to play, in the school play ground, during the interval.
We were at Royal Primary for 6 years, and then joined Royal College in 1959, thus forming the '59 Group.
Senthil was always there at the College Cricket matches on Fridays and Saturdays during the Cricket season. He never missed out any of the College Rugger matches, may it be Royal-Trinity, Royal-Thomian or any other matches.
In the 5th Form, we both opted to follow the Maths Stream, and we were in Mr. Arasaratnam's class where we completed a 2 year syllabus in 1 year.
Senthil entered the Engineering Faculty at Katubedda Campus and graduated as a Mechanical Engineer in 1974. He then joined the Walkers as a Project Engineer and continued to be there for very many years. Senthil subsequently joined the Browns Group, and thereafter, migrated to Australia with his family in 1989.
As an active member of our '59 Group in Sydney, he was very keen to meet any of our guys visiting here. He never missed out any of our get to-gethers. The last occasion we met, was on the 15th of December2010, where he enjoyed thoroughly, talking about the College days and the fun we had.
Senthil was a soft spoken, mild, calm and well-composed person. Over the years, I have noticed, that he has never spoken bad of any one. He had a very good rapport with everybody. He was truly a fine gentleman, and a sincere friend.
When we heard of Senthil's sudden demise, I sent an email around to our '59 Group, and all were deeply shocked. Messages of Condolence came pouring in from all parts of the world asking me to pass them on to his wife Jeyamali and daughter Uma and son-in-law Ramesh, which I did.
So on behalf of the '59 Group, also of the '58 Group ( I know Senthil had closer links with the '58 Group, some of them are present here today), also on behalf of the Old Boys' Union of Royal College in NSW & ACT, I should mention that we all miss Senthil very much and our fond memories will remain in our hearts.
<hr size=2 width="100%" align=center>

Sep 8, 2010
DANIEL - ROBERT SHANTIKUMAR Passed away peacefully on Tuesday Seventh September 2010 surrounded by his loving family in Melbourne, Australia.
Beloved husband of Beatrice Ranji Daniel, cherished and adored father of Sharon and Anne, father-in-law to Wilhelm and Richard and loving grandfather to
Michael, Kayne and Ave. Viewing Service will be held on Thursday 9th September, 7.00 p.m. at John Allison Monk House, Melbourne, Australia. Funeral Service
will be held on Friday 10th September, 2.00 p.m. at All Saints Anglican Church, Melbourne Australia. Telephone: 0061-3-88027765.
May he Rest in Peace!
@@@@@@@@@@
June 30 2010
'59 GROUP AGM 2010
AGM of the '59 Group was held at 8.20 pm. on the 12th June 2010, at the the VIP Room of the Colombo Oval (Tamil Union).
Folllowing were elected as office bearers.
President: S. Skandakumar
Hony. Secretary J.U. de Livera
Hony. Treasurer Anil Kannangara
Committee Members. D.G. Wickremasinghe
Sisira Wickremaarachchi
M.B.M. Naizer
Sunil Wimaladharma
Library Committee. K.P.G. Fernando
Charitha Ratwatta
Sunil Wimaladharma
Tks/regds,
J.U. de Livera
Hony Secetary.
Apr 30 2010
Jan 14 2010
IN MEMORIUM – SUNIL ABEYSUNDERA
From: sue
To: 4s7cf@sltnet.lk
Sent: Wednesday, April 28, 2010 12:34 AM
Subject: Demise of Bill
I wish to inform you with a sense of sadness of the demise of my husband Dr. Bill Benson [Sunil Abeysundera]. He passed away recently( 12 th April) and was cremated at a private ceremony according to his wishes.
Prior to his passing he provided me with a list of those he wished me to inform via email.
If you know of any others who may wish to know of Bill's passing please inform them.
Some of you may have known him as "NibiruET" on the Internet forums he participated in. If so kindly notify the membership, particularly the "PCLOS Backroom Forum" members.
Sincerely
Sue Benson
-------------------------------------------------------------------------------------------------------------------------------------------------------------------------------------------------------------------------------------------------------------------------------------------
Apr 30 2010-04-30 Top honor for Sri Lankan professors in Hong Kong
Professor L P Samaranayake, Professor Malik Peiris
Two Sri Lankan Professors were awarded the highest academic honor of the University of Hong Kong through bestowal of Endowed Professorships.
They are Professor Lakshman Samaranayake (awarded Tam Wah-Ching Professor in Dental Science) and Professor Malik Peiris (Tam Wah Ching Professor in Medical Science.)
Each endowed amounts to US$2.6 million and the interest proceeds will be utilized for research and development purposes by the recipient.
-------------------------------------------------------------------------------------------------------------------------------------------------------------------------------------------------------------------------------------------------------------------------------------------
Jan 14 2010
IN MEMORIUM – S L GUNASEKERA
It is with sadness i intimate to you the passing away of our beloved colleague S L Gunasekera (Sarath Lakdas Gunasekera) last night of a heart attack.
SL was an outstanding boxer in college and won the Junior Best Boxer's cup at the Stubb's Shield meet on his first appearance. Since leaving College he had a brief stint with the Sri Lanka Navy and there after took up management of his coconut property in Kuliyapitiya. He leaves his wife Padmini and two sons.
Cortege leaves residence - Pallewela Mills, Kurudelpotha Estate, Kulipitiya on Saturday 16th January, 2010 at 2.00 pm for burial at Andiambalama Cemetry (Methodist Section) at 3.30 pm.
May he rest in peace!
Dec 25 2009
IN MEMORIUM - PRIYANATH DIAS
It was truly sad to receive an email notification from Colombo this mornming on the passing away of one of our Group Members,
Priyanath Dias of Panadura.

Priyanath had attended the 50th Anniversary Celebration of the '59 Group at the Galadari Meridian on Dec 20, where almost 80 of the
ole chaps, with their spouses, had met for a grand buffet Luncheon get-together.

Priyanath died in his sleep on Friday (Dec 25) night and his funeral will take place on Sunday Dec 27 at Panadura.

They leave us, one by one, surely we will follow suit, sooner or later, where we can all yell R*O*Y*A*L, in one voice, together, as we
have done over five decades ago.
MAY HE REST IN PEACE!
Dec 20 2009
50th Anniversary Celebrations held at the Galadari Meridian Hotel in Colombo
80 "young" '59 Groupers gathered together with their pretty wives at the Galadari Meridian Hotel in Colombo to meet again and enjoy a sumptious buffet lunch in celebrating the 50th Anniversary
of having joined Royal College, Colombo.
See pics at this link: http://www.worldgenweb.org/lkawgw/rcpa01.html
October 2009
2009/2010 Office Bearers
President: S. Skandakumar
Hony Secretary: J.U. de Livera
Treasurer: Anil Kannangara
Committee Members
M.B.M. Naizer
D.G. Wickremasinghe
Sisira Wickrema arachchi
Library Committee Members
K.P.G. Fernando
Charitha Ratwatte
Sunil Wimaladharma
September 2009
In Memorium
Our heartfelt condolences go out to Nihal Canagasabey and S Muthulimgaswamy on the passing away of their beloved Mothers during the month.
They nurtured us through our Right Royal Days and May God Be Pleased with them on their return to Him
In Loving hearts they will live on forever
Our prayers and supplications are with Nihal and Muthu in these trying times of emotion and grief...
CANAGASABEY - NOELLE Relict of the late W A S Canagasabey C.C.S., much loved mother of the late Shanti and of Carmel, Nihal and Therese, devoted grandma of Sanjay, Shara, Naren and Kishan and beloved sister of Leo Wijesinghe and Marie Pereira, expired on 15th September 2009 and was laid to rest the same day. The family wishes to convey their sincere gratitude to those who helped in numerous ways and sent messages of condolence. A requiem mass for the repose of her soul will be held at St Mary's Church, Lauries Road, Bambalapitiya at 6.30 p.m. on Thursday 1st October 2009. DN Thu Oct 1 2009
July 2008
New Committee. 2008-2009
President: S. Skandakumar
Hony Secretary: J.U. de Livera
Treasurer: Anil Kannangara
COMMITTEE:
A.U.C. Suraweera
D.G. Wickremasinghe
Sisira Wickremaarachchi
LIBRARY COMMITTEE MEMBERS
K.P.G. Fernando
Charitha Ratwatte
Sunil Wimaladharma
Royal College '59 Group AGM and Dinner at outgoing President G S C Peperas' Residence – June 2008
1. Lal Abeysekera
2. Metha Abeygunawardena & Wife
3. Mrs. Vajira Ambepitiya (wife of the Late Justice Sarath Ambepitiya) & Son
4 S.W. Athukorale
5. S.T. Aziz & wife
6. Sajee Bahar
7. Nihal Canagasabey & Wife
8. A.W.S. Cooke & wife
9. M. Akram S. Dawood & wife
10. J. U. de Livera & wife
11. G. E. S. de Silva & wife
12. Gamini de Silva & wife
13. N. K. N. G de Silva
14. A. N. Dias & Wife
15. M. Fazliali & wife
16. Bryce Fernando & Wife
17. K. P. G. Fernando
18. Panna Gooneratne & Saro
19. Nimal Gunaratne
20. Shiran Gunaratne & wife
21. Edward Hapuarachchi & Ramani
22. M. Hassim
23. U. C. Jayasinghe & wife
24. C. P. B. T. Jayasundera & wife
25. Sarath Jayatilaka & wife
26. Anil Kannangara
27. L. B. Kiriella & wife
28. Jayantha Kudahetty
29. N. B. L. Lieverz - Chief Guest Colombo Leg of the Bradby
30. B. S. P. Mendis & Wife
31. M. B. M. Nizar & wife
32. D. Y. Padmaperuma
33. Nanda Palihakkara & Anoma
34. Jeremy Perera
35. Sarath Perera & Ranji
36. M. R. Perera
37. P. G. Perera
38. P. V. Perera
39. R. L. Perera
40. Sheila (Wife of the Late Mr. Rohan M. Perera) & Daughter
41. D. R. Pulleperuma & wife
42. R. Rajasooriyar
43. M. G. H. Salgado & wife
44. Rohantha Samarajeewa & wife
45. Preman Soysa
46. V. Satchithnandan
47. A. U. C. Suraweera
48. K. Suriyasinghe
49. Milan Silva
50. L. V. Talagala
51. K. M. Thotamune & Nirmali
52. Preman Soysa
53. Daya Weerasekera & wife
54. D. G. Wickremasinghe
55. Sisira Wickremaarachchi
56. Sunil Wimaladharma & Wife
57. Mrs. K. D. S. Wijesundera [Retd. Librarian]
58. Miss Maya Wijeratne Asst. Librarian
59. Miss. Ranjini Perera Fornmer Assistant
60 Vasasntha de Silva - RC'60 Group
Sunday Feb 11, 2007
A group of '59ers in Colombo came together at the Great Wall Hotel in Bambalapitiya to fete one of the group, D R Pulleperuma on his appointment as General Manager
of the Ceylon Electricity Board in Sri Lanka.
P N Dias Abeygunawardena was the first to arrive at the Hotel at 1930 followed by Ruchi Perera and Tissa Jayaweera. Chief Guest Pulle walked in with Lady Pulleperuma
at 20:10 Hours.

Others who attended were Charitha, Panna & wife, Amaradasa & wife, Sunil Wimaladharma alias Bake & wife, UC Jayasinghe & wife, Hapuarachchi, Chandra Prasad,
MBM Naizar, PH Wickremasinghe, DG Wickremasinghe, LC, Senthil Kumar, and Anil Kannangara.

Tissa apologizes if he has missed out any names since the spiritual levels may have exceeded their limits.

Ladies were treated to cooking demonstration of a Chinese dinner in 15 minutes by the Chefs of The Great Wall Hotel.

Spiritual upliftment contributions were made by Hapu and Pulle himself to ensure the gathering were all serenely content.

Additional contributions were made by Annil Kanna and Tissa J towards Chasers and other miscellaneous needs.

Regret was made by Sarath Perera in advance and Ranjan Madanayake at 2130

Thanks to Livera for conveying the event details verbally to those who are not on E Mail

Thanks to all those who attended. We had a good reunion on a proud occasion.
Tissa Jayaweera reporting from Colombo for RC '59 Group Goss.
Oct 17 2006
Personality
Portrait of an idealist's son
<![if !vml]>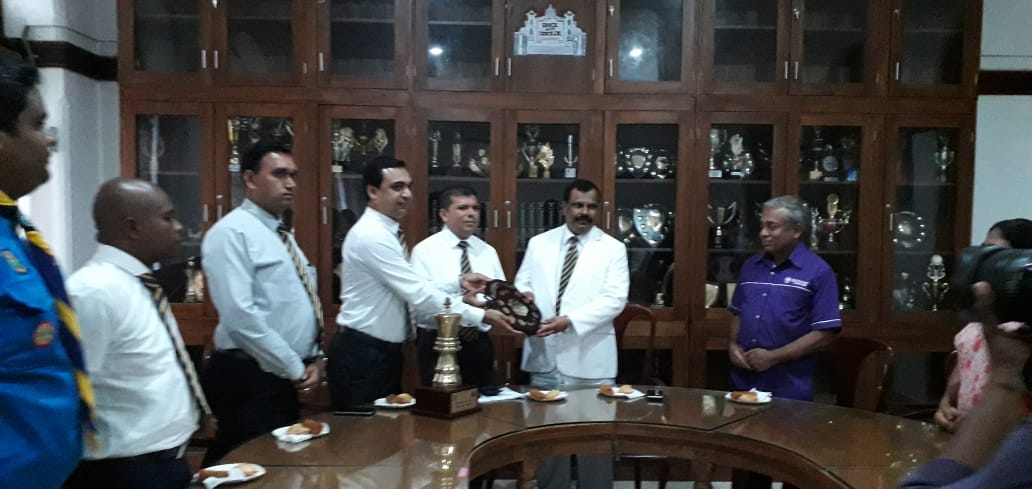 <![endif]>
Suren Wickremesinghe
Both Suren's parents have planted their footprints firmly and surely in the sands of time in our country's history.. His father, Dr. S.A. Wickremesinghe, led the Ceylon Communist Party for many a decade.A doctor, by profession, from an affluent family in the South, he chose to devote his life, to better the lives of the underprivileged. Suren's mother, Doreen, was British, and was the first foreign woman to be a member of an Asian Parliament, when she won a seat here in 1952. Dr. Wickremesinghe, as I remember him, would breathe fire and fury on election platforms, but was a most refined gentle softspoken man, who was on the best of terms socially with political opponents and those who held diverse political views. That was a time when that was common practice among politicians of all hues.

"Our lives did revolve round politics, and wherever we were, we all rallied round my father at election time, going down south to participate in election campaigns, canvassing for him and so on. our home in Colombo too, was always full of politicians and political discussions, Classes were held there too, and we were encouraged to participate and to listen to them. My father was an idealist, had his views but always encouraged us to have open minds and make our own decisions about our careers and future."

I recall a time when you were a keen artist, and President of The young artists group. Do you find time now for painting? "Well, drawing and painting are very much a part of architecture. Both these and sculpture too, were part of my architectural course in Moscow right up to the 5th year. Attitudes to art were entirely different at that time. We would get the hall almost free for our exhibitions, and get a lot of publicity from people like the late Denzil Peiris, who encouraged us. There would be no VIP openings. I recall walking up and down the street with large banners advertising our exhibitions and flagging people down to visit our exhibitions. The interest in art today is most heartening. It is so good to see artists from all walks of life exhibiting their work outside Viharamahadevi Park.Their work reflects modern thinking. Some paintings carry a serious message; the visitors too and buyers are from various strata of society. Some arrive in their Prados complete with gold bracelets and thick chains round their necks but the important thing is that they do buy art, which didn't happen so much when we were young."

Art is more important than the individual; even more important than the painter who creates it. A painter needs his gestalt - the peculiar combination of circumstances which enables him to express his particular version of the universe. We all search for truth, every writer seeks truth, every painter looks to interpret his vision, every musician seeks purity. That surely is the aim of mankind; the pursuit of the absolute through this world and the next.

Was it your art which took you into the fascinating world of architecture? " Actually, my first choice was motor engineering which is a far cry from art. Immediately after leaving school, I did a 4 year apprenticeship at Richard Pieris's motor workshop, going on to study this further at Moratuwa and Katubedde, through which I got a professional qualification from The Institute of Motor Industry of London. I was offered a job by Richard Pieris at this stage but I opted to go to Moscow, for which I got a scholarship. While there, I found there were 53 different specialities of motor engineering to choose from. This resulted in some confusion, and I finally decided on the Institute of Architecture, which appealed to my aesthetic sense. The course was a six year one and I decided to do it."

Suren met his wife Tanya, a fellow architectural student in his first year, and I suspect it was a 'coup d'foudre' (love at first sight)

"As you know, the rest is now history. We married in Moscow, our first baby, Maya, now a fully fledged architect who works with us was born there and we returned here in 1972. My intention was to join Town and Country planning, to be part of a UNDP team doing a master plan for Colombo. But my good friend from schooldays, the late Gemunu Fernando, persuaded me to start an architectural firm, Suren Wickremesinghe Associates together with him, Suranjith de Silva, Anura Ratnavibushana, Ashley de Vos,Tudor Sirisena and Tanya. A few years later, Tanya and I decided to go on our own and began Tanya and Suren, which still exists. Sasha, our son is studying architecture too, while Sonia, who is in Britain, is a pianist"

I recall Tanya and you doing a vast housing project at Hantana. Can you tell me something about it." That was a most satisfying and wonderful experience. President Premadasa was Minister of Housing and had a 1,000,000 houses project. We heard about his plans for Hantana and submitted our plan which was immediately accepted by him and I must stress that he was a most dynamic person to work with. Our plan showed how staggered, terraced modular houses could be built on hill slopes without cutting and filling. We had a team of the best experts and every aspect for infrastructure including soil, sewage, water, electricity was all gone into thoroughly. It is a source of pride for us that none of these houses have shown any signs of cracking. A three-bedroomed house on six perches which went for 265,000/= then is going for 6 million now."

Have you done any more housing schemes.? "We did a middle class housing scheme in Crows Island in Mattakuliya of 300 houses for a Singaporean company These were semi detatched houses and we have done several interiors at The World Trade Centre. We are currently doing a project in Hambantota for the Ports Authority. Tanya and I do the design together and we have a team working for us. I do most of the running around"

I find these High-rises coming up all over Colombo, and feel most of these are rather haphazardly planned. Many residents in the vicinity complain that their walls and foundations are cracking as a result. Another blot are offices being permitted in residential areas. Some of these are let to international organizations who are the worst offenders and use parking facilities which do not belong to them with no respect or regard for longtime residents. Would you like to comment on this as a former Chairman of the UDA.?

"The largest and most significant task undertaken by the UDA in my time was the Colombo Metropolitan Region Structure plan. This was the first comprehensive multi-disciplinary and inter-ministry plan undertaken. The study included active participation of many Ministries There was a zone system for building high rises and special residential areas where building could not go above ground and two floors. In spite of the turbulence around, the building trade is still booming which is why prices are so high."

Suren enjoys his role of grandfather to three lively toddlers, looks forward to vacations with his family, in the ancestral home in the South and in Nuwa Eliya, where he is President of The Hill Club.There's always a sense of space with Suren, freedom and limitless horizons. He has both Honour and Integrity at a time when these two words seem to have lost their meaning.
Sep 3 2006
It's more than a Bradby at stake
It's Bradby time once again. The talking point is on Royal and Trinity and how they would perform at this all important. encounter. Unlike in the past this year's counts more than the "Bradby plum alone. The winners of this game will be in a higher plane next season while the other will languish in the 'B' division for another whole season. All three top teams in the division "B" Isipathana, Royal and Trinity are having equal chances for their promotion to the top league next year.
ROYAL POOL : Gayashan Wijesinghe, Umesh Koralagama, Manil Abeyratne, Diran Warunakulasuriya, Suvinda Lenaduwa, Ishara Perera, Dilshan Senanayake, Ayesh Rajapakse, Bilal Hassen, Rameez Rafeeq, Isuru Jayathilake, Dimithra Siriwardena, Naren Dhason, Yasas Ratnayake, Kavinda Weerakoon, Asif Hussain, Revan Gunawardena, Omar Hassen, Eranjan Punchihewa, Asif Akram, Riyal Riffai, Sachith Balage,
Coach – Pa Enari
In the past on so many occasions, the team, which is weaker, has ended up turning tables. Intriguingly this year both sides are equally balanced with some hardy forwards and are set on a mission to hold on or to capture the custody of their cherished shield. The first leg of this Bradby encounter will be also a tournament game. But this year is a special one for the "Lions" as they are celebrating 100 years of rugby and this will be an ideal opportunity to finish their season on a winning note cemented with a promotion to the top division.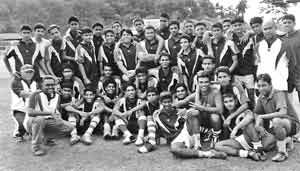 TRINITY POOL: Mahen Wickramasiri, Sudharshan Peiris, Sean Wanigasekera, Hasitha Siriwardena, Rashan Madawala, Shehan Deen, Imalka Maddumapatabendi (capt), Nishantha Manikkam, Anojan Balasubramaniam, Krishan Kirinde, Sajad Mohamed, Kasun Samaradivakara, Senrath Seneviratne, Kosala Tissera, Shanka Senrath, Kenneth Jacobs, Jesel Hassen, Sathya Runathunga, Chaminda Bandara, Sudharshan Peiris, Milinda Gunawardena, Pulasthi Gamage, Ishan Deen and Mohamed Aswer. Coach – Nigel Kroner
The match will be on September 9 at the Royal Sports Complex and following is the schedule for the games.
Under 12 - 2.15 pm
Under 14 – 2.40 pm
Under 16 – 3.00 pm
Under 18 – 3.45 pm
Under 20 – 4.45 pm
Bradby was on offer for the first time in 1945 when one of the Royal Principals E L Bradby (1939-1945) offered the trophy. Meanwhile Trinity was administrated by C E Simithrarachi offered for the under 17 trophy. In the initial game Royal was led by D L Fernando and the Trinitians were under R G Sourjah. Though Royal won the initial leg 3-0 Trinity came back strongly to take the Bradby when they beat the Reid Avenue school 6-0 in the second leg.
Trinity enjoyed the best series of wins from 1952-57 when they won the Bradby on 6 consecutive years. Royal's best series of wins were from 2001-2004 winning for 4 years in-a-row. The 100th encounter between the two schools was played in 1983 in which Ashan Ratwatte led Trinity and Royal was led by Sriyan Cooray. Trinity won 20-16 on aggregate in this centenary encounter.
Only once in the history of the Bradby Shield has both games ended on equal points. In 1992 the first leg ended in a nil all draw and even the second leg too dead locked at 3 points a piece. Himesh Gunatilake led the "Lions" and Harindu Wijesinghe led the Reid Avenue School
Royal's best victory in the series was in 2002 when they outclassed their arch foes in a two match series by 83 points to nil. Zulki Hameed led the Royal outfit in that year. The "Lions" hit back strongly after 4 years wait in 2005 when they simply outclassed and outplayed Royal in all the departments to aggregate 69 points to 13. Trinity was led by B N R Fernando with playmaker Pushpakumara being the architect behind their victory. This tiny scrum half will be remembered by the rugby lovers for may years as he looked a carbon copy of Michael Jayasekera (present Vice President –SLRFU).
Trinity are leading the tally with 33 wins to Royal's 27 with one game ending in a tie.
Trinity under national youth player Imalka Maddumapatabendi opened the 2006 season with a warm up against St Sylvester's beating them 21-7. Next they beat Army also in a warm-up at 20-14. Their preparation for the Centenary game against Kingswood was hampered when St Peter's pulled out from their annual encounter without a valid reason. Though they lost to the defending league champions Kingswood 10-16 they crossed their opponents' line on no less than two occasions. The major setback for Trinity in this game was place kicking, which cost them many a point that should have come their way. In their next encounter they retained the Canon de Saram trophy when they beat the Thomians 12-0. Then they ended the seven-year hoodoo by beating the Katugastota Antonians convincingly by 24 points to 13. While participating in the "B" division they recorded the highest points for the season when they rampaged to a 112-3 win over a shell-shocked Science College and continued their good form by inflicting defeats on Joes 38-20, Vidyartha 34-3 and Rajans 36-0.
The Royal outfit enjoyed a consistent year of rugby this season. They are led by nippy scrum half Chammika Sandaruwan. They opened the season against St Peter's in a friendly encounter beating them 13-6. Then they followed it up with convincing wins over Science College (42-0), St Joseph's (39-0), Vidyartha (31-7) and Dharmaraja (37-12). Finally they met their waterloo in their tussle against Isipatana in their own back yard by crashing to a 22-7 defeat. And thus lost the custody of the Maj Milroy Fernando Trophy. Without any doubt the finds of the season are the hooker Bilal Hassen and crack and dynamite number 8 Diran Warunakularusiya who have out fought their opponents time and again.
May 22 2006
From Ando in Colombo
Dear '59 Group member,
Our committee has decided on the following events.
1. Bradby 9 Sept. Saturday, in Colombo - get together in the evening
2. Bradby 23 Sept. Saturday, in Kandy - subject to sufficient numbers joining, the plan is to arrange for match tickets
and hotel accomodation in Kandy.
3. 16 Dec. - dinner (with spouses) in Colombo - venue to be decided
We are very encouraged by the contributions made to our 3 projects and those who have not yet contacted Jeremy, Niki and Firoze, please do so at your earliest.
For those who want to contribute in Sri Lankan Rupees, please make out a Cheque in favor of ROYAL COLLEGE '59 GROUP" and post it to me at 116 Lake Drive, Colombo 8.
Kind Regards
Ando
May 22 2006
From: Dias, Ajith
Sent: Thursday, April 20, 2006 5:37 PM
Subject: FW: RC GROUP OF '59
Dear '59 Group Member,
At the AGM held recently, I was appointed as the new Chairman for the '59 group for the current year. Whilst I thought this position was bestowed on me due to my being clever in school and my business acumen etc, I was politely informed by all that it was only due to the non availability of another sucker!
In view of the serious deterioration in facilities at Royal, most agreed that we should get involved in a few more projects, now that the library is in good shape and also with sufficient funds to maintain the standards and infrastructure for quite a while. The great efforts put in by Chari/KPG and the committee ,has made the library, one of the best , and is demonstrated as a show piece to all the other college groups.
The new executive committee identified the following 3 projects as the most useful.
1. the hostel
2. cricket facilities
3. skills development
As a target we are trying to collect between Rs 1 -1.5 million for these projects by way of contributions and also a special souvenir which will incorporate several advertisements etc, which should bring in a large portion of our requirement
More details will be forwarded in due course.
It would be greatly appreciated if you could contribute a minimum of US$100 or its equivalent towards funding of this project.
I hope you agree that this amouint is not too much to request considering what we all gained by being at Royal and the immense benefit our projects will provide to the present generation of Royalists.
It would be greatly appreciated if your contributions are sent to one of the following, who will make arrangements to remit the funds to our account in Colombo.
1. Firoze Nilam - email is firnil8@aol.com, office: firoz.nilam@parexel.com. tel .home 8583503101 cell 98870035. home address : 5543 Meadows Del Mar East, San Diego, 92130 CA, USA
2. Niki Kumarage - email nkumarage@yahoo.com mobile 07971090041 home 0208 863 5054.
3. Jeremy Perera - email jerry@haycarb.com.au tel home 03 98024761 office 03 95447199, mobile 0413880027
I will contact you with a program of events planned for the rest of the year and would be delighted to see you at some of the se occasions.
kind regards
Ando
Apr 9 2006
From Prasanna Mendis in OZ:
Just to update you boys of happenings here in wintry Melbourne. The OBA here put on an avurudu celebration at an ornately dressed-up new reception hall half-owned by a Royalist, Malik Deen, (who I think is a good decade jnr). We had four distng'd guests from Ceylon with their wives, who should be labelled more-disting'd for various reasons !) - Judge W'mantry, Ken Bala, Ratna Sivartnam, and our own putha a year jnr to us 59ners, Vassa de Silva, Lennie's son. The business magnates were at Lorenz 'Lollo' Pereira's table, while Vassa was with us at Jeremy P's.
I was the only fool in full suit, having mistaken the injunction 'smart casual' for lounge, as is the case with most do's. Naiya deKretser didn't let me forget it ! He's become a superbly warm human b, and a great lover patriot of SL in any convers'n abt cricket, esp re Perali Murali. And there was also Brian 'the champ' Lieversz and wife at table. That's a Dutch girl, and Naiya's is an Italian damsel - all reconciled to curry, but not sure if so to the sweetmeats which was the dessert for the night - kavum, kokis and mungkavum.
The main meal of rice with about ten curries and relishes was cooked by Sarath Mendis and family - a doughty trooper of the 1960 group - who has done this before. And this time, though the OBA had planned only to have 200 guests, 300 had to be accommodated due to severe and persistent demand in the last week.
All smokers had a chance to meet and have a moment to reminisce with the magnates, who were our seniors by not too much time; the twain cut a good figure for the way they conducted themselves.
I have dried out great pals, so will stop befo disgracing self.
Best wishes for Avurudu and /or Easter ! __________Pras...
Mar 2006
Guys, do take a look at the blog created for Kadalay of Royal at http://kadalayroyal.blogspot.com which is meant to capture, collect and record all the wonderful stories, events and sayings about good ole Kadalay.
Nov 2005
Indira Samarasekera, wife of Harsha (HDP) Samarasekera (Sam) has been appointed President of the University of Alberta in Vancouver BC, Canada. This is, indeed, a great achievement and a moment of pride for all of us as well as the rest of Sri Lanka
http://www.president.ualberta.ca/index.cfm
TENNEKOON - ASHLEY (Formerly Staff St. Thomas' College, Gurutalawa) (Librarian Royal College, Colombo) (Lake House). Son of late Mr and Mrs. E.V.W. Tennekoon, dearly beloved brother of Mignonne, Indra, late Yvonne, Stanley, Wensley, Rukmani and Malini, expired. Cortege leaves Mahinda Funeral Parlour, Mount Lavinia on 8th Saturday at 10.00 a.m. for Cremation at Galkissa Crematorium. Service at 9.30 a.m. Remains will lie at funeral parlour from 3 p.m. on Friday 07th to 10.00 a.m. on 8th Saturday. 11/4, Uyankelle Road, Panadura.
DN Obituary Sat Jan 8 2005
'59 Group Get Together: sent in by JL Daya de Silva from Colombo Mon Dec 13 2004
This is specially to those who were abroad and couldn't make it while in Sri Lanka.
59' Group news.
Day before (2004-12-11) night an informal get together of 59' Group was held at GSC (Sarath) Perera's residence where a large gathering of members and their spouses attended.
Sarath hosted the dinner and special invitees were 10 of the surviving masters including Madam Weerabaddana together with incumbent Principal Mr. Gunasekera a Young one.
M/s. Bogoda Premaratne, RIT Alles, L. Samararatne (Pol Tokka) ,G.W de Silva (Kota Silva) , Wickramasena, Viji Weerasinghe, Wariapola, Tosai, TDSA Dissanayake and Madam Weerabaddana were present.
Cost of Entire Dinner was borne by GSC and the Group collected donations LKR 500/- upwards and presented with a token Gift Voucher of LKR 5000/- each which was a symbolic appreciation of the great service rendered by the teachers.
KKS Amaradasa, Lucky Kiriella made speeches on behalf on 59' G and Mr. RITA, Bogoda Premaratne returned with appreciative orations. Mr. Premaratna's one was very interesting and lengthy and well received.
It was an emotional night spent with the notable absentee Sarath Ambeypitiya whose heroic death reverberated sentiments of varying nature and everyone was willingly or unwillingly forced to look back where we stand in the degradatory march to oblivion.
Sarath Ambepitiya - High Court Judge
Dear 59' Group member,
It is appropriate to pen down a few words in memory of our colleague, and history maker in many ways.
Sarath was a lone fighter and laid down his life for Justice and Principles he loved and valued most, as a true Royalist, while many Royalists still remain alive covered in apparently Lion like skins but their skin really belong to Sheep or Foxes.
First of all the state (Not this govt. or Previous govt. but the Sri Lanka State whoever is the President or Prime Minister – Of UNP or UNF or present UNDF) is to be made responsible for THIS cowardly assassination as no protection whatsoever was given or even thought about for a valiant fighter of Terrorism, Narcotics Trade, Human Rights abuse by State Military apparatus and Child Abuse just to mention a few.
If one has visited Saraths residence, he will wonder how fortunate he was to live so many years, unprotected, isolated and neglected, at the mercy of his opponents, and would be assassins before falling a victim. This is a miracle.
The population of Sri Lanka should be ashamed of and made responsible for saluting and garlanding and bowing down to all those cowards called politicians who manipulate the state machine and judiciary to reach their political dreams and destinies by accommodating all types of Terrorists, Drug dealers, Betting centre Operators, Arms dealers and Human rights abusers and leave the Law Enforcers, Judiciary, Security Forces exposed and vulnerable to punishment by assassination.
The politicians must be held responsible for by not supporting them in their day to day official business matters and lives, spent among criminals and Mafia gangs trying to prosecute and meter justice.
To fight against these principles, the whole nation is challenged and called upon to wake up from the dream they enjoy now and get rid or eliminate all those politicians who are paid servants directly or indirectly of the terrorists, drug dealers, and the mafia who run this Island state.
The only way to honour Sarath Ambeypitiya in his own humble way and tradition, the Royalists (of 59' Group and else) if they are really, should think seriously about the disease affecting Sri Lanka and lead the rest to get out of this bogey if the future generations are to live like humans and to prevent them from being called 2nd generation cowards following the path taken by their forefathers.
Our School song gives us the spirit to sing and also to act the correct way……but we still loudly sing a different version and practice accordingly. - Daya
While expressing deep sympathies on the killing of High Court Judge Sarath Ambepitiya:
We will not be deterred by such cowardly and insidious acts - High Court Judges' Association Secretary
by Sarath Malalasekera
"We will assure the nation as a whole that we will not be deterred in performing our duties by such cowardly and insidious acts of those who operate outside the boundaries of decency, humanity and compassion," said High Court Judges' Association Secretary Ms. Rohini Perera yesterday.
The Colombo High Court Judge Ms. Rohini Perera said that the High Court Judges are shocked at the cruel and insensitive way in which the life of Justice Sarath Ambepitiya was lost in broad day light near his official residence.
This is no doubt a mean and insidious way of threatening the Judiciary from performing their duties in the way they had always performed for the protection and security of the nation.
"It must be clearly stated that the judiciary can never be threatened in any shape or form whatsoever and are determined to maintain the high standard in the dispensation of Justice which we have always maintained without fear or favour or partiality," the High Court Judges' Association Secretary added.
Judge Ms. Rohini Perera emphasised that the implementation of the death penalty as from yesterday, November 20, 2004, is no doubt a firm signal which President Chandrika Bandaranaike Kumaratunga using her Executive Power has sent to those who may in the future contemplate laying of rash hands on the ark of Justice.
On behalf of the High Court Judges Ms. Rohini Perera extended the deepest sympathies to the family of the late Justice Sarath Ambepitiya.
The Royal College '59 Group in a message said: "We deeply regret the loss of a dear friend and a colleague, High Court Judge Sarath Ambepitiya, who has sacrificed his life for being an honest, upright and fearless judge and a citizen of Sri Lanka".
Sarath Ambepitiya High court judge shot dead in Sri Lanka 's capital
It is with deep regretand much sorrow that we bring to your notice the Brutal Killing of our dear friendand colleague of the '59 Group, Sarath Ambepitiya.
As most of you are living abroad for your information Late Sarath Ambepitiya was a High Court Judge in Colombo.
In 2002, Ambepitiya sentenced the elusive leader of the Tamil Tiger rebels to 200 years in prison after convicting him in absentia of planning a 1996 bombing that killed 91 people in the Sri Lankan capital.
The judge issued an arrest warrant for Tiger head Vellupillai Prabhakaran, 47, whom he found guilty of conspiracy in the truck bombing of the Central Bank. The explosion also wounded 300 people while destroying the bank and other buildings in the city center.
Bandu Dissanayake
Monday, Oct 25, 2004: This appeared in 'Interact' a two-monthly newsletter issued by The Committee for Sri Lanka, edited by Shyamon Jayasinghe, (the original narrator of Maname') who is now here in Melbourne. It is about our very own '59er, Bandu Dissanayake, sometime a hosteller. His family produces the weekly SL TV hour . It goes to air on a Sunday morning, premium watching time here, which is no mean triumph considering how competitive different ethnic and interest groups are in demanding good timeslots for TV. Am only sorry I can't reproduce his picture for you. His wife Mihiri puts the news footage obtained from SL together and reads the news, while his son Tharake, a budding doctor, is front man and anchors the show with a charming young lady of their acquaintance.
OUR FOLK IN THE MAINSTREAM
By Esjay
Interact features two Sri Lankan Australians for their special demonstration of working successfully with the social mainstream in this country:
GALLILEO OF GLEN WAVERLEY
Who in the Sri Lankan community of Victoria hasn't heard of Bandu Dissanayake? Everyone would say "I have". But have you ever known Bandu as a star gazer in the tradition of Galileo? Only a handful would say "yes"
The first thing that touches you these days when you visit Bandu's palatial home in Glen Waverley are the telescopes-large as life in his lounge. His very capable and talented wife, Mihiri, does not mind this location for Bandu's toys.
Bandu Dissanayake has many achievements in the Australian mainstream. He was recently elected Supper President of Dandenong Lions Club- a position held all these numerous years by an Anglo-Celtic Australian. As president, Bandu has many projects in the stream- all connected toward improving the quality of life for Dandenong school playgrounds, childrens' playgrounds, and heart walkers for kids.
Bandu Dissanayake came to Australia in the year 1981 having spent 12 years in England where he qualified as a Chartered Engineer. He presently works as Manager Systems Development at Nissan in Melbourne . He is also Member of the Institute of Marketing and Member of the Astronomical Society of Melbourne. As far as the local Sri Lankan community is concerned, Bandu had been founder member of the 3ZZZ Community Radio, founder member of the Sinhala Cultural and Community Services Foundation, President SCATS, founder of SCATS Elders' Welfare Society (SEWA), and founder of the Dandenong Buddhist Meditation Society. He is known to contribute generously toward community charities.
Bandu Dissanayake lives with his wife and two sons