PHOTO ALBUM
Colombo Bash Jan 2011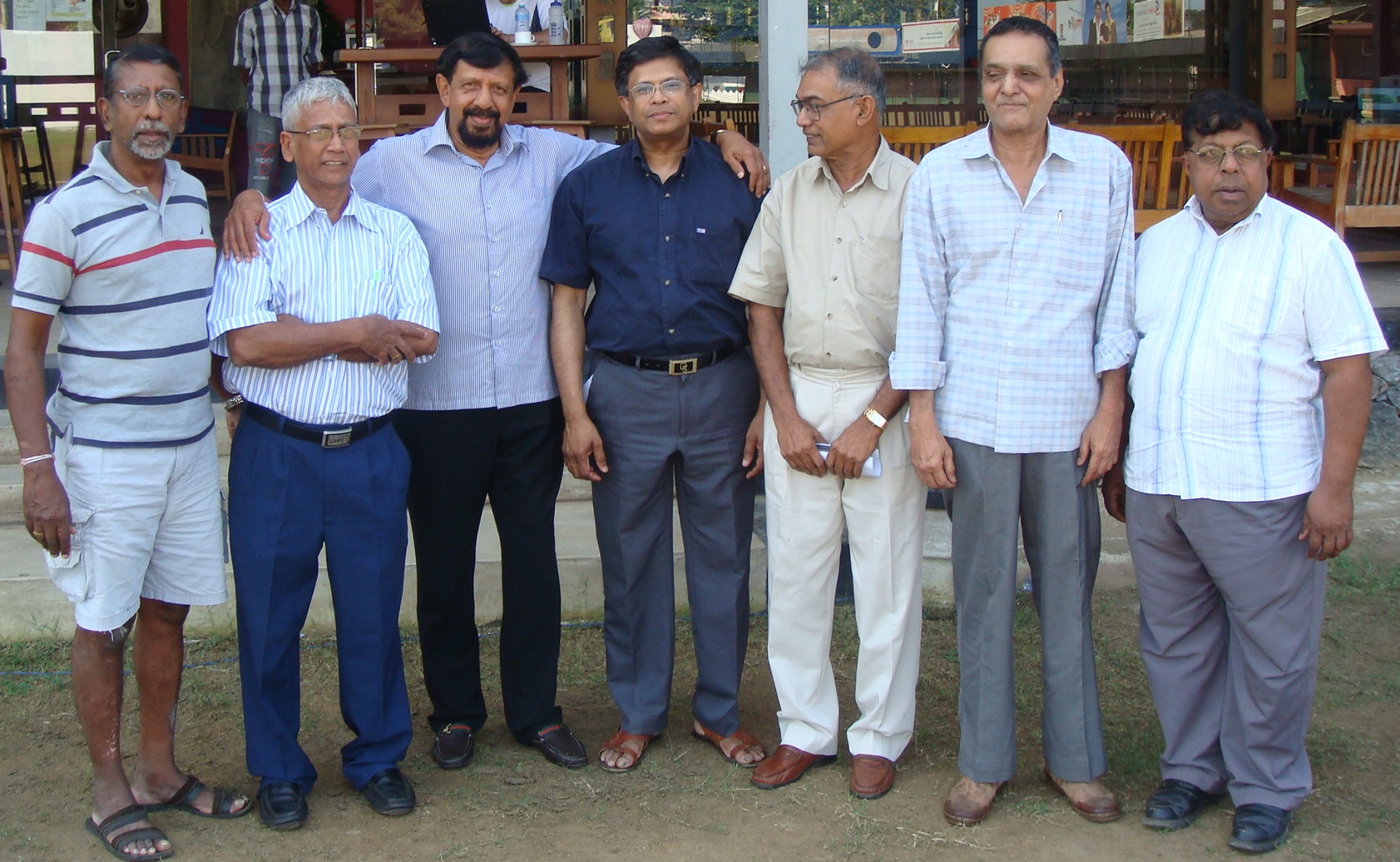 Anil Kannangara, Upali De Livera, S Skandakumar, MJM Peroos, KPG Fernando, MBMNaizer, DG Wickremasinghe
<![if !supportLineBreakNewLine]>
<![endif]>
---

Nande Palihakkara & wife visit Australia Dec 2010

Dear '59 Group,
Nande & Anoma Palihakkara are in Australia these days. Here are some photos taken on 15-12-2010 at a get-together Dinner in Sydney.
I am sorry about the delay in sending these photos to you. The people who attended were Nande & Anoma Palihakkara, Indra & Hema
Lokubalasuriya, Ranjan & Yu-hua Chandrasena, Vipula Godamune, Alvapillai Senthilkumaran, Sriyanie & Palitha Manchanayake.
Wish you and your families a Very Happy & Prosperous New Year 2011.
Regards
Palitha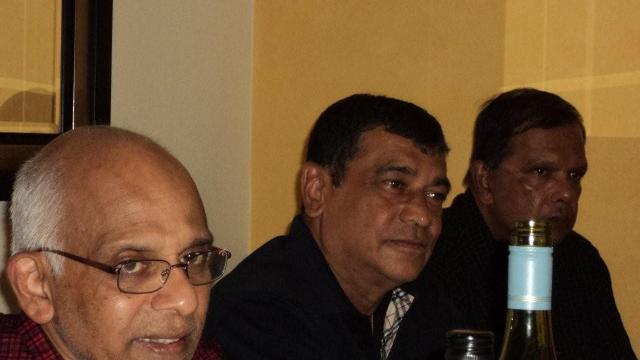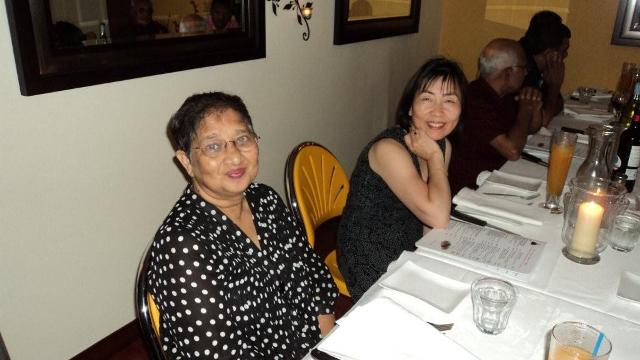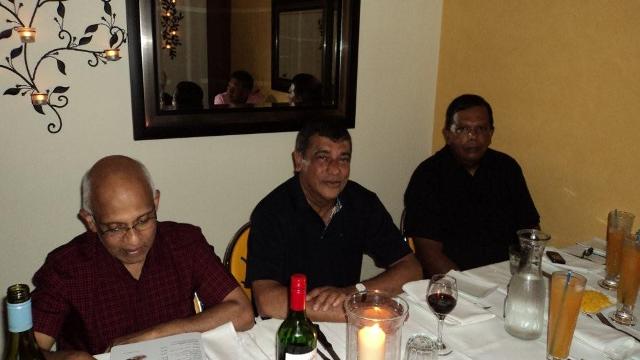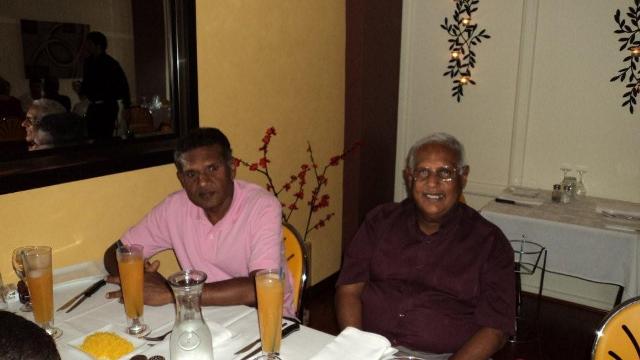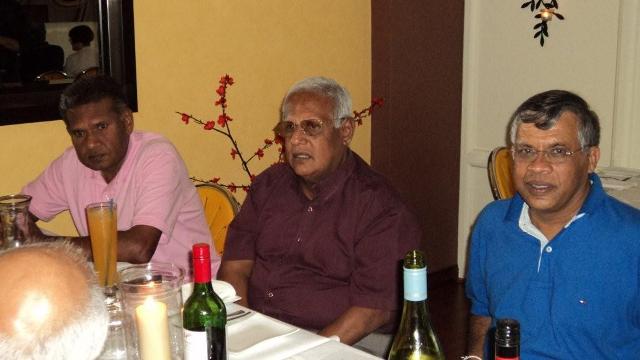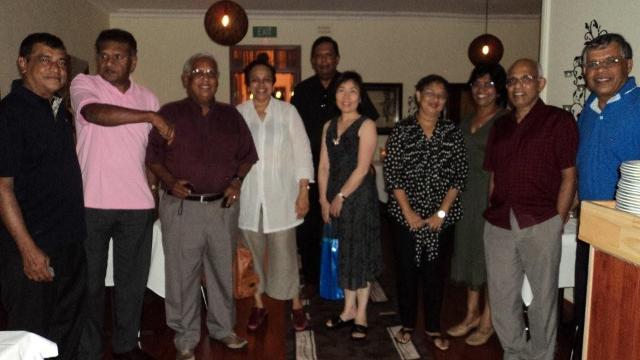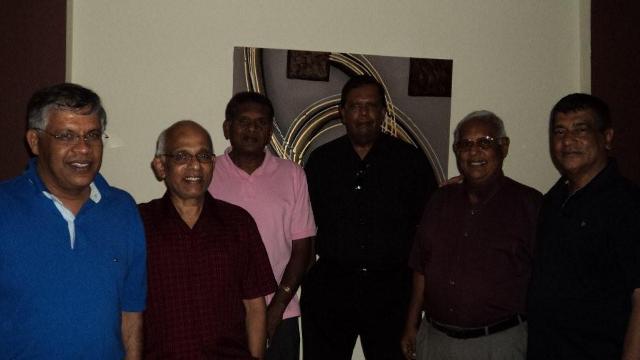 <![if !supportLineBreakNewLine]>
<![endif]>
---

Ranjan Dandeniya in Sydney - Nov 17, 2010

Dear '59 Group,
Ranjan Dandeniya was here in Sydney and we had a get to gether. Here are some photos taken. Those attended were Vipula Godamunne, A. Senthilkumaran, Indra & Hema
Lokubalasuriya, Ranjan & Yu-hua Chandrasena, Palitha & Sriyanie Manchanayake.

Regards
Palitha Manchanayake/Sydney Australia - Nov 18 2010

Ranjan & Palitha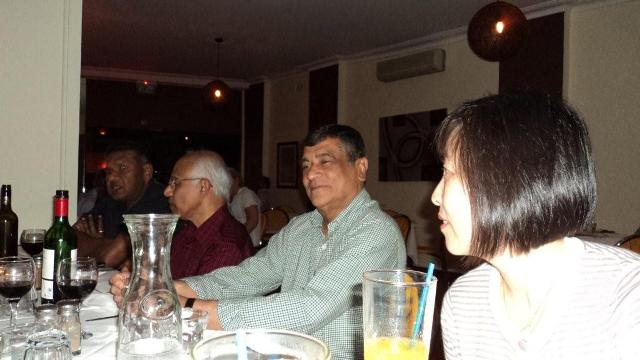 l-r: Vipula, Sarath, Loku

r-l: Senthil, Munchee, Ranjan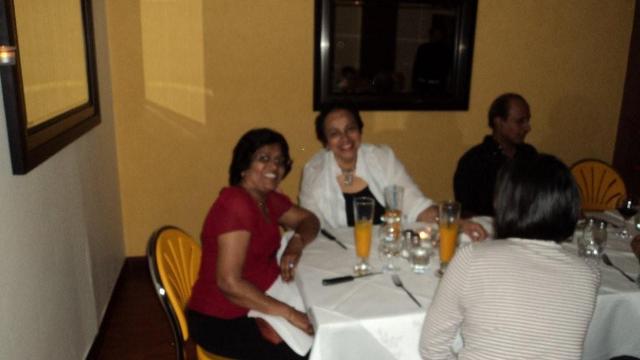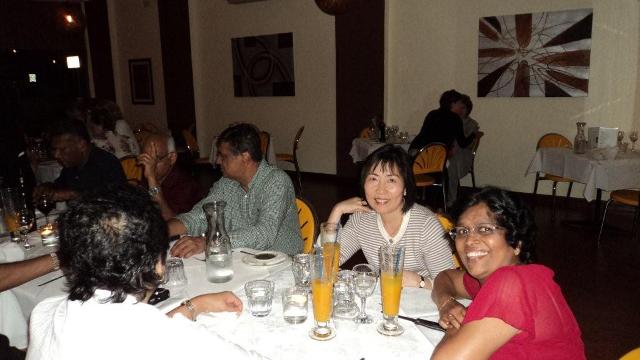 l-r: Vipula, Sarath, Loku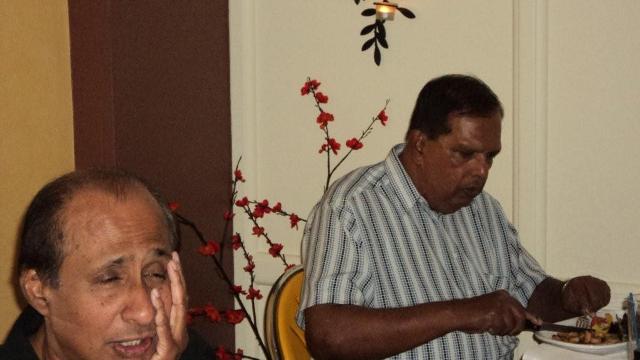 l-r: Ranjan, Senthil

l-r: Vipula, Sarath, Loku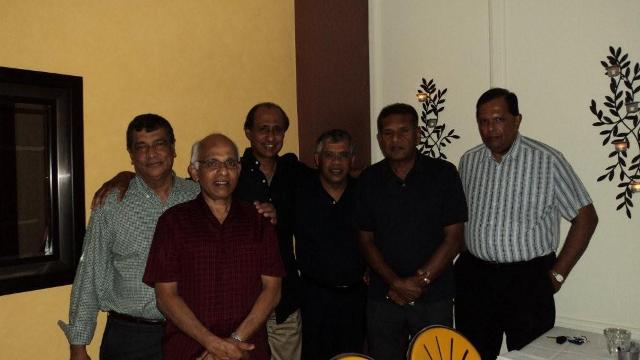 l-r: Loku, Sarath, Ranjan, Munchee, Vipula, Senthil


Muthu, Graham – in Beijing, China – Sep 13, 2010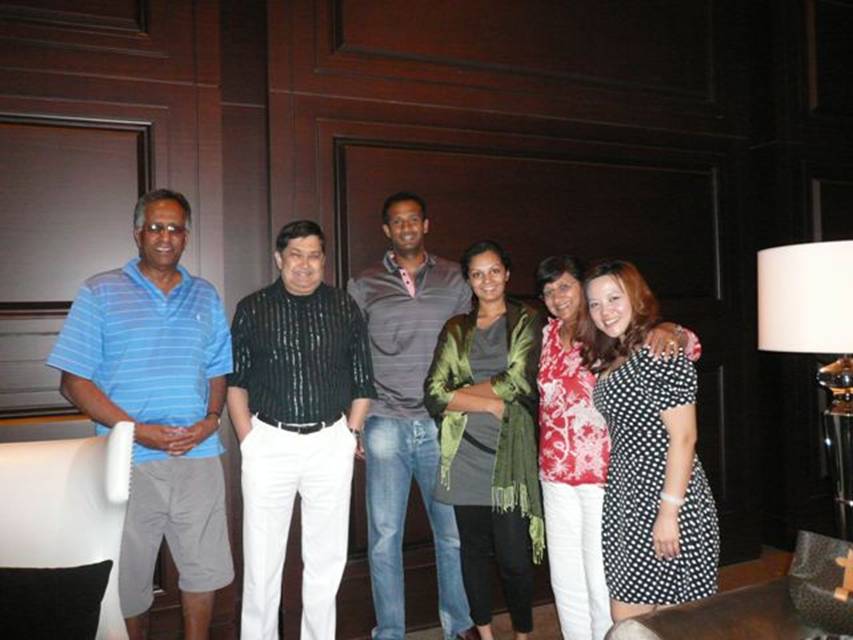 "Kandala" Pics
Date: Wednesday 23rd June 2010
Place: " Kandala" The Restaurant owned by U.C.Jayasinghe (on the New Kandy road passing + Junction to enter Biyagama FTZ located at
Waduwegama (before you come to Delgoda Junction)
Group:Prasanna Mendis, Bandula Kulatunga from Australia with Upali, Daya joining U C Jayasinghe.

<![if !supportLineBreakNewLine]>
<![endif]>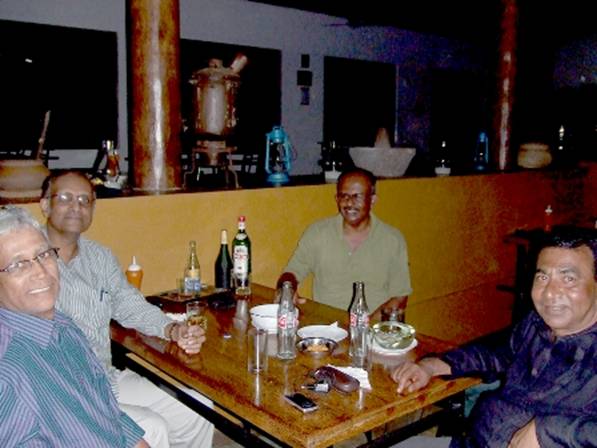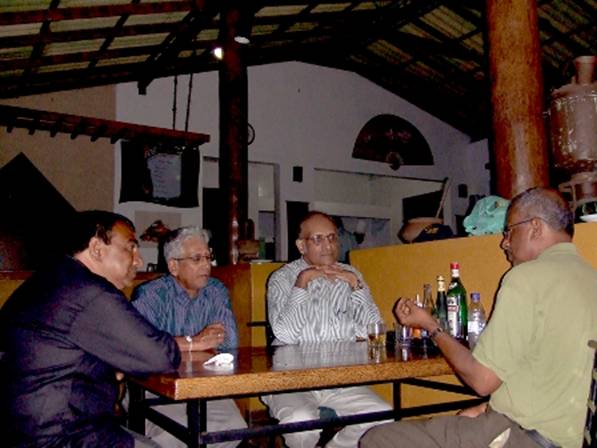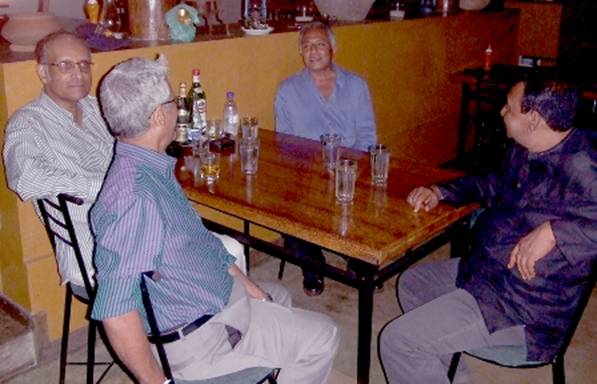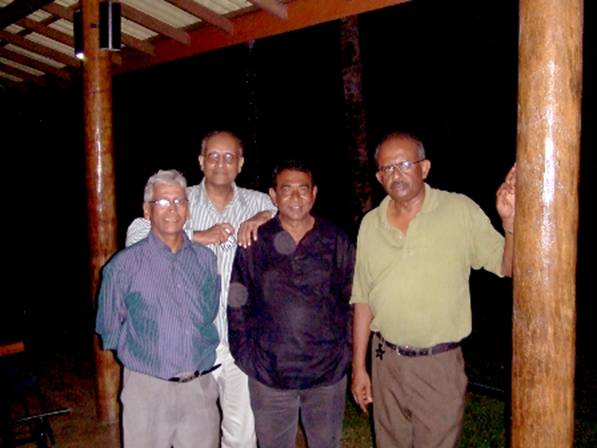 <![if !supportLineBreakNewLine]>
<![endif]>

<![if !supportLineBreakNewLine]>
<![endif]>
Mancha Meets Pol Tokks in Colombo
Email received from Munchee in Sydney on Friday May 28, 2010.
Dear 59 Group,
I was in Sri Lanka for a short spell and returned only about a week back. During that period, I happened to visit Mr. L.Samararatne who resides
at No. 15, L, Ekanayake Avenue, Nugegoda. He was very happy to see me. He was my Form Master in Form 1C in 1959, and I always had a
lot of respect to him.
I can remember Mrs. Samararatne passed away around 1977, and he is living with one of his children. I think Mr. Samararatne may be close
upon 80 years now, and he reads without glasses. He mentioned to me that he was teaching English at Mr. Ralph Alles's Gateway College, but
left that a few years ago.
Regards
Palitha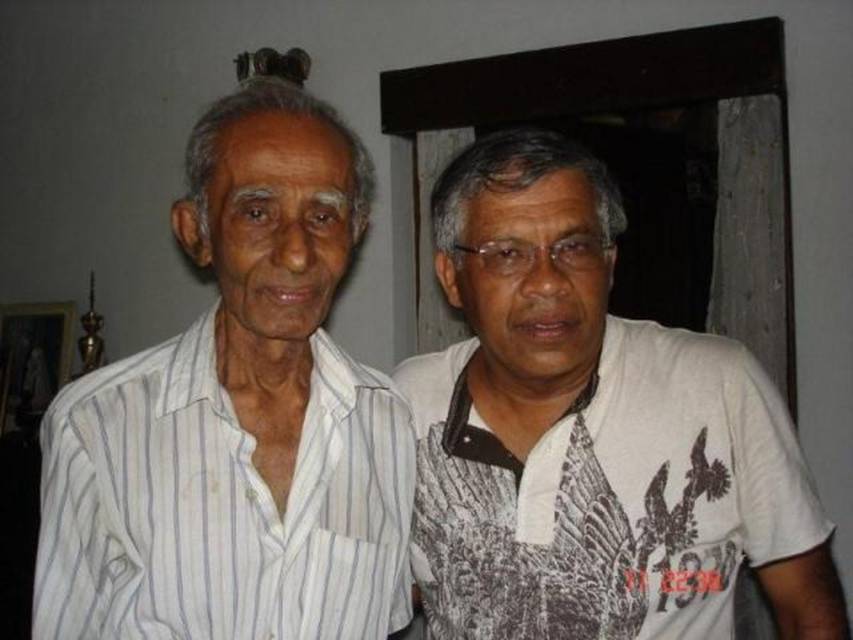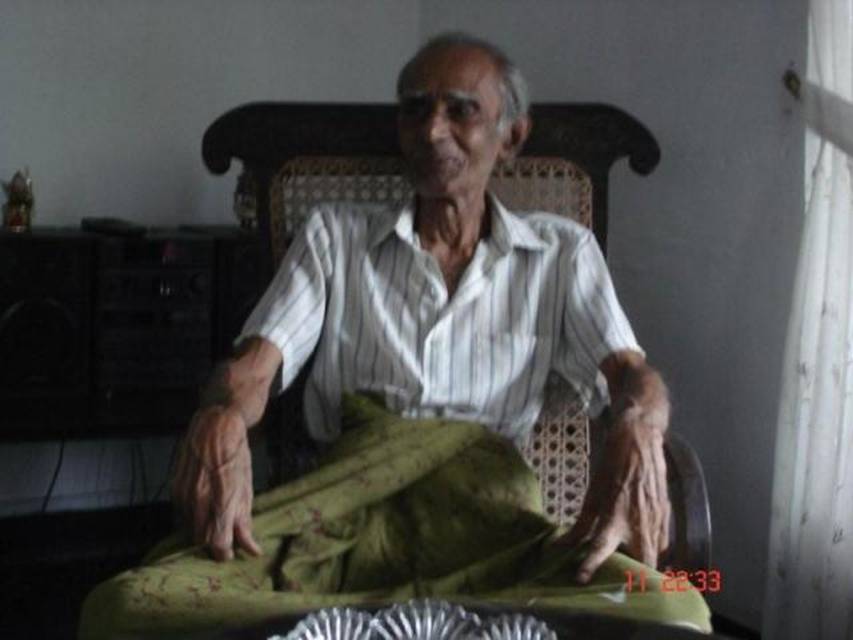 50th Anniversary Celebrations held at the Galadari Meridian Hotel in Colombo
80 "young" '59 Groupers gathered together with their pretty wives at the Galadari Meridian Hotel in Colombo to meet again and enjoy a
sumptious buffet lunch to celebrate the 50th Anniversary of having joined Royal.
Panna, Ruchi, Jiggs & Prasantha
Skanda
Luncheon Buffet
Panna, Skanda
Upali, NPR
The Lovely ladies of the '59 Group
Upali, Mazher, Chari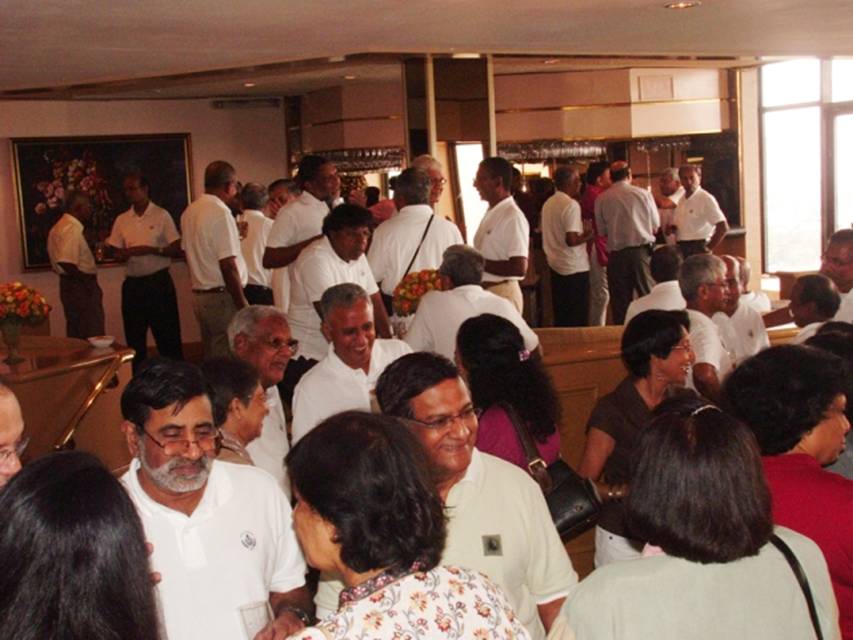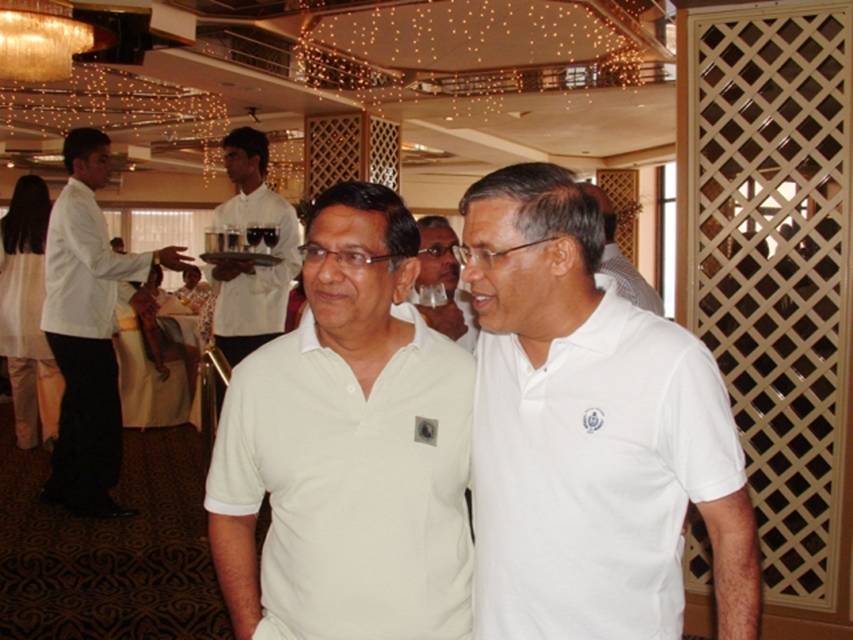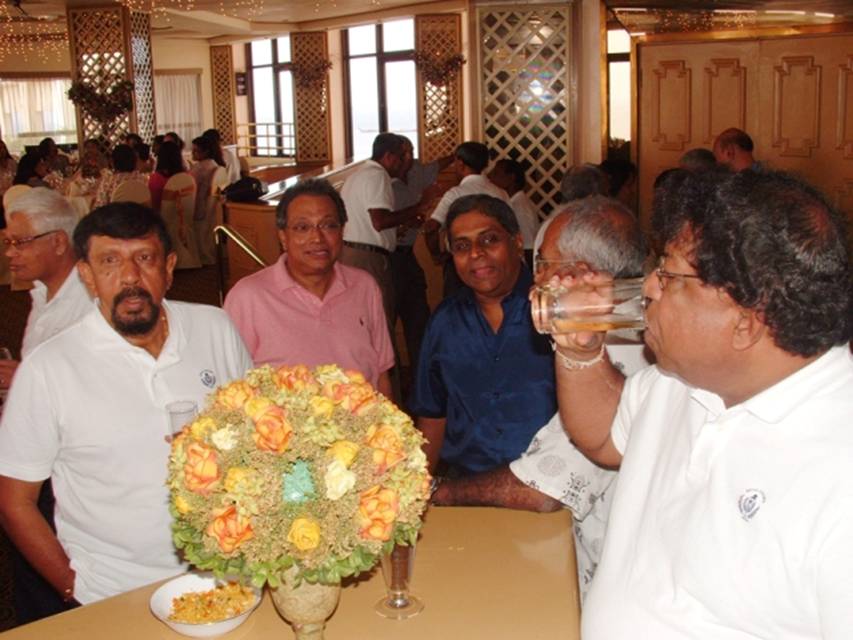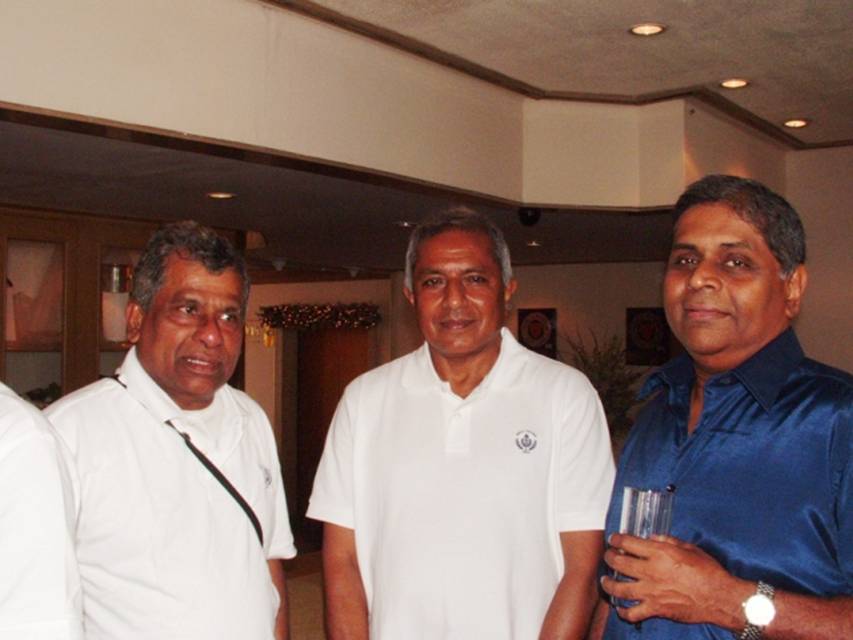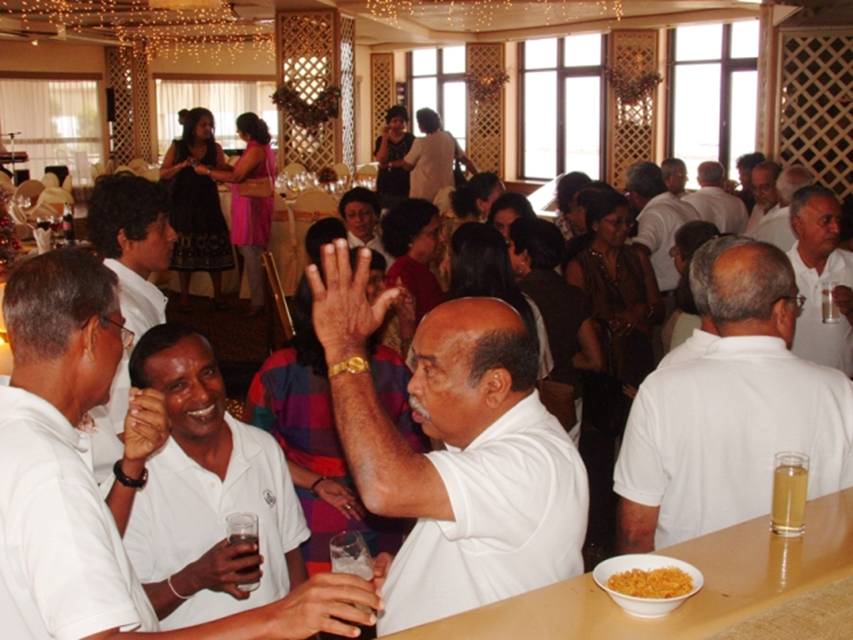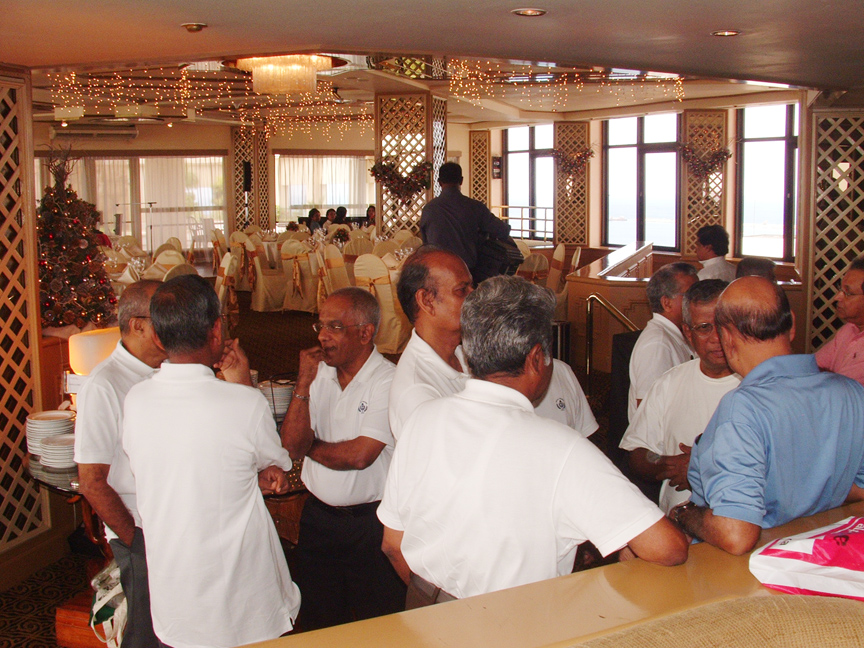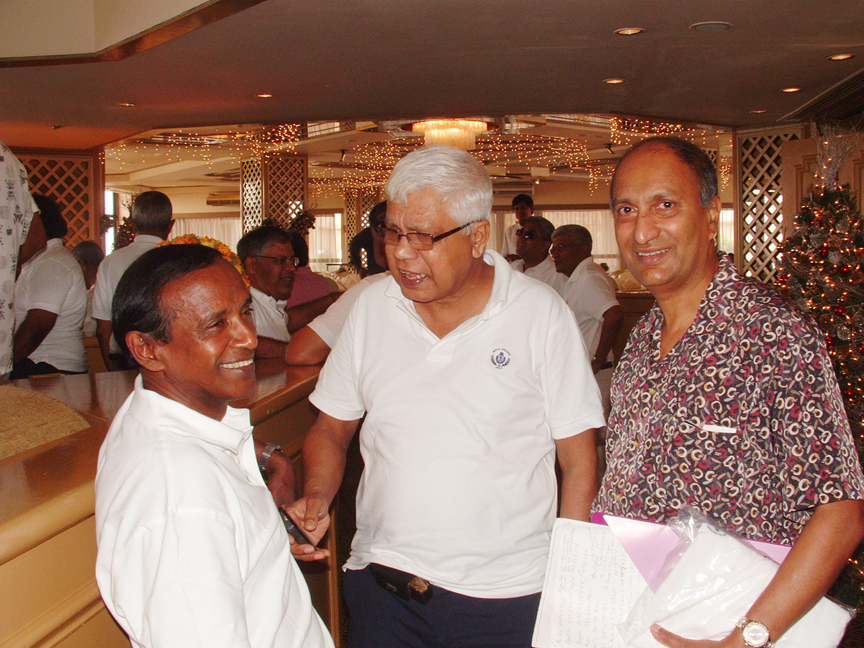 ---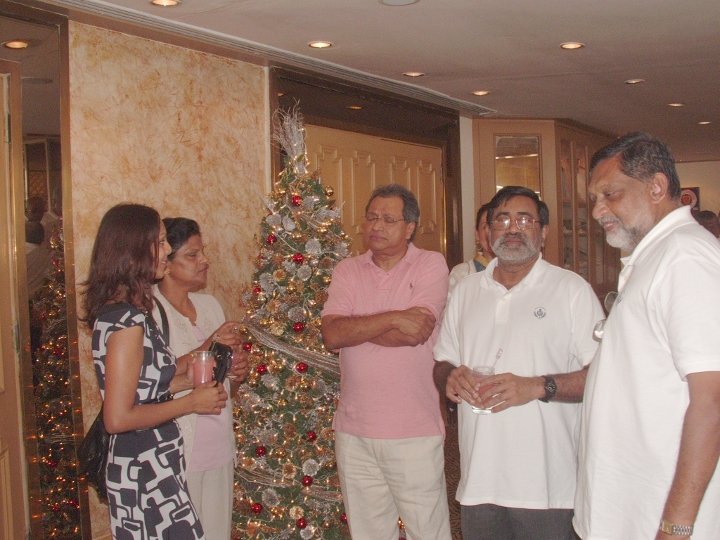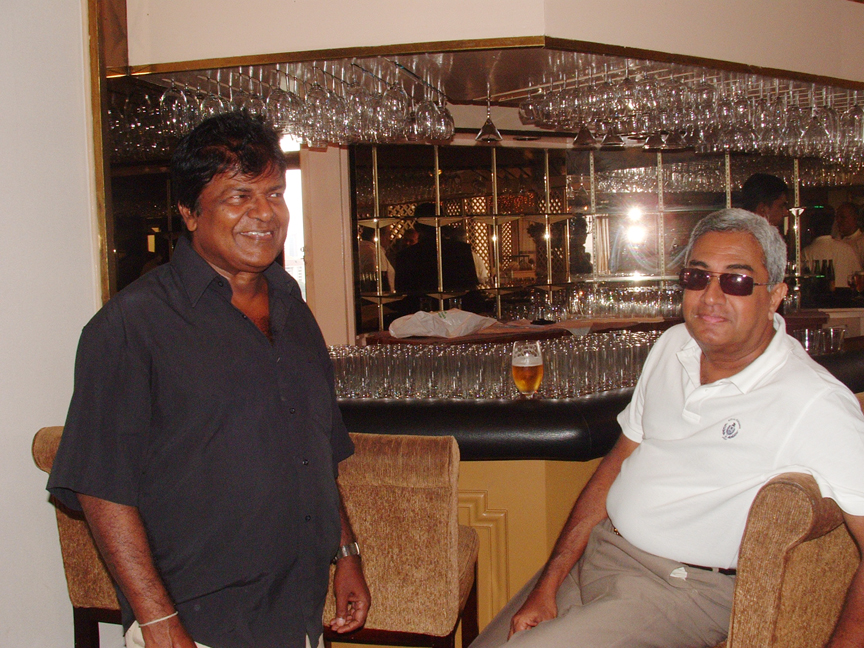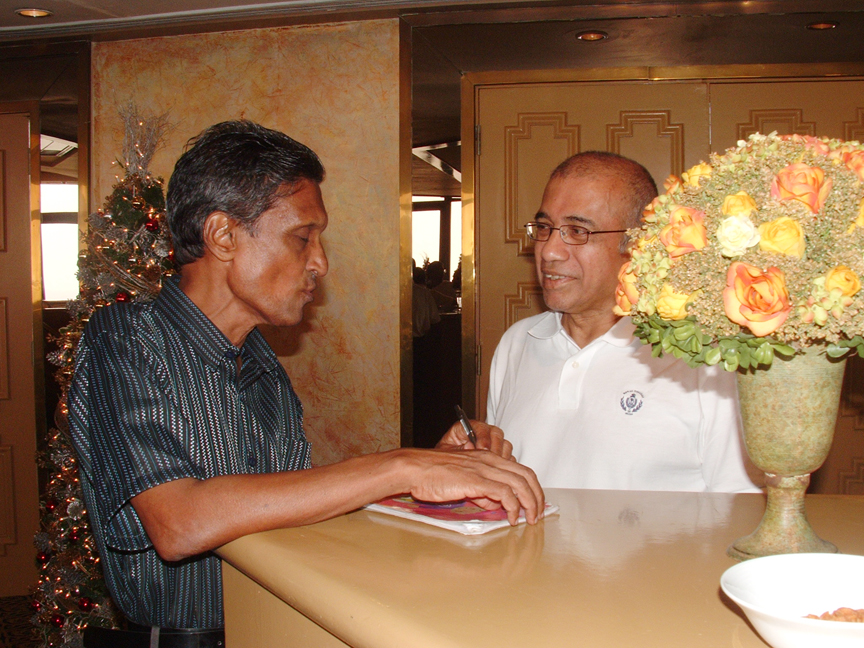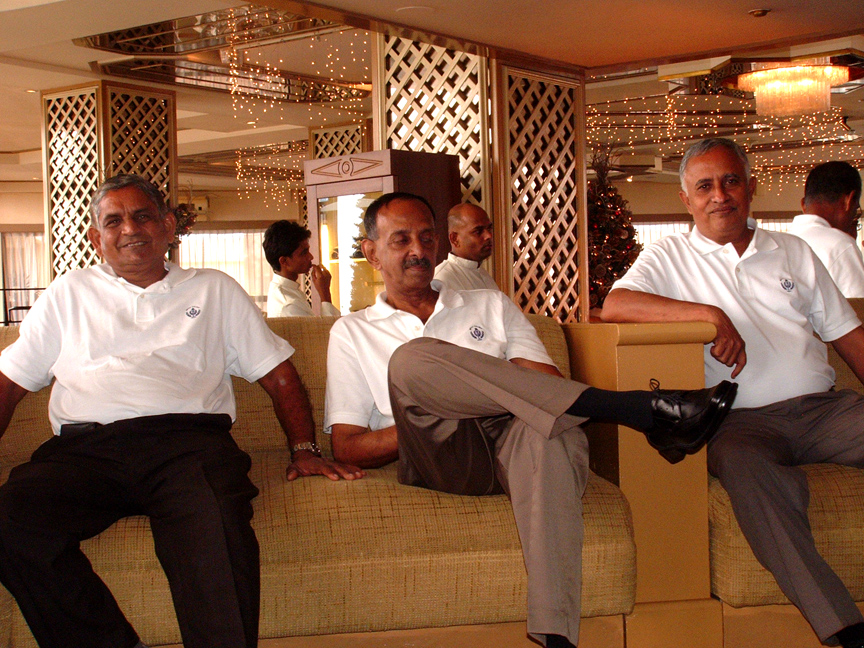 ---

Australia - Sep 2009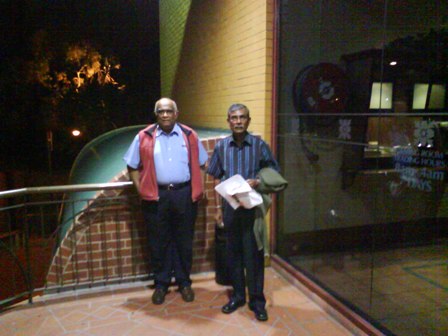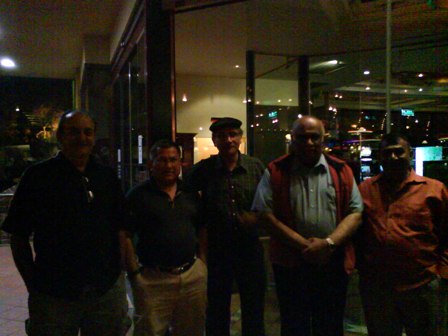 M A Kreltzsheim, Geethapriya Salgado Brian Lieversz, Saji Bahar, Prasanna Mendis, M A Kreltzsheim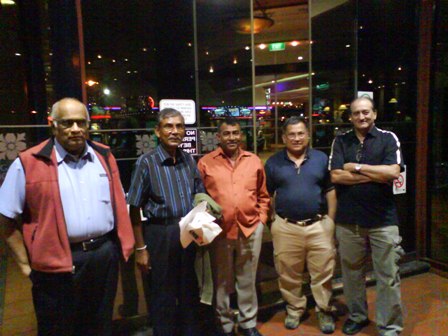 Prasanna Mendis, Geethapriya Salgado M A Kreltzsheim, Geethapriya Salgado, ?, Saji Bahar, Brian Lieversz
Pics taken in London, UK - Aug 2009 - Sent in by Palitha Manchanayake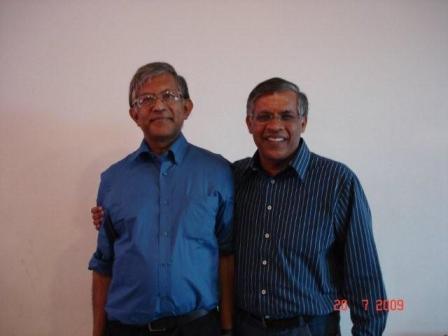 DCP Karunaratne (Lal) & Palitha Manchanayake Palitha Manchanayake & Vishwanath Vedage
DCP Karunaratne (Lal), Palitha Manchanayake, Sube, NPR Goonesekera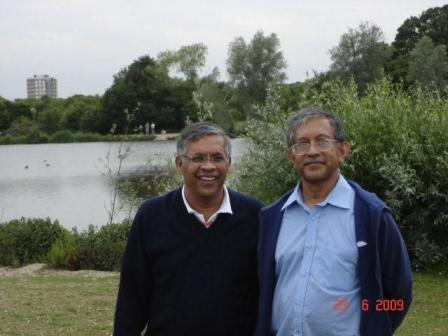 Palitha Manchanayake & DCP Karunaratne (Lal)
Jeremy Perera's Place - Australia - Monday Feb 2 2009
seated front l-r: Nigel de Kretser, Philip Stork
standing at back l-r: Jeremy, Brian Lieversz, Graham Koch, Michael Kreltszhem, Prasanna Mendis
seated front l-r: Russel Geddes, Michael Kreltszhem Philip Stork
standing at back l-r: Nigel de Kretser, Brian Lieversz, Prasanna Mendis, Philip Stork, Graham Koch
seated front l-r: Nigel De Kretser, Graham Koch
standing at back l-r: Jeremy Perera, Brian Lieversz, Michael Kreltszhem, Russel Geddes, Prasanna Mendis
Suri & Munchee in Sydney, Australia - Jan 12 2009
K A Gunawardena, Chula & Dr. M J M Peroos in UK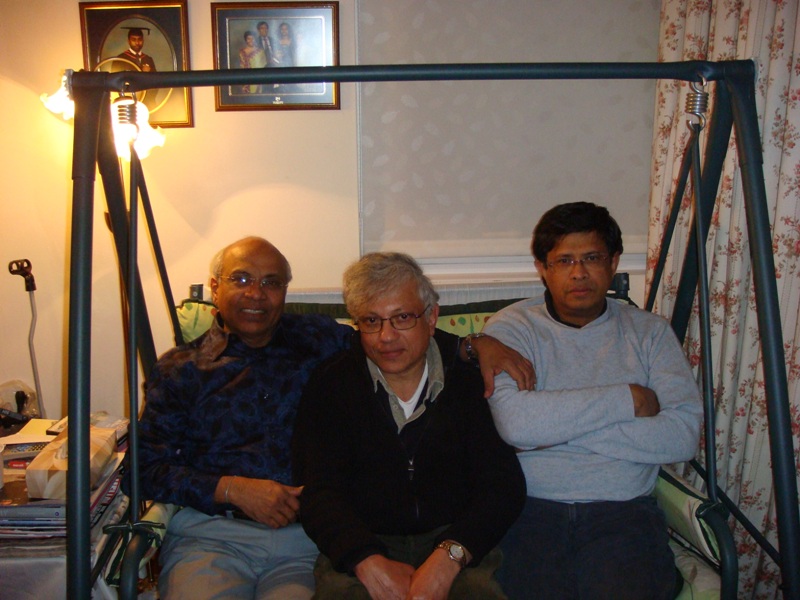 Muthu (center) at 60 (UK) with his daughter (extreme left), wife, son and daughter in law
Vishva Vedage, Palitha Manchanayake & K P Jayaweera in 1968
Sunday Sep 28, 2008
Dear Vishwa & to all in 59 Group,
Thank you very much for sending this photo. It really looks how we looked like at that time. This photo was taken at your uncle's garden at Gampola.
He was a PD (Periya Dorai) of a Tea Estate, if I remember right. Probably around 1968-69.
What has happened to Bada (KP Jayaweera) and Melvin (W. Mallawarachchi)? That is the important question.
Bada , I met him last in Sydney around 1990 with his wife. Then they proceeded to Melbourne. Subsequently, I heard that he was doing a Consultancy in PNG.
That was the last I heard of Bada. Bada & I were very good friends, and we used to watch all the Rugger Matches of Ceylon Army during 1965-67 period.
We were Army fans. That time, the Army Team was very strong with Capt. Berty Dias as Scrum Half, Capt CS Fernando as Full Back, Neville Shedden &
Piyasena as Insides, These are some of the names that come to mind. Then during the Cricket Season, Bada & I were ardent Nomads fans, and we used to watch all
the Nomads Cricket Matches during Saturday & Sunday. The Nomads cricket team was captained by Bada's Brother-in-Law DH De Silva, who was the
Charity Commissioner of Colombo Municipality. DH was married to Bada's eldest sister. I think DH was in the Ceylon Cricket Pool and played a couple of matches
for Ceylon at that time. Then in the same team, there were DP De Silva & DS De Silva, Anuruddha Polonowita, Daya Sahabandu etc.
These are some memories that came to my mind.
Then regarding Melvin, I have not heard of him for the last 30 years or so. I know that Melvin did Chemistry Special at Peradeniya, and topped the batch with a
First class Honours. After that he went to Cambridge & did a Ph.D in Theoretical Chemistry. Then came back to Peradeniya and was lecturing there.
Subsequently, around 1977 I heard that he was the Rector (Vice Chancellor) of Dumbara Campus. That was it. Nothing heard after that.
So DOES ANYONE KNOW (out of the 59 group) anymore later info about these two (Bada & Melvin) please share it with us.
With Warm Regards.
Mancha
Palitha Manchanayake <mancha@bigpond.net.au>
AGM 2008 at President G S C Perera's Place - Aug 2008
almost 50 years after those glorious days at Royal
Dr. Panna, dancing the blues away.....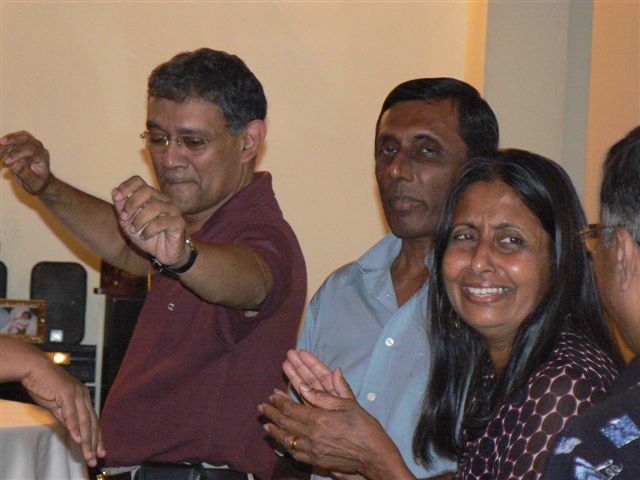 Dr. Panna facing camera, Akram Dawood extreme right Dosthara Mahattaya doing his Vedakam in grand style
Dr Panna and Akram Dawood G S C Perera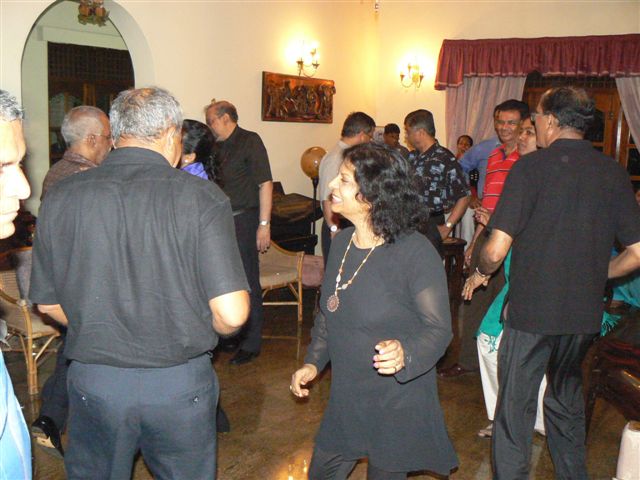 Mazher Fazleali (white beard) and Saji Bahar at far end, Jiggs on extreme right Jayantha Kudahetty in red horizontally striped T shirt Susu Aziz on extreme right
Dr Panna, Jeremy Perera and Brian Lieversz, extreme right Dr Panna (back to camera) wiih Mazher Fazleali (grey beard) facing camera
Dr Panna, Jeremy Perera & Mazher Fazleali Dr POanna (extreme left), Brian Lieversz, Jeremy Perera, Saji Bahar, Mazher Fazleali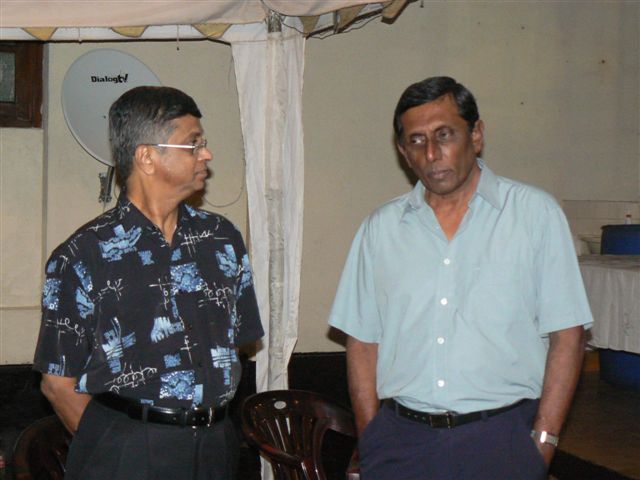 Akram dawood (extreme right) Mazher Fazleali (back to cam), Saji Bahar, Susu Aziz & Mrs Aziz
Jayantha Kudahetty (standing in red T shirt) Brian Lieversz (third from left) standing with hands on hips
RC '59 Group meet in London - 2008
'59 Group Gang in London
Reunion at residence of Ando in London. June 21, 08
Left to Right: Senaka Jayasinghe (Ibba) Nihal Kumarage, Tissa Jayaweera, Suren Goonewardene,
M S Fernando (Goiya), Sarath Gooneratne (SC). On Chair Ajith Dias (Ando), Ranjan Dandeniya (Ganja)
Rgds - Tissa
'59 Group Get-Together at Chinese Hotel in Bamba - 2006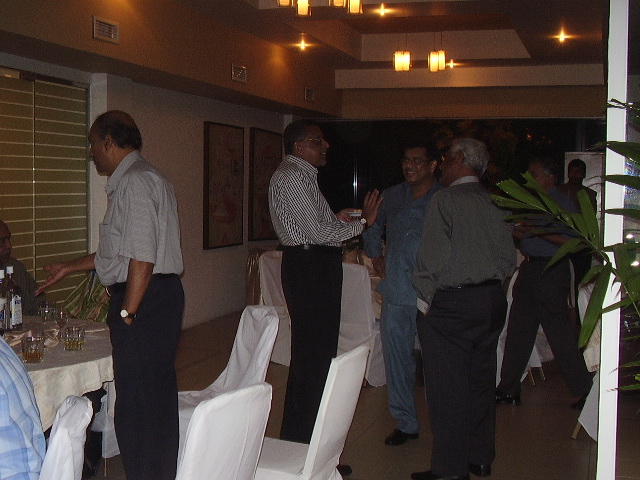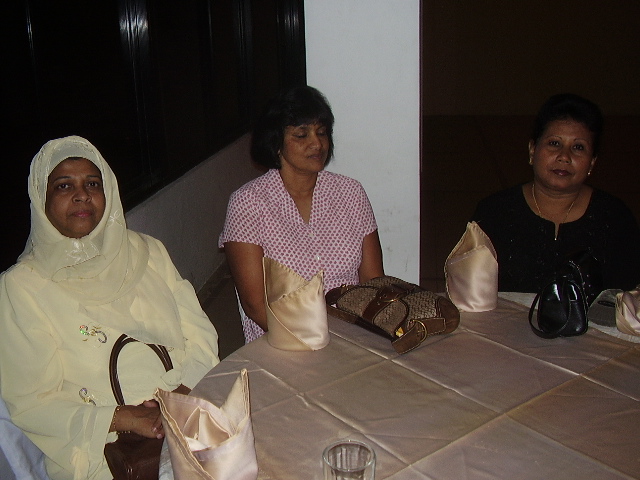 RC Masters 1955

Royal College Hostel 1959

L to R
Row 1: R G Hapuarachchi, , B.N.Ranasinghe, N. Chellappah, , Zahir Mohamed, M Thassim, Somasunderam, , Pathirana, H.A.Karunasekara.
Row 2: C.Abeywickrama, S Y Samaraweera, Samaratunga, , C S Fernando, , J D M Kulatilleke, L A D Sirisena, Wimal Gunawardena, N.Mendis, Wendell Solomons, Dayaratna, Raheem,
S.Canagasabey, , Garret.Fernando, , , S L de Silva, U C Jayasinghe, N R Kumarage, R L Wickramaratne, M A S Dawood
Row 3: N Kalupahana, R Sabapathypillai, Sunil Mendis, N P Nilaweera, , Cassim, Samararatna, , , N M DeRun, A.PL de Vas, Thambiraja, L J K Hettiarachchi, S D Atukorale, T.de Alwis,
Lal Ratnayaka, T Sivanesarasa, N Ranasinghe, N G Patikirikorale, P N W Kannangara, P de Silva, Ismail, M D Illangage, , D Kalupahana
Row 4: Leon Belleth, , T B C Edirisinghe, S R K N Sabaratnam, , R Rudran, , Wijayanayagam, L A W Sirisena, L S P Rajendra, S G Gunaratne, , , , ,Hutan Hettiaratchi, Mapa Gunaratne
Row 5: , R A Pothuhera, Mr. L Samararatne, Mrs. Belleth, Mr. C E Belleth, Mr. Dudley K G de Silva, Mr. B St. E de Bruin, Miss Ratnayake, Mr. W Devapriya, T V Wickramasuriya, Sivathondan
Row 6: O K P Gunasekera, Nihal Canagasabey, K I Mahmud, R Chandrasena, D R Pulleperuma, S W Atukorale, D.E R Hapuarachchi, N.S. Kumaranatunge, K K Amaradasa, P G W G Premaratne,
K A Gunawardena, M H Subasinghe, W Mallawarachchi, S J W Ambepitiya, S N Jayasinghe, G S C Perera
Mr John Henry De Saram
<![if !vml]>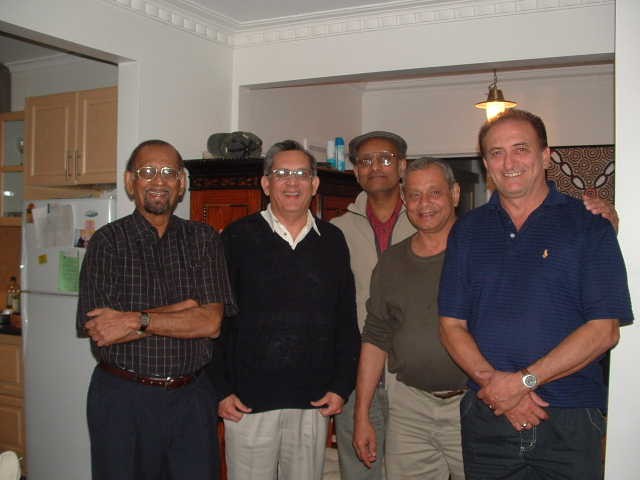 <![endif]>
l to r: Mr John Henry de Saram, Nigel de Kretser, Prasanna Mendis, Jeremy Pereira, & Brian Lieversz,
at Jeremy's place in Colombo - Nov 2005
Jeremy, Allan & Fazli
<![if !vml]><![endif]>

Jeremy Perera & Dr Frederick Allan Ebert (Australia) 2001

---

<![if !vml]><![endif]><![if !vml]><![endif]>

Fazli Sameer:- Riyadh, Kingdom of Saudi Arabia enjoying the 1,001 nites in the desert sands of Arabia : 1979-date,

Managing Consultant in IT & Software Quality Assurance, Al Faisaliah Group.

Married since 1974, two daughters born 1975 and 1981, grandchildren, Maria born 1994 in

Toronto, Canada, and Abdullah born 1997 in Riyadh, Saudi Arabia Feb 2006

Pic 1: Being presented the annual service award at Al Faisaliah group in Riyadh by

the Vice President, Mohammed Al Sarhan. President, Prince Muhammad bin Khalid bin

Abdullah Al Faisal, great grandson of the late King Faisal of Saudi Arabia, is seen standing in the middle.

Pic 2: Fazli at home in his Arabian Thob (Dish-Dash), beard et al.

---

<![if !vml]>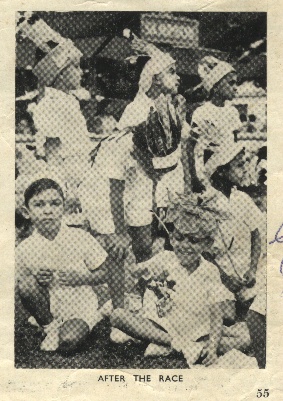 <![endif]>Sampson House Tent at the Royal Primary School Sports Meet 1953
Standing at back left: Ronald Schokman
Seated left - Frederick Allan Ebert
Seated right: Muhammad Fazli H Sameer
gloating over the prizes won after the sack race
GATEWAY Magazine 1953 pp55
<![if !vml]><![endif]>

RPS Relay Team 1953, seated at extreme right is Darrel Lieversz

seated center is Mr A.F. De Saa Bandaranaike, Headmaster

GATEWAY Magazine 1953 pp56

<![if !vml]><![endif]>

RPS Sports Meet 1953

Darrel Lieversz, winner of the Head Master's Cup and Best Athlete of the Year

GATEWAY Magazine 1953 pp55

<![if !vml]><![endif]>


RPS Sports Meet 1953, Wate Drinking Race.

Names not known

GATEWAY Magazine 1953 pp55
Ranjan Madanayake

<![if !vml]><![endif]><![if !vml]><![endif]>

<![if !vml]><![endif]>

Ranjan Madanayake at the inauguration of his new book on Strategic Marketing

Plan with his family members

---

Certificate issued by the Sri Lanka Institute of Marketing on

Ranjan Madanayake's book Strategic Marketing Plan

---

They made us what we are today - May the turf rest soft on those who have moved on

Royal College Masters - 1959-1966

Viji (Ducky) Weerasinghe - A man for all seasons

Canags J St Elmo de Bruin

Kataya (E C Gunasekera)

RITA (Alles)

Sivalingam (third from left)
Class of 1953 | '59 Group | Other Staff | Royal-Thomian | COMCORK | Lucky Kiriella