AsiaGenWeb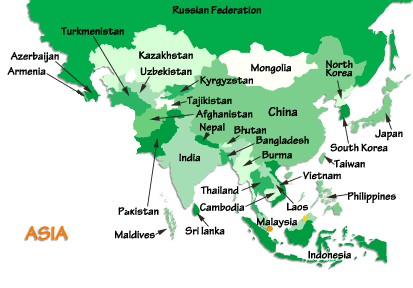 About the Project

What's New

Welcome to the AsiaGenWeb Project

The AsiaGenWeb Project is an on-line data repository for queries, family histories, and source records as well as being resource center to identify other on-line databases and resources to assist researchers. It is the regional branch of the WorldGenWeb Project.

If you have any questions or comments about this project, please Fazli Sameer.

1/11/2012 - Fazli Sameer is appointed as the new Regional Coordinator

3/8/2008 - Charlotte Meyer retires as host of the AsiaGenWeb and JapanGenWeb.

Resources

General Asia Research

Help Wanted

The Asia region covers a very broad area from Turkmenistan in the West to East Timor in the East. You will want to begin your search by exploring the Country Websites. You may discover that one of the countries is in need of a coordinator. If you are interested in adopting one of the countries, please contact us.

Each of the hosted countries maintains a system for submitting queries so you'll want to utilize the country specific query board if available.

The AsiaGenWeb Project is in need of volunteers to host country pages, provide look-up resources, transcribe data, etc...

If you might be interested in volunteering, please stop by the Policies page to learn more about what is required.
AsiaGenWeb Country Index

Country
Coordinator
Afghanistan

This email address is being protected from spambots. You need JavaScript enabled to view it.

Armenia
Host needed
Azerbaijan
Host needed
Bangladesh
Host needed
Bhutan
Host needed
Brunei
Host needed
Burma
Host needed
Cambodia
Host needed
China

This email address is being protected from spambots. You need JavaScript enabled to view it.

East Timor
Host needed
Georgia
Host needed
Hong Kong
Host needed
India
Host needed
Indonesia
Host needed
Japan
Host Needed
Kazakhstan
Host needed
Korea, North
Host needed
Korea, South
Host needed
Kyrgyzstan
Host needed
Laos

This email address is being protected from spambots. You need JavaScript enabled to view it.

Macau
Host needed
Malaysia
Host needed
Maldives
Host needed
Mongolia
Host needed
Nepal
Host needed
Pakistan

This email address is being protected from spambots. You need JavaScript enabled to view it.

Philippines
Host needed
Singapore

This email address is being protected from spambots. You need JavaScript enabled to view it.

Sri Lanka

This email address is being protected from spambots. You need JavaScript enabled to view it.

Taiwan

This email address is being protected from spambots. You need JavaScript enabled to view it.

Tajikistan
Host needed
Thailand, The Kingdom of

This email address is being protected from spambots. You need JavaScript enabled to view it.

Tibet

This email address is being protected from spambots. You need JavaScript enabled to view it.

Turkmenistan
Host needed
Uzbekistan
Host needed
Vietnam, The Socialist Republic of
Host needed
There are no articles in this category. If subcategories display on this page, they may contain articles.