Sri Lankan Sinhalese Family Genealogy
WIJEWARDENA - Family #3062
http://www.worldgenweb.org/lkawgw/slm-kings.htm
CHANDRA BHANU
Vijaya Bahu V, 1307 (Kandy) He was the 2hd son of Chandrabhanu
Parakramabahu V, 1344-1358 (Dedigama)
Daughter
Sunethra Devi + Chandrabhanu
Sri Parakramabahu VI (Kotte: Circ: 1410 – 1462) son of Sunethra Devi + Chandrabhanu
Vira Parakramabahu VIII (Kotte 1469 – 1489) [Ambulugala Raja Buvanekabahu's brother] He had 5 sons from 2 queens, namely, Buvanekabahu, Sri Rajasinha and Vijayabahu from the chief Queen and Sakakalavalla and Taniyavalla from the second queen. Vijayabahu VI of Kotte (1513- 1521).????
Vijaya Bahu VI (1509-1524) brother, Rajasinha, had died, and Sakalkalavalla had refused the honour to rule. Brothers, Rajasinha and Vijayabahu, when at Manikkadavara, had cohabited with Anula Kahatuda, later, known as Kiravalle Maha Biso Bandara. She had begotten them four sons, namely, Maha Rayigam Bandara, Bovanekabahu, Pararajasinha and Mayadunne.
After the death of Maha Biso Bandara, Vijayabahu, new king of Kotte, had contracted a second marriage from the same Kiravalle family; she was known as Kiravalle Biso Bandara. With her, had come a little boy -her son- named Deva Rajasinha, who, unknown to him, would be the cause of a major calamity in the kingdom.
The three brothers went to Jayavira (1511-1552 @Uda Rata) who had succeeded Senasammata Vikramabahu (1474 — 1511), had married Mayadonne's cousin, i.e. Kiravalle Maha Biso Bandara's brother, Kiravalle Maha Palahamy's daughter. Karalliyadde Bandara (1552-1582), succeeded Jayavira (1511-1552). Don Philip Yamasinghe Bandara, a nephew of Karalliyadde. Karaliyadde Bandara, was from the direct natural line of kings by hereditary right, being the grandson of Parakramabahu VI through his daughter Ulakudadevi and hence the legal heiress to the kingdoms of Kotte and Kandy.
After the death of Vijayabahu, people acclaimed, the eldest, Buvanekabahu [VII], as king at Kotte (1521-1557). Pararajasinha, was assigned Rayigama, Walallawiti and Pasyodun Korales, and Mayadunne was given Sitavaka, Denavaka and the four Korales
Sri Rajasimha (Manikkadavara) + Kiravali Princess = Vijayabahu VII (Kotte 1509-21)
Mayadunne (Sitavaka) 1521-81
Maha Tikiri Adahasin (circ.1552)
Suriya Bandara (brother of Rajasinghe I of Aitawaka)
Bandara (fell into Portuguese hands 1594)
Tennekoon Mudiyanse (The General Driven into exile, 1676) aka Tudugala Tennekoon Madduma Rala (Disava: Born circ:1610) possibly executed by Rajasinghe
Tudugala Tennekoon Madduma Rala aka Tudugala Madduma Appuhamy or Dom Pedro (Disava: Born circ:1610) possibly executed by Rajasinghe, Tudugala Appuhamy (Disava of Sabaragamuva in 1674-5), Tennekoon Appuhamy, was was the Disawe of Sabaragamuwa, was also executed by the King in 1766. + Koralalage Dona Anna de Brito (Kalutara circ:1662)
Tudugala Appuhamy b:circa 1640, killed (Disava of Sabaragamuva in 1674-5), Tennekoon Appuhamy, was was the Disawe of Sabaragamuwa, was also executed by the King in 1766. + Koralalage Dona Anna de Brito (Kalutara circ:1662, died circa 1680), sister of Kralalage Don Vintura de Brito, who died in 1721. Another member of the family, Nathalia, was married in 1696 to Mudaliyar Sameranayakage Bastian Perera.
Tudugalage Don Joan + Dissanayakage Dona Geomara of Talangama, m:circa 1690
Tudugalage Don Simon, Saffremadu settled in Mullegama + (m:20.1.1722) Dona Joanna Wettesinha
Tudugalage Don Louis, bap:27 Jan 1725 + Appolonia d/o Wijemane Mohottige Don Carloe, m:Aug 20 1755
Tudugalage Don Andries bap 18.9 1766 + Manamperiralalage Lamahamy, d/o Manamperiralalage Don Louis Appuhamy of Bandaramulla, in the Raigama Korale (m:1791)
Tudugalage Don Dinees + Haddagoda Kanangarage Dona Dominga (m:21.2.1814)
Tudugalage Helonis (or Telenis) b:13.12.1819, lived at Kittanpahuva + Atulugamage Trootje (Torochi) Silva Hamine, of Sedawatte, m:5.12.1840
---
1 Tudugalage Helonis (or Telenis) n. 1819 + Atulugamage Trootje (Torochi) Silva Hamine
    2  Tudugalage Muhandiram  Don Phillip Wijewardene b:10/8/1844, d:1903 (Descendent of King Parakramabahu VI of Kotte 1412-1467 from JHO Paulsz's book see Tudugala family tree)  (He abandoned his ancestral village of Tudugala near Kalutara, and migrated to his mothers village of Sedawatte near the banks of the Kelani river. Muhandiram Phillip Wijewardene was in the timber,bricks and sand trades.He prospered with the development of Colombo.He wisely invested his earnings into real estate in Colombo.At the turn of the centuary he took the name of Wijewardene, when he was conferred an honour by the British Colonial Governtment. He was the chief supplier to public works and the military.He died in 1903  He was a devoted Buddhist.) + Helena Dep Weerasinghe, d:10/11/1940 (d/o Arnolis Dep-Arrack Renter), She restored the Kelaniya Raja maha viharaya by getting the paintings done, which had been destroyed by the Portugese. She also donated 250 acres paddy field to the Kelaniya temple.
        3  Don Phillip Alexander Wijewardene b:1881 (Mohandiram 1906) (STC-Mutwal, Trustee of Sripada in 1930's) (Wijewardene & Co) + Neva Hulugalle Kumarihamy of Kurunegala
            4  Iranganie Wijewardene + Donald Joseph Wijewardene, d:1985
                5  Nelum Wijewardene + WT Ellawala
                5  Amari Wijewardene +
                    6  Chulodhara Wijewardene Wadugodapitiya + Pravir Samarasinghe
                        7  Medhira Samarasinghe
                    6  Dhananjali Wijewardene Wadugodapitiya + Michael Hues
            4  Cecil Wijewardene
            4  Lakshman Wijewardene d:2004 + Vasantha Maralande
                5  Haritha Wijewardene
                5  Salitha Wijewardene
                5  Shalini Wijewardene
            4  Chintha Wijewardene + Pratap Gooneratne
        3  Don Lewis(Louie) Wjewardene, b:1883, (STC-Mutwal, Trustee of Kirivehera in 1930's) + Muriel Godamunne Tikiri Kumarihamy.   (Don Louie Wijewardene did business in coconut and he and Don Phillip  Alexander Wijewardene was the owner's of Wijewardene & Co,which was  the largest coconut product exporters of Ceylon.)
            4  Donald Joseph Wijewardene (Lawyer by Profession) + Iranganie Wijewardene (President Ladies Kennel Association, Director Lakpahana.) (Donald Joseph Wijewardene was a benefactor of the Weheragodalla Sedawatte Temple, and he re-built the whole Vihare Mandiraya of Sedawatte Temple. He was also a benefactor of the Kelaniya Raja Maha Vihare, and all the copra for the perahera was supplied by Sedawatte Mills)
                5  Nelum Wijewardene + WT Ellawala (Chairman Ceylon Trading & CW Mackie- 2008)
                5  Amari Wijewardene + (Amari Wijewardene,Chairperson/Managing Director of Swadeshi Industrial Works Plc,Sedawatte Mills,Sedawatte Exports Ltd.Swadeshi is the pioneer manufacturer of (herbal)soaps in SL. She has sponsored the Aloka Pooja at Kelani Raja Maha Vihare and Kiriwehera Kataragama Devale, and the Maha Saman Devale in Ratnapura.Also sponsored the Aloka Pooja at Dambadeniya Raja Maha Vihare.She is the Pradana Dayikawa of the Kelaniya Vihare at present -2011)
                    6  Chulodhara Wadugodapitiya (Director of Swadeshi) +Pravir Samarasinghe (CEO Overseas Reality,Former President CIMA,Dy Chairman Industrial Association SL-2011)
                       7 Medhira Samarasinghe (Under 12 Tennis Champion-2011)
                    6  Dhananjali Wadugodapitiya (Phd Edinburgh)+ Michael Hues
            4  Ainsley Wijewardene + Amara Ratwatte d:2006 (d of Sir Kuda Ratwatte  and Lady Ratwatte)
               5  Upendra Wijewardene + Ranga Dhanapala
               5  Wasantha Wijewardene + Seetha Ganlath
               5  Indrani Wijewardene + Chandana Jayakody(Member Local Govt Council)
           4  Semitha Wijewardene + Victor Tennekoon (former Chief Justice)
        3  Don Albert Wijewardene b:1897 (STC-Mutwal)
        3  Don Edmund Wijewardene b:1888 (STC-Mutwal) (Dr DE) + Corin Amanda Jennings. They were both trained in Gynaecology
           4  Dr Phillip Revatha Wijewardene (1924-2010)Engineer (StcMtl)(Chancellor University of Moratuwa 2002-2007) + Seela
               5  Anoma Wijewardene + Arjun
               5  Roshini Wijewardene + Suresh
               5  Mandy Wijewardene
obit:
Wijewardene – Philip Revatha Loving husband of Seela, father of Anoma, Roshini and Mandy, father-in-law of Arjun and Suresh, grandfather of Rehan, Anisha and Francesca, brother of late Pamela Wijetunge, brother-in-law of Rohini de Mel.Cortage leaves A.F Raymond's Funeral Parlour on Thursday 19th August at 1.30 p.m.Cremation at General Cemetery, Kanatte at 2  00 p.m.

           4  Pamela Wijewardene (1923-2010) + Vernon Wijetunga (QC)b1920-d2007
              5  Varuna Wijetunga
              5  Susil Wijetunga
              5  Ramya Wijetunga
              5  Sathis Wijetunga
        3  Don Charles Wijewardene b:1893 (STC-Mutwal) + Wimala Wijewardene MP. Minister of Health 1959.Had interest in the Kelaniya temple and was a member of the Buddhist committee of inquiry.
          4   Padmini Wijewardene d:2003
          4  Rukmani Wijewardene + C Beligammana
          4  Ananda Wijewardene                                                                    
       3  Don Walter T Wijewardene (STC) 1894-1939 (Pioneer of the Duruthu perahera Kelaniya 1927) + Anula Kalyanawathi Wijesinghe.
          4  Upali Phillip Wijewardene 1938-1983  Millionare businessman. Died in a Lear jet plane crash over the seas of Malaysia. He produced Delta toffees, Unic Radios, UMC Mazda, Upali Fiat, Kandos chocolates, Soap, Upali News papers and had businesses in Malaysia. He was Basnayake Nilame Kelaniya temple. + Lakmini Ratwatte (3060). Upali Wijewardene Wikipedia http://en.wikipedia.org/wiki/Upali_Wijewardene
          4  Anoja Devi Wijewardene + Prof Stanley Wijesundera,  Vice Chancellor Colombo University (1979-1989). Assasinated by JVP in 1989   
              5 .Shalitha Wijesundera (Lawyer) (Chairman-NEDA-2008)
              5  Dr Rohan Wijesundera
              5  Deepthi Wijesundera
              5  Ramani Wijesundera
         4  Kalyani Devi Wijeywardene + Attygalle
              5  Dhammika Attygalle (Director Upali Group,Basnayake Nilame,Kelaniya Temple)
       3  Don Richard Wijewardene 1886-1950. (Established Lake House newspapers) (STC Mutwal)(Cambridge Uni UK) + Alice Gertrude Ruby Meedeniya
           4   Ranjith Wijewardene (Wijeya Publications) + Ranjini Senanayake
               5  Ruwan Wijewardene (b:1975) MP
               5  Sujan Wijewardene (Director Wijeya Group)
          4  Seewali Wijewardene (d:1997)
               5  Anil Wijewardene
          4  Rani Wijewardene (d May2007) benefactor of the Wehergodella ancient temple at Sedawatte, the Gangaramaya in Colombo and the Potgul Vihare in Heenetiyana Minuwangoda + George Gomes
               5  Janaki Gomes + Sena Wijewardena
               5  Rajitha Gomes
               5  Shalini Gomes + Hurulle
          4  Nalini Wijewardene + Esmond Wickremasinghe (3103)
               5  Ranil Wickremasinghe.(Prime Minister 1993/1994,2001-2004), Leader of the Opposition 1995-2000,2005-2011. PM 2016 (UNP) + Maithree Wickremasinghe.
              5  Shan Wickremasinghe (TNL TV)Chairman
          4  Kusuma Wijewardene (d2006) + Lal Gooneratne(d2004) (STC MtLavinia)
              5  Ayoma Gooneratne + Shanthi Wijesundere
              5  Arjun Gooneratne + Roshi Wijewardene
              5  Amitha Gooneratne + Cyanthi
              5  Arushi Gooneratne + Nihal Wadugodapitiya
        3  Harriot Wijewardene. B:1890 + Dr Arthur Seneviratne (eye specialist)  (3108)
           4  Nanda Seneviratne (Transport Manager Lake House ) + Clare Seneviratne died Aug 2007 (Editor Lanka Woman)
              5  Viraj Seneviratne + Dhakshina
           4  Kumari Seneviratne
       3  Agnes Helen Don Philip Wijewardene, b:1882, m:1905 + Justice Eugene Wilfred Jayewardene KC b:11-Jun-1874-d28-Nov-1932 at Kalutara. Educated at Royal College Colombo. Actg. Private Secretary to Justice Granier,1897.Called to the English bar, Inner Temple, 1908.President Law Students Union. Actg. DJ, Police Magistrate.Commissioner of Requests 1906  Member of the Legal Council of Education (1910-1911)
Member CMC 1920, Judge May 1928. Vice President SSC. Took a leading role in the revision and comparison of the new Criminal Procedure Code, 1881. D:28-Nov-1932 
          4  Jayawardene + Athukorale
          4  M M Jayawardene
          4  Harry Jayawardene 1916-1990, President SL Bar Association
          4  EW Jayawardene, K.C
             5  Prasanna Weerasinghe Jayawardene
          4  Corbert Jayawardene 1908-1981 (Later ordainedinto the Buddhist clergy as Sedawatte Dharmaruchi Thera)
          4  Dulci Jayawardene 1912-1985 President Colombo Ladies League for 16 years, member Soroptimist International Organisation,UK member Prisons Project, d:31-Dec-1985 + FA (Rick) Abeywardena (Crown Advocate Galle) (3025)
          4  RP Jayawardene+ Gladys
          4  Girlie Jayawardene + Danny Weeratunga
             5  Anil Weeratunga + Ayanthi Jayawardene
          4  Junias Richard Jayawardene (1906-1996) 
       Member CMC, Member State Council Kelaniya, MP Kelaniya,Minister Agriculture and Finance, Chief Opposition whip,Minister of State, MP Colombo South, Leader of Opposition, MP Colombo west, (UNP) Prime Minister 1977. (When President held Defence & Planning Ministries.) SL President 1978-1988.+ Elena Bandara Rupasinghe
            5  Ravi Jayawardene.+ Charmaine Vanderkoen (7001)
                6  Pradeep Jayawardene + Shan Corea
                6  Rukman Jayawardene
                6  Amirith Jayawardene
            5  2hd spouse of Ravi Jayawardene + Penny White (Air Hostess)
---
References:
Sinhalese families-PE Pieris 1911
H P Paulusz's Book
Chieftains of Ceylon 1936
Internet.
Prepared by :
Manjula de Livera.
Email- manjulafamily@yahoo.com.au
Dec 21 2011
---
The Upali I Knew — he was quite a guy
<![if !vml]>
<![endif]>
I returned to Sri Lanka in 1979 from an overseas posting and resumed duties at the Foreign Ministry. Shortly afterwards, President J. R. Jayewardene summoned me one morning. I had never met the President and was quite curious as to how he knew of my existence. Minutes after I met, and after the customary exchange of pleasantries, that mystery was solved when the President complimented me on a 'political report' on the 1978 elections in the Philippines, which I had copied to a friend, who was a minister in his government (the minister had shared it with the president).
As for the reason for his having summoned me, that too was explained. The President very quickly came to the point. He wanted me to assume duties as Secretary-General of the board of investment or the Greater Colombo Economic Commission, as it was then known. Perhaps some reports on the functioning of the Batan Export Processing Zone in the Philippines which I had sent my minister friend had also been shared with the president.
It was a presidential order and as such I had no option. The Free Trade Zone had been established through an Act of Parliament, which gave it wide-ranging powers-it was not only a Board of Investment but also the local authority for an area larger than Singapore. Even before I joined the institution I was aware that it was the pet hate of the Communists and their newspaper, the' Aththa', referred to the 'Free Trade Zone'- (I don't know why it was so called instead of calling it the Export Processing Zone-which it was) as the 'Wahal Kalapaya' or the slave zone. The newspapers were also full of reports about differences between the flamboyant Chairman and Director General Upali Wijewardena and a particular colleague of his. The 'tabloids' also referred to the Prime Minister and the Finance Minister 'gunning' for the chairman. In the circumstances one would understand my own reluctance to accept the appointment, but I was curtly informed that President Jayewardene had in fact made an order and that I had no option.
When I assumed duties Upali Wijewardena was away from the country. We had met once before socially but I did not in fact know him. When he returned from his overseas tour he sent for me — we shook hands and his first words were "you know I was never consulted about your appointment." My response was "neither was I; had I half a chance, I would not have come to the Sarpa Kalapaya. " He laughed (he shook all over when he had a good belly laugh). A friendship was made.
We worked out of the same floor — I was not only the Executive Secretary but he considered me to be his senior executive. Whenever he came to office after a break (he came in regularly when he was in the country — he travelled extensively, but kept in touch on the phone) he called me in for a 'briefing. On one of those occasions he asked me the following question: "What is the grade a student receives if he makes twenty five mistakes out of one hundred in an examination." The answer was of course obvious -"disto" I said. Upali responded, "Quite. So don't worry, take decisions — they would come to attention if you make mistakes of over 25% and over."
He had the strength to delegate. He also had the ability to spot talent and was never afraid to give others responsibility. I recall the case of a young man who looked so boyish that I thought him to be a fourth former, whereas he was a graduate of good U.S. university. Upali wanted to post him to an important overseas office-and some of us had reservations. But he said "no, let us try him out," and he certainly delivered.
Upali was considered by some as aloof and arrogant, but those of us who worked with him found him to be quite a genial person, fond of relating anecdotes. He seemed to always want an audience. I recall a particular anecdote, he had applied to Levers -for a single post of management trainee — and after many interviews only two survived and he was one of them. The CEO of Levers, a foreigner, had invited them to lunch at the Galle Face Hotel (according to Upali to test their table manners and social graces). The soup had been served and his competitor had tilted the soup plate towards himself to gather the last spoonfuls. "That was when I knew the job was mine," Upali said.
He never forgot his beginning. He would often recall that he did not have the capital to make his dream of becoming a dollar millionaire at age 40 come true. He would refer to the purchase of a "thachchi" toffee business and remember those who had helped him. One story bears relating. There were four or five persons around the table and someone made a derogatory reference to the late Mr. T. B. Ilangaratne - that was the first time I saw Upali angry - he almost assaulted the man. He said that Mr. Ilangaratne was eking out a bare existence, and that if he had made money in the manner that his political enemies made out. He would not have to depend on the charity of friends to survive.
Upali, the capitalist had many socialist friends—one of whom was Sarath Navana of the LSSP who edited the party paper.
He was of course quite ambitious and often made his ambitions known to his 'audience'. This I believe was the cause of his undoing. He made more enemies than friends, and his enemies were very powerful persons. The High Posts Committee of the House had not cleared the members of the GCEC even by the end of 1979 (they had been appointed in 1978). When the hearing finally came around, rivalries within the commission were not as bitter as they had once been, old wounds had been healed, and we expected the commission to have a smooth crossing. But that was not to be -Prime Minister Premadasa hated the very sight of Upali and, it was said by those present, tore into Upali from the word 'go' and had at one point referred to his retinue.
The SUN newspaper had reported a story of how Upali's helicopter had been used to take supporters to Kamburupitiya. Upali, who had no respect for Premadasa had snapped back "yes, of course we look after those who work for us and this is in the best feudal tradition - something which you will not know anything about". The High Posts Committee of course found Upali unsuitable. It was quite ironical that the High Posts Committee, which found a draftsman who had only 'relative merit' (he was an immediate relative of Premadasa), eminently suitable to be our Ambassador in Sweden, found Sri Lanka's foremost industrialist and venture capitalist, unsuitable to be head of the Board of Investment; and not because they perceived any conflict of interest.
What had indeed become a huge joke did not end there: the findings of the High Posts Committee created by President Jayewardene had absolutely no effect. President Jayewardene had told Upali that it was he who had appointed him and therefore there was no need to step down! Those were the days.
President J, though he stood by his kinsman on that occasion, let him down badly on another. The Kamburupitiya seat in Parliament had fallen vacant - and Upali, who hailed from Kamburupitiya staked a claim. He considered himself as the obvious choice. President Jayewardene had confirmed that he would be nominated. Upali summoned a special meeting of the Board and bid farewell but he was in for an absolute shock. God only knows as to who could have held a gun at JR's head, but he changed his mind and appointed instead a nonentity from Galle, whose name is now forgotten even by the people of Kamburupitiya. He was said to have been Mr. Premadasa's nominee.
Despite his other obligations as chairman of the ever expanding 'Upali Group' with big business interests in Malaysia, Singapore and the UK, he devoted much time to the GCEC. His style of management to which I have referred to earlier in another context was quite simple: "Don't bring problems to me. You are paid to take decisions. If you wish to consult me on solutions bring your solutions across and we can discuss them".
Investment promotion was an area in which he quite naturally revelled. I recall that our Senior Manager Investment Promotion then was the able and dynamic Rohan Weerasinghe now high up at Bartleets. Rohan did the legwork and the result had to be of the highest professional standards — Upali never compromised on standards when it came to work and never entertained excuses.
The promotion team led by Upali travelled to the US, the UK and Australia for presentations. Incidentally the chairman did not charge the government travelling expenses, though he travelled first class and stayed in suites in five star hotels. On a number of occasions questions were asked in parliament, on the instigation of his enemies, about the amounts spent on business trips. The answers always cited expenditure incurred on account of the rest of us and it resulted in the matter being brought to the attention of the president who put an end to the witch-hunt.
One happening in the US, on one of our trips, bears recalling. We were making our 'presentation' (to a major US company) when the president of the company dropped in to spend a few minutes with us and apologize for his inability to be present throughout. He glanced through the CV of Upali, and perhaps noting that Upali had big business interests in South East Asia, told him that their subsidiaries in South East Asia were having problems. He asked Upali a few questions and what happened next was quite amazing. The company president called in a number of his senior management teams to discuss his company's problems and when it was pointed out that we had a plane to catch to another destination that afternoon, the corporate boss insisted that we be his guests at an exclusive club for dinner that night and fly out to our next destination on his executive jet the following morning.
I recall another interesting incident in Australia in 1981. We had planned investment promotion meetings in Sydney and Melbourne. I had gone ahead of the others to Sydney . When Upali arrived the day before the workshop, I told him of a big horse race that was scheduled for that Saturday and suggested that we stay a day longer and watch it and move on to our next destination. "Why watch it only?", he asked. "No, I must try to have a horse running in it". His intention to buy a horse, I thought, was a joke. But two days later I was having breakfast when he walked in with his entourage and when I inquired where they had all been so early, he said: "We went to buy a horse". He had indeed bought a horse - 'My Lord Avon', was its name, and when I casually inquired as to the price paid his answer made me drop my cutlery — 149,000 Aussie dollars! He did things in style.
Upali consulted astrologers; at times he consulted them in a group. They had all told him that his horoscope was very good and that he would be president someday. I presume he believed in this. One afternoon his secretary, came into my office and informed me that the chairman was calling on his line from the Philippines and wanted to speak to me. I took the call. Upali was at the other end telling me that the astrologer's predictions had come true - he had been elected president of the World Export Processing Zones Association! There he was laughing his guts out. He was able to laugh at himself.
Upali was the only Sri Lankan known in international business circles and his reputation was high in East Asia. He had been featured in many well known magazines including Business Week. When the prestigious Fortune magazine featured him, that certainly meant that he had arrived. But his success was also his downfall. Sri Lankans, perhaps I should not insult the other ethnic groups by lumping them with us in this regard, the Sinhalese often hate to see another succeed. Upali had more than his fair share of enemies and he indeed made his own contribution to building a hate bank. They awaited his fall.
I shall conclude with a story told to me by the late Mervyn de Silva. He had interviewed Upali for a story he intended to send to a foreign magazine. Mervyn had completed his interview and was in the process of gathering up his papers when he had casually inquired as to whether he Upali had a sort of hero. Upali's answer had shocked him. He had put down his papers and sat down to do new article for his (Mervyn's) own magazine, the Lanka Guardian. Upali had said that his hero on the Sri Lanka political scene was S. W. R. D. Bandaranaike! Mervyn carried the story in the December 1991 issue of the Lanka Guardian and Upali was asked to resign days afterwards by his cousin the President, Mr. J. R. Jayewardene.
http://lakdiva.com/island/i000213/feature.htm#The+Upali+I+Knew+—+he+was+quite+a+guy
---
Native son with a world vision
Dr. Sivali H. Ratwatte
Chairman,
Upali Group of Companies.
Looking back over the last ten years which seems like only yesterday I remember most vividly my last conversation with Upali. I was then on a UN assignment in Nepal, that most beautiful but remote of Himalayan outposts, but was in Colombo when he rang from Kuala Lumpur. It was 9 p.m. and the day was Saturday, February 12.
"Will you be my campaign manager if I contest Kamburupitiya or Devinuwara", asked Upali. He was referring to the by-elections which were in the offing, the Members of Parliament of these seats among several others having resigned following their defeats at the Referendum the previous year.
I had no hesitation in answering "Yes".
Then our conversation on the long distance telephone went like this:
"Will the UN agree to give you leave?"
"I shall take no pay leave".
"If the UNP denies me nomination again I shall contest as an Independent. Would you still be willing?"
"In whatever way you hand in your nominations I will be there with you, Upali".
Then came a characteristic parting shot. "If the UN gives you the sack you can take over Upali Newspapers".
By 9 p.m. the next day, February 13, a day after to the hour, Upali was gone.
In the course of the same conversation he also asked me whether on Sunday morning I could meet the President and 'Pandit' (UNP Chairman N. G. P. Panditharatne) and see what prospects there were for him obtaining UNP nomination. But Pandit was on circuit in Uda Walawe (he was Chairman of the Mahaveli Authority) while President Jayewardene was at his country home at Kumbalwela.
Upali's last words were on index of how deeply politics had attracted him. The political bug had bitten him. JRJ was largely responsible for getting him interested in politics. Upali had always stood by 'Dickie Aiyyo' through thick and thin. In the lead up to the UNP's and JRJ's landslide victory in 1977 Upali's assistance was considerable.
Politics changed Upali completely. The Upali I knew in the sixties and early seventies cared little for Sri Lankan politics. His only contact with politicians was to obtain an import licence or seek approval for a new industry. There was no other way in that era of controls. I am not sure whether he knew of the intrigues and manipulation that goes with politics and deliberately kept away or whether he by instinct was not interested in this profession.
His interest was mainly business both locally and internationally. He had visions which were global in scale — a trading office in New York, presiding over board meetings in London and producing commodities in Malaysia.
He had a human side to his personality. Even in his business dealings the human side dominated. And initial grim determination to effect a deal was often tempered on hearing of how adversely it would affect some person or other.
One story related to me by Upatissa Hulugalle concerns the take-over of Ceylon Chocolates Ltd., which he acquired in 1970 from his maternal uncle Sarath Wijesinghe. The G. M. of the factory of Kundasale was a Burgher gentleman. This person coming to know of Upali's interest in CCL resented a "puppy" coming into to be his boss. He had remarked that he would buy Ceylon Sugar Co. (Upali's first industrial venture) "before that fellow could touch CCL". Of course there was no question as to who took over which.
After the purchase of CCL shares was completed Upali sent Murugiah and Upatissa to take charge of the factory and dispense with the services of the General Manager speedily, paying him what was statutorily required to be given only. However Upali received on emotional appeal in writing from the wife of the G.M. This moved him so much that he asked Murugiah to pay the man whatever he wanted and also to give him a car so that he could maintain his life-style as before.
He built two houses for two of his faithful who had worked with him in the difficult early days of business. These were built on land in an exclusive residential area gifted to him by his grandmother. Of these two, Peter Kudupitiya helped Upali to fit up the machinery for the production of sugar candy in his ancestral home at Sedawatte, his first business venture. Upali read the manual in English and translated into Sinhala and Peter, the first time he had set his eyes on such a machine, fitted up slowly but surely.
He ran his companies with a small staff but treated each and everyone like a family member. A wedding or a death of a relative of an employee saw him help lavishly.
In the late sixties and early seventies Upali was a frequent visitor at our home in Borella. He was reaching new heights in the international world of business. In Sri Lanka although it was an era of controls he had assembled a Japanese car until the government stopped it. Rodios were assembled and commodity trading in rubber was very remunerative. He had a small circle of friends who he associated with frequently while avoiding the cocktail circuit.
At least three times a week he would telephone us and ask whether he could drop in at home on his way home after office. He would normally work till late in office with a small staff. On days he dropped in at our residence he would leave office at 5.00 p.m. This was well known amongst his office staff too.
My wife knew what he liked to eat. A plate of sandwiches and a plate of cheese toast, or an oven-hot love cake would vanish in a few minutes. Talking with him was an experience. He would tell us how he handled his business problems. A solution seemed inevitable although the problem looked insurmountable at the beginning.
In those days and even much later Upali had a simple guideline. "To spend one rupee you must earn to rupees". In the early days he always travelled economy and stayed in cheap hotels. It was much later that he graduated to first class and the Hilton chain. This was long after he became Chairman of Grand Central Investment Holdings Ltd., a sterling company that owned 29,000 acres of tea and rubber land in Ceylon, as this country was known then. He enjoyed visiting estates and admiring the beautiful scenery from the luxury planters' bungalows. On one occasion I was holidaying with my family in the Castlereagh circuit bungalow when he paid a surprise visit from Colombo to take us to Adam's Peak Estate and admire the view of Sri Pada.
He liked to live comfortably but not in opulent luxury. He never drank alcohol but smoked incessantly puffing harder when he was thinking over a problem.
His contribution to the Greater Colombo Economic Commission as its virtual creator together with JRJ and Gamini Dissanayake are inestimable. JRJ made the correct decision in putting him at the helm because he was a businessman and knew how to talk to investors in the kind of language they understood. It is no secret that Motorola decided to pull out, after buying two acres of land in Katunayake for a project that would have given employment to 2,000 initially, because Upali had by then resigned as head of the G.C.E.C.
I regretted his entering into the foul game of politics because I knew of the opposition in his own party to him. He was feared by a few but wanted by many.
On one occasion when I was on a visit to Colombo he requested me to ask JRJ why he was delaying his appointment to the working committee of the party. JRJ told me, "let him disassociate himself from the newspapers and then I will appoint him". This Upali was not prepared to do and so it was.
I sometimes wonder whether it was not the frustration resulting from the denial of nomination of contest two by-elections at Kamburupitiya and Kalawana that pushed him into starting Upali Newspapers. Whatever that may be it was a very courageous step in the teeth of Opposition. He acknowledged the assistance given by Anandatissa de Alwis and Sarath Amunugama with of course JRJ's blessings. The latter obviously later regretted this decision.
The "Divaina" and "The Island" are his finest contributions to this country and it is upto those left behind to carry on these two independent dailies, so dearly loved by the right-thinking fair-minded people of this country.
Perhaps if he had not launched these newspapers he would still be amongst us.
"May he attain Nibbana"
This article first appeared in The Island of February 13, 1993
---
Sri Lankans of the century
Entrepreneur born to succeed...
by Sumadhu Weerawarne

Upali Wijewardene, until his death on 13 February, 1983, seemed one born for success. He lived his life with great panache - a whiz kid, sharp, quick-witted, and highly-skilled. Wijewardene, it is said, had divided his life into three parts: the first 20 years were for his education; the second, for business; and the third, for politics. In an interview, he even said that he would "be willing" to become president of Sri Lanka, some day. He was one without restraint, and he was confident to the extent of being egotistical. But, he carried off his act with consummate skill, wit, and perhaps, even an element of luck.
The first 20 years he spent educating himself. Its culmination was a degree in economics, with a second-class honours from Cambridge. On his return to Sri Lanka, he joined the Lever Brothers Group: but left two years later, under rather dour circumstances. Wijewardene, always purposeful, was setting his sights on higher climes. Of course it was a gamble. But to one who seemed to breeze through life, it was merely its due course. In 1963, at the age of 23, he bought a bankrupt confectionery factory. This was his first step into business. It was not smooth-sailing at first, but with a lot of lubricating in the form of a costly promotional contest, he got the project off the ground — and Delta toffees continue to this day.
Thereafter, Upali Air, the nation's first domestic airline, got off the ground - thanks to a 20-seater Twin Otter plane. This company has long ceased to exist. In 1970, he made his second inroad into the confectionery market. He acquired an interest in Ceylon Chocolates, another struggling sweet factory. In the following year, he bought what turned out be the key to his fortune: a Sri Lankan plantation company, with minor holdings in Malaysia. This gave the restless entrepreneur wings, when it seemed that his had been clipped by very stringent economic controls by the state. It also gave birth to two international companies, Upali Malaysia and Grand Central. Their earnings accounted for more that 80 per cent of the company's earnings at one time. His rivals and detractors were only too happy to accuse Wijewardene of wheeler-dealing. But he maintained that it was through exploitation of legal loopholes that he attained his success, and never through illegal means.
Upali Wijewardene's business web was a wide and intricate one, understood by him alone - one where the sibling companies mutually fed and fed, into each other. The Kandos chocolate ventures in Malaysia and Thailand were hugely successful. They concentrated on processing cocoa and selling it first to the European and later to the American market. He sold his produce to such companies as Nabisco, Mars, and Hershey's. He seemed to have a logic to what he did: he was hedging against losses at the primary estate level, by selling the processed product.
At a time when there were tight controls on imports, Wijewardene commenced his radio-assembling business. He set up the operation with Japanese help, and the profits he recouped were enormous. He had said: "We made as much money in a month, as we did in a year."
Wijewardene's acuity was displayed in other instances. He circumvented the high-tariff regime on automobiles by arranging assembling kits to be broken up and re-packed as auto spares. Since the latter attracted lower taxes, Wijewardene made a killing.
He was a pioneer, skilfully navigating in the waters of diversification. He was a path-breaker, largely because he was unafraid to gamble. His instincts were for high-risk, high-profit ventures. And, his business acumen saw him successfully through it all.
The two decades that he had set aside for business had brought him success. He was a millionaire before he was 40. His next goal was political success, about which he was very open. When Upali Newspapers was set up, it was speculated that he was laying the ground for his political career. He was viewed, in some quarters of the United National Party, as one seeking to bulldoze his way into politics. He was seen as a political protege of his cousin, the former president, J. R. Jayewardene. Of Upali, President Jayewardene wrote on his 15th death anniversary: "His success was due to various reasons. As far as I could understand, he had studied the methods adopted by modern businessmen throughout the world. He watched international market trends and took calculated risks on investment. To him, the sky was the limit in everything." He opined that his cousin had not agreed to contest the Kamburupitiya seat at the 1977 elections. "I thought it was a mistake, because he would then become a member of parliament and a minister and would have had a foot on the political ladder." But it was never to be. His only foray into public office was as Chairman of the Greater Colombo Economic Commission.
Upali Wijewardene's life ended in 1983: his plane carrying him to Colombo simply disappeared, leaving thousands to ponder on what may have been...
Lanka monthly digest
The story of the news print media in Sri Lanka
Beginnings
Sri Lanka has enjoyed, almost, two centuries of, supposedly free, news media which has been the main avenue of news available to the public until the recent influx of global and local television and satellite news networks. However, during this long passage of time, the print medium has been rather slow in adopting true western liberal concepts of free and open reporting sans the meddling and interference by politicians, families and people in high places. This is basically due to the fact that the news print media has always been controlled by a few bourgeoisie families, namely, the Wijewardene's, Senanayake's, Jayewardene's, Wickremasinghe's, and Bandaranaike's, who have wielded tremendous political power, having towed the line with the Colonial British rulers and taken over from them after their departure.
The oldest news print establishment in the Island, which was taken over and is now controlled by the State, has become the mouthpiece of the ruling elite in providing the public with a plethora of propaganda, day in and day out.
The recent arrival of television and the change in electronic media ownership laws have enabled a number of 'other' actors to enter the Sri Lankan media stage. The new entrants have, thus, been able to challenge the traditional and incestuous bourgeois hold on media control and propaganda.
Ceylon, as the island was then called, has a long history of media, dating back to the publication of the first Dutch Prayer Book in 1737 - under the patronage of Ceylon's Dutch Governor Gustaaf Willem Baron van Imhoff (1736-39), and the advent of the printed 'newspaper' by the British in 1833. By the 1920's the island nation was finding strength as a pioneer in Asian radio, with Radio Ceylon beaming in several languages to the south Asian subcontinent, yet was a relative latecomer to television by the time it was introduced to the island in the late 1970's. Throughout its long history Ceylon's media has remained predominantly in the hands of a select few – a bourgeoisie elite who have dominated media, politics and business.
The English Press: Colonial heritage and the bourgeoisie hijack
The English press in Sri Lanka dates back to The Colombo Journal published by the colony's British Governor – Robert Wilmot Horton on January 01, 1832. However the paper edited by George Lee the superintendent of the Government Press, and the Governor's private secretary and son-in-law Henry Tufnell, operated for only two years before it was closed down on December 31, 1833. While the government publicly claimed the closure was necessary for the development of newspapers in Ceylon, historians argue it was the paper's severe criticism of the British Government which led to its closure.
Former Sri Lankan Director of Archives, Harris de Silva (1984), suggests that the closure was actually ordered by the 'home government' who disapproved the Colonial administration's involvement in the local media.
Once unlocked however, the Pandora's box of news media was unleashed, and a veritable swag of newspapers were launched into the market – starting with the publication of the Independent, The Observer and Commercial Advertiser on February 4, 1834 (interestingly, the future independence date of Ceylon, in the year 1948), which later went on to become the Colombo Observer. The Observer, first edited by George Winter, was taken over by EJ Darley – one of the founders of the commercial company Darley, Butler and Company – a union which clearly portrays the early Capitalist's hunger for securing a stake in the burgeoning local media power base.
Within a few months of its inception, The Observer and Commercial Advertiser became an independent publication in 1835, under the editorship of the Irish doctor, Christopher Elliott, and emerged as a vocal critic of the administration. Elliott is credited with introducing two cornerstones of journalism – the notion of a free press and the media's role as a critic of the incumbent government. The newspaper, to date, continues to be published under the Observer mast, but is now, ironically, controlled by the government.
The Observer's criticism of the government was met with a rival publication, the Ceylon Chronicle sponsored by Governor Wilmot-Horton. The newspaper was edited by the archdeacon of Colombo, Samuel Owen Glennie, a clergyman close to the Horton administration, who was succeeded by George Lee, the former editor of the short-lived Colombo Journal. The Bishop of Colombo objected to Glennie's involvement in the newspaper and he was asked to resign from his position.
Despite the Governor's best efforts the Ceylon Chronicle ceased publication on September 5, 1838. Sir Wimot Horton himself was a regular contributor to the Colombo Journal printed at the government press. He is believed to have written under a number of pseudonyms including 'Timon, Liber and Pro bono publico'.
Numerous other newspapers including the Ceylon Chronicle and Ceylon Times, which later went on to become the Times of Ceylon, soon flooded the small newspaper market. It is documented that five English publications had emerged during the first half of the nineteenth century, namely, the Observer, the Ceylon Chronicle (1837-38), the Ceylon Herald (1840-46), the Ceylon Times (1846), and the Examiner (1846-1900). It is interesting to note that while newspapers in their contemporary context emerged in 1832 with the launching of the Colombo Journal, the Government Gazette, first published in 1802, had carried 'news' stories to fill the information void which existed during the first few decades of the nineteenth century. The Government Gazette's current format of publishing exclusively government notices can be traced back to the 1830's and 1840's, when it dropped its general news content with the emergence of proper commercial newspapers.
The subsequent turning point in Ceylon's English press is marked by Don Richard Wijewardene's (1886-1950) entry into media through his acquisition of The Ceylonese newspaper, which was published under the new, Ceylon Daily News, mast on January 3, 1918. The paper was initially started in 1913 by Sir Ponnambalam Ramanathan to promote his bid to the legislative council, and to counter media support given to his opponent, Dr H Marcus Fernando, through the Ceylon Morning Leader – a newspaper owned by the de Soysa family to which he was connected through marriage ties.
Wijewardene's biographer, Hulugalle (1960), states that there were four other English daily newspapers at the time when Wijewardene entered the newspaper market – the Times of Ceylon, the Observer, the Ceylon Morning Leader and the Ceylon Independent. Wijewardene later acquired the Observer in 1923.
DR Wijewardene's foray into the newspaper industry could be the singularly most important media event of the time, in that it placed the Wijewardene family at the epicenter of a politico-media dynasty which continues to hold both media and political power in contemporary Sri Lanka. In this context the Wijewardene family is closely related to the United National Party (UNP) through their family ties to the Senanayake, Jayawardene, Wickremasinghe, and even the Kotelawela families; and the Sri Lanka Freedom Party (SLFP) and the Bandaranaikes through a more distant marital link.
The Wijewardene family also continued to be involved in all three of the country's media institutions, namely the Lake House, the Upali Group and Wijeya Newspapers. The Lake House founded by Wijewardene has now been taken over by the government where it continues to be under the control of the political parties within the ruling elite. The Upali Group is owned by the family of DR Wijewardene's nephew Upali Wijewardene, while Wijeya Newspapers is owned by DR Wijewardene's son Ranjith. Thus all three English daily newspapers – the Daily News published by the Lake House, The Island published by the Upali group, and the Daily Mirror published by Wijeya Newspapers, remain in the hands of a selected number of bourgeoisie families related through blood or marriage.
In recent times we have seen the emergence of several new English newspapers owned and managed by various groups. The Morning Leader and the Sunday Leader has been the most vociferous of them all, hitting out hard at corruption, malpractice, and exposing the many antics of political fathers, sons and their goons that prevail abundantly in modern times. Other recently launched newspapers which are fast growing in popularity and are becoming widely read are Nation, and LakbimaNews.
---
A true Buddhist she loved all beings
Ranee Gomes
In the Samyutta Nikaye, it is stated,
"All creatures have to die. Life is but death,
And they shall fare according to their deeds,
Finding the fruit of merit and misdeeds;
infernal realms because of evil works,
Blissful rebirth for meritorious acts"
On May 15, I saw smoke emit from the tall crematorium chimney at the General Cemetery, Borella. I was then reminded of the above verse. A vast gathering of relations and friends, the rich and the poor, the educated and the not so educated had gathered there to pay their respects to the noble lady of Fifth Lane, Kollupitiya, who had at the ripe age of 84 years passed away the day before.
Ranee Gomes (nee Wijewardene), wife of the late George Gomes, and a daughter of the late Mr. and Mrs. D.R. Wijewardene, had, to use the Christian phrase, "passed through the pearly gates to Heaven".
It was my good fortune to be associated with her and her family in numerous ways, for over three decades, during which span of friendship we enjoyed each other's company. As Chairperson of the age-old A.B. Gomes Trust, a Buddhist charity, she for several years guided me as the Trust Secretary to investigate and prudently donate funds for deserving Buddhist charities.
Something that always touched her heart dearly was caring for animals and pets. In fact, about 70 years earlier, there was a group of Colombo ladies who called themselves the "Dumb Friends League", and two of the most active of them were the mother of Ranee Gomes and Lady A.E. de Silva. Ranee followed the footsteps of her mother. Annual donations to the Animal Welfare and Protection Society were made by the Gomes Trust, and also in her personal capacity.
She wouldn't sit down at the table each morning to enjoy her breakfast without doing a "small tour" of her large and beautiful garden, to personally feed the dogs, the cats, the fish in the garden pond, the squirrels and the birds.
Ranee Gomes was always full of life and laughter. She was a good housewife and mother of three - Janaki Wijewardene, Rajitha Gomes and Shalini Hurulle. She had a large number of grandchildren who entertained her.
One day, I happened to enquire what she recalled as the happiest events of her life. She recalled her grandmother, the devout Buddhist and philanthropist of Sedawatte, Helena Wijewardene offering to the Buddha Sasana and the Buddhists of the world, the new Viharage - she built at the historic Kelani Raja Maha Vihare, where wall murals of Solias Mendis are to be seen. Incidentally, it would interest readers to learn that Solias Mendis, stood on scaffoldings for 18 years to complete his master work.
Another event that took pride of place in her life was when as a schoolgirl though being a Buddhist, she was appointed the Head Girl of Bishop's College- a Christian institution. She was the first Buddhist to hold that office.
Ranee Gomes was the benefactor of the Wehergodella ancient temple at Sedawatte, the Gangaramaya in Colombo and the Potgul Vihare in Heenetiyana Minuwangoda.
After a brief illness she passed away on May 14.
Those who were dear to her know well what the Dhammapada states:
"Those who take refuge in the Buddha
Shall not go to the woeful doom.
After casting human life away
They will fill the world of heaven"
---
Sunday Times Feb 15, 1998
"My friend Upali"
Upali was not an othordox businessman who looked after the pennies
By Upatissa Hulugalle
The anniversary of Upali Wijewardene's disappearance comes five days before his birth anniversary. This year it is fifteen years since he disappeared and sixty years since his birth. I was fortunate in refusing to accompany him to Malaysia, actually he wanted me to go on with him to Australia, as the bloodstock company he administered, had bought a good racehorse there which he felt had good possibilities. After Upali's disappearance this horse Trissaro was the most outstanding horse in Australia for that year, but as it was a gelding, it had no stud value.
The Company had bought a Lear Jet which it could ill afford and I told him, if he buys this plane that he would go bankrupt, like two of his Wijewardene uncles, and though it had been about five months since the plane had been purchased, I had never been on it. I had been a regular passenger in the Citation which was a fourth of the Lear price.<![if !vml]>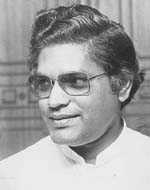 <![endif]>



Upali was a classmate of my younger brother Arjuna, first at Ladies College, Royal Prep. and at Royal College.
Even as a boy when others were playing cricket and rugger, Upali was talking of international business and of owning planes and race horses. He was a keen gentleman rider and even now his cousin Lal Gooneratne talks of how he brought him home unconscious after Upali had fallen on Galle Face Green.
I came to know him well, when Upali was still at Lever Bros. and we were both directors of Ceylon Paper Converters Ltd. a company controlled by Anton Wickremesinghe.
Since he knew our family and as my father had been of great support to the most successful of his father's brothers, and also was the brother in law of his father's eldest brother, he treated me as a friend and sounding pad and trusted person. I was never his employee but acted as an adviser.
As my father had written about the life and times of D.R. Wijewardene, he expected me to write his biography and often asked me whether I was taking notes. Later when he was successful he was like some feudal lord who looked after his minions and made it a point to find out my wants and see that they were looked after. In fact when he could not agree with his sisters of which portion of the 50 acres of land reform land he could have, instead of quarrelling with them, he asked them, to give whatever portion and he gave it to me. I arranged for my wife to buy it, as she had sold a property.
Upali was not an othordox businessman who looked after the pennies, but made use of opportunities. His father was more religious than business minded and spent a good deal of his short life in helping his mother Helena Wijewardene to rebuild the Kelaniya Temple. Thus the opportunistic Upali inherited the business instincts of his grandfather Don Philip Wijewardene who also died young after amassing a large fortune.
Upali was quite proud of his grandfather, who was a government contractor, and when comparing notes with Mark Bostock, while doing a large share deal, found that Mark's father was the Ports engineer building the port and Upali's grandfather was the contractor supplying the sand.
An interesting story which Upali related was how there was a conservancy strike in Colombo. The resourceful Governor of that time sent for the very successful Government contractor of the time and wanted him to help him to break the strike. Don Phillip obliged and helped the Governor by arranging for the disposal. His wife and eldest daughter were shy about it. Upali went on to make the tale more interesting by saying that at the end of the contract when he received his money he converted them into gold coins, put it in a gunny bag made a few holes and took it home to their Sedawatte Walauwa. While dragging it to the store room where the cash and gold were kept, a few coins dropped out of the bag and his daughter (later mother of J. R. Jayawardene) picked up the coins. Don Philip then remarked to his wife and daughter, The work I did, you did not approve, but the gold you seem to love."
This was typical of Upali who narrated this with large guffaws.
When Upali left Lever Brothers to start his own business, he bought the seeni bola business from another employee of Levers. It was then that by an advertisement that he first hired Murugiah who later became his Managing Director. From boiled sweets he went up market to toffees and from then on he cashed in on opportunities. His radio factory was a cash cow, as at the time he made used of his connection with the then Minister in charge of imports, and got his permits to import radio parts and assemble radios as there was a vast scarcity of radios, and his prices were not controlled while the competitor was controlled by the Minister of Industries. He had a short stint at assembling cars by importing spares. He was able to finance his Homagama complex with the advances he received on his cars. The land and the buildings of this complex was part of the Upali Motor Company.
His taking over of Ceylon Chocolates was also by a chance. When his uncle died, his cousin did not refuse to part with 25% of the shares which his uncle owned. His friend Lalith Kotelawela agreed to sell him 20% of the shares owned by Ceylon Insurance and by bidding for the balance 5% he got control. It was a similar story when he got control of the plantation companies, due to his friendship with Mark Bostock.
In the early seventies Upali, like any other entrepreneur, was stifled in Colombo as the Government was monopolizing business. Fortunately for Upali he knew Dr. N. M.Perera the then Minister of Finance and they had mutual admiration for each other. Dr. N. M. Perera was a pragmatist though to the world a strong socialist. I had met him in Singapore a few years earlier at Dr. Sepala Amarasuriya's residence and while travelling in the same car to the City centre, I mentioned that Lee Kuan Yew had made a great success of Singapore to which he agreed. Then when I said he was a communist, Dr. N. M'S words were. 'But now he is a realist'.
Thus Dr. N. M. Perera, the realist, found that capitalist Upali, had no place in socialist Sri Lanka and suggested he go international. Socialist Sri Lanka was not officially helping a capitalist to try to use his entrepreneurial skills abroad and Upali had to fend for himself.
I was on a midnight flight to Singapore and I found Upali was on the same flight. I was staying with my friend Gamini Salpitikorala a very successful Insurance executive in Singapore and Upali was staying close by at the Singapore Hilton.
Gamini left for the U. S. and left his Mecedes for our use. Upali and I used to drive every evening into Malayasia and spent time, going into shops trying to find out what were the business possiblities.
I remember Upali corresponding with young articled clerk of Satchitananda, Schockman & Wijeratne, Chartered Accountants, and Upali telling me he was a bright boy who he hopes will join Upali Group when he finishes his articles. He should be able to be the next chairman after Murugiah.
In hindsight it was a strange coincidence that this youngster was Nimal Welgama who later obliged Upali and joined the Group but after a couple of years had to take his father's transport business. May be Upali had a special closeness to Nimal as his people came from Matugama and the original Tudugala Wijewardenes also came from Matugama.
During this time Upali confided in me what his plans were. He seemed to be fairly sure of dying before he reached 45 years. There was a possiblity of his drowning and he told us that his mother was careful about his bathing in rivers or the sea.
He felt with his business acumen he could build a business empire. His intention was to see that the Corporate structure which he built would have no personal ownership and it would be run by his executives. After building this conglomerate he was to retire at forty and then give up the world and meditate under a Bo tree. The Sri Lankan Companies were to be sold to a Company owned by the international holding company.
Murugiah his deputy would take over and in turn retire before fifty and the next man was to be the C. E. O. The companies would have had no shareholders to service, the excess profits could be used for charitable purposes. There were not too many opportunities in Singapore to make a quick take off as both the Chinese and British corporate raiders were operating. He bought a small Chocolate plant in Singapore and declared it under an amnesty and when it folded up he brought back the proceeds into Sri Lanka.
He never wanted to give up his Sri Lankan residence and I had to become a non resident to act on behalf of the International interests till the legal corporate entity was structured . It meant being out of Sri Lanka for one year and spending more than 185 days a year abroad. I continued this arrangement till a few years after his disappearance He decided Malaysia was a place with opportunities and decided to go there.
Dr. Sepala Amarasuriya gave us an introduction to a lawyer in Kuala Lumpur, S. M. Ratnam. Ratnam whose father came from Jaffna had gone back to Ceylon and had been at Law College before completing his Bar examinations in England. He had found Ceylon a very pleasant place and both of them took to each other with mutual trust very easily. He was the brother of the eminent Professor Ratnam.
Ratnam arranged to set up the original Upali companies in Malayasia where Upali and Murugiah had the powers of attorney but no ownership, and from there on, lawyers in Hongkong on the instruction and funding from these companies were able to build up a structure in which Upali and Murugiah could operate globally free of Sri Lanken stringent exchange control and the very high tax net which Dr. N. M. Perera introduced where there was a ceiling on income. Upali was able to get the backing for international bankers in his quest for going global.
The international operations were now growing and might have become a global conglomerate until an incident took place in London.
Upali was married and had taken his wife to London. He went for the Epsom Derby and few days later to Cambridge and showed his old College and saw the horses at Newmarket.
\The next day it appeared that Upali had a stroke and with great difficulty he had to be convinced to go to hospital Dr. Kiriella was a consultant surgeon at St. Helens, and he came over to the Hilton and took him over to his hospital.
There the consultant physician decided that it was best that Upali be entered to Atkinson Morely Hospital which specialised in brain problems it was found that there had been a caratoid block and it was best to live with this impairment as his other caratoid was normal and the blood vessels had adjusted and sufficient blood was flowing to the brain.
However after this set back, his desire for making money was gone. Actually he told me "Upay, no more business only pleasure". As a business man he never rubbed against any politician, as it would have affected his business. He helped all political parties with cash and even individuals contesting were given cash contributions. After his illness he started attacking two of the most important ministers in the J. R. Jayawardene cabinet. The reason may be they opposed J. R. Jayawardene's intention to make Upali take William Gopallawa's place as president, even for a short time. Upali would have liked to go to Royal Ascot and may be be seen with the Queen, another racing enthusiast. His investments after his illness were all done for personal reasons not as businesses to make profits. The Wijewardene's were press barons so he started a newspaper. He had worked at Levre Brothers and he decided to manufacture soap.
His childhood dreams of owning aeroplanes made him start an aviation Company. From a low profile shrewd business man, he changed to have a high profile. He first bought a helicopter and his international Company bought a Citation, and later the international company bought a Lear Jet which it could ill-afford and all his own possessions and that of his international corporate structure were mortgaged to buy this. He was no longer interested in his business affairs.
He concentrated on his work as the Director - General of the Greater Colombo Economic Commission where he used his knowledge and experience to make a success. He was responsible for structuring the Free Trade zone as some of J. R. Jaywardene's ideas regarding a replica of Singapore was not practical. Many people who worked with him in setting up the zone had a very high regard for his ability, ideas and thinking.
At this stage, even with his close relationship with the President he found that even ordinary Members of Parliament had more access to power than himself.
He tried hard to get into politics and obviously people like Premadasa opposed the president giving him an entry. He was friendly with Gamini Dissanayake but Gamini was very cynical about Upali's approach.
Meanwhile the business empire was crumbling and deep in debt. The loans of his international Companies were accumulating interest and in Sri Lanka, People's Bank which had really built up Upali had several cases against his companies for non payment of loans. It was obvious that if he was not interested in business he should have sold out.
When he disappeared, there was a cloud of bankruptcy hanging over his empire. Fortunately for the people left to thread the pieces together, there was time of seven years before he could be declared dead. Murugiah who was a partner in the Internatinal Corporate structure had the power of attorney, like Upali himself, of the Holding Company abroad. He also had the Power of Attorney in Sri Lanka. The localpower of Attorney he gave Mrs Wijewardane as a substituted power of Attorney.
Murugiah remained abroad and saved the international corporate entity from bankruptcy and liquidated the Companies abroad.
The executives here instructed Mrs. Wijewardene to act to save the assets in Sri Lanka which belonged to Upali. Mrs. Wijewardene did not know anything about the business as Upali had never shared his business life with her. However when Upali got interested in politics, she was able to guide him and the newspaper much to his admiration.
Her father, Dr. Sivali Ratwatte gave up a lucrative post with the U. N. and came back to Sri Lanka and was able to help through his contacts with the powers of the time to stave off a foreclosure by the Peoples Bank and eventual bankruptcy.
---
Daily Mirror - APPRECIATIONS - Feb 6 2004
Phillip Upali Wijewardane
His patriotic and leadership qualities are rare

It was almost 23 years ago on February 13,1983 the well-known business tycoon/entrepreneur the late Phillip Upali Wijewardane disappeared in mid air on his way home from Malaysia in his own Lear Jet.

His body or parts of his plane could not be found when the plane fell into the Indian Ocean on a very well planned conspiratorial air blast on a remote control from another plane which was following the Lear Jet. Even today it is a mystery.

The late Phillip Upali Wijewardane was the son of an illustrious father, the late Walter Wijewardane who was the Chief Basnayake Nilame of the Kelaniya Raja Maha Viharaya, Sedawatte Walawwe, Kelaniya who were descendants of Uva Rala Bandara who shifted to Tudugala/Kalutara district and subsequently to Kelaniya.

His grandmother Helena Dep Wijewardene was responsible for the restoration of the Kelaniya Raja Maha Viharaya which was destroyed by Portuguese invaders in 1505 AD. The late Anula Wijesinghe Wijewardane of Godawakande Walawwe of Kamburupitiya was his mother.

Upali Wijewardane as he was known attended Royal College, Colombo 7. He excelled in his studies, sports and horse riding which was his hobby. He showed his leadership qualities as a student. He entered Cambridge University London for higher studies with his cousin Mr. Ranjit Wijewardane who is the son of the founder of the Lake House Group of Newspapers the late D.R. Wijewardane. Both cousins excelled in their studies and sports at the university of Cambridge.

Upali Wijewardane successful ly passed his (Msc)Economics with honours and returned to Ceylon and joined as a management trainee to a very outstanding English Company Lever Brothers Ltd., He learnt all the ropes of the business and assimilated the business expertise through is tough and disciplined training which was appreciated by the Directors of Lever Brothers Ltd., who were Englishmen then.

However he had a tiff with one of the Directors of the Company, after which he went on leave to attend to one of his sister's wedding. He did this after finishing all requisite reports and placing them on the director's table

When he returned to his desk after his leave, the Managing Director found fault with him for not submitting the reports to him. He went to his room directly and explained matters as clearly as possible. Subsequently, he was able to trace the reports and documents which were under his office tray. He pulled them out threw it at the face of the director and went home.

His mother noticed the problem of the son and informed her brother the late Senator Sarath Chandrasena Wijesinghe who was the Minister of Nationalized Services under the government of Mrs. Sirimavo R.D. Bandaranaike in 1960/1965.

The European Managing Director of Lever Brothers Ltd. left Ceylon in shame. With his excellent background and academic qualifications he started a micro enterprise to manufacture sweets and toffees in his ancestral home at Kelaniya/Sedawatte Walawwe. His recipies for manufacturing toffees and sweets were got from his mother.

He learnt by trial and error . He manufactured toffee and a brand name 'Delta' was given by his Advertising and Marketing Agents, De Alwis Advertising Services Pte Ltd., owned by the then Member of Parliament for Kotte the late Ananda Tissa de Alwis who took Upali Wijewardane in his own car visiting all Primary Colleges and schools in the Colombo city at noon.

Ananda Tissa de Alwis by observing the school children told Upali, this is your market which he developed for marketing extensively in the entire island. He got a loan of 1 million from the Peoples' Bank to expand his business.

The general manager of the Peoples' Bank encouraged Upali Wijewardane. Upali took his advice and diversified into various business/industries, motor cars, radio/televisions, home appliances, travel/tourism, air lines, plantations, gems mining, printing/publishing and newspapers and thereby he became a Multi Billionaire.

His business expanded overseas to Malaysia, Singapore, Japan, Australia, Europe, UK, USA, Canada and several other countries which brought in foreign exchange to his motherland.

The late President J.R. Jayewardane, appointed Upali Wijewardane as Chairman/Director General of the Greater Colombo Economic Commission which was subsequently renamed as Board of Investments.

He was responsible for developing Free Trade Zones in Katunayake, Biyagama and Koggala.

He was keen that Buddhism lasts from age to age in the Island. His patriotism and leadership qualities are very rare. May he born among us till he achieves Nibbana in his journey in Sansare.

Capt. (Rtd) L.B. Lanka (Wilbawe) Jayaratne,
Mrs. Iranganidevi Seneviratne Bandara Jayaratne
---
Dr. Rewatha (Ray) Wijewardene
Daily News Aug 22 2010
Death of Dr Ray Wijewardena
Dr. Ray Wijewardane, popularly remembered in Sri lanka for the introduction of Dendro Power, passed away yesterday after a brief illness. A onetime Chancellor of University of Moratuwa he is recognized for his accomplishment in the field of engineering.
He was an old boy of S Thomas' College, Mount Lavinia and a Cambridge University (UK) and graduate in three engineering disciplines - Aviation Engineering, Mechanical Engineering and Agricultural Engineering. He had a Master's degree in Business Administration from the Harvard Business School as well.
He was conferred the title of Vidya-Jyothi in 1988 and an a honorary degree of doctor of Science from the University of Moratuwa in 1994 in recognition of his contributions to Science and Technology.
He was appointed Head of Agricultural Engineering at the Agricultural Engineering Research and Development Institute in Malaysia, a Research Institute set up by the Food and Agriculture Organization of the United Nations.
He served in this post during the yeas 1972 and 1973. From 1974 to 1980, he served as head of the Agricultural Engineering and Research Division of the International Institute of Tropical Agriculture based in Nigeria.
In Sri Lanka he served in the Tea Research Board Chairman, and also as a member, Mahaweli Authority, Coconut development Authority, Coconut Research Board, Presidential Task Force on Science and Technology, and Arthur C. Clarke Centre for Modern Technologies.
----
Sunday Island Aug 22 2010
Death of Dr. Rewatha (Ray) Wijewardene
A Legend fades into another "plane"
August 21, 2010, 12:00 pm
Arjuna Hulugalle
A group of close friends of Dr Ray Wijewardene, P. G. Joseph, Parakrama Jayasinghe and Nalin de Silva and I were together when we got the sad news of his death.
We were meeting Edgar Gunatunge, Chairman of the Tokyo Cement, the joint Managing Director, Kuni Yanagihara, and another senior Executive of the organization, Salinda Kandapola. Also present at the meeting was a Consultant from the Ex Corporation of Japan, Ms Ai Kawamura, who is working with the Carbon Fund of the Ministry of Environment.
There was instant sadness. A legend had passed into another plane. They all remembered what was on the door at Ray's study. "Old pilots never die, they just go to another plane", which depicted his passion for flying, particularly as a pilot in aircraft which he built.
I am prefacing this tribute thus because the subject of our group discussion in the morning of the 18th August, when the news broke, was organizing the growing of Gliricidia Sepium in the villages, and particularly in the villages of the war ravaged Northern Province.
Gliricidia Sepium was so close to Ray's heart and he would have followed the discussions, I am certain, with great intent from where ever he is today.
P. G. Joseph and Ray Wijewardene were the fathers of the Gliricidia mission and Dendro Energy and that initiative started well over two decades back. Parakrama Jayasinghe is carrying on the work Ray started as President of the Bio Energy Association. Former Air Force Group Captain Nalin de Silva is helping growers to find markets, and Ms Kawamura got the inspiration to start her work in Sri Lanka after Ray convinced her about the significance of Gliricidia.
An extra-ordinary human being
What made Ray so special? One was his humility. Second were his human qualities. To me, he was religious in an extraordinary way. His Buddhism grew from the family of his father. His lessons on Christianity were from his mother. Veneered by years of the best education a person can aspire to, he had a confidence to take the best of all religions.
Philosophically speaking, Man remained central to all his dealings and thought processes. Even as an Engineer he did not look merely for material production and for the creation and acquisition of wealth. All action had to serve humanity in the long term. Sustainability was the essence of any proposal. This is the underlining logic that prompted him to spend so much of his time during his last years to promote Gliricidia Sepium as a resource to be developed in Sri Lanka.
Intelligence would have taught him that Gliricidia would not be fully recognised in his life time. Wisdom and Reason, which was the basis of his existence, made him think otherwise. Ray was an exceptional human being. A great leader and in my view one of the most outstanding thinkers Sri Lanka ever produced.
Landmaster tractor
One of his early achievements was developing the Landmaster two wheeled tractor, which he pioneered in Nottingham in 1955.
300,000 units of this model were sold in 27 countries including Sri Lanka, United Kingdom, Australia, Philippines, Malaysia and Japan in the nineteen sixties, and the nineteen seventies. Subsequent to that, the manufacturing company rewarded him with a grant to study at Harvard.
Ray had many anecdotes of his period at Harvard, but one which stands out is about R. Buckminster Fuller, a foremost American thinker of the twentieth century, who Ray accepted as his mentor, posing the rider to him whether he has really achieved anything by "inventing" and developing the Landmaster to replace the Buffaloes in the paddy fields of South Asia. Neither Buckminster Fuller nor Ray was sure of the answer.
Making the best of opportunities
Ray was born to an affluent family but money remained all his life a means to an end. His approach to money reflected what Buckminster Fuller had written on the subject:
"Those who make money with money keep it scarce. Money is not wealth. Wealth is the accomplished technological ability to protect, nurture, support, and accommodate all growful needs of life. Money is only an expediency-adopted means of inter-exchanging disparately sized, non-equatable items of wealth."
Maybe Ray could not have said this if he came from a different background. He accepted the opportunities which his heritage furnished him with. He seemed fired with an obligation to give of himself more than others could, because he was endowed with so much. Posterity will certainly salute him for taking the challenge and never shunning from his duties.
Commitment for a cause
I remember when he made a presentation to me, in his study, on the importance of Gliricidia Sepium, some years back, he told me he had already made several thousand presentations to other audiences of individuals or groups on the same subject. Most of them could very well have been in his study.
What struck me was the commitment and passion he had with regard to the subject. At the early stages, when Ray and Joseph promoted Gliricidia as an alternative source of energy, as an alternative to artificial fertilizer and as a fodder for cattle and goats, there was so much derisive condemnation. To the average person they could not visualize this plant replacing the cheap fossil fuels and fertilizers we were importing. Today, however, thousands of tons of Gliricidia are being grown and marketed.
This will exponentially grow in volume once the government wakes up and reduces or eliminates its massive subsidy for furnace oil and artificial fertilizer, which is having such a debilitating effect on the Economy. Sri Lanka will then truly realize Ray's dream of growing its own energy and its own fertilizer.
Ray's hallmark was to stimulate thinking and to help his listeners to unfold their dormant creative powers. Practical action was foremost in all his studies. His interest in rice farming meant physically stepping into the paddy fields of the Kalawewa area. Without actually doing that oneself, one could not really get into the skin of a problem was a fundamental principle.
One of Ray's most endearing qualities was that he promoted people who he thought had talent. I remember Dr A.C.Viswalingam telling me that Ray had met him in Japan where Viswalingam had acted as an interpreter for him. Ray saw at once the talent and potential. Immediately, after his return to Colombo, he drove to Kandy and urged Viswalingam's father to send him to Cambridge. After getting the paternal assent, he then wrote to his friend, the Senior Tutor at Peterhouse, Professor Pringle recommending his candidate. Ray was once again proved right in his choice and his act of helping a bright young student who later went on to get a Doctorate from the University.
The most outstanding coconut planter
To Coconut planters, including the Coconut Cultivation Board and the Coconut Research Institute, he was the greatest coconut planter the country had ever produced. His estate at Kakkapaliya, called Kohomba, grew year in and year out the highest number of nuts in the country.
The figure exceeded 7,000 nuts. This is in contrast to the national average of 2,500 nuts.
In the last decade, Urea was substituted with Gliricidia, grown on the land with a mixture of Sun Flowers and its composted leaves and branches crushed for phosphorous, potassium and nitrogen. To this, he added local dolomite to get the calcium carbonate and magnesium. It was also fascinating to inspect his Dendro plant fired with Gliricidia fuel pumping water from his large rain water reservoir. From here, a network of pipes conveyed the drip irrigation to the coconut trees. Alley cropping with Gliricidia was a highlight of his plantation. The Gliricidia plants sequestered nitrogen and enriched the soil to support the coconut with added fertility.
Internationally recognized, Ray's return to Sri Lanka
Dr Mohamed A Saleem, an agronomist and Environmental Engineer who returned to Sri Lanka after 34 years abroad, and is today promoting Gliricidia through the Mahatma Gandhi Centre, did his doctoral dissertation in association with the Agricultural Engineering and Research Division of the International Institute of Tropical Agriculture based in Nigeria in the 1970s. Ray was the Head of this Institution. Dr Saleem reminiscing on that period said Ray made his name by guiding a team developing technologies for low tillage agriculture. To promote this he flew the length and breadth of Nigeria, piloting his own plane. His innovative thinking and practices were internationally acclaimed.
Back from his Odyssey abroad to Sri Lanka in the Nineteen Eighties, Ray served in the Tea Research Board as Chairman, and also as a member of the Mahaweli Authority, Coconut Development Authority, Coconut Research Board, Presidential Task Force on Science and Technology, and Arthur C. Clarke Centre for Modern Technologies and finally as Chancellor of the University of Moratuwa.
Many a time, I urged Ray to write his biography or arrange for someone to write it. I am not aware whether anyone took it on. It is however, an important book that has to be written. The biographer will have a treasure of his anecdotes and achievements from transcontinental flights by self made aircraft to riding with the Pashtans in Afghanistan on white horses in the company of his maternal uncle to the discovery of the value of the Murunga tree for water purification. Of course his passion for flying and his achievements as an oarsman and yachtsman will adorn this exceptional story.
No article on Ray can be complete without a word on his father Don Edmund (Dr D.E.) Wijewardene and his mother Corin Amanda. They were both trained in Gynaecology. Many including the writer are grateful that Dr D.E. delivered them at birth.
Ray's study at home resembled a pilot's cabin. His home, though in the heart of Colombo is from an age gone by. It has grace and simple elegance. It has space and a spirit of generosity and magnanimity. Ray lived a full life here and completed his eighty odd years in the devoted care of his life's companion, Seela, who he had chosen in the Kindergarten at Ladies College. She gave him the happiest home he needed; a home to accomplish his life's work. What more could a man have wished for?
<![if !vml]>
<![endif]>