Greenland
Greenland
We are always ready welcome volunteers for the exciting WorldGenWeb project. One of the openings is as a Country Coordinator for this country. If you have an interest in helping us develope this valuable resource by volunteering to serve as the Country Coordinator, please contact the Regional Coordinator.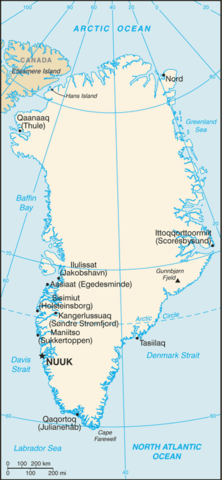 Welcome to the GreenlandGenWeb Project homepage. This site is part of the WorldGenWeb Project and is the local resource page for research in Greenland.
If you need assistance with this website, please contact me. Please do not send me your queries.
The GreenlandGenWeb Project is in need of volunteers to host query boards, provide look-up resources, transcribe data, help with archival research and more. If you might be interested in volunteering please contact me.
Greenland is an autonomous constituent country within the Kingdom of Denmark.
Although it is largely unpopulated, Greenland abolished its three counties in 2009 and has since been divided into four territories known as "municipalities": Sermersooq ("Much Ice") around the capital Nuuk; Kujalleq ("South") around Cape Farewell; Qeqqata ("Centre") north of the capital along the Davis Strait; and Qaasuitsup ("Darkness") in the northwest. The northeast of the island composes the unincorporated Northeast Greenland National Park. Thule Air Base is also unincorporated, an enclave within Qaasuitsup municipality administered by the United States Air Force. (Source - Wikipedia)
Links
Created by SJL Creations, see more on http://www.sjlcreations.be
Resources
There are no articles in this category. If subcategories display on this page, they may have articles.