Azerbaijan
Azerbaijan
We are always ready welcome volunteers for the exciting WorldGenWeb project. One of the openings is as a Country Coordinator for this country. If you have an interest in helping us develope this valuable resource by volunteering to serve as the Country Coordinator, please contact the Regional Coordinator.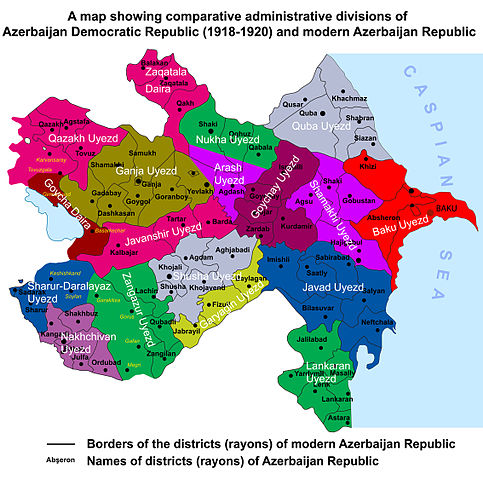 Welcome to the AzerbaijanGenWeb Project homepage. This site is part of the WorldGenWeb Project and is the local resource page for research in Azerbaijan.
If you need assistance with this website, please contact me. Please do not send me your queries.
The AzerbijanGenWeb Project is in need of volunteers to host query boards, provide look-up resources, transcribe data, help with archival research and more. If you might be interested in volunteering please contact me.
General information about Azerbaijan
Azerbaijan is a country in the Caucasus region of Eurasia. It is bounded by Caspian Sea to the east, Russia's Daghestan region to the north, Georgia to the north-west, Armenia and Turkey to the south-west, and Iran to the south. Azerbaijan is a home to various ethnicities, majority of which are Azerbaijani, a Turkic ethnic group which numbers close to 9 million in the independent Republic of Azerbaijan.
During Median and Persian rule, many Caucasian Albanians adopted Zoroastrianism and then switched to Christianity prior to coming of Muslim Arabs and more importantly Muslim Turks. The Turkic tribes are believed to have arrived as small bands of ghazis whose conquests led to the Turkification of the population as largely native Caucasian and Iranian tribes adopted the Turkic language of the Oghuz and converted to Islam over a period of several hundred years.
Following the Russo-Persian Wars of 1813 and 1828, the Qajar Empire was forced to cede all its Caucasian territories to the Russian Empire and the treaties of Gulistan in 1813 and Turkmenchay in 1828 finalized the borders between Czarist Russia and Qajar Iran. The area to the North of the river Aras, among which the territory of the contemporary republic of Azerbaijan were Iranian territory until they were occupied by Russia in the course of the 19th century.Under the Treaty of Turkmenchay, Qajar Iran recognized Russian sovereignty over the Erivan Khanate, the Nakhchivan Khanate and the remainder of the Lankaran Khanate, comprising the last parts of the soil of the modern-day Azerbaijanj Republic that were still in Iranian hands.
After more than 80 years of being under the Russian Empire in the Caucasus, the Azerbaijan Democratic Republic was established in 1918. The state was invaded by Soviet forces in 1920 and remained under Soviet rule until the collapse of the Soviet Union in 1991, after which the modern-day Republic got founded. (Wikipedia)

Resources
Links
Created by SJL Creations, see more on http://www.sjlcreations.be
There are no articles in this category. If subcategories display on this page, they may have articles.