Sri Lanka Sinhala Family Genealogy
Wijesinghe Family #3190
1  Aberan Wijesinghe  (Arachchi of Nugawela Kandy)(b approx 1730) + Dona Gimara Seneviratne (d/o Don Bastian Seneviratne)
   2  Don Andris de Silva Wijesinghe + Halini Abeywickreme (and had 6 daughters and 2 sons)
       3  Rev Don Cornelis Wijesinghe + Ekanayake (d of Mudaliyar Ekanayake)
       3  2nd spouse of Rev Don Cornelis Wijesinghe (First Wesleyan Methodist Minister)(1793-1861) + Thuring  (d/o Capt Thuring)(This may be Jan Hendrick Thuring who arrived in Ceylon on 20/11/1786 Holland –Ceylon ship Zeeland via Cape of Good Hope.)(they had 3 sons and 5 daughters)
        4   Louis Corneille  Wijesinghe (b19/9/1834-d25/3/1895) Kachcherie Mudaliyar Ratnapura + (1) Ekanayake (she died young)(d of Ekanayake Korale Mahatmaya Atakalan Korale)
(LC Wijesinghe translated the Mahawamsa to English.He was educated at Colombo Acadamy.He worked in Ratnapura, Matale  and Interpreter Police Court Matara. He was the President of the Buddhist Defence Committee.He was a associate of Sumangala Thera and Colonal Olcott. He built a house in Ratnapura,now called Mollamure Walauwa. And when he fell ill he came to his father's house called Hill House Gardens in Dehiwela.)
           5  Wijesinghe
        4   2nd spouse of Louis Corneille  Wijesinghe (1834-1895) + Angeltina (Alice) Francina Kuruppu (1851-1942) (d of Hendrick  Kuruppu ,Kuruppu Rate Mahatmaya of Kuruppu Walauwa Panadura)
          5   Lea Wijesinghe
         5    Harry Wijesinghe
         5    Vincent Wijesinghe
         5    Leela Wijesinghe
         5    Vinishia Wijesinghe
         5   Mallika Wijesinghe
     4  Andrew Wijesinghe + Emily Maraya
        5  Agatha Wijesinghe (1877-1923) +Edwin Edirisinghe
           6  Vivette Edirisinghe +Bertram Edirisinghe
             7  Jhon Edirisinghe
          6  Blanche Edirisinghe + Arthur Serasinghe
          6  Alma Edirisinghe
          6  Herbert Edirisinghe
          6  Julias Bertram Edirisinghe + Lotus Wijesinghe
             7  Jhon Edirisinghe
          6  Eleonar Edirisinghe + Henry Ratnayake
          6  Constance Edirisinghe + SLA Ratnayake
            7  Elmo Ratnayake.
           7  Malini Ratnayake
           7  Lasantha Ratnayake
           7  Arlene Ratnayake
           7  Lal Ratnayake
          7  Shirani Ratnayake
 2  Abraham de Silva Wijesinghe (Salman ?)(b approx 1750)(Commander Mudaliyar Galle) + Anna Ferdinandez Obeyesekere (d of Mudaliyar Ferdinandez Obeysekere) (3051)
  3   Don Louis de Silva Wijesinghe + M1 daughter of Telikada Mudaliyar
                                                             +M2 daughter of Telikada Mudaliyar
                                                             +M3 daughter of Telikada Mudaliyar
     4  James de Wijesinghe +Miss de Silva ( and had 5 daughters.)
      5  Missie Wijesinghe + CP Gunathileke     
  3  Wijesinghe
    4  James de Silva Wijesinghe b:1816 (Gate Mudaliyar,Atapattu Mudaliyar Galle Kachcherie.-Interpreter Police Court,District Court, and Supreme Court. 1852 Mudaliyar Gangabodapattu. 1878 Atapattu Mudaliyar Galle. Largely responsible for the construction of the canal to Nilwala Ganga and the Urubokka spill.Justice of the Peace. Was also responsible for building of the Godapitiya and Patolpitiya churches in Matara District.) + de Silva (BIL  Joseph de Silva Attapattu Mudaliyar Colombo)
      5  Nissie Wijesinghe + CP Goonethileke
        6  RP Goonethileke (Mohandiram Salpita Korale)
   4  Nicholas de Silva Wijesinghe b:1806 Mudaliyar (1836 Mudaliyar Hambantota Kachcherie, 1848 Mudaliyar Morawak Korale, 1849 Mudaliyar Giruwa Pattu,1856 Kachcherie and Graverts Mudaliyar Galle.)
    5  Wijesinghe
      6  WA Wijesinghe Mudaliyar West Giruwa Pattu
      6  ER Wijesinghe Mudaliyar
    5  Andreas de Silva Wijesinghe Mudaliyar of East Giruwa Pattu  later Atapattu Mudaliyar in 1866 (1854 Mohandiram Giruwa Pattu,1858 Interpreter Minor Courts Hambantota, 1864 Interpreter Tangalle District Court, 1873 Mudaliyar East Giruwa Pattu.
     6  BK WijesingheMudaliyar,Giruwa Pattu East
     6  Benjamin Robert Wijesinghe b:1864 Mudaliyar East Giruwa Pattu.(1889 Second Constable, Salt Department, 1892 Acting Mohandiram Magam Pattu, 1893 reverted to Salt Department, 1895 Acting Mohandiram West Giruwa Pattu, 1896 Mohandiram Magam Pattu, 1898 Acting Mudaliyar Hinidum Pattu and confirmed later. 1899 transferred to East Giruwa Pattu.)
: Other Wijesinghe Relatives
A) (1  )  Violet  Rosalind Wijesinghe b approx 1878 (d/o Cornelis Wijesinghe Interpreter Mudaliyar Matara Courts) M1898 + Simon Hendricus Barthalamew Kuruppu b 1863  (son of Hendrick Kuruppu b1841)
          2  Janaka Kuruppu
          2  Sena Kuruppu
          2  Soma Kuruppu
         2  Dulina Kuruppu.
B) (1) Wijesinghe + Louisa Kuruppu  b approx 1870 (d/o Hendrick Kuruppu b1841)
        2  Siempraya Wijesinghe
        2   Sri Wijesinghe
        2   Raj Wijesinghe (d approx 1986)
C) (1) Samuel Wijesinghe + Victoria de Saram b approx 1894
        2  Sybil Wijesinghe
        2  Dr Allan Wijesinghe
        2  Victor Wijesinghe
        2  Kingsley Wijesinghe
        2  Dr Gilbert Wijesinghe
        2  Dr Clement Wijesinghe
D) Samuel Benedict de Silva Wijesinghe, (b approx 1885)1930-President Village Tribunal Gangaboda pattu. 1910 Acting Mudaliyar Morawak Korale, 1911 Mohandiram Giruwa Pattu West
(His relatives-nephew-HCB Wijesinghe  Actg President Village Tribunal Wellaboda Pattu,Grand father-HC Wickremaratne,gggf Don Solaman Mudaliyar Wibadde Southern Province,BIL-Gate Mudaliyar EB Gunathileke Talpe Pattu. Other relatives through marriage-Andrew Wijesinghe Mudaliyar,Edwin Wijesinghe Mudaliyar,Neddie Wijesinghe Mudaliyar,Don Andreas Wijesinghe Mudaliyar,Benjamin Wijesinghe Mudaliyar,Nicholas Wijesinghe Mudaliyar,LC Wijesinghe Mudaliyar,JW Wijesinghe President VT,SN Amarasekera Mudaliyar,DB Kuruppu Mudaliyar.)
(Under mentioned Wijesinghe may not be related to the above ?)
E) (1) Don Abraham Alexander Wijesinghe Siriwardena, President ,Village Tribunal Salpita Korale.
       2  Don Charles Richard Siriwardena Wijesinghe b1866,Mudaliyar Siyane Korale west.,1901 Mohandiram Ambatalen Pahala,1912 President VT Salpita Korale,1922 Mudaliyar Siyane Korale.(other relatives-gf-Mudaliyar Joseph de Silva Wijewickrema Ekanayake,BIL-Gate Mudaliyar Phillip Perera,Gate Mudaliyar Henry A Perera,cousins WRH WijesingheMudaliyar Puttalam.JDC Wijesinghe Mohandiram Kurunegala.       
 Reference:  1) Chieftains of Ceylon   2) Internet
Submitted by :  Mr Manjula de Livera
Email  :   manjulafamily@yahoo.com.au
Date : 16th January 2013 
Wijesinghe Photos
<![if !vml]>
<![endif]>                                                 <![if !vml]>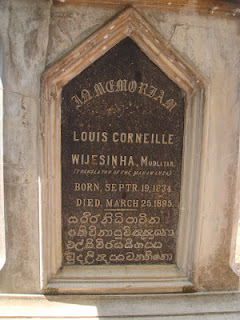 <![endif]>
LC Wijesinghe                              LC Wijesinghe Tomb