Sri Lanka Sinhala Family Genealogy
Nanayakkarage De Silva - Family #3175
(If you have further genealogy information on this family line please submit it to sgenweb@gmail.com )
0 Mr. Silva (formerly Ven. Sri Sumangala) from an old, distinguished family, the Nanayakkaras of the Galle district of the S. Province. Was Buddhist high priest of the Siam Sect of Baddegama. He converted to Christianity (p.591 Twentieth Cent. Impr.book) + Name Not Known
1 Son
1 Daughter
1 Daughter
1 Don Paulis Silva b. 1838-1901 born at Baddegama near Galle. Orphaned 18. Moved to Colombo, then to Kurunegala, then to We-uda and opened a store for coffee, then the leading product of Ceylon. Prospered greatly in the next few years. Then he embarked in mining for Plumbago. He became extremely wealthy. Next, he planted coconut, cacao, tea, coffee, cinchona, manilla, pepper, cinnamon, and cardamoms. He was a great friend to the poor. Was Roman Catholic. He was generous, kind, charitable (p.594). He was one of the principal benefactors of St. Joseph's college, the leading catholic College in the Island. He built several churches and schools and contributed to many institutions, including The Good Shepherd Convent. He supported about 150 pensioners month by month. Three times he refused the distinction of "Basnayake Mudaliyarship". Head office of the business was at "Wiesbaden" Colpetty, and stores at New Moon St. Pettah. Plumbago Stores were in Kotahena and Kurunegala. The historic "Teak Bungalow" was his country seat, in Kalutara. + wife 1 (had 2 sons)
+ wife 2 (had 2 sons , and Pagoda Wijeyasinghe Aratchige Dona Isabella Wijeyasinghe. She is a descendant of one of the oldest Kotte families, whose ancesters held the office of Adigar (king's chief minister) to his Majesty Dharma Parakrama Bahu IX of Kotte. The king granted a sannas in 1505in recognition of his services.Reference to this Sannas is in the Mahavansa.
2 N. Don Bernard Silva b. 1875 (Mother- 1st wife) educated at Royal and St. Thomas Colleges. In 1894 he joined his father's business. He owned the estates of Miriswatte, Udalawella, and Paradise in the Madampe, Chilaw, and negombo districts. Had many other estates in Kurunegala district, Kalutara etc. He has travelled in Europe, India, and was a member of the Orient, Turf, and Catholic Clubs, Colombo + Christina (d. of A. Isaac Perera, of Kandana in the Alut Kuru Korale. Residence: Guildford House, Cinnamon Gardens. Also owned other houses in Kurunegala and Colombo. P.594 Twentieth Cent. Impr.book.
3 Stephen Stanislaus Silva
3 other Sons and daughters
2 N. Don Stephen Silva b.1881 (Mother- 1st wife) educated at St. Thomas and St. Joseph's Colleges. (p.518 Twentieth Cent. Impr. .book. )
2 N. Don ? Silva (Mother- 2nd wife) A Doctor. London University.
2 N. Don ? Silva (Mother- 2nd wife) A Lawyer.
2 Padikare Mudali Nanayakkara Rajawasala Appuhamilage Don Arthur De Silva Wijesinghe Siriwardene (of Richmond Castle, Kalutara). + Clarice Matilda Maude Suriyabandara. (of nobility).
2 N. (daughter) ? Silva (from 2nd wife)
Research done by: Anne-Marie Samarasinghe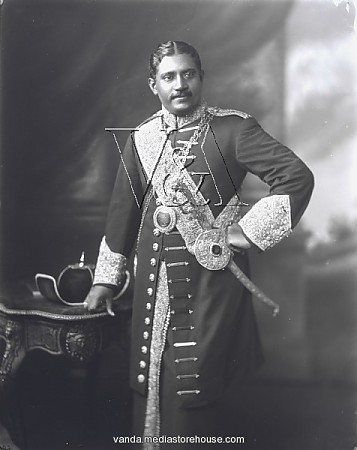 Padikare Mudali Nanayakkara Rajawasala Appuhamilage Don Arthur De Silva Wijesinghe Siriwardene (of Richmond Castle, Kalutara).
Segments from the article:
Who is the 'Diyawadana Nilame'?
What is Diyawadana Nilame? and what are the duties and functions attached to that office?
During the period of Sinhala monarchy there have been a number of Diyawadana Nilames in the 'Athul Kattale' (within the royal staff) called Rajawasala Diyawadana Nilame, Pallewasala Diyawadana Nilame and Dalada Maligawa Diyawadana Nilame. Rajawasala Diyawadana Nilame was an officer-in-charge of some duties at the Kings palace and Pallewasala Diyawadana Nilame was an officer who was attached to the lower palace where the queen and royal women lived. Diyawadana Nilame of Dalada Maligawa was an officer of the palace too but in charge of some functions at the shrine in which the Sacred Tooth Relic was deposited.
Duties and functions of the Mahawasala (Royal Palace) Diyawadana Nilame were to prepare water mixed with herbal perfumes for the King to bathe and to be by his side in attendance until he finished his bath. Diyawadana Nilame of Pallewahala had to perform similar duties in connection with the bathing of the Queen and other royal women, sans being in attendance by their sides. These two officers were handpicked by the King himself so that they were very faithful to him.
Diyawadana Nilame of Dalada Maligawa was a kinsman of the 'Athul Kattale' (palace staff) and it was a well-known fact, that during that period, the Sacred Tooth Relic was deposited in a special shrine built within the precincts of the kings palace under heavy security and the king personally performed poojas and rituals. The duty of the Diyawadana Nilame then was to prepare water mixed with perfumes and other ingredients to be sprayed on the flowers offered by the King to the Dalada.
Pouring water for washing the hands of the King before making the offerings too was one of his functions. The King made similar offerings and performed rituals thrice a day and the Diyawadana Nilame had to attend to that service. His another function was to make preparations for the 'Nanumura Mangallaya' in reverence of the Sacred Tooth Relic.
Richmond Castle : http://www.serendib.btoptions.lk/article.php?artid=213
And http://www.angelfire.com/planet/naturesl/richmond_castle/richmond_castle.htm
One of their descendants NDW Silva called himself Wimalasiri or Wimalasena. He was married to an Austrian lady who was the Consul in Sri Lanka.
---
By Tharuka Dissanaike
<![if !vml]>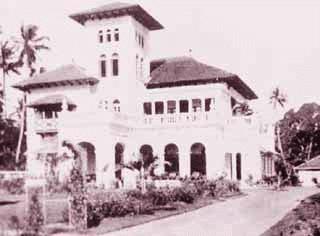 <![endif]><![if !vml]>
<![endif]>Left: Thehouse as pictured in Twentieth Century Impressions' published in 1907
Right: Today - being taken apart
Residents in Colombo have been some-what dismayed by the destruction of one of the city's former landmarks, a pink-walled mansion that graced the Galle Road. The building, many of us would remember as Chinese Lotus Hotel. A formerly imposing colonial structure, now dwarfed by the huge high-rise buildings around, it stands at the Kollupitiya junction, next to the National Savings Bank building and Carnival Ice Cream shop. Soon it will be no more. The present owners of the building are taking down the huge house to make way for development. Already the back portion of the house is dismantled, the antique Burma Teak door and window frames and the old bricks put up for sale by the contractors.
The house has a name. It was called Isabel Court, presumably after the original owner's second wife who was Isabella Silva. Her husband, Nanayakkarage Don Paulis Silva was known the 'Plumbago King' in his time and was a successful merchant, who owned several large stately homes. Isabel Court in Kollupitiya was used as N.D.P. Silva's office in Colombo. The wealthy merchant also had a health resort and country bungalow in Kalutara by the Kalu Ganga, the well known Teak Bungalow of yore. He died in 1901 leaving his extensive estate in the hands of two sons- the younger of whom was to later outdo his father in his style of living and recreation.
<![if !vml]>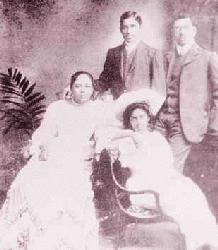 <![endif]><![if !vml]>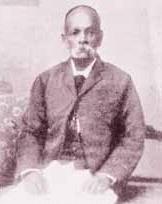 <![endif]>Left: Isabella Silva (L) with the family
Right: N. D.P. De Silva
The younger son was bestowed the title Padikara Mudaliyar and was responsible for the wonderful mansion we all know now as Richmond Castle in Kalutara. The story goes that the young Mudliyar built the grand mansion, un-rivalled in this country, along the lines of an Indian Maharaja's mansion to impress his future wife's family, since they had initially been reluctant to agree to the marriage.
The family warrants a mention in the Twentieth Century Impressions of Ceylon, that documented the country's most prestigious families. N. D. P. Silva came from an old and distinguished family from Galle. He was born in 1838 in Baddegama, 13 miles from Galle. He was orphaned at a very young age and then moving out of his village, selling the small family fortune, moved to Colombo and proceeded to make his wealth. His businesses varied. Owning large number of plumbago mines and estates of tea, coffee, coconut and spices, he was also a man who gave generously to various charities and contributed to the welfare of many a Catholic school. His parents were Buddhists converted to Christianity.
Twice married, N.D.P Silva's second wife was Pagoda Wijeyasinghe Aratchige Dona Isabella Wijeyasinghe.
In his sixty third year, N. D. P. Silva's health began to fail and he passed away in May 1901. No date is given on the construction of Isabel Court, or for that matter any of the merchant's homes. But it bears striking resemblance in style of architecture to College House, the building that houses the Colombo University dons and office.
The four storied tower is an interesting feature in Isabel Court. The rest of the house is two storied. A narrow flight of carved teak stairs leads up to the tiny tower rooms, which afford a marvellous view of the sea. In the good old days when the landscape was a lot less cluttered, the view must indeed have been splendid.
Years of neglect were apparent in the rotted ceilings and shaky upper flooring. The ornate balconies and some door frames were chipped and peeling.
The ground floor was built with an intricately tiled floor, which is now being gradually broken off. One distant relative said that these tiles are quite identical to the ones that decorate the floor of Richmond Castle, which now belongs to a trust board and is run as an orphanage. From the 1960's the house was rented out to Chinese businessmen who ran a restaurant there.
Jailubdeen Nilam, one of the five brothers who now owns the building and the land around it, said the house has been in his family for three generations but they are bringing it down to make way for development. So development catches up with Isabel Court and the old must necessarily yield to the new. Colombo will continue to grow and expand and unfortunately for Isabel Court, it stands in prime commercial property, and is worth and much more in the present than N. D. P. Silva, the astute businessman that he was, would ever have guessed.
Sunday Times Mar 16 1997
http://sundaytimes.lk/970316/plus16.html
---
<![if !vml]>
<![endif]>
<![if !vml]>
<![endif]>