Sri Lanka Kandyan Sinhala Family Genealogy

WIJEYERATNE - Family # 3147

Three Generations Holding Ministerial Posts and Two Successive Generations as Diyawadana Nilame

<![if !supportLineBreakNewLine]>
<![endif]>
Wijeyeratne family logo – designed by Lady Leela Wijeyeratne encompassing the flag of Sathara Korale in Kegalle District. The word Buddenipola comes from the name of the land in which Lady Leela and Sir Edwin Wijeyeratne built their Walauwa in Circular Road, Kegalle. Buddenipola Walauwa is now owned by Government of Sri Lanka.
Three generations of Wijeyeratnes had kept a record in 1993 in the Sri Lankan political history by first to hold Ministerial posts in the Government. Sri Dalada Maligawa had also been managed for the longest period since the country's independence by the Wijeyeratne family, who have served as Diyawadana Nilame (Chief lay Custodian) for 30 years from 1975 to 2005. Dr Nissanka Wijeyeratne contested for the post of Diyawadana Nilame in 1975 and was the first low country Govigama person in the history of Sri Lanka who challenged the Kandyan Radala caste hierarchy for that post.

1 Gabrial Perera Wijeyeratne, a much-respected notary public. His ancestors had distinguished themselves in the fighting at Mulleriyawa and Balana. + Dona Catherina Wickremasinghe Jayasekera Tennekoon (relative of Dona Catherina (Kusumasena Devi) - ref. The Lankan Monarchs - Family # 3000), daughter of Jayasekera Tennekoon, notary. Gabriel Perera Wijeyeratne was a very wealthy gentleman and the first Sinhala notary in the entire Four Korales in Kegalle. He lived at Utuwankande, Mawanella. The family hailed from Kotte and came to Kegalle early in the 16th century, fleeing from the Portuguese whom they had fought. The family continued intermarrying with the distinguished Walauwes of Kotte, Madapatha and Matara. There were seven stars in Sir Edwin Wijeyeratne's mother's family banner, given by King Parakrama Bahu VI of Kotte to an ancestor.

2 Sir Edwin Wijeyeratne (1889-1968) of Buddenipola Walauwa, Kegalle, was ex Cabinet Minister of Home Affairs and Rural Development in Rt Hon D.S Senanayake's government. As Cabinet Minister, He served as the Chairman of the select committee that selected Namo, Namo, Matha as the national anthem of Sri Lanka. Sir Edwin Wijeyeratne was later appointed as Ceylon High Commissioner to United Kingdom and India. He died on 19th October 1968 in Kegalle. + Leela Pethiyagoda Kumarihamy of Meewaladeniya Walauwa, Gampola, whose ancestors had fought with Arawwawala Adigar to prevent the Sinhala throne from passing to the Malabars. Arawwawala and Petiyagoda were executed.

3 Tissa Wijeyeratne (1923 - 2002) was a Sri Lankan politician, diplomat, barrister at law and businessman. He served as the Additional Secretary to Ministry of Foreign Affairs and Defence, Sri Lanka Ambassador to France and Switzerland and Senior Advisor (Foreign Affairs) to Prime Minister. + Visakha Bulankulame (1935-1999) of Nuwarawewa Walauwa, Anuradhapura. (Senanayake Family # 3001) granddaughter of D.C Senanayake

4 Kalpana Wijeyeratne + Suraj Perera
5 Ramesh Perera
5 Dinesh Perera

4 Ravana Wijeyeratne + Ayesha Imbuldeniya
5 Anouke Wijeyeratne

3 Dr. Nissanka Wijeyeratne, (1924 - 2007) was a Sri Lankan civil servant, politician and diplomat.He was Cabinet Minister of Education, Higher Education and Justice. He was also the former Diyawadana Nilame (Chief lay Custodian) of Sri Dalada Maligawa from 1975 to 1985. He had served as Sri Lankan Ambassador to the Soviet Union and was former member of the governing body of UNESCO. He was United National Party chief organiser for the Dedigama electorate. +   Nita Dullewe  (12 March 1931 – 21 May 2012) (Ratwatte Family # 3060) of Meeduma Walauwa, Rambukkana.

4 Neranjan Wijeyeratne is the Ex Leader of the Opposition in the Kandy Municipal Council and United National Party Politician. He served as Diyawadana Nilame for a period of 20 years. Prior to contesting as Diyawadana Nilame, Neranjan Wijeyeratne was the Basnayake Nilame (Lay Custodian) of Lankathilaka Maha Vishnu Devale. +  Devika Mediwake, grand daughter of William Gopallawa (Gopallawa Family # 3004)
5 Mokshana Wijeyeratne
5 Navindra Wijeyeratne

4 Mano Wijeyeratne was Ex Member of Parliament from Kegalle District Ex Minister of Enterprise Development in President Mahinda Rajapakse's Government and Sri Lanka Freedom Party Ex Chief Organiser for the Dedigama Electorate in Kegalle District. Mano Wijeyeratne had also served as Minister of Plantation Services under President D B Wijetunga's Government. +  Dushyanthi Wegodapola (first marriage), from Ratwatte Walauwa, Ukuwela.
5 Subodhana Wijeyeratne
5 Varnusha Wijeyeratne
5 Hasitha Wijeyeratne + Katherine Pomroy
4 2nd spouse of Mano Wijeyeratne, d:Oct 29 2011 in Singapore + Barathi Wijeratne (niece of General Ranjan Wijeratne)

4 Anuradha Dullewe Wijeyeratne, who entered into active politics in 1988 as a Member of the Sabaragamuwa Provincial Council in Ratnapura. He also served as Member of the United National Party National Executive Committee. He was Acting Diyawadana Nilame of Sri Dalada Maligawa on several occasions for three decades, appointed by the Commissioner of Buddhist Affairs with recommendation from Mahanayaka Theras of the Malwatte and Asgiriya Chapters.+ Dayanganie Gunasekara, daughter of Tudor Gunasekara (Ex Member of Parliament for Mahara & Gampaha District Minister)
5 Dr. Yanushi Dullewe Wijeyeratne BMBS(UK), BMedSci Hons (UK), MRCP (UK) +  Anuruddha Jayaratne (son of Dr. Sunanda Jayaratne)
                    6  Hoshika Dullewe Jayaratne, b:2021
4 Lankesh Wijeyeratne + Shivanthi Nugawala
5 Shalindrika Wijeyeratne
5 Bodhakshi Wijeyeratne
5 Chirani Wijeyeratne

4 Nishangani Wijeyeratne + Bhandula Hulangamuwa
5 Nirvan Hulangamuwa

3 Manel Wijeyeratne (died aged 7 years)

3 Dr. Cuda Wijeyeratne MBBS (Cey), DPM (UK), FRCPsych (UK) + Manel Bandaranayake (daughter of P.B Bandaranayake,  Ex Member of Parliament for Mawanella) of Polgasdeniya Walauwa, Mawanella.

4 Udeni Wijeyeratne + Satyajit Seneviratne, son of Nihal Seneviratne (Ex Secretary General of Parliament)
5 Aleyha Seneviratne
5 Taheli Seneviratne

4 Dappula Wijeyeratne + Lalage Watkin
5 Miles Wijeyeratne
                5  Rowan Wijeyeratne
---
See also
http://en.wikipedia.org/wiki/Edwin_Wijeyeratne
http://en.wikipedia.org/wiki/Tissa_Wijeyeratne
http://en.wikipedia.org/wiki/Nissanka_Wijeyeratne
http://en.wikipedia.org/wiki/Visakha_Wijeyeratne
http://en.wikipedia.org/wiki/Neranjan_Wijeyeratne
http://en.wikipedia.org/wiki/Mano_Wijeyeratne
http://en.wikipedia.org/wiki/Anuradha_Dullewe_Wijeyeratne
---
---
PICTURE GALLERY
Buddenipola Walauwa, Kegalle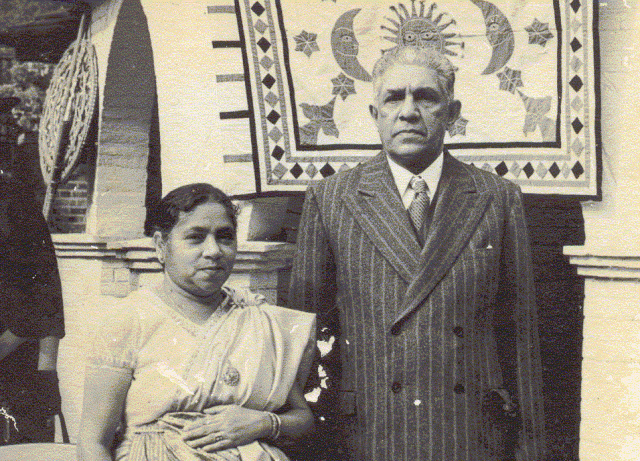 Lady Leela and Sir Edwin Wijeyeratne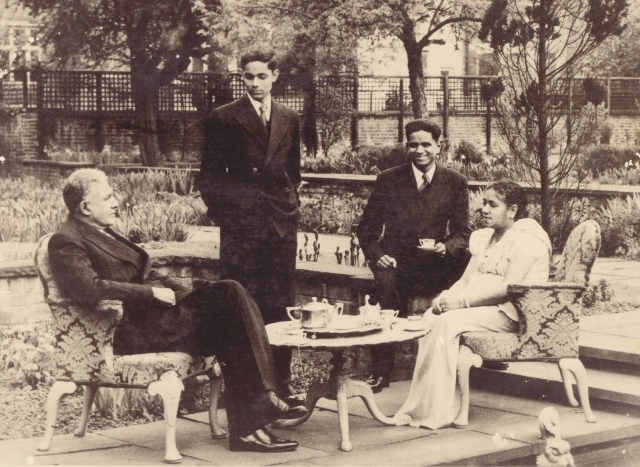 Sir Edwin and Lady Leela with Tissa and Cuda Wijeyeratne
Nissanka and Tissa Wijeyeratne
Manel Wijeyeratne (daughter of Sir Edwin and Lady Leela Wijeyeratne, she died at an early age)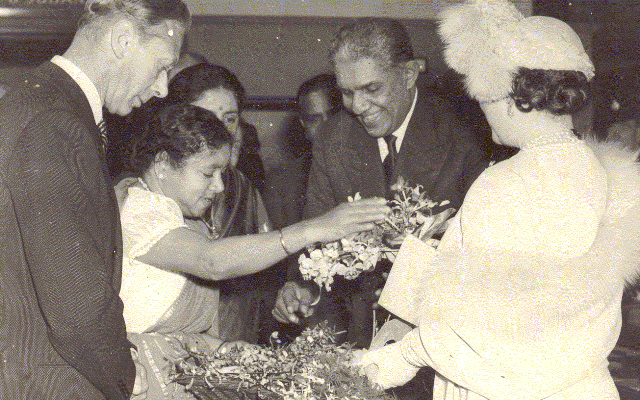 King George VI, Lady Leela, Sir Edwin Wijeyeratne & Queen Elizabeth The Queen Mother
Lady Leela Wijeyeratne with Indian Prime Minister Jawaharlal Nehru, Edwina Mountbatten
and Indian President Dr. Rajendra Prasad
Indian Prime Minister Jawaharlal Nehru with Lady Leela Wijeyeratne
President of India Sarvepalli Radhakrishnan with Sir Edwin & Lady Leela Wijeyeratne
Queen Elizabeth II and Prince Philip with Lady Leela Wijeyeratne
Sir Edwin & Lady Leela Wijeyeratne with Prime Minister of Burma, U Nu, Mrs U Nu, Prime Minister of India,
Jawaharlal Nehru & his daughter Mrs. Indira Gandhi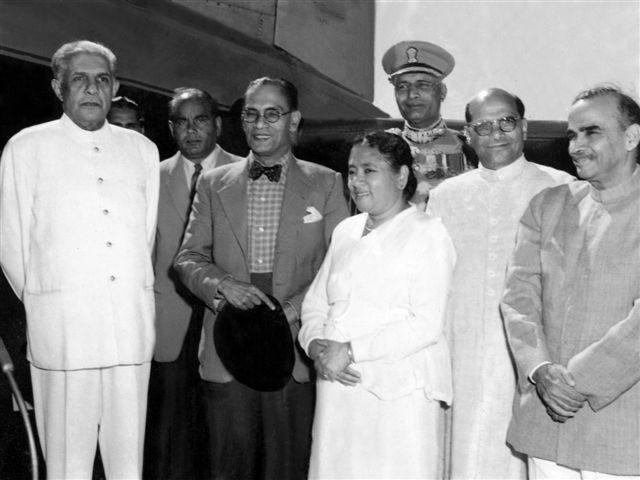 Sir Edwin & Lady Leela Wijeyeratne with Sri Lankan Prime Minister, S.W.R.D. Bandaranaike
Wedding of Tissa Wijeyeratne & Visakha Bulankulame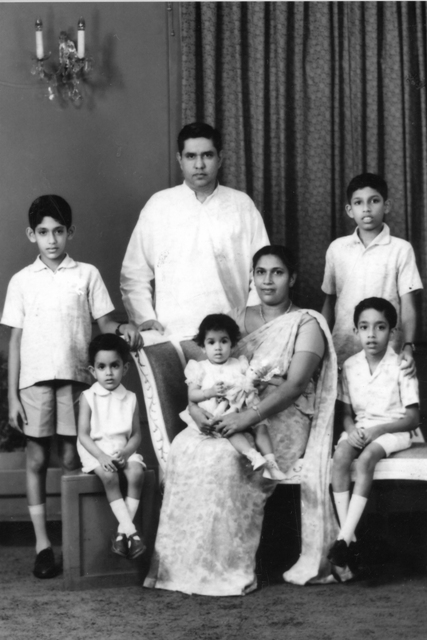 Mano, Nissanka, Neranjan; seated: Lankesh, Nishangani, Nita & Anuradha Wijeyeratne
Udeni,Cuda, Manel & Dappula Wijeyeratne
Kalpana, Ravana ,Tissa & Visakha Wijeyeratne
---
See also
Saga of Nilame & Kumarihamy
25th Death Anniversary of Sir Edwin Wijeratne
---