Sri Lanka Sinhala Family Genealogy
ATTYGALLE FAMILY #3119
1 Don Charles Gemoris Attygalle from Madapatha (land owner), From page 598 of Twentieth Centuary Impressions of Ceylon, by Arnold Wright, Don Charles Gemoris Attygalle Mudaliyar was born in Salpita Korale in 8/9/1836- d 12/12/1901. He worked for the Botanical Gardens. He also supplied plants to Europeon planters & Businessman. When searching for plants he came across a graphite vein. He started Sri Lanka's first Graphite mine in Kahatagaha.
DCG Attygalle married Petronella Abeykoon (daughter of Fonseka Abeykoon) 
The heirs of D C G Attygalle, wealthy mine owner (plumbago) and landed proprietor, whose three daughters married men of very high standing in Ceylon and who dominated politics in Ceylon since independence. One daughter, Ellen married F R Senanayake (1882-1925), who but for his early demise would have probably been the first post Independence Prime Minister of Ceylon, a distinction which was thrown upon his younger brother Don Stephen. Another daughter, Alice, married John Kotalawela, whose elder son, Sir John Kotalawela, became the nations third Prime Minister (1953-56). The third daughter, Lena, married Colonel T G Jayawardena, paternal uncle of Junius Richard Jayawardena, President of Sri Lanka.
It is said that DCG Attygalle had over 10,000 acres of Coconut and Rubber plantations.
<![if !vml]> <![endif]>
<![if !vml]>
<![endif]>
<![if !vml]>
<![endif]>
<![if !vml]>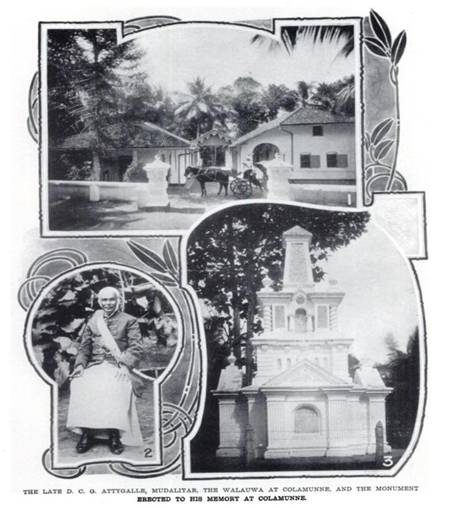 <![endif]>
2 Alice Attygalle + John Kotalawela (3003)
3 Sir John Lionel Kotalawela, b:4 Apr 1897, d:2 Oct 1980, Prime Minister of Ceylon 12-Oct-1953 to 11-Apr-1956
3 Senator Justin Kotelawala, b:1905, d:2-Apr-1973, Member CMC 1940-1944 + Millicent de Silva (d/o Dr A M de`Silva)
4 Dr Deshamanya Lalith Kotalawela, (Ceylinco Group, The Finance Company, Seylan Bank) + Sicille Fernando (Ceylinco Group), (d/o Sam P C Fernando, ex Justice Minister & Ambassador to Egypt, and Stella Obeyesekere Gunatilleke Perera of Matara)
3 Freda Kotalawela + Dr CVS Corea
4 Dr Gamini Corea, Secretary General of UNCTAD (1974-1984)
2 Lena Attygalle + Colonel Theodore Godfry Wijesinghe Jayawardena (1872-1945), (Uncle of President JR Jayawardena-President) (3002)
 Colonel Theodore Godfrey Wijesinghe Jayewardene, b:17-Jun-1872, d:1945, Engineer, Educated at Royal College, Colombo. Hony. Secy. Royal College OBU. JP. Life Member, Royal Asiatic Society. Asst. Engineer PWD 1895. Civil Engineer 1900. Private CLI 1889. Major 1908. Military Intelligence Officer 1921. He became the first Ceylonese commanding officer of the Ceylon Light Infantry and reached the rank of Colonel, the highest rank a Ceylonese could achieve in the colonial era. He was elected to the State Council of Ceylon in 1933-1936  + Lena Attygalle, [daughter of??? brother of Francis Dixon Attygalle who was murdered and where John Kotelawala, father of Sir John, was accused and tried but committed suicide before the conclusion,] m:Feb-1905. (Family # 3119)
        3 T.F. (Freddy) Jayewardene, Major – Parliamentary Secretary to the Minister of ?  (not sure). p.291. Rural Sociologist and also an expert in business and agriculture. p. 1671. There are 23 pages mentioning his name. Book:  Parliamentary Debates Vol. 12 Issue 1-20  
            + 1st wife Philis Gunesekera (a descendant of Udunuwara Urulawatte Wijesundera Perera Family # 3128 relative of Queenie Violet Paranavitane and same Paranavitana family as related to Muthulakshmi/Lakshmi Jayasundera, wife of Felix R.Dias Bandaranaike family and her sister Malkanthi married to Gamini Wikremenayake)
            + 2nd wife: Name Not Known
                  4  Dharshini Jayawardene + Name Not Known
                  4  Effie Jayewardene + Carlton Corea of Chilaw (1903-??) (Civil Servant. He married twice. Effie was his 1st wife.  He is a descendant of Dona Johanna Jayewardene Seneviratne above).
                             5  Nirmal Asoka Corea (Engineer) + Elfie (Austrian)
                                    6  Gihan Asoka Corea
                                    6  Anusha Corea
                             5  Lakshma Corea not married  math teacher, tutored Prince Charles. Deceased
                                    6  Damayanthi Corea  + Harindra Corea former MP  (div)
                                        7  daughter
                        
                  4  Margie Jayewardene + Wijemanne    (They had children)
                  4  Celia Jayewardene + Name Not Known
                  4 Sheri Jayewardene + (They had children)
    2 Ellen Attygalle + F R Senanayake (b:20/10/1882- d:1/1/1926) member CMC, Brother of DS Senanayake (Prime Minister) (3001). Ellen Attygalle had houses and land in Shady Grove Avenue Colombo 8
3 Richard Gotabhaya Senanayake, b:4-Nov-1911, d:22-Dec-1970, MP Dambadeniya 1952, 1956 (& Kelaniya),1960, 1965, Minister Commerce & Trade 1952-56 + Erine Subasinghe
3 Tissa Senanayake
3 Chandra, Senanayake
4 Dr Ranil Senanayake
4 Rohan Senanayake
3 Upali Senanayake, b:28-Aug-1918, d:14-Oct-1983
3 Needra Senanayake
3 Rupavathi Senanayake
3 Neeta Senanayake
3 Swarna Senanayake
3 Girlie Senanayake + Siripala Samarakkody (MP-Narammala) (1907-1944) President Ceylon Congress (3118)
4 Malini Samarakkody + Rajamandhri Jayagandhi Ratnagopal
5 Niranjan Tilak Rajkumar Ratnogopal changed his name to Gideon Tilak Conrad + Jane Ridgeon
6 Misha Soraya Conrad (daughter)
6 Tarik Anthony Martin Conrad (son)
5 Priyani Dharshani Ratnogopal.+ Ajantha de Soysa
5 Rushika Sriyani Ratnagopal +Dallas  Martenstyn
6 Yanick Stephen Martenstyn
5 Nilhan Suresh + Sharmain
                            6  Shanick
                            6  Kiyacha
                            6  Kiyachi
5 Nilmini Shobhana
4 Rukmani Samarakkody + Sena Attygalle
5 Deepthi Attygalle + Richard Perera
                            6  Rohana Perera
5 Dharika Attygalle + Suresh Ellawela
                            6  Sashen.Ellawala
5 Senaka Attygalle +  Maria
                            6  Jaden Attygalle
                            6  Justin Attygalle
4 Surangani Samarakkody + Dr Kingsley Ranasinghe (UK)
5 Channa Ranasinghe +   Wijewardena
                            6  Aleka Ranasinghe
                            6  Ranasinghe
5 Thiruni Ranasinghe + Rajeeva Indraketiya
                            6  Indraketiya
5 Ruwani Ranasinghe +Senani  Ellepola
                            6  Rapti Ellepola
                            6  Pradeep Ellepola
    2  Francis Dixon Attygalle (Residence-Collamune Walauwa) -Assassinated in 1905.
---
Dr John Attygalle
<![if !vml]>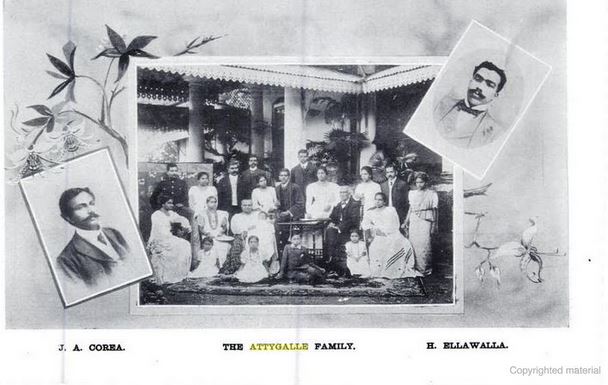 <![endif]>
The Family of Attygalle is very ancient. The family traces its origin to a great degree from those who came to Ceylon during the King Rajasinghe era. The Attygalle name is derived from Atigale a village near Hanwella.
Dr John Attygalle's maternal side are descendants from the Kotalawela family.
Dr Attygalle appears to have rendered some important service to Sinhalese in connection with the building of Nalha Devale of Kandy.
1  Attygalle (b approx 1775)
    2  Don Hendrick Attygalle b1812-d16/8/1859 + Saraha Kotalawela d29/2/1894
        3  Dr John Attygalle 1 of Madapatha b13/1/1842(Royal+Stc)+Charlotte Karunaratne (d of Phillip Karunaratne Interpreter Mudaliyar.)
            4  Dr John Wilhelmus Samuel Attygalle 2 (Stc)(b approx 1875)+Jessie Evelyn Paranatalla
                5  Amitha Evelyn Attygalle                                                            
         5 John Wilhelmus Lucius Attygalle 3 (b approx 1910)(M1)+Masie Attygalle.
                    6  Asha Attygalle + La Machand
                        7  Rajiv La Machand
                5  John Wilhelmus Lucius Attygalle 3 (b approx 1910)(M2)+Sheila Dorathea Hamer
                    6  John Attygalle 4 (b 1951)(Stc Mtl)+ Maryanne de Livera
                        7  Sasheen Attygalle
                        7  John Andrew Attygalle 5 +Shalini Anandappa
                            8  Layla Shamali Attygalle
                            8  John Eric Anthony Attygalle 6
                    6  Sheila Attygalle
                5  Myra Wilhemina Attygalle
                5  Rita Swarnawathi Attygalle
                5  Winifred Padmawathie Adelaide Attygalle + George Ariyaratne
                5  Richard Clarence Lucien Attygalle + Masie Attygalle
                5  Hyacinth Sumeda Attygalle
          4  Rose Attygalle + Thomas Dunuwille
              5  Pearl Dunuwille + James Kotalawala
                  6  Jack Kotalawala + Leela Rockwood
                      7  Vijitha Kotalawela +Wickremasinghe
                 6  Solomon Kotalawala + Vijitha Silva
                     7  Yolanda Kotalawela + Tissa Aluvihare
                     7  Prasanna Kotalawela + Savithri Dias
                     7  Nirmaleni Kotalawela + Hema Kotagama
                     7  Indira Kotalawela + Tilak Gunasekera
                     7  Ravindra Kotalawela + Lalitha Wickremasinghe
             5  Richard Dunuwille (M1)+ Monica Edirisinghe
                 6  Eanswide + Rev Terrance Abeysinghe
            5  Richard Dunuwille (M2)+ Freda Alwis
            5  Daisy Dunuwille + Oliver de Silva
                6  Olive de Silva + Harry Goonathilaka
                    7  Sriyani Goonathilaka + Daya de Silva
                    7  Malini Goonathilaka + Charmaine Alles
               6  Carene de Silva + Noel Tillekeratne
                    7  Niranjini Tillekeratne + Ram Raj
            5  Dulci Dunuwille + Dr Walter Wijenaike
                6  Amanda Wijenaike + Punyakanthi Kotalawala
                6  Dr Wikrema Wijenaike + Charmaine
            5  Theodore Dunuwille + Lulu Samarakoon
                6  Mahinda Dunuwille + Ruth Bealing
                6  Vinitha Dunuwille + Shirley de Saram (M1970)
         7 Ranil de Saram (Accountant) + Indika Lokuge
       8 Mihini de Saram
       8 Randhika de Saram
       7  Mahen de Saram (Accountant) + Hiranthi Wickremasinghe
       8 Rianna de Saram
       8 Rehan de Saram
        7 Senaka de Saram (Lawyer) + Shirangika Abeyratne
        8 Rose Mirani de Saram
            5  Careme Dunuwille + Edward Wijenaike
                6  Chandra Wijenaike + Dulcie Tennakoon
                6  Mahinda Wijenaike + Mohini Aluvihare
                6  Siddantha Wijenaike + Dananjani Kannangara
                6  Nalini Wijenaike + Will Senanayake
           5  Christy Dunuwille
           5  Ruth Dunuwille
       4  Eugine Saraha Matilda Attygalle + James Alfred Corea b1871 (Stc)
           5  Amybella Corea + Clifton Dassenaike
               6  Srimani Dassenaike
               6  Sivagami Dassenaike (Minister)(b7/5/1929-d23/12/2017)+ James Peter Obeyesekere 3 (Dy Minister)(1915-2007)
                   7  James Peter Obeyesekere 4
                       8  CH Obeyesekere b 2005
                  7  Chantal Obeyesekere + Dijen de Saram
                      8  Devan de Saram
                      8  Chiara de Saram
           5  Henry Corea + Clare de Alwis
               6  Wijeya Corea+ Ranjani Wickremasinghe
               6  Illona Corea
               6  Dr Randunne Corea + Nalini
               6  Deva Corea + Ramony
               6  Uthum Corea + Ratnayake
               6  Ranmani Corea+ Anil Amarasekera
               6  Aruni Corea
        4  Florence Attygalle + Francis Kotalawala
        4  Harry Attygalle (Police)Henry?
        4  RV Attygalle (Proctor)
        4  Adelaide Attygalle + Harry Ellawala
            5  Hellings Ellawela (M1)+ Chintha Bandaranaike   
               6  Kamini Ellawela +  Dharmadasa
               6  Alexis Ellawela + Lilian Perera
               6  Helene Ellawela + Ranjith de Silva
               6  Tina de Silva
            5  Hellings Ellawela (M2)+ Eileen Joachin         
       4  Clarence Attygalle (Medical Student)
       4  Theodore P Attygalle (Act IGP) b3/5/1876 (Supt Crimes 1905)+ Constance
           5  Conyta Attygalle + Sir Nicholas Attygalle, Surgeon b1894-d27/3/1970 (Son of Don Louis Attygalle Mudaliyar Ratnapura Kachcheri)
               6  Anula Attygalle + Gilbert Wijeyasinghe
                   7  Wijeyasinghe
                   7  Wijeyasinghe
               6  Dr Lakshman Attygalle + Dr Deepthi Mendis
           5  Doreen Attygalle + ECB Wijeyasinghe
               6  Gamini Wijeyasinghe + Abeysundera
               6  Wickrama Wijeyasinghe +Marie Morga
               6  Rohith Wijeyasinghe
               6  Dilkanthi Wijeyasinghe + Tharindranath Peiris
          5  Breahide Attygalle + Cyril Eugine Attygalle d1980 MP
              6  Nelun Attygalle + Lalith Mendis
              6  Tissa Attygalle + Erin Cassiechetty
              6  Asoka Attygalle + Damayanthi
          5  Maisie Attygalle(M1) + JWL Attygalle
              6   Asha Attygalle + Dr La Machand
                  7  Rajiv La Machand
          5  Maisie Attygalle(M2)+ Dicky Attygalle
      4  Edith Attygalle + Charlie Wijesinghe
      4  Freda Attygalle + Richard Wanduragala
<![if !vml]>
<![endif]><![if !vml]>
<![endif]>               John Attygalle family
<![if !vml]>
<![endif]>
John Attygalle
<![if !vml]>
<![endif]>
----------------------------------------------------------------------------------------------------------------------------
1  Donald Charles Attygalle b:1868 Ceylon d:1942 Victoria Australia + Emily Catherine Harbour 1872-1938.
   2  Flora Elizebeth Attygalle b:1894
   2  Isabella Beatrice Attygalle b:1907
   2  Leonie Celestine Attygalle b:1911-d:1949 + Brownhill
   2  Charles Edward Attygalle 1896-1919 (Died in World War 1)
   2  Maud Victoria Attygalle b:1902 + Gough
   2  Gordon Leonard Attygalle 1909-1910
   2  Phylis Mary Attygalle b:1914-d:1965 + Davis
<![if !vml]> <![endif]>
Other:Attygalle born in Australia.
Charles Edwin Attygalle b1896                                   Isabella Beatrice Attygalle b1907
Leslie Herbert Attygalle b1899                                   Edna May Attygalle b1914
Edward Albert Attygalle b1899                                  Emily Catherine Attygalle b1872
Wilmot Ambrose Attygalle b1905
Gordon Leonard Attygalle b1909
Caroline Florence Elizebeth Attygalle b1894
Mudliyar

Don Philip

Attygalle
January 5, 2013, 6:55 pm

<![if !vml]>
<![endif]>
The Attygalle dynasty of Madapatha needs no introduction. It is believed that in the wake of the glory of the Mulleriyawa battle, an eminent minister of the king's court- Attygalle, made his abode in the nindagama of Madapatha, Piliyandala. Descendants of this minister, the Attygalle's, made their mark in the indigenous medicine or ayurveda, their special forte being the treatment of indigestions.
Another illustrious link to the Attygalle clan of Madapatha, Mudliyar Don Philip Attygalle's 75th death anniversary falls on January 7. Born to Don James Attygalle – another illustrious physician and his wife, on September 25, 1881, young Philip entered the portals of Prince of Wales College, Moratuwa. Having completed his education, he honed his faculties as an ayurvedic physician to carry forward the family legacy. From the ordinary village folk to foreign dignitaries, his healing touch knew no bounds. True to the spirit of the Attygalle physicians, only a simple bulath hurulla was accepted as a token of goodwill.
Once a critically ill patient, whose days were numbered according to many physicians, was miraculously saved by Mudliyar Philip Attygalle. When all hope was lost, Mudliyar requested the family of the patient to get him a kesel mala or the tender flower of a banana plant. With juice extracted from the kesel mala, he made a concoction with the famous 'Attygalle guliya' and administered it to the patient who eventually recovered to the delight of his family.
Betrothed to Don Sopaya, the coupled had seven children - one daughter and six sons. The late Dharmasena Attygalle, MP for Kesbewa and the first Minister of Indigenous Medicine, was their second son. The Attygalle clan has always being philanthropists, gifting acres of family lands to public causes. Mudliyar Philip Attygalle was no exception. The schools, hospitals, temples, play grounds and libraries standing on their properties still hold testimony to this public spirit.
After the demise of Don James Attygalle, Mudliyar Philip took over the administration of the Madapatha Buddhist Mixed School founded by the family. He appointed eminent scholars such as L.D. Amis and H.D. Pubilis Perera and all expenses of the institution were borne by the Mudliyar.
After the demise of the Mudliyar, the Attygalle family gifted the school to the state in 1960 - the occasion being graced by Sir Nicholas Attygalle, the first Sri Lankan Vice Chancellor of the University of Ceylon and a descendant of the distinguished Ratnapura Attygalle clan who gifted the nation not only family land but also men and women of academia. Madapatha mixed school was re-named Philip Attygalle Vidyalaya as it's known today, to perpetuate the name of this philanthropist.
True to the local idiom- 'rajakama or wedakama' Mudliyar Philip Attygalle was revered by people of all walks of life. His magnanimity knew no bounds, extending it to sasana as well. Indeed he walked among kings never losing the common touch.
We, the descendants of this true son of the soil, remember him with pride and gratitude for gifting us a unique legacy and passing on that unmistakable humanity.
Attygalle family, Madapatha
1  Dr James Attygalle
     2  Philip Attygalle b:25/9/1881 (had 1 daughter and 6 sons)
         3  Dharmasena Attygalle MP for Kesbewa.(Minister for Indigenous medicine)+Celine
            4  Daya Attygalle
            4  Lal Attygall
Other Relatives:
A
1 Mudaliyar Don Lewis Attygalle
   

2

  Arnold

 C Attygalle
   

2

  Sir

 Dr. Nicholas Attygalle 1894 – 1970 + 

Conyta Attygalle

, m:1928 (3058) d/o T.P. Attygalle (3058)
Born

:14

-Jul-1894. 

Educated at Royal College, Colombo.

 Entered Medical College in 1913 and obtained LMS (Ceylon) First Class. MRCP, MRCS (Eng), LRCP, FRCP (Eng), 1920. DCO (Lond), MRCOG (Lond) 1934. FRCS (Eng), FRCOG (GB), DSC (Cey), DSC (Hon) Vidyodaya. 

Visiting Gynaecologist General Hospital, Colombo.

 

Professor of Obstetrics and Gynaecology, University of Ceylon, 1944.

 President BTS (1945-1956). Dean, Faculty of Medicine. 

Appointed to the Senate of Ceylon in 1952.

 President Senate. 

President Ceylon Medical Council.

 

Chairman National Science Council.

 Vice Chancellor, University of Ceylon, Peradeniya 1955-1962. 

Knighted in 1953.

 Died

:27

-Mar-1970
3 Anula Attygalle + Dr Gilbert Wijesinghe (former Head of MRI) (3121)
4 Wijesinghe
4 Wijesinghe
   

2

  Cyril

 Eugene Attygalle 1905–1980, MP Ratnapura, Deputy Minister of Health + 

Brenhilde Attygalle

 (d/o of T.P. Attygalle) m:1936
Born

:06

-Feb-1905 at Weralupe, Ratnapura. 

Educated at St. Joseph's and Ananda College, Colombo.

 

Joined the Ceylon Police Force as a Sub Inspector in 1926.

 Resigned six months later and took up planting in Gilimale North. Lived in Colombo and engaged in business as a Produce Broker 1934-1940. 

Member YMBA Borella.

 

Secretary, Board of Management and Sports.

 Member UC Ratnapura, Weralupe Ward in 1944. 

Member, Board of Governors and Treasurer, Sivali Vidyalaya, Ratnapura.

 

Member Local Advisory Committee on Education.

 

First elected MP Ratnapura 1947-1952.

 Deputy Minister Trade and Commerce and Health 1952-1956. 
Represented Ceylon at the WHO in 1952.

 

Introduced the Hospital Lottery Sweep.

 

Composed a famous love song titled "Girl of my Dreams".

 Hobbies: Mineralogy, 
Ceylon Gems.

 Died

:30

-Apr-1980 
        

3

  Tissa

 Attygalle
        

3

  Asoka

 Attygalle
        

3

  Nelum

 Attygalle
B
1  Attygalle (b approx 1880)
     2 Anula Attygalle d 2004 + C B Warakaulle
         3  Sorani Warakaulle
         3  Mahinda Warakaulle
         3  Monica Warakaulle
         3  Damayanthi Warakaulle
    2 Seela Attygalle + Weerasinghe
    2 Wimala Attygalle + Jayasundera
    2 Gen D.Sepala Attygalle b1922-d2001 + Brighty d2010
        3 Suraj Attygalle + Sherene
            4 Damin Attygalle
            4 Shaminda Attygalle
    2 Sreema Attygalle + de Silva
    2  Dr G.M Attygalle d29/11/2009+ Kalyani Wijewardena
        3  Dhammika Attygalle (Director Upali Group)(Basnayake Nilame)
        3  Chandana
        3  Amrit
        3  Pradeep
C
1  Reggie Attygalle (b approx 1910) + Ethel
   2  Nihal Attygalle
   2  Lalani Attygalle
   2  Vernon Attygalle + Daphne de Alwis
       3 Shiromi Attygalle
   2  Victor Nissanka Attygalle + Rohini
       3 Nishran Attygalle
       3  Ruweni Attygalle + Navin de Silva
       3  Nilanthi Attygalle + Rajitha de Silva
   2  Shrini Attygalle + Dr Tissa Senewiratne (b1940)
       3  Tishani Senewiratne + de Mel
       3  Chaminda Senewiratne + Mithsi de Silva
D
1  Don Louis Attygalle (Shroff  Mudaliyar Ratnapura) + Dolicia Jane Haddagoda (They had 9 sons and 2 daughters)
   2  Nicholas Attygalle (President of the Senate 1953-1960)
   2  Cyril Eugine Attygalle -MP 1947-1960
---
Obituaries
R. ATTYGALLE - G.M. Consultant Anaesthetist - Beloved husband of Kalyani, loving father of Dhammika (Director - Upali Group), late Chandana, Amrit and Pradeep, father-in-law of Vishmi, grandfather of Keminda and Duminda, brother of late Deshamanya General D. Sepala Attygalle and brother-in-law of late Upali Wijewardene and Mrs. Anoja Wijesundera. Cortege leaves at 6 p.m. residence 109A, 5th Lane, Colpetty for cremation at General Cemetery, Kanatte. DN Mon Nov 30 2009
ATTYGALLE - MILLICENT - (nee KULARATNA) Beloved wife of late Mr Dhanapala Attygalle (Proctor & former MP for Ratnapura), loving mother of Indra, late Athula (former MP for Ratnapura District), Samitha (Attorney-at-Law, member of Sabaragamuwa Provincial Council) and Dr Uthpala (Consultant J.M.O.), mother-in-law of Dr Gamini Hapangama, Prashani, Mahesha and Dr Deepika (Consultant Community Physician), expired. Cremation on Sunday the 27th of February at 3 p.m. at Crematorium Ratnapura. Katugasella, Kospelawinna, Ratnapura. DM Feb 26 2011
ATTYGALLE – THELMA DOREEN - Thelma Doreen. (formerly Jennings nee Bayldon). Aged 91years. Quietly passed away Aug. 17, 2010 at Dunolly Hospital Nursing Home.
ATTYGALLE- BRIGHTY - Beloved wife of the late General Don Sepala Attygalle, dearly beloved mother of Suraj, mother in law of Sherene, grand mother of Shaminda and Damin, beloved sister of Vienna, the late Bunty and of Mona ,Eric, Arlene, Lorraine, Maureen, George and Carolle. Remains will lie at A.F. Raymonds Funeral Parlour on Thursday 29th July from 8 a.m. Cortege leaves the parlour at 3.30 p.m for burial at the General Cemetery Kanatte (Anglican Section) at 4.00 p.m. on the same day. DM July 20 2010
WARAKAULLE - ANULA (Nee Attygalle). Relict of late C.B. Warakaulle, beloved mother of Sorani, Mahinda, Monica and Damayanthi, mother-in-law of late Dr. K.C.E. Perera, Bernie, late Paduma Atureliya and Nimal Perera, sister of Seela Weerasinghe, late Wimala Jayasundera, late Gen D.S. Attygalle, Sreema De Silva and Dr. G.M. Attygalle, loving Aththammi of Dulshan and Prasadini, Dilenthi and Keshan, Shanika, Shanath and Piyumali. Cortege will leave No. 415/1A, Galle Road, Mount Lavinia at 4.30 p.m. on Sunday 4th January for Cremation at Kirillapona Cemetery at 5.30 p.m. No flowers please. SO Jan 14 2004
If any details are found to complete the Attygalle family tree, please submit to the address below.
---
Prepared by Mr Manjula de Livera.
Email: manjulafamily@yahoo.com.au
            manjuladelivera@yahoo.com.au
Date-13th Dec  2017
---
<![if !vml]>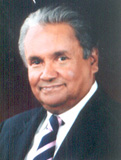 <![endif]> <![if !vml]>
<![endif]> <![if !vml]>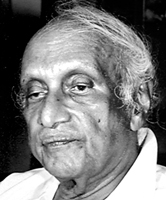 <![endif]>
Lalith Kotalawela Sicille Kotalawela Gamini Corea
(nee Fernando)
<![if !vml]>
<![endif]>
Sir John Kotalawela (Prime Minister)
---
Flight to destiny
Sunday Times Feb 4 2007
We reproduce an article that appeared in The Sunday Times Millennium Supplement, Past Times
Gamani Corea spoke to Feizal Samath of that memorable trip with D.S. before Independence
It was 1945 and young Gamini Corea like many others was preparing for the arduous sea voyage to Cambridge University in England where he had secured a place for higher studies.
<![if !vml]>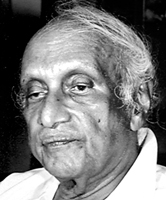 <![endif]>
That was the time local students made their way by sea to England for advanced studies, in the absence of commercial flights. Little did Corea realize then, that this trip to England would create history and pave the way for Sri Lanka's Independence from British colonial rule!
Corea, an excellent student who had passed the London Inter-Science Economics Exam and would later become one of Sri Lanka's most distinguished personalities, had applied for a passage on the convoy of ships that made the journey to England. His university term was beginning in October 1945.
He had obtained a place in Corpus Christi College in Cambridge but delayed his departure for two years due to the war. Ships, in which passengers were housed in cabins that had several but rather uncomfortable bunkers, went in convoys, as a precaution since the Japanese war was on, though the German war was over. However, one evening around June, Corea's grandmother, Mrs. Alice Kotelawala, returned home after a meeting with Don Stephen Senanayake, then Minister of Agriculture and Lands and Leader of the House, with some interesting news.
Corea was staying with his grandmother at her Horton Place residence, where the world-renowned economist continues to live today.
Senanayake had told Mrs. Kotelawala that he was flying to England on a mission in July, and on learning that Corea was also going there - though much later - had invited Corea to join him (Senanayake).
"I was elated," recalled Corea. "I went to meet Mr. Senanayake after that and asked whether it was okay to come along. He said it was perfectly in order but that I had to pay for my ticket."
Senanayake, subsequently the first Prime Minister of Ceylon, had been invited by the British Government to discuss the Soulbury Commission report, which paved the way for the British to grant Independence to Ceylon in 1948. The minister was to be accompanied by Arthur Ranasinghe, former head of treasury and now working under Senanayake, his personal physician Dr. David Silva and personal valet, Carolis.
British authorities had offered an entire plane for Senanayake and his delegation to fly to England and the minister, in view of the space available, had offered a seat to Corea and Ernie Goonetilleke, son of Oliver Goonetilleke, who was also going to Cambridge for studies. The elder Goonetilleke, the first Sri Lankan Governor General, was then the Civil Defence Commissioner.
"I was excited to be flying for the first time and all of a sudden I had to advance my arrangements since I was going to England at least three months ahead of schedule," said Corea. The youngster was planning to stay with a Sri Lankan doctor and his wife, Alfred and Carmel Gunasekera. The doctor was practising and residing in West Hampstead.
All hell broke loose after the newspapers ran a story saying Mr. Senanayake was going to London with an official delegation. The names of the delegates, including that of Corea and Goonetilleke, were also listed.
"There was a big furore in the State Council. Mr. W. Dahanayake, a vociferous critic of the government, denounced this move saying it is family bandyism, nepotism and so on and said MSC does not stand for members of the State Council but for 'Members of the Senanayake Caucus," laughed Corea.
Matters were not helped by the chief secretary. He defended the move, saying these two young men were qualified and competent enough to assist Senanayake.
More embarrassment followed. "Mr. Senanayake's schoolboy secretaries" screamed a headline in a newspaper editorial, criticizing the appointment of the two youngsters on the delegation. What ran through Corea's mind at that time? "Well, I was young and was embarrassed that I was receiving so much publicity. On the other hand, I wasn't worried because I knew nothing wrong was done. As a result of it I received a lot of visibility in the press."
Corea vividly remembers the day he landed in England the 13th of July 1945. But the trip, in a RAF York bomber transport plane that still had camouflage paint, took three days, as night flying was not permitted then. There were only six passengers on board. They took off from Ratmalana airport and reached Karachi for the night. Corea - feeling cold since it was his first flight - continued to wear the pullover knitted by his grandmother in the hot mid-summer evening in Karachi, drawing curious stares from people.
The next night was spent in Cairo, before the group flew via Malta to an RAF military airfield in Bristol in England. Senanayake's delegation was put up at the Grosvenor House hotel in London.
The next morning, Senanayake took the two youngest members of the delegation to Dr. Gunasekera's house where they stayed thereafter. But Corea, keen to find out what was happening with regard to the negotiations, daily took the under-ground train from West Hampstead to London to meet up with Senanayake who, unlike other somewhat taciturn members of the delegation, chatted freely about the goings-on.
"I was interested in the events," said Corea, noting that Senanayake's discussions were delayed in London as their arrival occurred at a time when a change of government was taking place. The Sri Lankan delegation had to stay longer than anticipated.
The elections, under the government of Winston Churchill, were over when the delegation arrived in England. When the results were announced a few days later, the Labour Party had surprisingly clinched victory.
It was Senanayake who gave Corea his first glimpse of Cambridge. Senanayake had been invited by Sir Ivor Jennings, a former head of the University College in Colombo, to visit Cambridge. After his meetings with Jennings, Senanayake took Corea along to Corpus Christi College to meet Corea's future tutor, Mr. H.D.P. Lee.
It turned out that Senanayake's two sons, Dudley and Robert, had also studied at Corpus Christi College before the war. The conversation turned personal with Lee, initially polite and courteous, becoming quite animated and warm, on realizing Senanayake's links with the college.
More than 50 years after the event, Corea - now a top UN retiree whose last UN job was Secretary-General of UNCTAD - still remembers many of the things that happened on that historical trip with Senanayake. "I particularly remember the flight over Cairo. Unlike today, planes didn't fly at great heights then and we could see everything the Persian Gulf, desert sands and oil pipelines. It was a beautiful sight. I also remember bomb-damaged London with all its austerity."
---
Additional data on Attygalle Families

<![if !supportLineBreakNewLine]>
<![endif]>
Wikipedia:
Dr Dharmasena Attygalle was a MP in Sri Lanka's parliament from 1972 to 1983.
He was Deputy Minister of Health (1977-1980) and Minister of Indigenous Medicine (1980-1983) representing the Kesbewa seat.
He was appointed as High Commissioner to Pakistan in January 1983.
He was an Ayurvedic Doctor by profession & was educated at Nalanda College Colombo.
LANKA PERSONALITIES:
Dharmasena Attygalle 1925-1989
Born: 19 Feb 1925
Son of Ayur Dr D P Attygalle of Madapatha & D S J Attygalle
Education: Madapatha Buddhist Mixed School, Piliyandala Maha Vidyalaya, Nalanda College, Colombo
Entered Ayurvedic Medical College and passed out in 1942
Obtained MB Degree in Homeopathy
Served on the Advisory Board of the Ayurvedic Medical College
Awarded 'Ayurveda Vaidya Maha Vishadara Panditha' Hon Degree by the Ayurveda Waidya Maha Mandalaya, 1978
Won Kesbewa seat in NSA by-election, 1972
Returned at the Parliamentary, 1977
Deputy Minister of Health 1977-1980
Minister of Indigenous Medicine Feb 1980-1983
Resigned as Minister 1983
High Commissioner to Pakistan Jan 1983
Passed Away: 1 Jun 1989
FLICKR
<![if !vml]>
<![endif]>
Mr. Dharmasena Attygalle, Sri Lanka High Commissioner to Pakistan (1983)
Dr Dharmasena Attygalle was a MP in Sri Lanka's parliament from 1972 to 1983.
He was Deputy Minister of Health (1977-1980) and Minister of Indigenous Medicine (1980-1983) representing the Kesbewa seat.
He was appointed as High Commissioner to Pakistan in January 1983.
He was an Ayurvedic Doctor by profession & was educated at Nalanda College Colombo.
GENEALOGY OF ATTYGALLE FAMILIES IN SRI LANKA (CEYLON)
http://www.rootsweb.ancestry.com/~lkawgw/gen3119.htm
http://www.rootsweb.ancestry.com/~lkawgw/gen3057.htm
OBITUARY NOTICE DAILY NEWS 20 SEP 2005
ATTYGALLE - GAMINI (Retired Probation Officer, Old Boy Seevali Central College, Ratnapura). Beloved husband of Ratnawali (Retired Principal), precious father of Lakshmi (Deputy Principal, Royal College, Colombo), Subadra (Staff - President's College, Homagama), Malathi, Asoka (Canada), Jayanthi and Champika, father-in-law of Daya Attygalle, Sarath Jayasundara (Retired Paddy Marketing Board), Ratnapala Marawanagoda, Jagath Alwis, Thusitha Jayawardana (Dip Products Katuwawala) and Shamini Molligoda, brother of Justin, Michel (Former DIG), Swarna, Pragna, Nanda (England), Kusuma and the late Danapala Attygalle (former M.P. Ratnapura), Alexander, Charles and Soma, cousin of Dr Lakshman Attygalle and the late Dharmasena Attygalle(Former Minister of Indigenous Medicine and MP - Kesbewa). Cortege leaves Weda Walauwa, Madapatha, Piliyandala on Tuesday 20th for Cremation at 4.30 p.m. at General Cemetery Kohuwala.
DAILY NEWS 20 Nov 2001
ATTYGALLE - CELINE of 'Weda Walawwa' Madapatha. Beloved wife of the late Dharmasena Attygalle (former Member of Parliament for Kesbewa and Minister of Indigenous Medicine) ever loving mother of Daya Lal, mother-in-law of Lakshmi (staff, Royal College), grandmother of Randima (student, Sri Lanka Law College) Milinda (student, Royal College), sister of J.A. Abeyratne (former Director of Education Piliyandala) and brothers and sisters expired. Funeral 4 p.m. Wednesday 21st at Madapatha Cemetery.
ATTYGALLE ABEYRATNE - VERNON. (Retired Army Artillery - Ceylon Transporters Ltd). Son of late Reggie and late Ethel Attygalle Abeyratne, beloved husband of Daphne (nee de Alwis), loving father of Shiromi (APL Lanka), father-in-law of Srilal Abeywardena (Royal Oceanic Hotel), loving seeya of Shanaka and Sachini, brother of Lalini, Nissanka, Nihal and Shrini, brother-in-law of Wardy, Lynskey and Ronald de Alwis, Rohini, Prema and Dr Tissa Seneviratne, expired. Cortege leaves Residence at 3.30 p.m. for Service at Christ Church Dehiwela on Wednesday 21st. Cremation at Galkissa General Cemetery at 5 p.m. 203, Allan Avenue, Dehiwela.
APPRECIATION NATION NEWSPAPER May 31 2009
****
Appreciation
DHARMASENA ATTYGALLE
In memory of my precious grandfather
Among the stars I see you still…
Yes I hear you well
From heaven above
I see you through stars
Shining through…
I feel you beside me
In each step of the way
In every memory
Cherished so deep…

Time has not robbed
Your laughter, your warmth
Your aura, the magic
Your spell on me.

Did you find the mortal world despicable?
That you left it so soon?
Why you sought to be with me
Among stars afar?
Thousands tales you left behind unsaid
Will you tell me the rest
From that immortal world?

Will you watch us
The guardian angel that you are?
Show us the way through storms
The lighthouse that you are?
Will you be with me always
Among stars afar
The brightest of them all
I know that you are…

Randima Attygalle
Granddaughter
LINKS
http://www.peekyou.com/_attygalle
---
Prepared by Mr Manjula de Livera.