Sri Lanka Sinhalese Family Genealogy
WICKREMASINGHE - Family #3103
1 Wickremasinghe
  2  James Henry Wickremasinghe (b circa 1860) + Mary Helen Samarawickreme (Circa 1822-1882)
        3  Maude Beatrix Wickremasinghe (15/4/1884-4/3/1951) + Abraham Edward Wijesinghe (PWD Engineer) (1/6/1880-3/4/1953)
           4  Merle Edna Hyacinth Wijesinghe(b 8/1/1912) + Reginald Godfred Perera (circa 1882-4/11/1938)
           4  Aelian Elmo Wijesinghe (15/5/1913-31/8/1917)
           4  Mallory Wijesinghe (25/6/1918-27/12/2002) + Joyce Esther  Goonetilleke (5/7/1921-3/3/2012) (d/o Sir Oliver Goonetilleke)
               5  Eraj Wijesinghe + Roshan Sukhla
           4  Doreen Audrey Wijesinghe (b 15/10/1920) + Clarrie Goonerwardene  (Circa1910-1950)
             5 Dushyanthi  Goonerwardene + Perera
        3  Wickremasinghe
        3  Collin Wickremasinghe
        3  Basil Oscar Wickremsinghe (2 wives and 8 children)
3 Cyril Leonard Wickremasinghe CCS (1890-1945) from Baddegama, (Govt Agent,Sinhalese Land Commissioner)+ Esme Moonamale Goonewardene b1900, (of Galle Walauwa, Kurunegala) (3104) (Esme Goonerwardene is a grand daughter of Mary Ann Hulugalle and JM Moonamalle. Proctor, and is the daughter of Mary Evageline Ada Moonamalle and EG Goonerwardena, Proctor of Galle Walauwa, Kurunegala.)
4 Cyril Esmond Lucien Wickremasinghe (Press baron,Lawyer and entrepreneur) b29/5/1920-d29/9/1985 + Nalini Wijewardene d:2011 (90 years) (daughter of DR Wijewardene-Lake House)
                5  Shan Wickremasinghe (Chairman TNL TV)(Broadcast Engineer)
                   6 Ishini Wickremasinghe + Asitha Perera (MP Liberal Party) STC b1959-d 15/9/2013 (Ambassador to Korea 2006-2009, Ambassodor to Italy 2011)
                     7 Anika Perera
                     7 Akila Perera
                     7 Anya Perera
5 Ranil Wickremasinghe, b:24th March 1949 ( Prime Minister UNP Government 1993-94,2001-2004 and 2015-2019, leader of the opposition 1995-2000, 2005-2014)(Leader of the UNP 1994-2020)(Chairman of the Dayaka Sabha of the Kelaniya Temple) + Maithree Wickremasinghe b1964, Professor of English (d/o Senevi Wickremasinghe) (Ranil was educated at Royal College, University of Ceylon Colombo & Sri Lanka Law College, and has held the office of Prime Minister, Minister of Foreign Affairs, Youth Affairs & Employment, and Education during his political career)
                5  Kshanika Wickrmasinghe + Jeevaka Weeratunga
                5  Niraj Wickremasinghe (CEO TNL)
                5  Channa Wickremasinghe (MD- Sithara Ltd) + Ishani Godanmunna
4 Rev Cyril Lakshman Wickremasinghe (late Bishop of Kurunegala) 1927-1983 (Royal College)
4 Muktha Wickremasinghe + Sam Wijesinghe from Getamana Tangalle 1921-2014 (former Secretary General Parliament) (STC Mt Lavinia) (Chancellor of Open University SL)
5 Sanjeeva Wijesinghe + Chitra Wickremasinghe (d/o Dr Wilfred Wickremasinghe & Iranganie Aluwihare) (3047, 3100)
5 Anila Wijesinghe (former asst Governor CB) + Romesh Dias Bandaranaike
                5  Prof Rajiva Wijesinghe (STC Mt Lavinia) b1954, Liberal Party, State Minister 2015
4 Tissa Wickremasinghe (decd)
3 Dr Sextus Wickremasinghe + Amy de Silva Jayasundera ** (3101)
4 Norma Wickremasinghe + Tennakoon
3 Dr Sextus Wickremasinghe + Muriel De Silva Jayasundera ** (3101)
4 Miriam Wickremasinghe + De Alwis
4 Sheila Wickremasinghe + De Silva
4 Minette Wickremasinghe + Vasava de Silva
4 Anula Wickremasinghe + De Silva
4 Chandrani Wickremasinghe + Dr Harin Perera
4  Sumithra.Wickremasinghe
        3  Dr Artie Wickremasinghe
            4  Name Not Known
                5  Nirmali Moragoda Wickremasinghe
    2  Rev Percy Wickremasinghe
        3  Dr Narme Wickremasinghe + Patricia Abhayaratne
            4  Shanthi Mary Wickremasinghe + Hiran Hulugalle, s/o Clarice Tennekoon
            4  Daphne Varini  Wickremasinghe
    2  Dr Claude Wickremasinghe
        3  Charmaine Wickremasinghe + Dr Ivor Obeyesekera s/o Allanson Herbert Obeyesekere, 1880-1963 (Galle) & Daisy Enid Tennekoon, 1899-1959 (Kurunegala) (3739)
            4  Charmaine Michelle (Mimi) Nelun Obeyesekera + Ajith Ratwatte
                5  Ishanth Ratwatte + Chethika Hapugalle (grand daughter of the late MDH Jayawardene)
                5  Chayani Ratwatte + Afsar Badurdeen (s/o Farouk Deen & Rayaheen – Ruwaiha of Nawalapitiya)
                    6  Adrielle Soraya Deen
4 Roshan Lalene Obeyesekere + Vasantha Wijemanne
5 Sheana Roshan + Chanaka Thushara Wijeratne
6 Rishane
5 Renouk Vasantha + Rukshani Weerasooriya
4 Indira Janine unmarried
4 Nayantara Charmini + Russell Taylor
5 Christopher Ruwan
5 Nicholas Romesh
5 Hamish Ravi
4 Varuni Renuka + Richard Saffery
5 Ella Renuka
5 William Richard
    2  Wickremasinghe
        3  Wickremasinghe
            4  ECG Wickremasinghe (Lyn)(GM Bank of Cey in 70's) + Nanette Illangakoon d 2006
                5  Git Wickremasinghe
                5  Ravi Wickremasinghe
** sisters
<![if !vml]>
<![endif]>
CEL Wickremesinghe was named editorial director of the most influential newspaper group in Sri Lanka at the age of 30. His efforts to defend press freedom helped to oust Sri Lanka's prime minister in the 1965 election.
Cyril Esmond Lucien (C.E.L.) Wickremesinghe became the editorial managing director of the largest and most influential newspaper group in Sri Lanka, the Associated Newspapers of Ceylon, in 1950, at the age of 30. Between August 1960, when the government of Prime Minister Sirimavo Bandaranaike announced the takeover of the newspaper group, and December 1964, when the government was defeated on the single issue of press nationalization, Wickremesinghe was the catalyst and leader in a bold effort to defend press freedom against great odds, laying the foundation for robust, privately owned media in Sri Lanka.
Wickremesinghe was born May 29, 1920, and received training as an attorney before he became the managing director of editorial operations at Lake House, the home of the Associated Newspapers of Ceylon. His first challenge as director was to enhance the professional structure of the newspaper group that was founded by his visionary father-in-law, D.R. Wijewardene, during the fight for freedom from colonial rule.
Wickremesinghe set about reorganizing the company, which comprised five dailies and three Sunday newspapers in English, Sinhalese and Tamil. He recruited talented journalists, nurtured journalistic excellence and developed strong regional and international links.
Before long, however, he had to overcome a different challenge. On Aug. 12, 1960, the government of Sirimavo Bandaranaike announced its intention to introduce legislation "to take over the newspapers controlled by the Associated Newspapers of Ceylon," which had opposed her Sri Lanka Freedom Party and its pro-Sinhalese socialist policies in the general elections. From that moment on, Wickremesinghe stood at the forefront of the battle for freedom of the press in his country.
Threats to press freedom took many forms. A state-controlled Commission of Inquiry formally proposed press controls. Legislation was drafted for the nationalization of the press. After the failure of four draft bills aimed at a takeover of the press, the government was left with a three-man press commission opposed by all seven opposition parties. Another press bill in 1964 had to be withdrawn at the last moment, but not before it had become a major political issue throughout the country.
Heavy-handed efforts, including government bombs thrown at his residence, were meant to intimidate Wickremesinghe into submission, but he remained undaunted. Supported by his fellow directors at Lake House, he led an effective global campaign in support of press freedom in his country. Through direct contacts, he urged local politicians to stand up to attacks on freedom of expression and of the press, and he united rival newspaper groups behind a common cause.
During the 1965 general elections, Wickremesinghe campaigned vigorously for opposition parties committed to press freedom. Bandaranaike's government was defeated in March 1965, and the press gained a respite from a four-and-a-half-year battle.
Bandaranaike, however, returned to power in 1970, and finally nationalized The Lake House group in 1973, only to find that dismissed journalists had formed a trust with Wickremesinghe as chairman, which started publishing three new papers in the three different languages of the country. "They turned out to be a great success, particularly financially," Wickremesinghe told the 24th General Assembly of the IPI in Zurich, Switzerland, in 1975. "They are run on a very simple formula: publishing all the news the government wants to hide."
Although long involved in fighting government interference, Wickremesinghe's natural flair for diplomacy led him to play an important role in negotiating his country's admission to the United Nations, and he also headed Sri Lanka's delegation to UNESCO for many years.
As IPI Chairman from 1966 to 1968, his outstanding contributions to press freedom earned him worldwide recognition. C.E.L. Wickremesinghe died of a heart attack on Sept. 29, 1985.
18th Death Anniversary
Esmond Wickremesinghe : doyen of Sri Lanka's Print Journalism
by Anton Gunasekera - Daily News Mon Sep 29 2003
Today - September 29 - marks the eighteenth death anniversary of the indomitable doyen of pre-and post-Independence Sri Lanka's Print Journalism profession - the ever witty Esmond Wickremesinghe, more familiarly known to us in the 1950s as DEW - who at the dawn of each day, brought with him to Lake House and to a myriad politicians - small drops of refreshing moisture, condensed from the uncertain atmosphere of last night.
The late illustrious and revered Don Richard Wijewardena, farsighted founding father of the Associated Newspapers of Ceylon Ltd. (ANCL) picked DEW as his son-in-law, perhaps, because of his close association with DEW's equally illustrious father, C. L. Wickremesinghe, the brilliant Civil Servant who was appointed by the ruling British colonial powers to perform the twin tasks of Government Agent of the Colombo district and as Lands Commissioner. Steadfast to the core, disciplined and unwavering in decision-making, adolescent DEW certainly came under parental tutelage, while a pupil at the feet of his British teachers.
By 1946, DEW qualified as an Advocate and had a temporary stint at the Hulftsdorp Bar. But as destiny would have it, he was summoned to Lake House in 1947, as second in command to the 'Skipper' of the Ship by the Beira waters. Esmond Wickremesinghe never looked back. From 1947 up until 1965, he was at the helm of affairs at Lake House, guiding and mentoring the editors and editorial staff of five English, Sinhala and Tamil news dailies and weeklies, but with the least interference with the journalistic doctrine; 'News is Sacred - Comment is Free'.
In 1965, the year in which Prime Minister Sirimavo Bandaranaike was compelled by the voting citizenry to hand over her stewardship to DEW's near and dear friend, Dudley Senanayake, International Media knew that the power behind the change was DEW's hidden hand - mute testimony to the power of the pen. Very shortly afterwards, the International Press Foundation, which comprised worldwide editors and publishers, honoured him with the award of the "First-ever Golden Pen" - the final feather in his cap, after a long and indefatigable 18 years of day/night service to the then vacillating Print journalism - what with the 1960-1964 (February) United Left Front's Competent Authority, functioning as "Word Vetter" lone sentry at the doorway to the Lake House editorials.
During its mid-term in office, when the ULF was about to present in Parliament, the infamous 'Press Bill' that would cripple the editor's Free Comment', DEW flew to Djakarta and had sleepless secret sessions with one of Asia's most renowned journalists - Mochtar Lubis who was then taming Indonesia's Soekarno lion dictator in his own den, through his written word.
DEW returned home with his 'Counter Press Bill Strategy'. Unable to bear the pangs of public opinion, LSSP leader, Dr. N. M. Perera finally announced at a Press Conference (where I was), the "withdrawal of the Press Bill - not because of rubbish newspaper protests, but as a lasting honour, and in remembrance of, American Thomas Jefferson who "first fought for the freedom of the Press-right or wrong".
Later that same year Esmond Wickremesinghe was unanimously elected first President of the Press Foundation of Asia (PFA), with Mochtar Lubis by his side, among a galaxy of Asian editors and publishers. Needless to say, the PFA in 1966, conferred the 'Golden Pen' on Mochtar Lubis for proving to Soekarno that 'the Pen is mightier than the sword'.
If our island nation is today a respected, non-aligned and impartial member of the United Nations, it wasn't political strategists, but Esmond Wickremesinghe who flew 'umpteen' times to world capitals of member countries, no less stormed the East and West Floors of the United Nations corridors as our nation's canvasser, and finally brought home the glad tidings: "This year-October 24-we will be admitted as a member of the United Nations General Assembly". Small wonder then, that he was Special Presidential Adviser from 1980.
In mid-August, 1985, still an active 'behind the scenes' figure, DEW had felt 'a palpitation' in his heart. Every medical specialist-physician or surgeon-knew him... and knew his name by heart.
It was their common consensus that though they had the surgical skills, they were short of surgical wherewithal to perform Bypass Surgery in Colombo. DEW was prescribed medicines which would be just sufficient to keep the heart going, until.....
Accompanied by his eldest son, Shan, (the veteran who brought TV to Sri Lanka), Esmond Wickremesinghe flew to the Houston Heart Clinic in Texas, U.S.A. which had already earned a name for 'life-saving bypass surgery'.
It had been done with meticulous surgical-Shan by his side. But... as Destiny would have it, the amiable strong arm of international media democracy passed away on an autumn Sunday night... with that oft- bewitching smile flowing smile flowing from his lips.
In son Shan's presence, the now dying Esmond Wickremesinghe was asked for his "last wish".
The spontaneous, short and sweet reply, without yet batting an eyelid: "Please cremate me in New World Houston... but let my sons carry back my ashes to my home, sweet home... to my motherland where I belong".
Second son, (Prime Minister) Ranil, then Minister for Employment and Youth Affairs under the J. R. J. Government, was on official Ministerial "duty in London, when elder brother broke the sad news to younger brother; Dad went for good". Still in his early forties, son Ranil phoned his "boss" and his elders and took the next available plane across the Atlantic to attend to the final earthly rituals.
Thus came to an unanticipated end.. the life and times of Esmond Wickremesinghe, the man who made Print Media Journalism what it is today, the Media moghul of yore who had the courage of his convictions and the daredevil to defy British colonial injunctions on 'Keep your Press Mouth Shut'.. but stood his ground to the bitter, end, hand in glove with his father-in-law, until the British vanished from our soil.. after 133 years of ruthless political domination..
According to his last wish, Esmond Wickremesinghe, Man among our men, is in the hands of the Divine? already having attained Nibbana. May his soul rest in peace.
Esmond the tactician
by Lorna Wright - DN Wed Oct 22 2003
The Sunday breakfast table was crowded. All ages. Sinhala, Tamil, Muslims, Burghers. Indigenous food - egg hoppers, string hoppers, pittu, ambulthial, red sambol, pani-pol - kiribath, plantains.
The menu did not incorporate such standbys as breakfast cereal and peanut butter for Jira, Sir John's guest from France, who was holidaying. Nothing said or done at the Kandawala table would leave even a thin residue of cultural, ethnic anxiety in anybody's mind.
Esmond the newspaper magnate was enjoying himself. A great believer in the virtues of publicity, he neither sought it himself, nor avoided the limelight. It was there. Saying goodbye, his wisecracks and the laughter was spontaneous and contagious as he left. Jira - "Lionel is that not the man that worked politically against you and you lost your election?".
"Yes men" in relaxed mood, "the fellow thinks himself a King-maker. His brother is a Bishop and he has a robust conception of heaven on earth through politicians". "I am amazed you tolerate the man," Sir John laughed. "A good man but his honourable, decent public relations in politics makes the Biblical heaven, he envisages, too big to be marketable on earth - That is what he does not understand".
Esmond was a born tactician who could fix a tomorrow with his newspaper and enjoyed doing it constructively. Dwelling negatively on the bad yesterday, killed the very motivation which the country needed, he always said. It could cloud the mind, increase apathy, while deliberate gossip and disinformation could never make up for hurting people. He never hurt anyone. He used Aubrey Collette cartoonist and Tarzie Vittachchi to poke harmless fun.
Critics were chastising the Prime Minister on some issues and statements made in Canada. Returning, Sir John had met with the Red Indians. The Cartoon that evening had the Prime Minister waving goodbye to a Red Indian Squaw, the little Papoose tied to her back had his face.
The old man laughed loud and long - Esmond joining him was thoroughly proud of his Cartoonist Aubrey who had distracted the public and defused some weighty problem. Politically he encouraged clutter and harmless disorders and disruptions as distractions, but only for a better tomorrow. His love of his country and deep concern and Esmond used his paper to encourage campaigns - "Grow more Food', 'Green Revolution', 'Paddy Weeding", National Heritage - restore Tanks - all distracting tactics that also had their own positive use and served the country.
Esmond did not believe in marches, blocking roads, causing the public delays taking children to and from school, going to hospital with life and death patients, the elderly.
To him they were self-actualizing politicians obsessed with personal self-immolation. The inconvenienced, inflation battling public had a monster reaction against strikes, disrupting their already burdened lives - there is in the city of Colombo 2 1/2 million daily workers community often from 50, 60 miles away, many daily paid. In Colombo live 1 million people.
There is no shouting Jayawewa, nor do they have empathy with strikers or marches. 50 year did not win out or change anything substantially for 25% living below the poverty line. It is a hard worked 8-hour day that will.
Esmond had the happy knack of moving around listening and chatting informally - He got unstinting support from his editors especially Denzil Pieris, whose hospitalization saw Esmond have his own car take lunch to him everyday for a month.
He valued what the 'Small' man said, his compassion for others was simple, which gave him a fuller range of immediate experiences. He would come at these problems from varying perspectives with his editors.
The election campaign '65 was reaching its last week. In the Central Province the plantation workers were not being physically appealed to vote for the party as the Sinhala vote would be jeopardized - no meetings, no house to house. Thondaman instructed to keep away. The CWC Kandy office was busy, busy busy. Thondaman was arriving from India. How will plantation workers vote, 26 electorates 4,000 - 7,000 voters in each. A CWC office in each electorate helpless.
He had time only for one meeting in Galaha tomorrow.
Rang Esmond, "If I covered Thondaman's meeting tomorrow with photographer would you print 50,000 leaflets for distribution on the estates". "How will you....."?
"Okay, okay if you say you do it, you must have found a way. Get the speech down to me quickly". Sir Razeek Fareed's secretary volunteered to take the speech down, the Shell Co executive to take the pictures - the small mini minor car bumped its way to Galaha.
You could not see a tea bush in that huge valley for humanity. Thondman walked down, the slope, garland, on garland, on garland put on him. Adulation - seeing was believing. We sat at the edge of the constructed platform - speech, photograph taken we left for Colombo.
Next morning 50,000 printed speeches in the Daily News van, we left for Kandy - One and a half days of dumping pamphlets at each electoral office for distribution.
The electorates were won, all except Teldeniya which would not be reached - JR was grateful for what we did and said so. But without Esmond making a quick decision, without consulting this regulation and that, but acting immediately on just a telephone call - it would not have happened.
Lakshman Wickremasinghe
Lakshman Wickremasinghe (25 March 1927 - 23 October 1983) was one of the youngest bishops in the Anglican Communion and a human rights activist.
Early life and education
Born on 25 March 1927, he was the third son of Cyril Wickremesinghe[1] of the Ceylon Civil Service and Esme Goonewardene. One of his brothers was the press baron, Esmond Wickramasinghe.
Educated at Royal College, Colombo and S Thomas' Gurutalawa, he achieved the best First in political science from the University of Ceylon, then went to Keble College, Oxford but did not finish his Master's. He then went to theological college at Ely. Following his ordination in 1952 he worked at All Saints Church, Poplar, in the East End of London.
Career
In 1958 he returned to Sri Lanka, where he undertook parish work in Mutwal for a few years before he became the Chaplain at Peradeniya University. Wickremasinghe was consecrated as Bishop of Kurunegala in the Church of Ceylon at the end of 1962, when he was just 35, the youngest in the Anglican Communion. He was the successor to Lakdasa De Mel who had become Anglican Metropolitan of all four former British colonies, India, Burma, Pakistan (then including East Pakistan, the future Bangladesh), and Ceylon.
Human rights
He was much involved in human rights activities from 1971 onwards, and became Chairman of the Civil Rights Movement, protesting against the authoritarianism of J.R. Jayawardene's government and in particular its attacks on Tamils. He suffered a heart attack in 1981 and was advised to take things slow and had a year in England, where he was in July 1983 when Black July took place. He returned to Sri Lanka, and was one of the first leaders to go up to Jaffna, but all this caused another heart attack and he died in October that year.
The character of Harry in Rajiva Wijesinha's 1985 novel Acts of Faith is based on him.
Shan Wickremesinghe
From Wikipedia, the free encyclopaedia
Deshabandu Shan Wickramasinghe is a Sri Lankan media mogul, broadcaster, and a Broadcast Engineer. He is the founder of Sri Lanka's first television station, ITN, and the chairman of TNL television and radio network.[1][2] Shan Wickramasinghe is a brother of Sri Lanka's current Prime Minister Ranil Wickramasinghe.[3]
Hon. Ranil Wickremesinghe
<![if !vml]>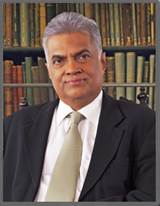 <![endif]>
Hon. Ranil Wickremesinghe was sworn in as the Prime Minister of Sri Lanka for the fifth time  on 16th December 2018.
He is the Leader of the United National Party (UNP), Sri Lanka's largest political party, which is a constituent member of the National Unity Government led by H.E. the President
Maithripala Sirisena.
Political beginnings.
Hon. Wickremesinghe was first appointed as the Prime Minister from 1993 - 1994 after the assassination of President Ranasinghe Premadasa. He was also elected as the Prime Minister from 2001 - 2004 when the United National Front Government won the general elections in 2001.
Born in 1949 after Sri Lanka gained independence from the British, Hon. Wickremesinghe, is truly a leader of the new independent era. A lawyer by profession, he was elected to Parliament in 1977 at the age of 28, having worked in the Youth League of the UNP from his university days. As the youngest Minister in Sri Lanka at the time, he held the post of Deputy Minister of Foreign Affairs under President Jayewardene. Very soon, in recognition of his exceptional talents and unique capacity for work, he was appointed to the Cabinet as the Minister of Youth Affairs and Employment. Later on, he was given the portfolio of Education. Then in 1989, as a seasoned legislator, he was made the Leader of the House under President Premadasa. He also served as the Minister of Industries, Science and Technology.
From 1977 to 1994, during the seventeen years that the UNP was consecutively returned to power, Hon. Ranil Wickremesinghe, as a dynamic young politician, had a crucial impact on the development of the country. He is still considered to be the best Education Minister of the country due to the radical educational reforms he initiated in the 1980s aimed at the qualitative improvement of school education (with a special focus on English, Technology and Computer skills) and the Education Administrative Service. He energised the young people in Sri Lanka with creative, motivational as well as skill development programs through youth clubs (Yovun Samajas) and youth camps (Yovunpuras).
Later on, as the Minister of Industries, Science and Technology, he was responsible for Sri Lanka's second round of economic liberalisation that commenced in 1989 with the focus on financial de-regularization and industrial promotion in rural areas through infrastructure development and the institution of industrial estates. As the MP for Biyagama, he dramatically developed his electorate to become a modern model suburb with brand new carpeted roads, electrification schemes, water and sanitation projects, schools, community centres and other infrastructure inputs. He also established the Biyagama Free Trade Zone to provide employment for thousands of young men and women in a range of industries.
In 1993 after the untimely demise of President Premadasa, Hon.Ranil Wickremesinghe was appointed Prime Minister during the presidency of D. B. Wijetunge. Eveready for a challenge, the young Prime Minister rose to the responsibility of high office and he is credited for establishing law, order and stability in the country at this crucial juncture. During this short period, he personally drove the economy, and the country recorded its highest levels of economic growth for the decade.
After the UNP was voted out in 1994, Hon.Ranil Wickremesinghe became the Leader of the United National Party and the Leader of the Opposition in Parliament. Under his leadership, the UNP undertook extensive restructuring at institutional and grassroots levels and further democratised the Party to represent a more equitable balance in terms of ethnicity, gender and youth.
In 2001, Hon. Ranil Wickremesinghe led his party back to power and was sworn in as Prime Minister once again. In spite of the fact that the President was from an opposing party exercising full executive powers and a strong Opposition in Parliament, Hon. Ranil Wickremesinghe's most significant achievements were to restore full-time electricity, rejuvenate the ailing economy, break down the many ethnic barriers in the country, bring the warring LTTE to the negotiating table for peace talks, and galvanize the goodwill and financial support of the international community for Sri Lanka.
Family
Hon. Ranil Wickremesinghe was born on 24th March 1949. He is the second son of Esmond and Nalini Wickremesinghe and has three brothers and one sister. Esmond Wickremesinghe was an eminent press magnate and one time President of the International Press Institute and the winner of the Golden Pen of Freedom (the annual award to individuals who have made an outstanding contribution to the defence of press freedom). Nalini Wickremesinghe, the daughter of D R Wijewardene (one of the country's famed freedom fighters and the press baron who founded Sri Lanka's largest publishing house Associated Newspapers of Ceylon Ltd.), was a patron of the arts who contributed greatly to the revival of Sinhala drama, craft and culture from the 1950s - 1980s. In 1995 he married Maithree Wickramasinghe, a Professor at the Department of English, and the founding director of the Centre for Gender Studies at the University of Kelaniya and an internationally known writer / speaker on gender and women's studies.
Education
Hon. Ranil Wickremesinghe received his primary and secondary education at Royal College, Colombo. Having graduated from the University of Colombo with a Degree in Law, he enrolled as an Advocate of the Supreme Court of Sri Lanka in 1972, and then, practised as a lawyer for five years. In recent times, he has been a Robert E. Wilhelm Fellow at the Centre for International Studies at the Massachusetts Institute of Technology (MIT) in Cambridge, USA. He was also appointed the Chair of the Asia Pacific Democrat Union and has been a (ex officio) Vice Chair of the International Democratic Union since 2005.
Outside of politics, Hon. Ranil Wickremesinghe is the Chairman of the Dhayakasabha of one of Sri Lanka's historic temples, the Kelaniya Vihara and a dhayakaya of Gangaramaya, Walukaramaya and the Weragodalla (Sedawatte) temples. He has written and spoken widely on Sri Lankan history, Buddhism and world politics. He is an avid reader - devouring books and web articles / news relating to regional politics, international affairs and world history on his cherished Ipad. He is interested in cutting-edge developments in all fields of knowledge globally and locally. He appreciates indigenous Sinhala music, western classics and opera as well as Bollywood songs. Hon. Ranil Wickremesinghe enjoys native and international cuisine as well as travelling to places of historical interest along with his wife.
Maithree Wickremasinghe
<![if !vml]>
<![endif]>
Maithree Wickramasinghe (born 11 August 1964) is a Sri Lankan academic and Professor of English at the University of Kelaniya.,[1] she is the founder director of the Centre for Gender Studies at the University of Kelaniya and is a visiting professor on gender and women's studies at other educational institutions including the University of Colombo and University of Sussex. Maithree Wickramasinghe has delivered keynotes and addressed plenaries at academic and professional forum in the US, Spain, Kenya, India, Pakistan, South Korea and China. She has over 25 years of experience in formulating gender equity and equality policies/strategies, conducting gender sensitization trainings and evaluating women's and gender programs for local and international organizations.
Family and education
The only child of the late Senevi B. Wickremasinghe and Shiranee Wickremasinghe (née Bandaratilaka) of Nawala, Koswatte. She is an old girl of Musaeus College. She graduated from King's College London with a BA (Hons) degree in the English and went on to complete her MA degree in Women's Studies at the University of Colombo. She had gained her PhD degree from the Institute of Education, University of London specializing on feminist research methodology in Sri Lanka. In 1994 she married Ranil Wickremasinghe Prime Minister of Sri Lanka
ECG (Lyn) Wickremasinghe, who was the GM of Bank of Ceylon in the seventies, is a second cousin of Esmund Wickremasinghe, father of Ranil.
http://www.dailynews.lk/2001/pix/PrintPage.asp?REF=/2006/09/07/main_Obituaries.asp
WICKREMASINGHE - NANETTE CHRISTINE (nee ILANGAKOON) widow of late ECG (Lyn) Wickremasinghe, beloved mother of Git and Ravi, mother-in-law of Una and Yasanthi, grandmother of Ramila, Charith and Roshana, sister of Hope, late Neil, Anthea, Philip and Glen, sister-in-law of Quintus and late Lynnette, Ine, Trissette, Gertrude, late Lota (Evelyn) and Lou, passed away on 05th August 2006. The funeral and thanksgiving service were held in Australia on 14th August 2006. DN Sep 7 2006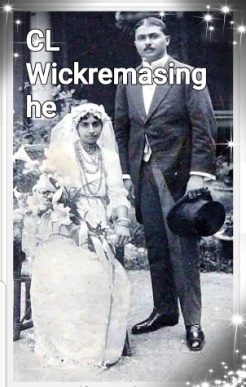 CL Wickremasinghe
Photo of Cyril and Esme Wickremasinghe when serving in Puttalam.
Kshanika,Shan & Ranil Wickremasinghe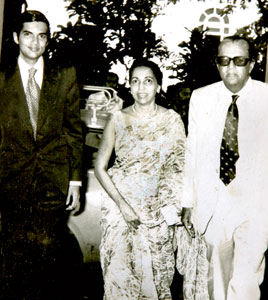 Ranil, Nalini & Esmond Wickremasinghe
Updated and submitted by Mr Manjula de Livera.
email: manjuladelivera@yahoo.com.au
Date: 25th May 2020