The Wizard of Scoutcraft
by AF Sameer - Daily News Mar 12 1990
Royal College's 42nd Colombo Scout Troop recently celebrated its 45th anniversary at the Navarangahala in Colombo. Among the distinguished guests was its founder of Scouting, Brevet Liutenant Colonel Mac Kusseen James Cantlay, ED, JP, who celebrates his 77th birthday on March 13, 1990.
The climax of the celebration marked Capt. S Wignarajah presenting Col. Cantlay the Challenge Shield for the best Senior Scout - A fitting sequel to the Medal of Merit he received in 1969 for Outstanding Serrvices from the Chief Scout Commissioner, Fitzroy H Gunasekera, at the Silver Jubilee celebrations.
A onetime smart Commanding Officer of the 3rd Battalion of the Ceylon Cadet Corps (CCC), Col. Cantlay in one instance gave the cadet Contingent a pleasant surprise when he addressed the throng over the tannoy in impeccable Sinhala! Besides other subjects, he used to teach English and Sinhala; both Language and Literature!
At present he lives in his self-built, comfortable quarters at the Mahaiyawa Home for the Elders in the cool climes of Kandy. He continues to teach and train youth in language and life, correspond with a spate of past pupils, scouts, cadets, and old cronies, and extends his invaluable advice on scout-craft and on various matters whenever approached.
The origins of Scouting falls back to a trial encampment on Brownsea Island off the southern coast of England. After this event, the Boy Scouts was founded in 1908 by a hero of the Boer War, Sir Robert Stephenson Smyth (later Lord Baden Powell of Gilwell, OM, GCMG, GCVO, KCB. LL, D) or more popularly known as BP.
In the USA, the Boy Scouts of America (BSA) is chartered by Congress, and the President of the US is honorary president. Over here, the President of Sri lanka is the Chief Scout.
In 1934, Cantlay started his First Scout Troop in his home-town, Gampola, at St Joseph's School, where he began his teaching career. Four years later, he revived an almost "dead" Scout Troop at the Nawalapitiya St Mary's College which he could boast of an erstwhile student0scout who recently became the District Commissioner of Colombo.
Cantlay joined the Royal College staff on September 13, 1943 - just one day after the amazing abduction of Il Duce Benito Mussolini by Hitler's dynamic commando, SS-Lt. Col Oto Skorzeny, at the height of WWII. It was on that sunny Friday of June 16, 1944 - ten days after the historic D-Day Allied Invasion of Europe had got off the ground - that young Cantlay urged Principal EL Bradby to start a Scout Troop.
Twenty-three boys attended the first meeting conducted by Woolbadge Scouter, MKJ Cantlay. He continued as a Group Scout Master (GSM) for a quarter century until his retirement on March 31, 1969, on which day he handed over the Group to scouter, ND Gunawardhana.
Although the Scout Movement was introduced in Ceylon in 1912, the time lag in establishing a troop at Royal College was due to the prevailing concept that Scouting was incompatible with Cadeting, which had notched a distinguished mark in the College curricula. Cantlay successfully disproved such doctrine.
Cantlay's enthusiastic influence not only molded the Scouts of Royal College into brave and resourceful individuals, but also imparted to them a keen sense of scouting which was essentially intended to develop their character by especially open-air activity. Of the numerous "heroes" he molded, one was the late Surgeon Commodore Lakdasa Dissanayake, MS, FRCS (Eng & Edin).
Scouts who had the privilege of Cantlay's tutorship would reminisce on the memorable campings; the life saving lessons and first aid; the educative visits to historical places; the arduous but adventurous climbing of mountains; the long-winding treks along rugged footpaths; the organizing of rallies and fellowship camps, where groups of Scouts, Girl-Guides, Rangers and Rovers used to meet and greet, exchange news and views; the overall general training in Scouting proper, conforming with the "Be Prepared" motto; all of which were remarkably organized with success by that Wizard of Scoutcraft, Lt. Colonel Cantlay, the indefatigable GSM of 42nd Colombo, a Scouter of high caliber.
During his 25-year stint as GSM, the unbounded co-operation he received from the parents of pupils, the principals, the senior teachers, and the senior scouts encouraged and spurred him to higher levels of pursuance in the progress and welfare of 42nd Colombo in particular and the Scout Movement in general.
Teacher, Group Scouter, Cadet Contingent Commander, Physical Training Instructor, Lt. Col. Cantlay underscored his capacity in finding time to spare for the benefit of those troops in the district branch association, where he was Asst. District Commissioner for six years. On his retirement he was appointed as Kandy District Badge Examiner.
Apart from the praise he received from Principal EL Bradby and Vice Principal JCA Corea of Royal College, the encomiums showered on him by Fitzroy H Gunasekera (Chief Commissioner), R Abraham (District Commissioner), and Bogoda Premaratne (Principal) in the 1969 Silver Jubilee Souvenir were significant and bear testimony to his valuable contributions.
Past pupils would remember him, affectionately called "Canto" among the students, a stately figure, tall and well built, striding smartly, sometimes in his spruce uniform, through the portals of Royal College of yore in his inimitable way.
In an article titled, "A Little on Scouting", which he wrote in the 1969 Silver Jubilee Souvenir, Lt. Col. Cantlay aptly quotes BP thus: "Happiness doesn't come from being rich nor merely from being successful in your career, nor by self-indulgence. One step towards happiness is to make yourself healthy and strong while you are a boy, so that you can be useful, and so can enjoy life when you are a man."
Every Royalist who learnt at Lt. Col. Cantlay's feet would pray for his presence at the Grand Golden Jubilee in 1994, and offer a silent prayer for his continued good health, long and productive life, prosperity and peace of mind, all of which, God Willing, presently prevail.
---
Letters from Laki
Daily News Mar 12 1990
My dear Sir,
I thought this diary would be useful to you and would bring back memories of your days in the CCC.
I am now a Surgeon Commander in the Volunteer Navy and get involved in First Aid training etc., both with the Army and Navy. I always remember, with gratitude, the First Aid training that you gave us.
Here's hoping that this note finds you in the best of health & spirits.
With very kind regards
Your obedient student
Laki Dissanayake
(written to the Lt. Col. Cantlay on 12 Jan 1987)
My dear Sir,
I received your letter sent through a patient with a hernia. I will attend to his matter.
It was very nice to hear from you & to get your address. I am glad that you find the place to your satisfaction.
Please sir, do come and spend a few days with us at Nawalapitiya whenever you feel like a change from Kandy.
The telephone is to the hospital & my quarters is on an extension.
So if you give a call you can confirm whether we are in & come. I shall make it a point to see you when I next come to Kandy.
If there is anything special that I can bring for you or get my wife to make for you - please do not hesitate to write or phone. You have done so much for me, that even to repay a small amount of that debt will give me great satisfaction. Thanking you again sir, for writing. I remain
Your student
Lakdasa
(Written on 12 Sep 1980)
Anatomy Dept.,
Faculty of Medicine,
University of Ceylon,
Peradeniya
22/12/71
My dear Sir,
Just a short note to wish you & Mrs Cantlay a very Happy Christmas & Bright New Year.
I am presently attached to the University as a Demonstrator in Anatomy, though I am studying for higher exams.
I do hope, sir, that you are keeping in good health & continuing to do good work in your area?
I intend getting married in February 1972 and shall inform you about the details later.
Once my exam is over I must drop in and see you.
With kind regards
Your obedient pupil,
Lakdasa Dissanayake
---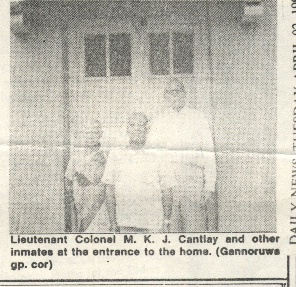 Home for the Elders built by Buddhists in Memory of George V
Rohan Jayatilleke, Gannoruwa Group correspondent,
Daily News, Tue Apr 2 1991
HRH George V Golden Jubilee Memorial Home for Elders at Mahaiyyawa Road, Kandy, is run by the Little Sisters of the Poor.
The history of the Home dates back to the period of the British Raj. In 1937, a group of Buddhist businessmen who celebrated the birthday of King George V (which falls on June 3) every year, wished to construct a memorial for his 50th birthday which fell that year.
They spoke to the then GA Kandy, an Englishman who was very enthusiastic about the idea. He asked them to seek the assistance of the late Rev Bishop Regno. The bshop in turn made arrangements for the Little Sisters of the Poor to manage and run the Home under the guidance of Rev Sister Mary Immaculate.
The site on which the Home was located had been used during and after WW I to house Boer prisoners of war.
After the prisoners were repatriated, the place was abandoned. The Group of Buddhists built the Home here. Governor Stubbs opened the Home in 1938. At that time there were nine male and eight female inmates.
During its early years, the nuns and inmates who were in good health, used to push a cart around the town, in order to collect provisions from well-wishers. However a formal system of obtaining provisions was found to be necessary.
The Social Services Department began to make a monthly grant of Rs 50 per inmate, which has now been increased to Rs 100.However, this amount is grossly inadequate.
Hence the donations which the Home still receive is welcome.
Prospective applicants who are destitute are processed by the Social Services Department and are entitled to its monthly grant.
Others who are able to pay for their board and lodging are admitted by the nuns.
Inmates come from all walks of life. Lieutenant Colonel MKJ Cantlay, ED, JP, for instance is a paying guest at the Home. He is a former Scout-Master of Royal College, Colombo. he was involved in scouting at that school for over 25 years and to many a Royalist is still affectionately known as "Canto". In fact his room is filled with scouting memorabilia. He can also count a number of Ministers of every Cabinet, among his students. At 74, he is a tall and stately figure, an excellent raconteur with a photographic memory, who now enjoys his life at thie Home.
---
Lt. Col. Cantlay Turns 80
AFS - Daily News, Sat Mar 13 1993
Royal College records him from 13.9.1943 to 31.3.1969. Old Boys still remember him, Strapper, sometimes in army-officer uniform, striding smartly through the College corridors, stentorian voice speaking impeccable English and Sinhala; a smattering of Tamil; Cadet Contingent Commander, Group Scout Master, athletics instructor, and teacher.
At Royal during that dynamic quarter century, that was the indefatigable MKJ Cantlay, who celebrates his 80th birthday today, March 13.
A resourceful commanding officer of the 3rd Battalion of the Ceylon Cadet Corps (CCC), Cantlay rose to the rank of Brevet Lieutenant-Colonel. Earlier on he received the Efficiency Decoration (ED) on completion of the mandatory 10-years service in the Volunteer Force prior to Independence. In post retirement, he was appointed a Justice of the Peace.
Woodbadge Scouter in 1944; Commander of the Cadet Contingent; GSM; Medalof Merit in 1969, Challenge Shield for the best Senior Scout in 1990; District Commissioner in the District Branch Association; Kandy District Badge Examiner after retirement in 1969; culminating early this year as a veteran of Scouting - the highest award in scouting, Cantlay established as the wizard of scoutcraft, continues to educate youth in hism peaceful self-built quarters at the Mahaiyyawa Home for the Elders in the hills of Kandy.
At age 21, he began his first Scout Troop at St. Joseph's School in his hometown, Gampola. Four years later, in 1938, he gave life to the almost defunct Scout Troop in Nawalapitiya a St. Mary's College, which later produced a District Commissioner of Colombo. Next, he joined the prestigious Royal College staff, urging principal EL Bradby on 16.6.1944 to start a Scout Troop which he went on to nurture for over 25 years up to his retirement.
One time UN representative, Daya Perera, the late Surgeon - Commander Lakdasa Dissanayake, are just a few of the thousands who were guided by Col. Cantlay, the guru. Cantlay, an institution in himself, epitomized the good life and upheld the noble traditions of Scouting's pioneer, the illustrious Lord Baden Powell of Gilwell or BP.
Still looking as bright as the sun, Cantlay now anxiously awaits Royal College 42nd Colombo Scout Group's Grand Golden Jubilee celebrations scheduled for 1994. Past-pupils, scouts, cadets,and friends wish him a long and healthy life of peace and prosperity, now, and in the future.
---
Cantlay of Royal - 82 not out
Daily News, Mon Mar 13 1995
Brevet Lieutenant-Colonel MKJ Cantlay, ED, JP, the well known past teacher of Royal College, Colombo, celebrates his 82nd birthday, today, 13-3-95.
Teacher, Group Scouter, cadet Contingent Commander, and PT Instructor, Cantlay began the Scout Troop under Principal EL Bradby at Royal College on 16.6.1944. He was present last year at the Golden Jubilee celebrations of the 42nd Group.
All old Royalists who were fortunate to come under his tutelage from 13.9.1943 to 31.3.1969 wish him good health, peace of mind and prosperity, and gratefully convey, "A big thank you to you, Sir, for everything."
May his day be a happy one at his neat self-built lodgings at the mahaiyyawa Home for the Elders in Kandy, where he continues to lead a productive life in teaching students who seek his invaluable knowledge.
---
Mr. M.K.J. Cantlay 1913-1997
Sunday Observer, Dec 7, 1997
May he Rest in Peace
Venerated retired teacher, Royal College, Colombo; Lieutenant-Colonel Ceylon Cadet Corps (Retd); late Scout Master; died at Kandy on 13 November and was laid to rest at the Mahaiyyawa Cemetery. Our grateful thanks to those who looked after him in the last years of his life and honored him in death, especially the Rev Sister Antoinette Maria, Sister Superior of the Home for Elders, Mahaiyyawa; Prof C Ratnatunga of the Peradeniya Teaching Hospital; Major General TN de Silva, Commandant/Director National cadet Corps; Col GG Premachandra, Commanding Officer and the Cadets of the 2nd Batallion, National Cadet Corps; and Mr Viswa Weerasooria. Inserted with respect and gratitude by his pupils.
---
"When one great scorer comes to write against your name,
he writes not that you won or lost;
But how you played the Game."
---