Honduras
Details

Last Updated on Tuesday, 26 August 2014 17:20
Written by Administrator
Hits: 6738
HondurasGenWeb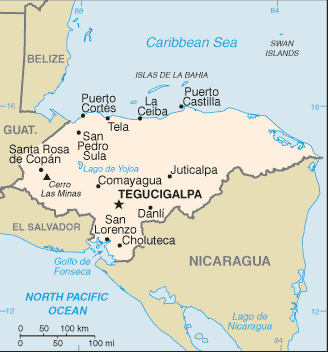 This website is in need of a new Coordinator, if you are interested, please contact the NorthAmGenWeb Coordinator.
History
Archaeologists have demonstrated that Honduras had a rich, multi-ethnic prehistory. An important part of that prehistory was the Mayan presence around the city of Copán in western Honduras, near the Guatemalan border. Here a major Mayan city flourished during the classic period (150-900). It has many beautiful carved inscriptions and stelae. The ancient kingdom, named Xukpi, existed from the fifth century to the early ninth century, with antecedents going back to at least the second century. The Mayan civilization began a marked decline in the ninth century, but there is evidence of people still living in and around the city until at least 1200. By the time the Spanish came to Honduras, the once great city-state of Copán was overrun by the jungle, and the Lencas, not the Mayans, were the main Amerindian people living in western Honduras.

On his fourth and final voyage to the New World in 1502, Christopher Columbus reached the Bay Islands on the coast of Honduras. Landing near the modern town of Trujillo, in the vicinity of the Guaimoreto Lagoon. After the Spanish discovery, Honduras became part of Spain's vast empire in the New World within the Kingdom of Guatemala. Trujillo and Gracias were the first city-capitals. The Spanish ruled what would become Honduras for approximately three centuries.

Honduras declared independence from Spain on September 15, 1821 with the rest of the Central American provinces. In 1822 the Central American State was annexed to the newly declared Mexican Empire of Iturbide. The Iturbide Empire was overthrown in 1823 and Central America separated from it, forming the Federal Republic of Central America, which disintegrated in 1838. As a result the states of the republic became independent nations.

Silver mining was a key factor in the Spanish conquest and settlement of Honduras, but has been only a minor part of the national economy in recent years. The American-owned Rosario Mining Company was a major gold and silver producer, but shut down its large mine at San Juancito in 1954.
Queries and Surnames
Mailing List(s)
HONDURAS-L
For questions about this list, contact the list administrator at This email address is being protected from spambots. You need JavaScript enabled to view it.

Subscribing. Clicking on one of the shortcut links below should work, but if your browser doesn't understand them, try these manual instructions: to join HONDURAS-L, send mail to

This email address is being protected from spambots. You need JavaScript enabled to view it.

with the single word subscribe in the message subject and body. To join HONDURAS-D, do the same thing with

This email address is being protected from spambots. You need JavaScript enabled to view it.

This email address is being protected from spambots. You need JavaScript enabled to view it.

This email address is being protected from spambots. You need JavaScript enabled to view it.

Unsubscribing. To leave HONDURAS-L, send mail to

This email address is being protected from spambots. You need JavaScript enabled to view it.

with the single word unsubscribe in the message subject and body. To leave HONDURAS-D, do the same thing with

This email address is being protected from spambots. You need JavaScript enabled to view it.

This email address is being protected from spambots. You need JavaScript enabled to view it.

This email address is being protected from spambots. You need JavaScript enabled to view it.

Archives. You can search the archives for a specific message or browse them, going from one message to another. Some list archives are not available; if there is a link here to an archive but the link doesn't work, it probably just means that no messages have been posted to that list yet.
Links
Biblioteca Nacional de Honduras
6a Avda 'Salvador Mendieta'
Tegucigalpa, Honduras

AncestralFindings.com - Free Genealogy Research
AOL Hispanic Genealogy Page for Honduras
Cyndi's List of Hispanic, Central & South America, & the West Indies
Family SearchGenealogy Resources on the Internet: Honduras Mailing Lists
Heritage Quest Mexicans and Central and South Americans in the 1870 Census
Honduras GenForum
Honduras Official Home Page
Honduras Net
Honduras.com
Honduras Resources
Honduras Search Engines
Roatanet: Visitor's Guide to Roatan
Sephardic genealogy at Sephardim.com
Online Newspapers
Genealogical Societies
AOL Hispanic Genealogy Group
Hispanic Genealogical Society of New York
Society of Hispanic Historical and Ancestral Research (SHHAR)
Questions and/or comments about the NorthAmGenWeb Project
should be directed to the NorthAmGenWeb Coordinator
.