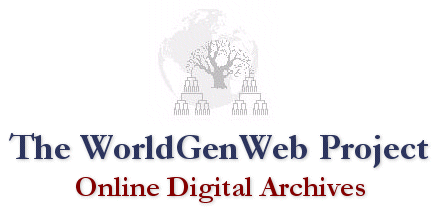 About The Archives
The WorldGenWeb Digital Library (Archives) was developed to present actual transcriptions of public domain records on the Internet. This huge undertaking is the cooperative effort of volunteers who either have electronically formatted files on census records, marriage bonds, wills, and other public documents, or are willing to transcribe this information to contribute.

If you have transcriptions to contribute, please contact the person listed on the Table of Contents page. Please read the Guidelines for file contributions. The files need to be in ASCII text format, and will be converted by the archive manager if in another form.
How You Can Help
The WorldGenWeb Project needs volunteers who are willing to transcribe public domain records for inclusion in our free, online archives. If you are interested in volunteering as a transcriber or as a file archives manager, please contact Nathan Zipfel, WorldGenWeb Project webmaster.
Last updated: March 10, 2008
© 1997 - 2008 The WorldGenWeb Project